3 Hot Stocks for Summertime Fun
Summer is quickly approaching, which means families across the country will soon embark on vacations and other fun activities. Many households will still be on budgets this year, but several stocks will likely benefit from a resilient consumer.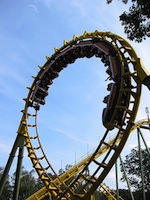 Although consumer spending was soft in April, summer travel plans are up 17 percent from last year, according to the latest poll from American Express. Almost 70 percent of consumers plan to take a vacation in the next three months, up from 59 percent last year. Fifty-three percent of travelers also say they are more willing to splurge on activities and experiences, compared to 44 percent in 2012. The majority of plans involve traveling within the country.
"With Americans willing to spend more this year on summer travel, there's a bit more inclination to make each and every vacation moment count," said Claire Bennett, executive vice president at American Express Travel. "Whether it's a historical tour of Europe's capitals or a family beach vacation, consumers are spending the time or money it takes, and relying on expert resources like travel agents, to create authentic experiences with those that matter most."
Here's a look at three stocks ready for the warm weather and fun:
Disney (NYSE:DIS):
The happiest and most magical place on Earth is expecting a record-breaking season. In fact, Disney recently announced price hikes. Single-day admission prices rose as much as 9.6 percent at its Florida and California theme parks. At Disneyland in California, the cost of a single-day pass jumped from $87 to $92, while ticket prices at Disney's Magic Kingdom in Florida rose 6.7 percent to $95. Disney also suspended discounts previously given to some California residents.
Disney CEO Bob Iger explained on a recent conference call that "Walt Disney World and the Disneyland Resort both set new attendance records" in the first quarter. The company's capital expenditures totaled $3.8 billion last year, and investors stand ready to benefit.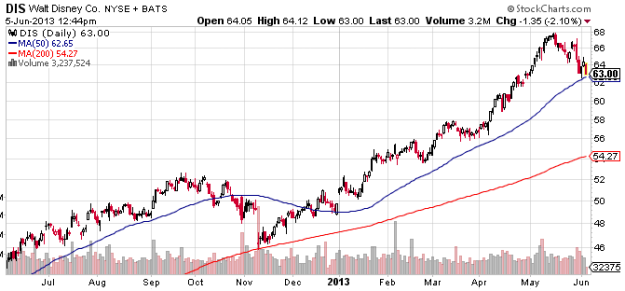 As the chart above shows, shares of Disney have screamed nearly 30 percent higher this year. Shares are below the all-time high of $67.89 made last month, but support looks to be found along the 50-day and 200-day moving averages.
Cedar Fair (NYSE:FUN):
The Ohio-based company is one of the largest regional amusement-resort operators in the world. It owns and operates 11 amusement parks and four outdoor water parks. Locations are found from coast to coast and offer cheaper tickets than Disney.
Cedar Fair also expects another record-breaking year. Last month, Matt Ouimet, chief executive officer, explained in a quarterly press release, "We are pleased with our solid first-quarter net revenues and encouraged by the positive momentum in season pass sales and hotel and group business bookings. While it is too early to see definitive trends at this point in the year, we anticipate that 2013 will mark our fourth consecutive year of record results."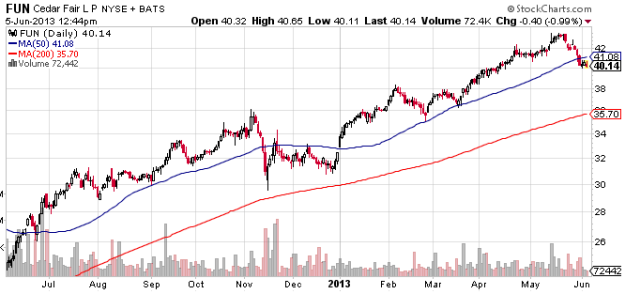 Shares of Cedar Fair have climbed about 20 percent higher this year, so a pullback would not be too surprising. However, shares provide a dividend yield of 6.2 percent. Six Flags Entertainment (NYSE:SIX) also provides summertime fun and a dividend of 4.8 percent.
SeaWorld Entertainment (NYSE:SEAS):
The theme park operator best known for its performing killer whale Shamu, provides a summertime option for investors seeking a more speculative play. In April, SeaWorld raised $702 million in its initial public offering. It sold 26 million shares at $27 each, coming in at the high end of the $24 to $27 expected price range.
Shares surged in their debut on the New York Stock Exchange to reach as high as $34.67 on April 19, 2013. On Tuesday, shares gained 2.7 percent to close at $36.60.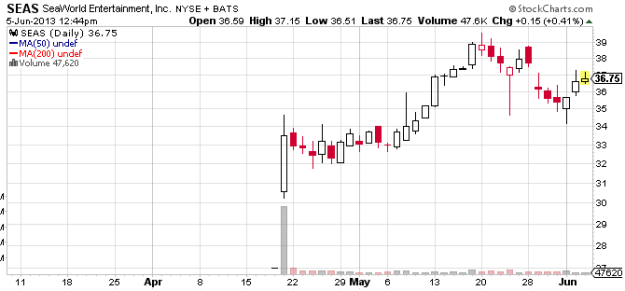 Wells Fargo recently initiated an Outperform on SeaWorld, with a price target of $40-$42. Analyst Timothy Conder explained, "Our Outperform rating on SeaWorld and $40-$42 valuation range reflects our outlook for 3-5 percent annual revenue growth levering a 2/3 fixed operating cost base to generate 5-7 percent annual Adjusted EBITDA growth and free cash flow growth approaching 10 percent. This should allow for further growth reinvestment opportunities, debt reduction, and modest sustained dividend growth."
Don't Miss: Will Legalized Marijuana Ignite New Interest?
Follow Eric on Twitter (@Mr_Eric_WSCS)