Here Are 5 Charts to Show Tourism is on the Rebound
With all the negative news dominating economic conversations, it's sometimes easy to forget that positive forces are still propelling some growth in the United States.
Tourism is a bit of an exemplar for resilience and growth, providing capital to different parts of the U.S. The Bureau of Economic Analysis looked at just how far tourism has come: Growth is up 6.8 percent in Q1 2013  compared to 2.1 percent in Q4 2012. This outpaced GDP growth, which grew from 0.4 percent to 1.8 percent during the same time period.
With that in mind, here are five charts to show that tourism is booming in the U.S.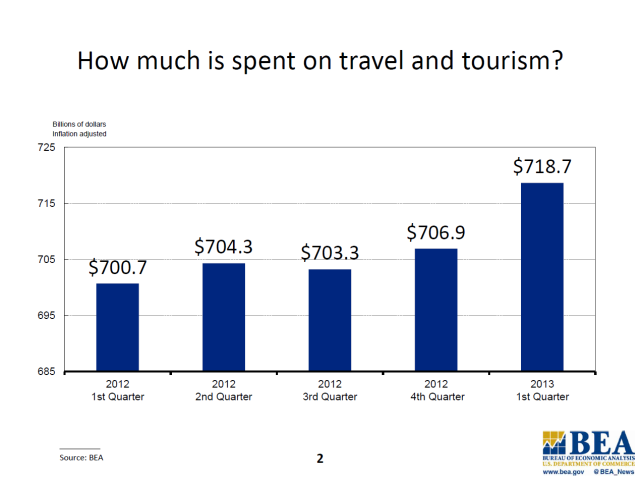 Tourism is finding its groove again as a somewhat slow 2012 has transitioned into what promises to be a strong 2013. The 6.8 percent in growth experienced by the industry represents nearly $12 billion in economic activity for thousands of towns, cities, and communities across the country.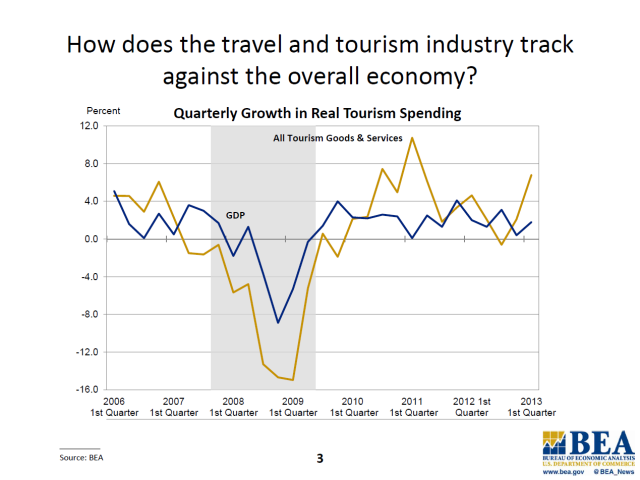 Though GDP is tied to the tourism industry, tourism tends to outperform GDP growth whenever there is an economic upturn. After following total economic output of the country downwards from 2008 to 2009, as the economy recovered, tourism outpaced GDP substantially, growing rapidly and even continuing upwards from 2010 to 2012, when GDP growth was a bit more stagnant. The capability of American locales to generate momentum through tourism will likey continue to be a part of the recovery going forward as the U.S. reaches for desperately needed jobs.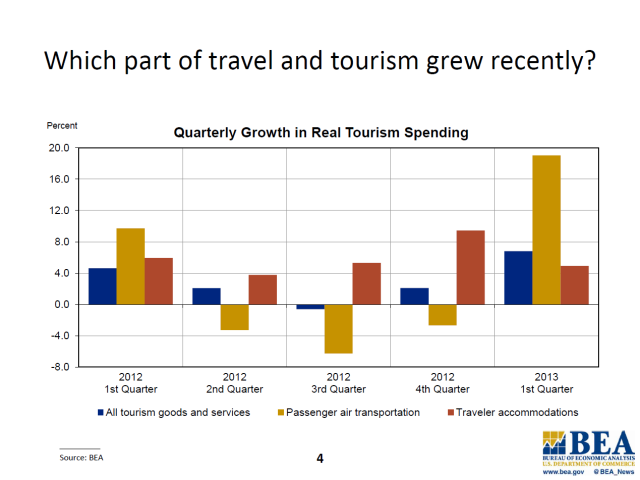 Looking again at fluctuating growth in 2012, this year has seen a dynamic turn, most notably in the airline industry. With three quarters of decline for airline traffic last year, aviation companies will be glad to know that passenger air transportation is up nearly 20 percent so far this year. The economic consequences of this trend could be far-reaching as manufacturing outfits expand in the U.S. and orders for airplanes from major companies increase over time.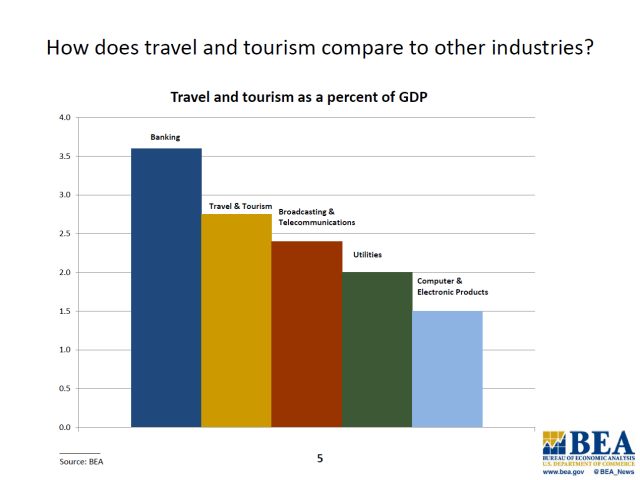 Tourism's size, scope, and importance are put into context when viewed against other major industries. Ranking second only to banking on the above chart, the 2.7 percent or so of GDP that tourism accounts for is substantial and likely to grow along with the sector as momentum carries the industry through 2013.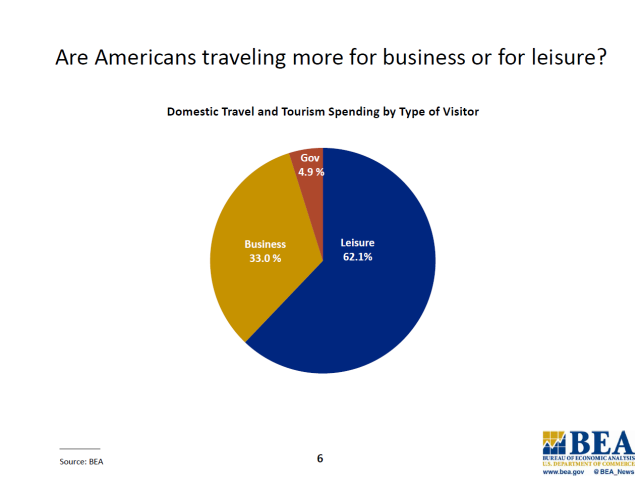 Americans love to wander around their own country, which bodes well for tourism's future. When comparing reasons for traveling to a particular destination, Bureau of Economic Analysis stats found that the majority of Americans go simply for the sake of going. As unemployment declines, wages rise, and the economy as a whole recovers, tourism can expect a continued increase in traffic.
Here's how the major U.S. indexes traded on Monday: