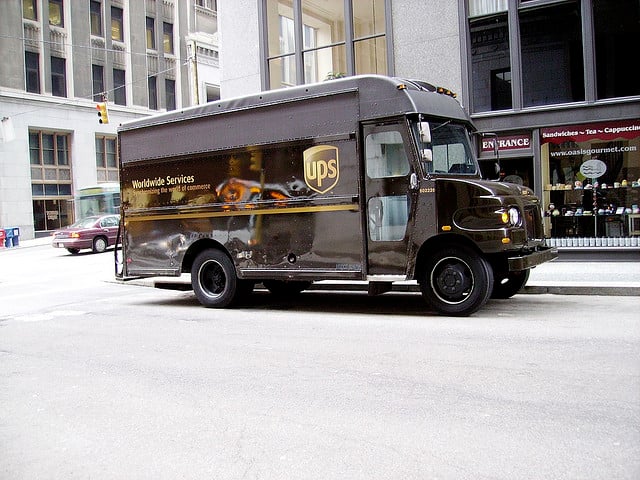 United Parcel Service Inc. (NYSE:UPS) has cut its 2013 earnings forecast, with the sluggish economy hurting both profit and revenue for the world's biggest package delivery company.
The company's adjusted earnings fell to $1.13 a share, down from economist estimates of $1.20. That figure is the biggest drop the company has seen in three years, and UPS predicted that profits for this year will only increase three percent. UPS also changed its expectations for adjusted earnings for the year to $4.65 to $4.85 a share, down from earlier estimates of $4.80 to $5.06 a share.
Package delivery companies like UPS and FedEx Corp. (NYSE:FDX) are frequently seen as economic bellwethers, because they are needed to transport goods around the world. But both companies have been dealing with their customers' shift to less expensive shipping options.
Analysts have said that UPS's losses were more severe than had previously been expected, and the company's Chief Financial Officer Kurt Kuehn said he expects the damaging trends to persist. UPS also said the firm is in negotiations with its union employees. The company agreed to enter negotiations with its Teamsters union about extending contracts, but an agreement hasn't yet been reached.
But FedEx has raised its own profit expectations for 2014, as the company is cutting 3,600 jobs and trimming costs of its international shipping services. The company is offering 3,600 employees a voluntary buyout program, has parked some of its planes, and will begin limiting service to Asia. FedEx is restructuring to focus on less expensive ground shipping options that customers have been showing preference for.
Though FedEx saw fourth quarter profits drop, the company's adjusted earnings for that quarter came in at $2.13 a share, more than analyst expectations of $1.96 a share. FedEx has not yet posted second quarter earnings for this year.
It might be necessary for UPS to make similarly aggressive moves, if it expects to compete with FedEx and turn around its currently pessimistic expectations.
Follow Jacqueline on Twitter @Jacqui_WSCS
Don't Miss: Poll: Most People Lack Basic Understanding of a Budget.