Travel Cheat Sheet: 10 Tips to Get to Your Gate Faster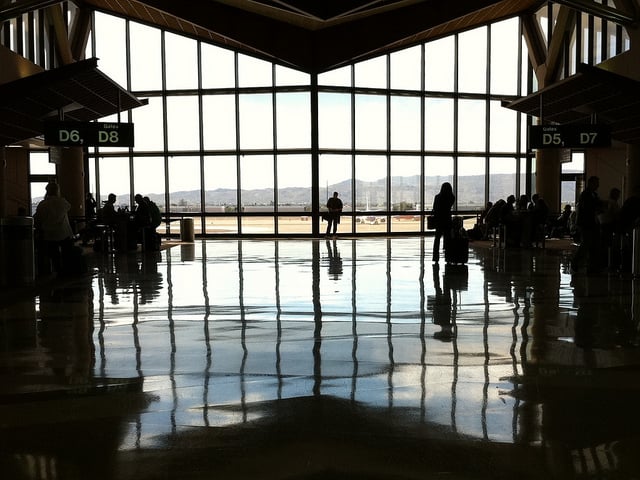 With flying comes the inherent risk of running late. Whether you're running behind, stuck behind a long line at security, took a wrong turn to an incorrect gate, or have a really tight connection, there are ways you can make up time.
Most airports advise passengers to arrive 90 minutes to 2 hours prior to their scheduled departure time. But, that time schedule doesn't always work. When it doesn't, knowing how to maneuver your way through the airport will help ensure you still reach your gate with time to spare. Easily navigate your way through an airport with these 10 tips.
1. Apply for the TSA PreCheck Program
Become part of the program and you're rewarded with a special screening lane that has fewer people in it. There will be no more worrying about taking off shoes, light outerwear, and belts. It also allows you to leave your liquids and laptop in your carry-on. Different membership prices depend on different programs, and while it isn't free, it "really speeds things along," said Ed Perkins, a contributing editor for SmarterTravel.com. You'll be breezing through security in no time by taking advantage of this program.
2. Come Prepared for Airport Security
So you've decided you don't want to pay a fee for the TSA program. Then, the best thing you can do is come prepared and get through the regular security line faster. Slip-on shoes will get you in and out quicker. Whatever you do, don't forget to take out your liquids. Forgetting that could trigger a luggage search, which guarantees to take a while.
According to Travel Consultant David Ourisman, the more organized you are, the quicker you'll get to your gate. Don't forget about things such as a "wristwatch, wallet, cell phone — stick it in your carry-on. Put any toiletries into a bag next to your laptop so you're not bumbling for stuff," Ourisman said. Double check anything questionable on the TSA website's prohibited list. Making an investment to purchase a TSA-approved laptop case will also ensure you don't have to remove your computer from your bag.
3. Use Your Smartphone to Your Advantage
As long as you have a smartphone, you don't need to spend time dealing with paper tickets. Most airlines have the option of downloading an electronic boarding pass to your smartphone, which saves you time by keeping you away from airport lines. Just make sure your cell phone is charged prior to takeoff.
4. Don't Get Lost
Easier said than done, but an airport map app makes it much more probable. Before you fly, download maps of the airports you'll be traveling through. It'll let you plan the best way to get to your gate and see what else is around. GateGuru comes recommended by SmarterTravel.com – it shows maps of everything including gate locations, restaurants, and amenities.
5. If You Don't Need It, Don't Pack It
"Don't check luggage," said Roy Ramsey, director of operations of Betty Maclean Travel. Think of all the time and money you can save by going carry-on only. Furthermore, Ramsey said that, "You're delayed leaving the airport [because you have to wait for your bag at baggage claim], and it can get really busy with a lot of other bags, and that delay can be quite long."
6. Invest in Your Luggage
It's all about strategy when it comes to weaving around people at an airport. Invest in a carry-on suitcase with smooth wheels that won't trip you up as you zigzag through crowds. According to Elliot Saks, owner of a luggage repair shop, avoid plastics when purchasing a carry-on. Instead, "soft nylon bags are lighter and can often squeeze into tight spaces."
7. BYOS: Bring Your Own Snacks
You can save time and money by supplying your own. Bring an empty water bottle to fill up post-security and you're all set. There are plenty of easy recipes for tasty treats you can bring on your trip that won't take long for you to put together.
8. Choose Your Seat Carefully
If you have a tight connection, make sure you're sitting at the front of the plane. Instead of anxiously waiting for others to get up, collect their luggage and slowly make their way out, you'll be one of the first off the flight. Even if you can't get a seat near the front, you should aim to get an aisle seat if you're not traveling with a companion.
Otherwise, you could find yourself trapped by a less hurried passenger who prefers to wait for everyone else to get their luggage and de-board before getting out of his seat. Unless you're willing to speak up for yourself and ask this person to kindly get out of your way, you're going to need that aisle seat for yourself — just to be safe.
9. Online Check In
Possibly the biggest waste of time at an airport is waiting in line to check in for a flight in person. Instead, check in online before you leave. If you're somewhere that doesn't have a printer, still check in online and then print out your boarding pass at the airport self-help kiosk.
10. Travel-Alert Apps Keep You Updated on Gate Changes
Apps like Tripit Pro will text or email you if your flight is moved. Find out sooner, rather than later, so you don't find yourself walking from gate-to-gate. Also, if anything happens with your flight, remain proactive, according to Ed Hewitt of IndependentTraverler.com. "Program airline 800 numbers into your phone. If you get stuck due to a delayed or canceled flight, you are going to want to be proactive in figuring out your options, as airline folks are typically understaffed and under siege in these situations."
Don't Miss: Apple Stores May Soon Get This Interactive Shopping Technology.