Winter Storm Blows Holiday Travel Plans Across East Coast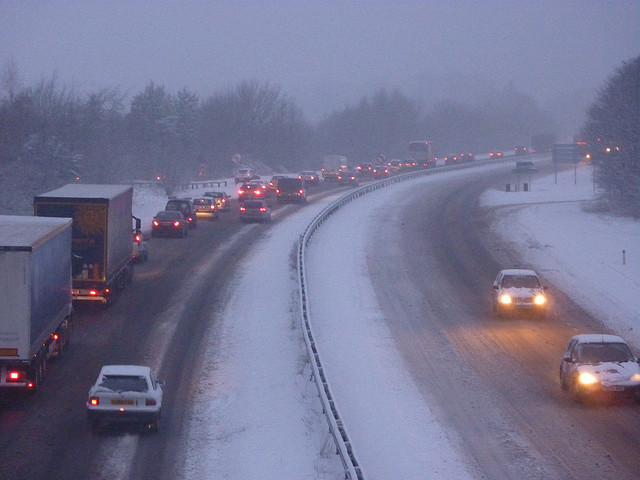 A winter storm named Boreas is laying down heavy snow across the east coast just in time for Thanksgiving travel to get underway. The storm has already caused airline delays on the busiest travel day of the year, and is likely to affect vehicle traffic as well when travelers make a rush to get started on long drives as soon as there's a break in precipitation.
The storm could even ruin a Thanksgiving tradition — the Macy's Day Parade in New York City. New York governor Andrew Cuomo issued a winter weather warning yesterday, and BBC News noted that New York City's regulations stop inflatables like those used in the parade from being used when sustained winds are over 27 mph or gusts reach 34 mph.
"As New Yorkers are beginning to travel for the Thanksgiving Holiday, we are also preparing for the first major winter storm of the year which is expected to bring snow and ice to communities across the State," Governor Cuomo said. "Recognizing that the harsh weather as well as the increased use of roadways has the potential to cause serious inconvenience for motorists, I have directed the State's transportation agencies to take all necessary preparations to be ready to clear roadways as quickly as possible."
According to the Weather Channel, the storm will affect 58 million people over an area of 2.5 million square miles. The Weather Channel said that the storm has already caused car accidents and road closings. Travel conditions are expected to be worst in the Northeast, with the Weather Channel forecasting heavy snow, sleet, ice, and significant delays at airports in the region.
On Wednesday morning the Washington Post reported that JFK, LaGuardia, and Newark airports have told incoming planes to delay departure by an hour because of the high winds being experienced in the area. With over 3 million people planning to fly during the weekend, delays will pile up quickly.
If you're traveling over the weekend, be sure to check the weather forecast for your area, stay up-to-date on possible flight delays, and give yourself some extra time to get where you're going safely.
Follow Jacqueline on Twitter @Jacqui_WSCS
Don't Miss: Does Airline Consolidation Mean Fewer Seats and Higher Prices?