Top Secrets to Saving Money at a Farmers Market
In the spring and summer, everybody loves shopping at the farmers market. Going to the farmers market gives you easy access to fresh food, and it could make you a better chef. But relying solely on the farmers market for your grocery shopping gets notoriously expensive. Fortunately, knowing what you're doing can help you save a bundle of cash on your next trip to the market — even while you try new things and fill your shopping bag with great-tasting, locally grown food.
Want to know some secrets for saving money at the farmers market? Read on to learn the best ways to save.
1. Find out what's in season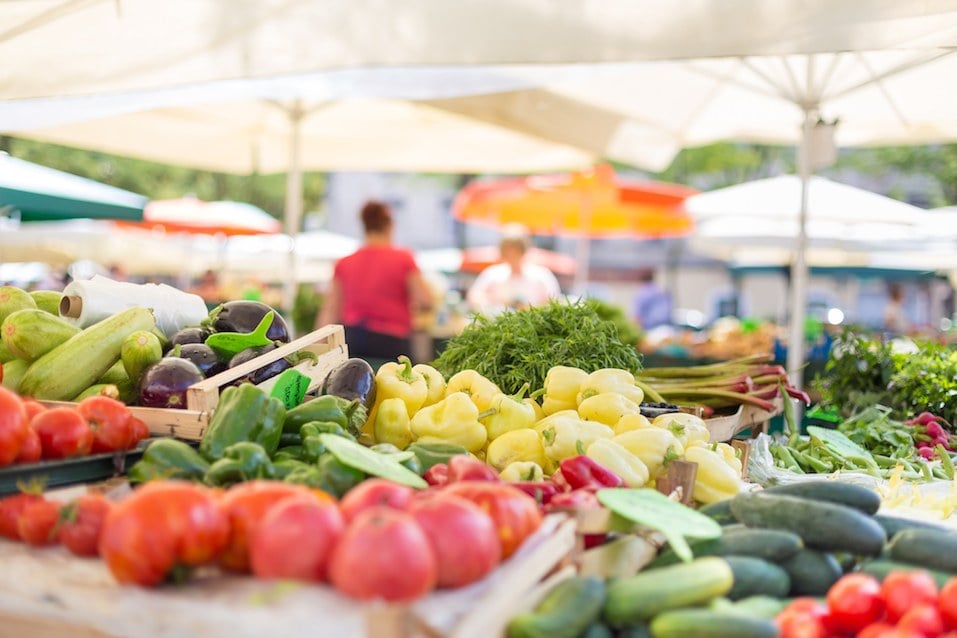 The most affordable produce at the farmers market will generally be the fruits and vegetables that are in season. That's because when something is at its peak season, multiple vendors have the same thing. That drives down prices. So it pays to do your research and find out what's going to be the most plentiful.
An easy place to start is the U.S. Department of Agriculture's seasonal produce guide. Or you can consult this more detailed chart from the Center for Urban Education about Sustainable Agriculture. You can also check with organizations in your area for information specific to your region. 
2. Pay in cash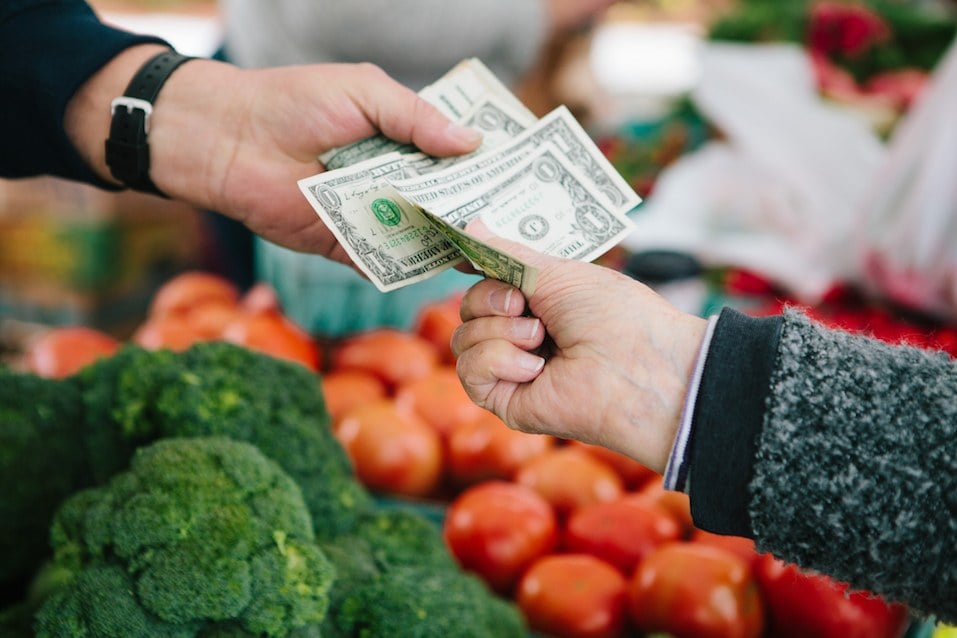 Another unexpected way to save money at the farmers market is to pay in cash. And ensure that you have plenty of small bills and quarters. Vendors run out of both when they're making change for customers all day. So if you negotiate and offer to pay in quarters and $1 bills, many vendors will make you a deal. It's an easy way to save, whether you're stocking up on fruits and veggies or buying bread and cheese.
3. Look for 'ugly' produce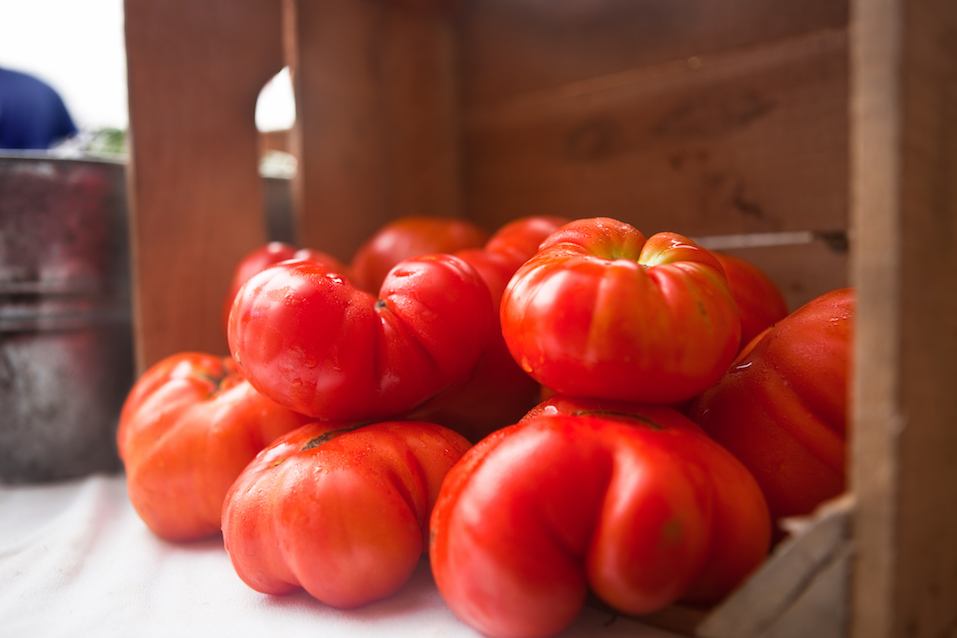 If you want some real savings at the farmers market, take Consumer Reports' advice and look for vendors' ugly or misshapen produce. We all favor the prettiest fruits and vegetables, whether at the grocery store or the farmers market. So many farmers market vendors sell crooked carrots and oddly shaped tomatoes at a lower price than the more conventionally attractive crops. Some even sell such produce bagged, or from a separate bin, at a significant markdown. But you'll get the same exact taste — just at a much better deal.
4. Check out the grocery store flyers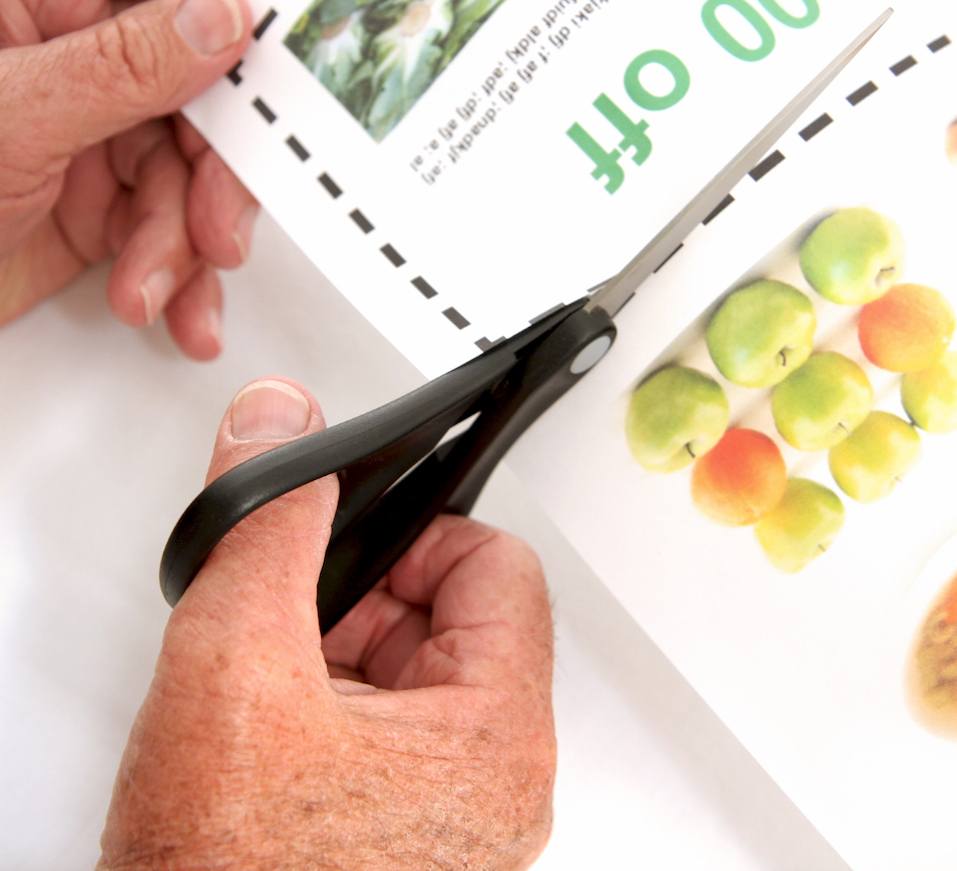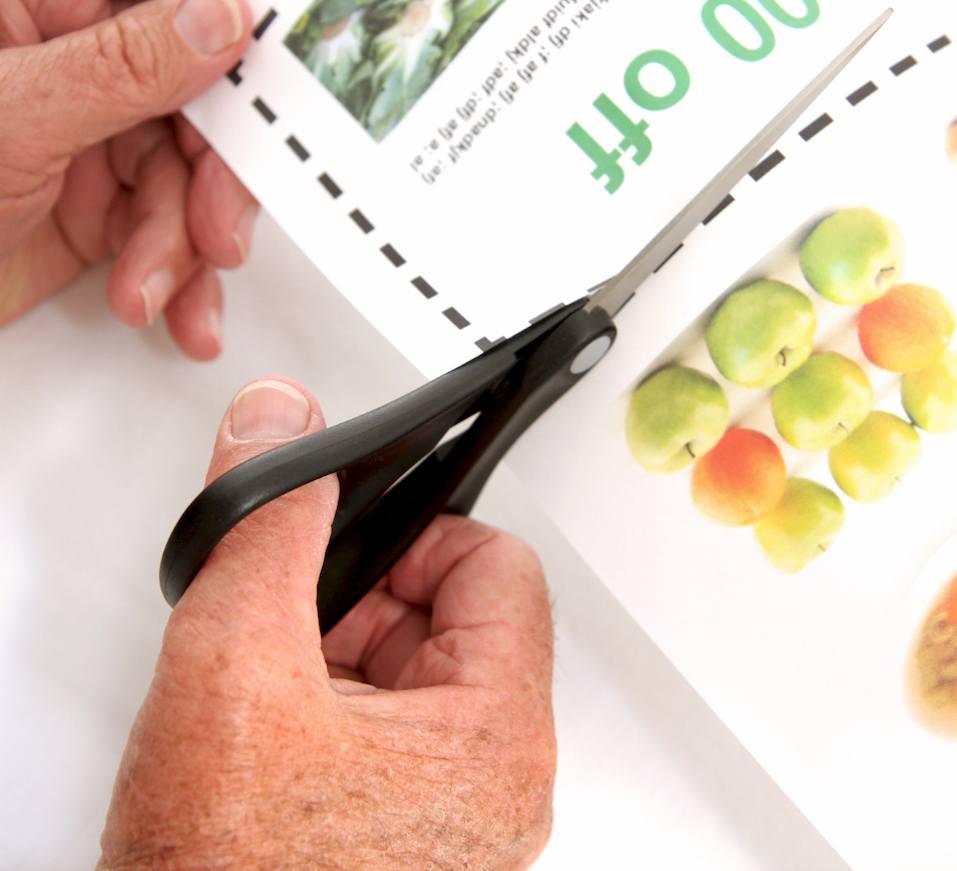 Even if you prefer to go to the farmers market to buy locally grown produce, you should still find out what's on sale at the grocery store. Sometimes, the grocery store offers sale prices you simply can't pass up. To get the most out of your food budget, you should always compare prices and weigh your options. Many people love eating locally grown food — but not if it's going to cost them twice what they'd pay at the grocery store. 
5. Make a budget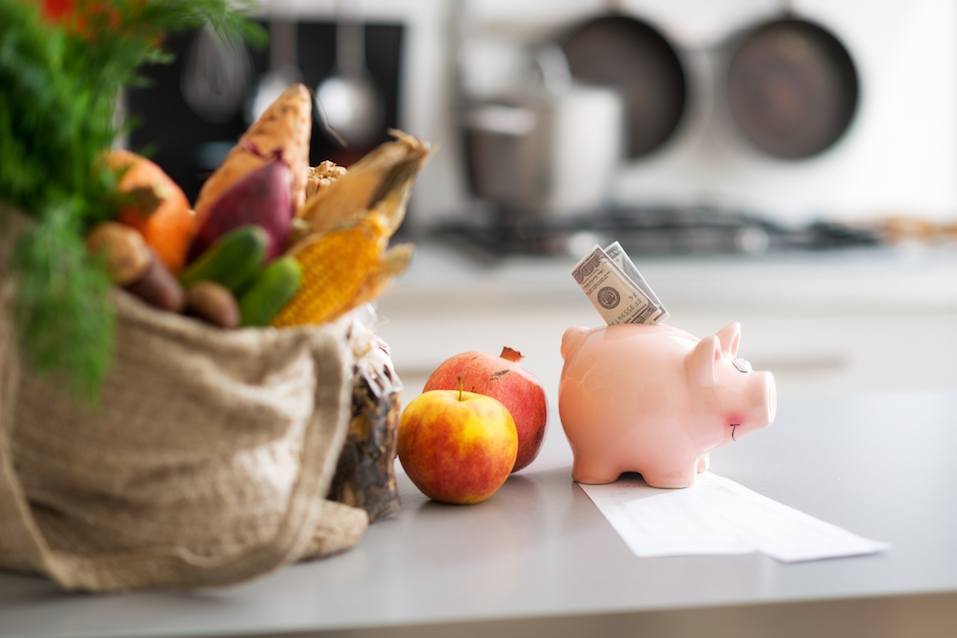 You might not think you'd overspend on vegetables. But the delicious bread, local honey, and homemade pies at the farmers market just might get you. Before you go to the farmers market, set a budget. And when you're shopping, stick to it. If you fill your shopping bag with the essentials you need and still come in under budget, then you'll know it's fine to splurge on something fun, too. 
6. Take a walk before buying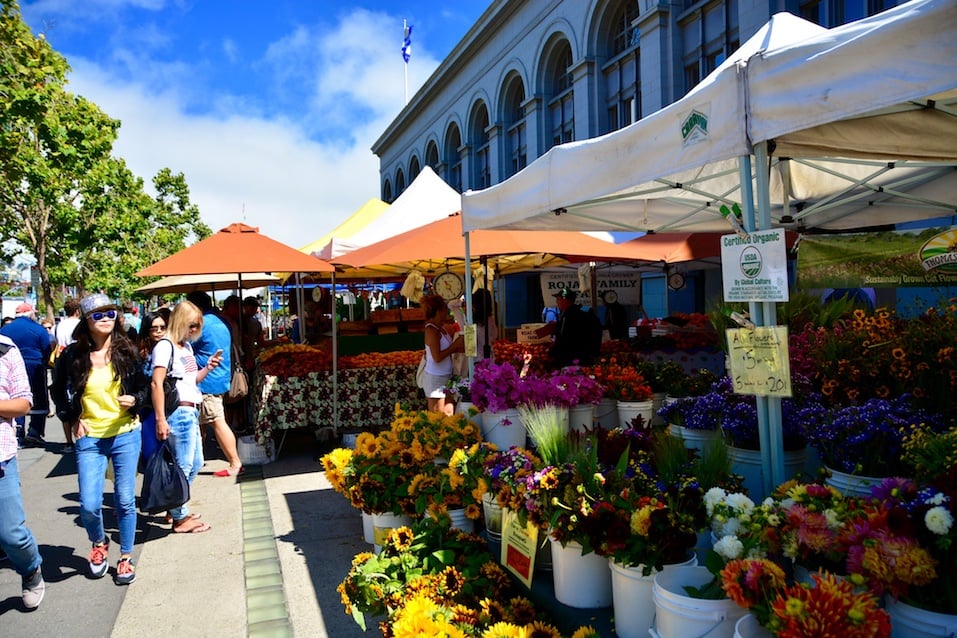 Even if the first farmers market stand you see has something you want to buy, you should keep walking. Particularly with in-season produce, multiple vendors will have the same fruits and veggies. And you should always compare prices in order to get the best deal. Walk the entire farmers market before you make any purchases to make sure you get the best quality and value. You can make a note of prices on your phone or on a piece of paper. Then, you can return to the stands that have what you need at the best prices. 
7. Know which produce to buy organic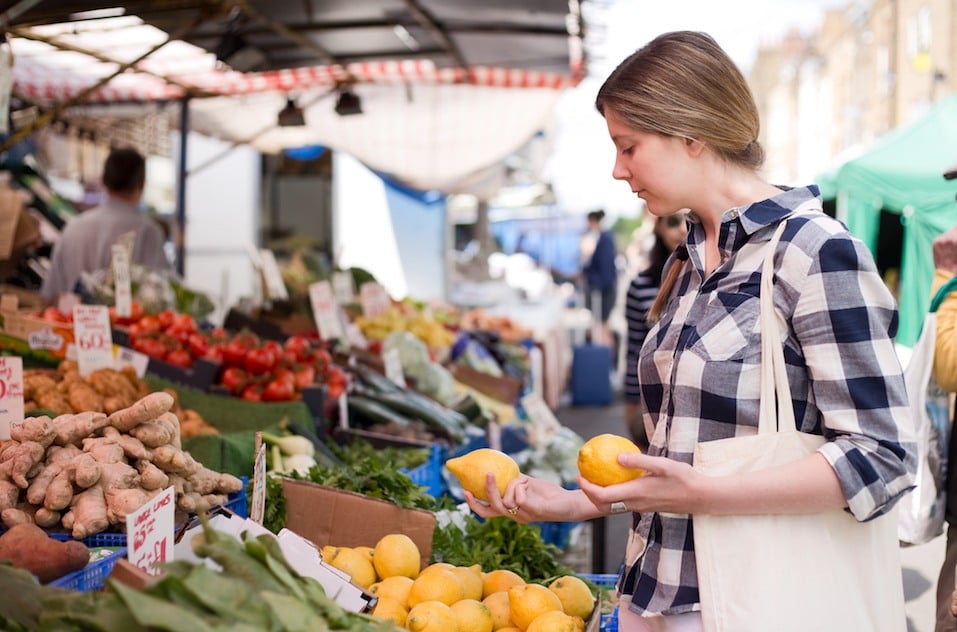 When you buy produce, you typically have two options: organic or not organic. (Of course, it's not actually quite that simple, especially at the farmers market, where it's likely that only some of the vendors who actually qualify might have gone through the certification process.) But in any case, you can save money by knowing which fruits and veggies you should always buy organic and which ones you don't need to buy organic. You should buy the most easily contaminated produce from organic growers whenever possible. But for fruits and veggies that don't typically absorb contamination, you can just go with the cheaper, non-organic option.
8. Consider shopping right before closing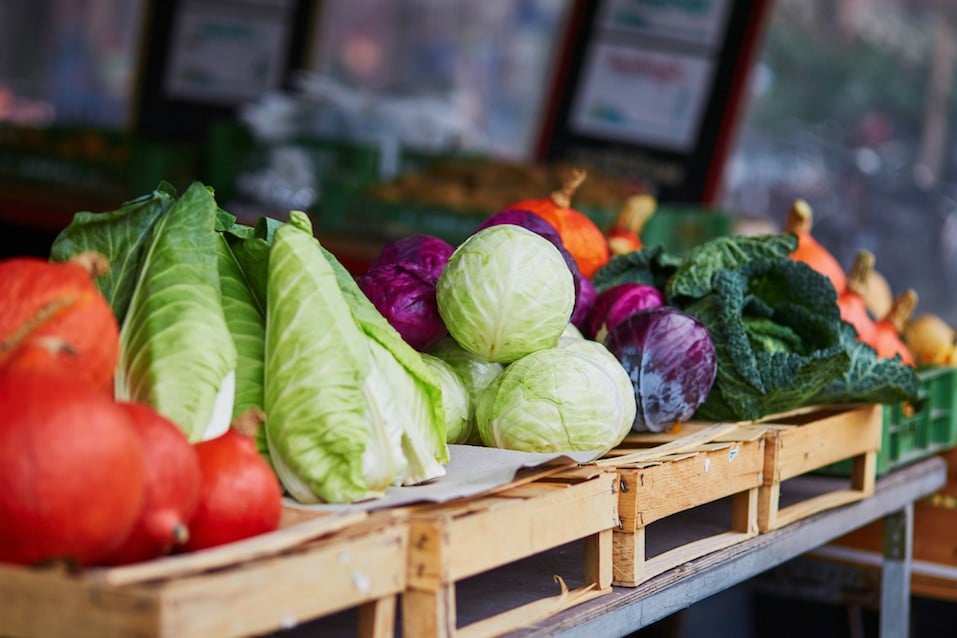 At some markets, vendors discount their wares shortly before closing time. That way, they don't need to load it all back in their trucks to try to sell it elsewhere. It's not a common practice everywhere, and some vendors don't participate. Plus, they won't like it if you just wait around, watching the clock, before you buy. But it's worth checking out your favorite farmers market close to closing time to see whether you can get some great deals.
9. Ask questions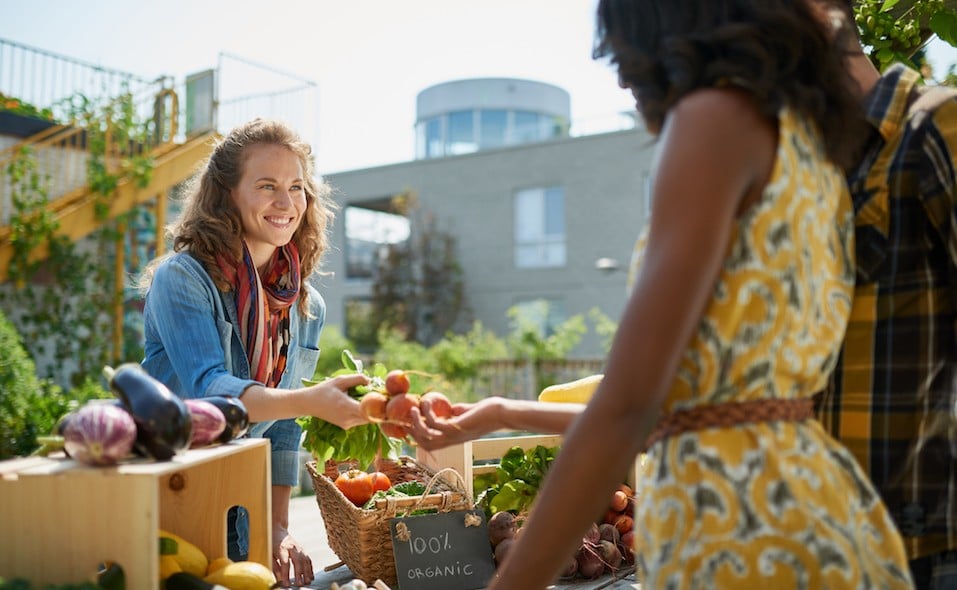 Just because produce is grown locally doesn't mean it's grown sustainably, it's pesticide free, or it automatically has whatever other qualities are important to you. Some people just want their food to be fresh. But if you have something more specific in mind, don't hesitate to ask questions. By finding out exactly what each vendor offers, you'll be able to spend your money more judiciously. 
10. Stay flexible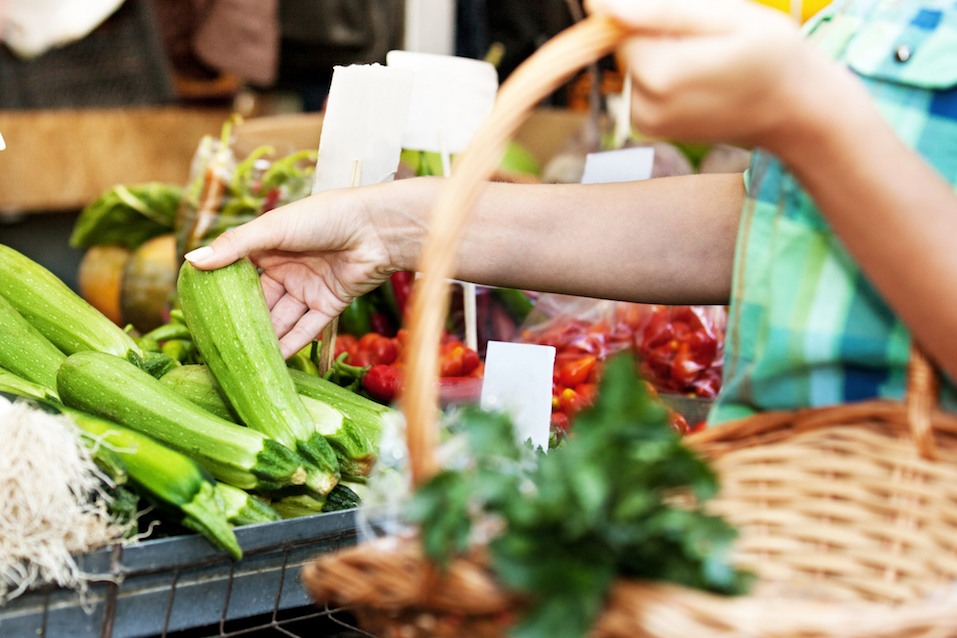 One of the best ways to save money at the farmers market? Keep your grocery list flexible. If you planned to make a recipe using yellow squash, don't be afraid to substitute in zucchini instead. Or if you were planning on baking with blueberries, think about trying strawberries, blackberries, or raspberries if you can find them at a better price. If you know what categories of food you need, rather than making a list of specific items, you'll save money while still getting what you need. That way, you can stretch your food budget further — and maybe even add a few new recipes to your repertoire.
11. Try something new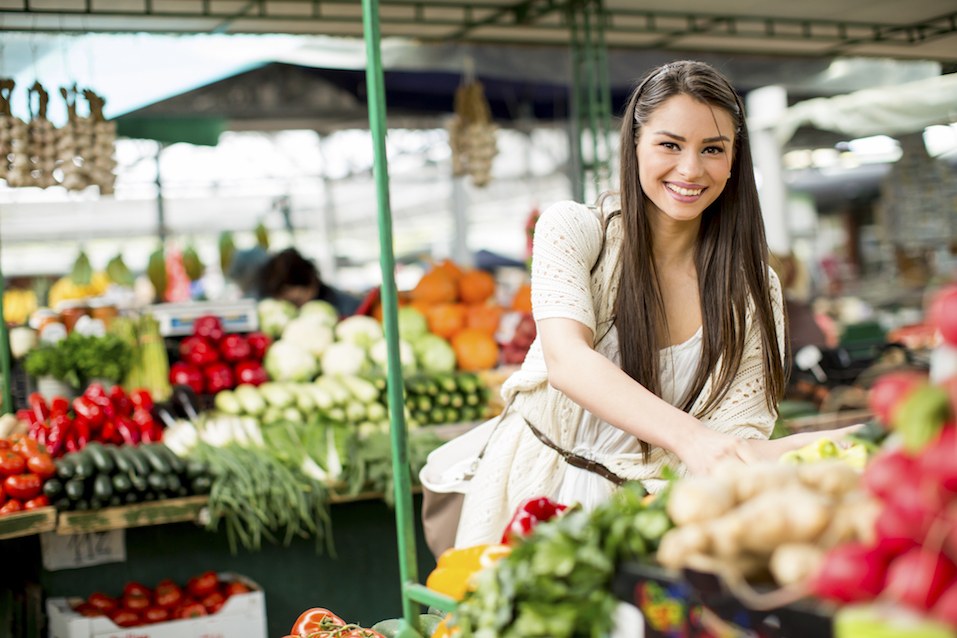 We've already established if you head to the farmers market with a very specific list in mind, you'll likely end up paying a lot more than you expected. But if you want to go a step beyond staying flexible about selections, then you should plan to try something new each time you go to the farmers market.
When you see a vegetable offered at a great price at the farmers market, go ahead and buy it, even if you've never cooked with it before. Then, you can figure out what to make with it once you get home, especially if you use resources, such as the aptly named Vegetable Literacy.
12. Know how to determine what's ripe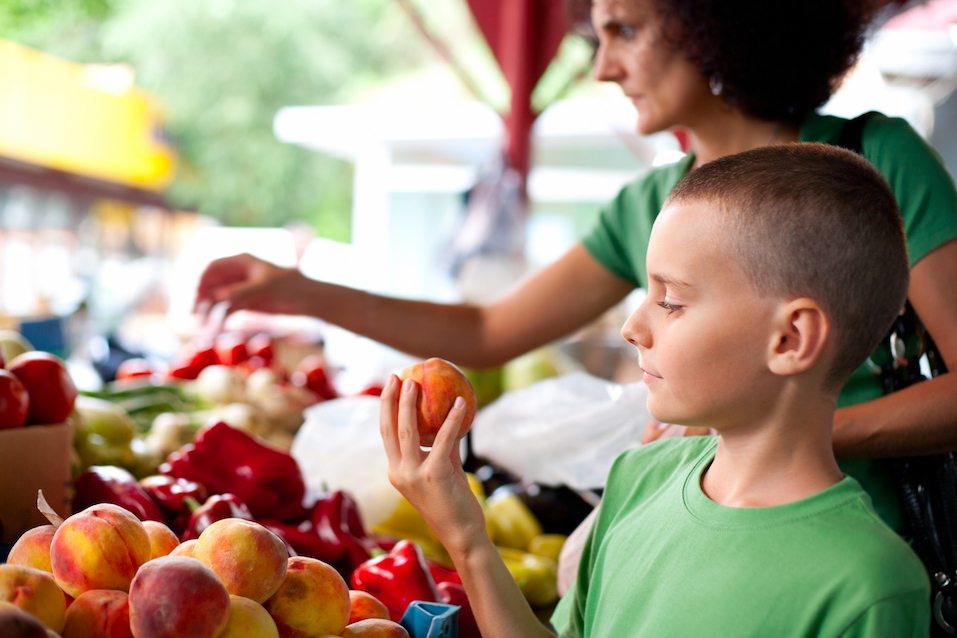 Buying produce at the local farmers market to use in your meals for the upcoming week won't help you if you have to wait half the week for your fruits and veggies to ripen. Do your research, and find out what your fruits and vegetables will look (or smell) like when they're ripe. Or ask the vendor to help you choose one that's ripe.
13. Buy in bulk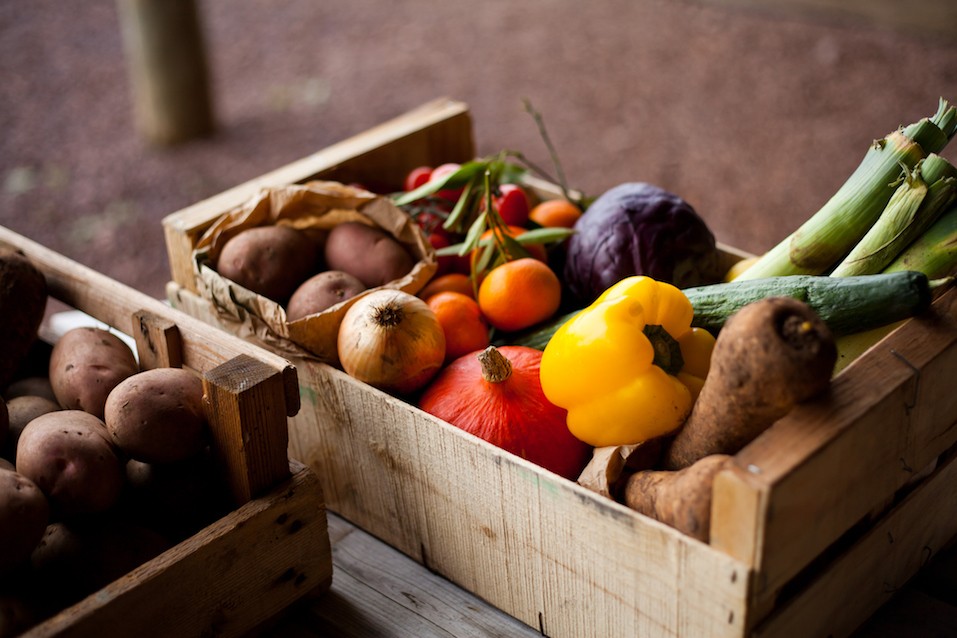 If you have a big family to feed — or just don't mind eating the same kind of produce each day for a week — consider buying in bulk. When you buy multiple pounds of a given vegetable, the vendor might be willing to negotiate and cut you a deal. Of course, you don't want to buy either fruits or vegetables in such huge quantities that they'll go to waste. But if you know you can use it all up, buying in bulk can definitely save you money. And whether you're buying meat or vegetables at the farmers market, you can always freeze what you won't use right away to make it keep a lot longer.
14. Look beyond the fruits and vegetables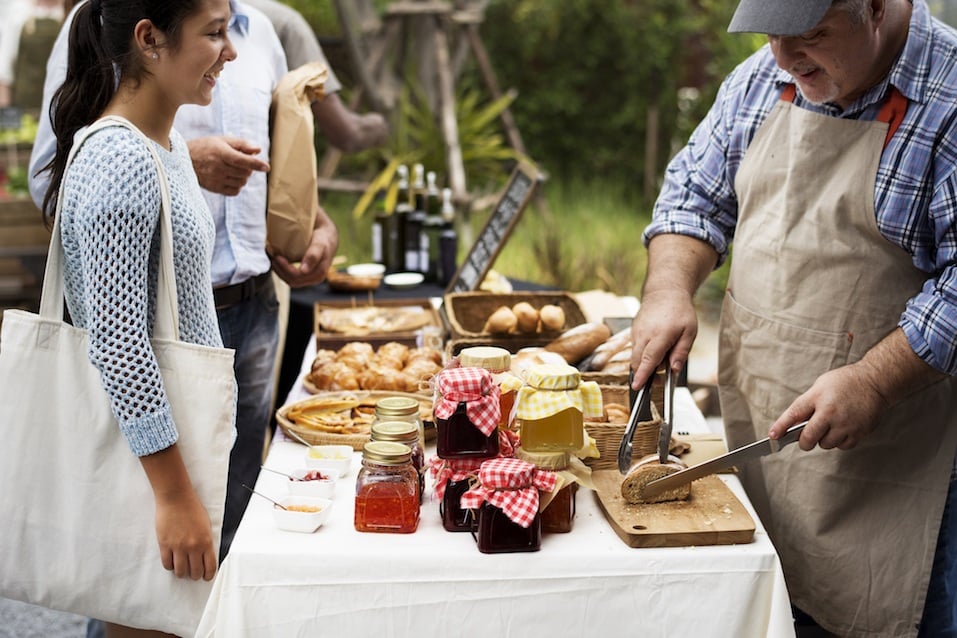 The farmers market is a hot spot for locally grown produce. But you can often save money on your grocery bill by buying other items at the farmers market, too. Vendors at many markets offer grains, milk, cheese, meat, honey, jams, bread, desserts, and even fresh-cut flowers. If you shop around, you'll likely find deals that beat the offerings at your grocery store. 
15. Make several stops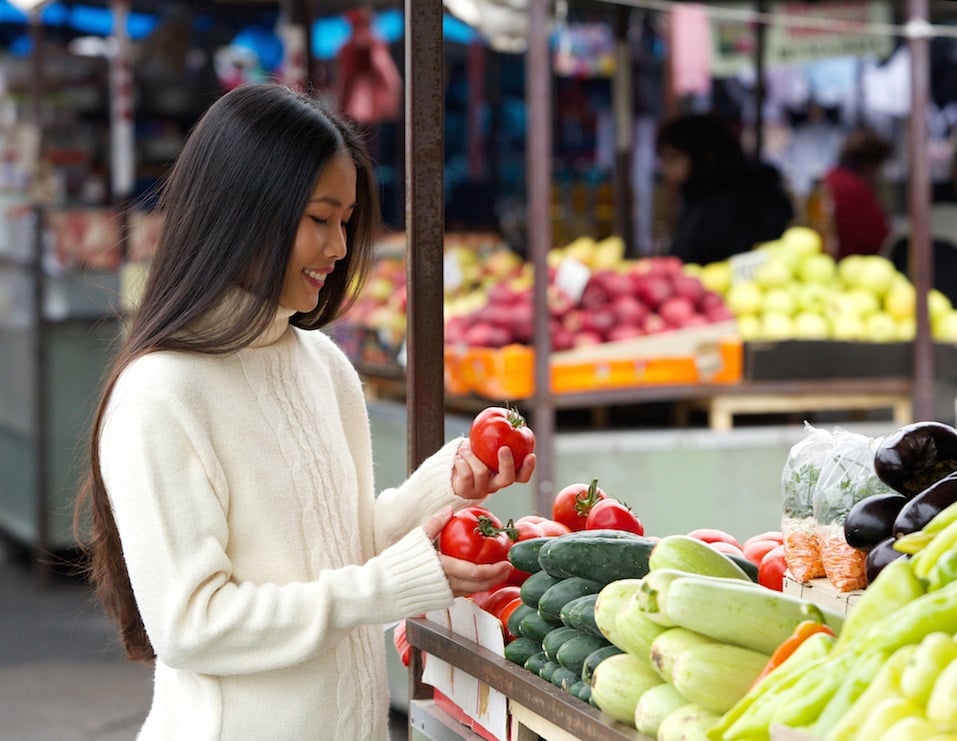 If you have several farmers markets accessible to you, then consider visiting more than one. That way, you can compare prices. And over time, you'll know which sellers tend to offer the best prices and the highest-quality products. Many areas, even relatively small towns, host multiple farmers markets. And often, organizers do their best to make each farmers market convenient not only for people who drive, but also those who rely on public transportation.
16. Don't skip cold or rainy days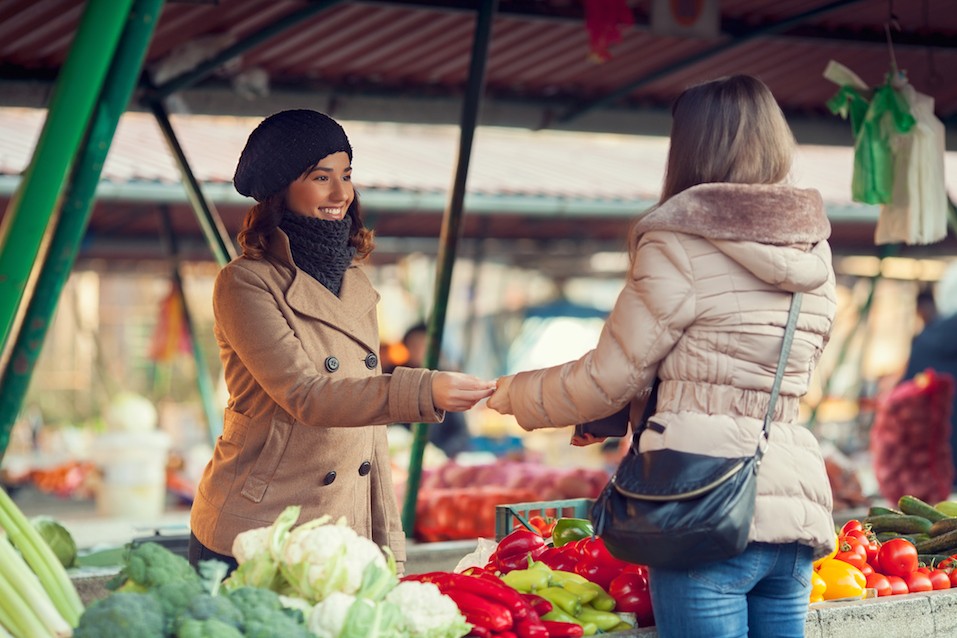 The farmers market will usually open, rain or shine. But lots of shoppers skip outdoor markets when it's rainy (or even when it's unseasonably cold or incredibly hot). If you want a deal, don't skip the farmers market just because of less-than-ideal weather. Vendors often try to compensate for lower traffic by offering discounts to the customers who do show up. That helps the growers to boost sales and can translate to significant savings for you. 
17. Talk to the vendors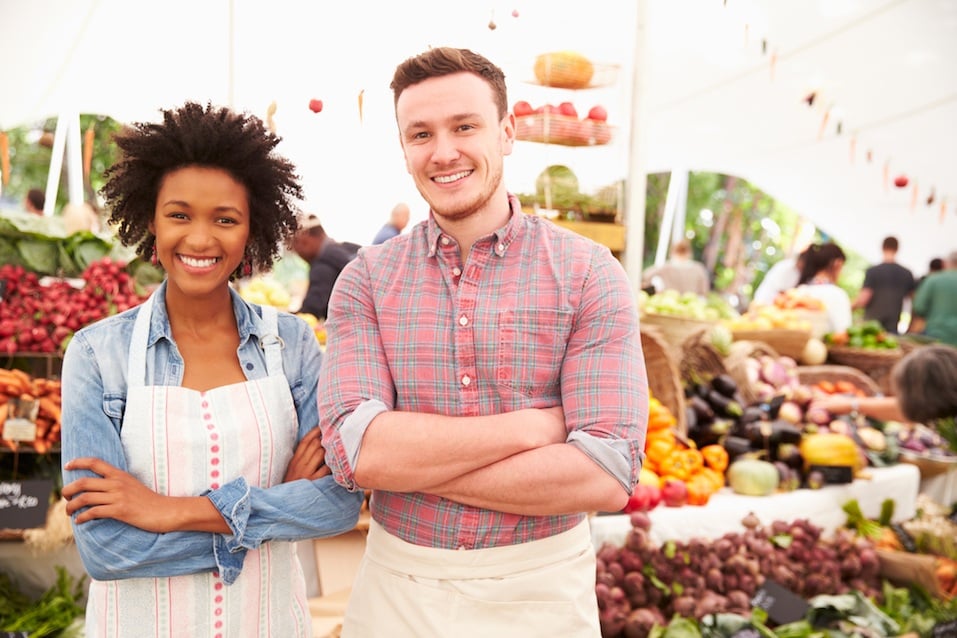 The vendors who sell at your local farmers market are people, too. And most would love it if you struck up a conversation. If you build a relationship with the vendors whose booths you frequent, you'll not only make a friend, but also increase your chances of getting a deal on the items they really need to sell. Many vendors offer their regulars the first chance at buying excess products they want to move quickly. So whether you're buying produce, meat, dairy, baked goods, or even flowers, getting to know the vendors is an easy way to save money. 
18. Sign up to volunteer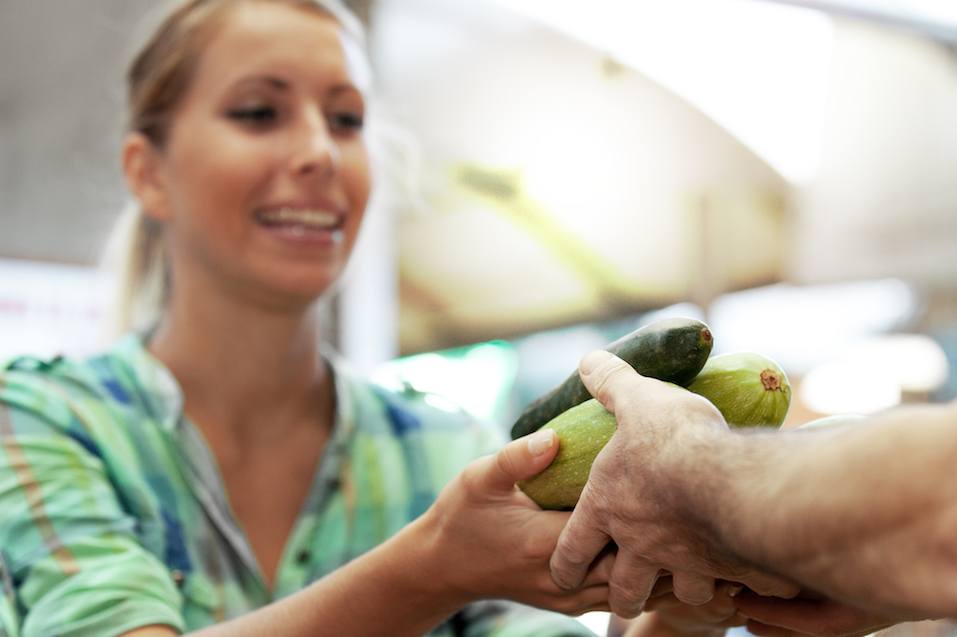 Many farmers markets need volunteers to run the show. And often, organizers will thank volunteers with bags of free produce. If you have the time to help your local farmers market with setup, cleanup, and whatever other duties pop up, you'll definitely find it rewarding in more ways than one.