Try This 10-Minute Movie Snack: Garlic Parmesan Popcorn
Inviting some pals over to hang out can quickly turn stressful when you realize they're going to expect some food. Before you reach for your phone to order delivery, take a few deep breaths. Homemade eats don't have to be difficult. With original recipes from our Everyday Appetizers series, you can pull off showstopping starters without losing your cool. 
Most of us would much rather stay home to watch a movie than deal with parking and staking out a good seat at a theater, especially when you realize you can enjoy a few drinks at your place. With so many streaming services and gadgets designed to make your living room feel like the real thing, the only part missing is the concession stand. While this isn't a travesty, a helping of buttery popcorn is pretty hard to beat. But put down the bag of artificially flavored, microwavable kernels because homemade popcorn is a cinch to make and so much better. It even beats movie theater popcorn.
About this recipe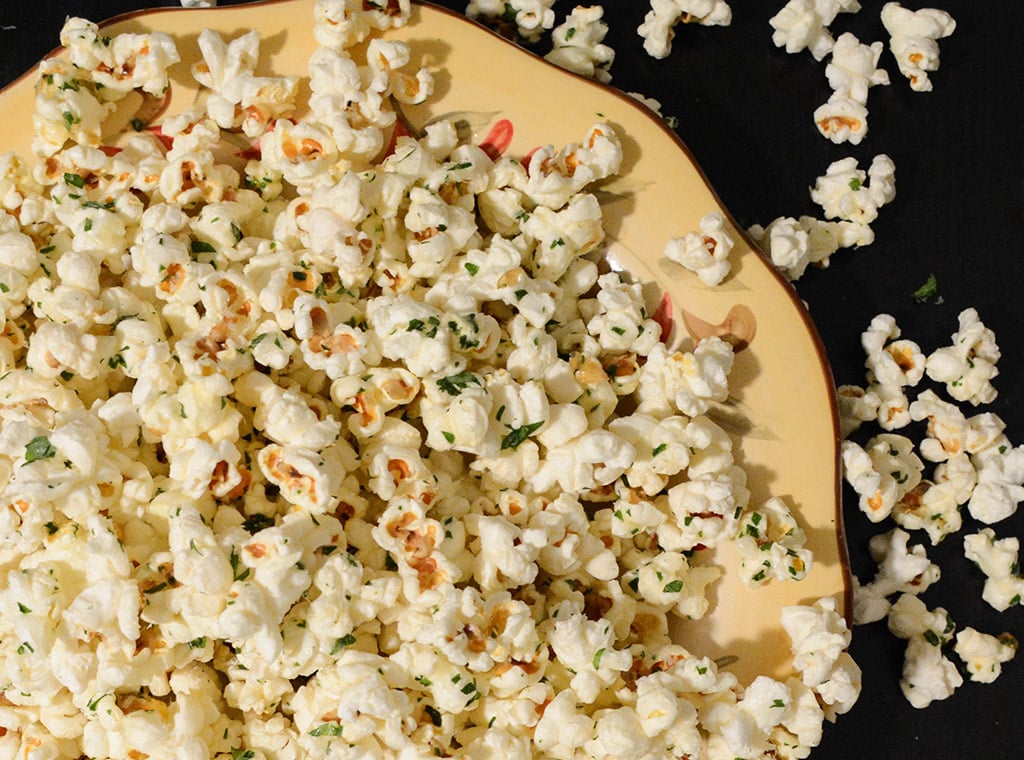 If you're going to make a movie snack at home, you might as well make it taste as incredible as possible. You can jazz up popped kernels in hundreds of different ways, so we decided to go for crowd-pleasing flavors to make all your friends happy. Garlic and Parmesan win the popularity contest hands down and a little bit of parsley freshens things up.
To start off, you'll make a quick garlic butter. Grab the smallest saucepan you have and add the butter to it. Once the butter begins to melt, add a whole mess of chopped garlic cloves. It'll look like a lot, but we're going to strain out the actual pieces of garlic before tossing the infused butter with the popcorn. Once the garlic starts to sizzle, let it continue to cook over medium heat for about 30 seconds before removing it from the burner and letting it steep. Don't be tempted to cook it at a higher temperature or for a longer period of time because you'll end up with dark, bitter pieces of garlic.
Though it's pretty simple to pop popcorn right in the microwave using a paper bag, we're going with a stovetop method for this version because it gives you the most control. Ok… and because it's fun. Add your canola oil, or really any type of high-heat cooking oil, to the pot and drop in about four popcorn kernels. These will help you gauge when then pot is hot enough to start cooking. As soon as your tester pieces pop, add the rest of the kernels, and clamp on the lid. Leave it a bit ajar so the steam can escape while popping, and shake the pan back and forth over the burner. Keep moving as the kernels pop to ensure even heat, which prevents any pieces from burning.
Once the pops are more than 3 seconds apart, immediately dump all the kernels into a large bowl. Drizzle in the strained garlic butter and sprinkle in the Parmesan and parsley. Add a good pinch or two of salt, then toss until all the popcorn is evenly coated. Warning: This stuff is addictive.
No worries if your crew has eclectic tastes when it comes to drinks because this dish is easy to pair. Red wine drinkers might want to go for a medium-bodied Barbera, which Into Wine likes with dishes featuring ingredients like cream and butter. Decently acidic white wines will also be a good foil for the rich flavors as will sparkling wines. Keep it in the Italian family with a bottle of Prosecco.
Beer and cocktail drinkers can both look to bitter flavors to help offset the richness of the butter and cheese. Choose an IPA or mix up a cocktail featuring Campari, like a traditional Negroni. Go for something with citrus if you don't dig bitter like this bourbon and grapefruit drink from Saveur.
Garlic Parmesan Popcorn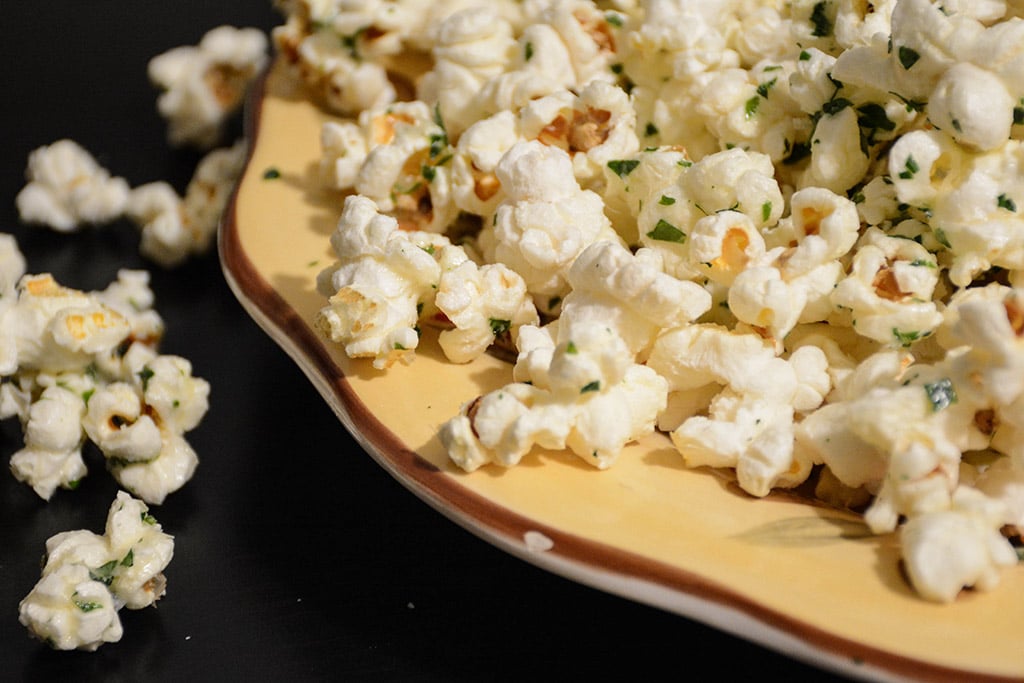 Feel free to try any of your other favorite aged cheeses in this recipe. Pecorino would be nice for a sharper flavor. You'll have enough popcorn to feed 4.
Ingredients:
5 tablespoons unsalted butter
5 garlic cloves, chopped
Salt
1 tablespoon canola oil
½ cup popcorn kernels
½ cup grated Parmesan cheese
2 tablespoons chopped fresh parsley
Directions: In a small saucepan, melt butter over medium heat. As soon as butter begins to melt, add garlic. Let mixture bubble for about 30 seconds, then remove from heat. Garlic should not brown. Let sit for about 8 minutes, strain, season with salt, and set aside.
Meanwhile, heat oil in a large heavy pot. Add about four kernels to the pot. Once the kernels pop, add the remaining kernels. Cover with lid, leaving slightly ajar to allow steam to escape. Cook while gently shaking pot back and forth over burner. You'll start to hear kernels pop. Keep cooking and shaking until pops are about 3 seconds apart.
Immediately remove from heat and dump popcorn into a large bowl. Add garlic butter; you may not need all of it, so adjust as needed. Sprinkle in Parmesan and parsley, season with salt, and toss to coat. Serve at once.
See you back here next week.
More from Culture Cheat Sheet: