Try This Date Night Dinner: Easy Baked Chickpea Cakes
Making your partner dinner is a great way to show your appreciation for them or curry (new pun intended) their favor. Follow our Date Night dinner series week-to-week, as we highlight recipes that are as simple to execute as they are tasty.
This week's recipe comes from the Natural Gourmet Institute, a health-supportive culinary school in New York City that also offers public classes and a variety of other programs. The tantalizing panelle (that's fancy for "chickpea fritters," see below for more info) melds perfectly with slightly sweet mozzarella and mildly bitter broccoli rabe.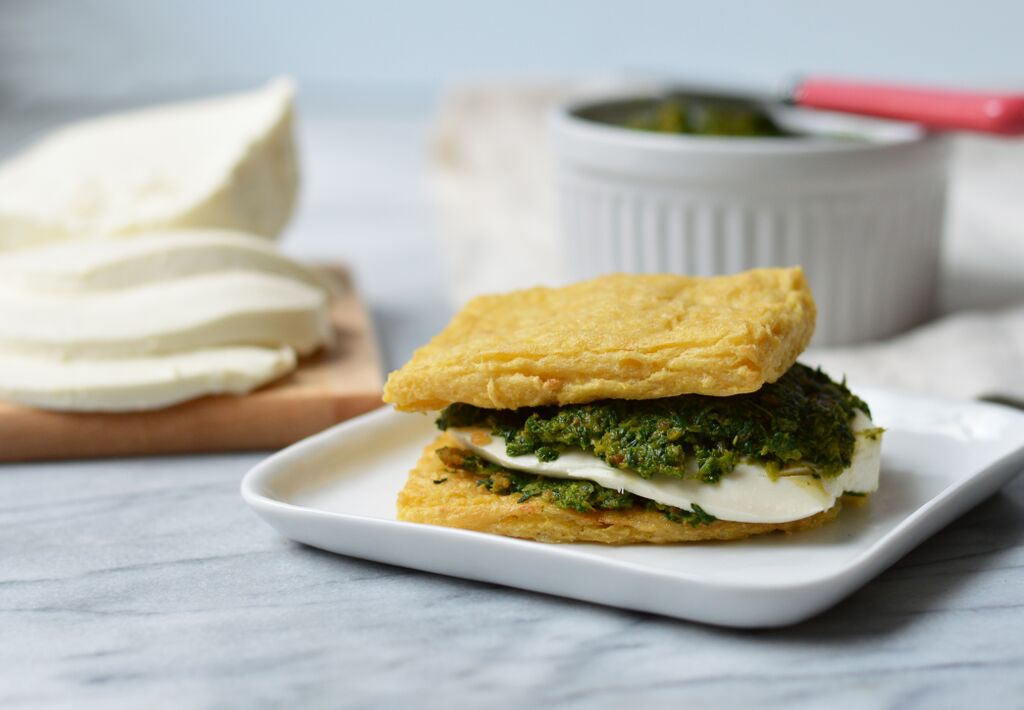 Panelle with Broccoli Rabe Spread and Fresh Mozzarella
Panelle (panella, if singular) are a specialty street food of Palermo, Italy. They are fried chickpea cakes — soft on the inside and crisp on the outside — often served between two slices of bread as a sandwich. Here, panelle assume the role of the bread itself, with a flavorful broccoli rabe spread and fresh mozzarella in between. This recipe yields 4 servings.
Ingredients:
Panelle
1 cup chickpea flour
2 cups water
½ teaspoon sea salt, divided
1 tablespoon extra-virgin olive oil
Scant ¼ teaspoon ground black pepper
4 ounces fresh mozzarella
Broccoli spread
⅓ cup sundried tomatoes, rehydrated in hot water until soft
1 head of broccoli rabe
2 cloves garlic
Scant ½ teaspoon salt
Scant ¼ teaspoon ground black pepper
Directions: To make the panelle: Preheat the oven to 375 degrees Fahrenheit. Bring the water to a boil in a medium-size pot with ¼ teaspoon salt. Lower the heat to a simmer, add the chickpea flour, and whisk continuously for about 5 minutes (as you would with polenta). Pour the chickpea mixture onto a parchment-lined baking sheet, and spread evenly to about ¼-inch thickness. Once the mixture has stopped steaming, refrigerate until it sets up and is firm. Divide mixture into 8 equal pieces, and set aside on a platter. Cover the baking sheet with a fresh sheet of parchment paper, brush each slice with oil, and place back onto the pan. Bake panelle until crisp on the outside but still soft on the inside, about 30 minutes. (Panelle are great straight out of the oven, as well as at room temperature.)
To make the broccoli rabe spread: Bring 2 quarts of water to a boil with ¼ teaspoon salt. Add the broccoli, and blanch for approximately 2 minutes. Remove, and immediately transfer to a bowl of ice water. Drain, and pat dry. Place the broccoli, sundried tomatoes, garlic, and oil into a food processor, along with the black pepper and remaining ¼ teaspoon salt. Puree until a pasty consistency is reached.
To assemble: Spread a tablespoon of broccoli paste on two slices of panelle, and sandwich a slice of mozzarella in between. Slice in half on a diagonal, if desired.
More from Culture Cheat Sheet:
Want more great content like this? Sign up here to receive the best of Cheat Sheet delivered daily. No spam; just tailored content straight to your inbox.