Try This Easy Recipe: 15-Minute Salmon Bagel Flatbread
Inviting some pals over to hang out can quickly turn stressful when you realize they're going to expect some food. Before you reach for your phone to order delivery, take a few deep breaths. Homemade eats don't have to be difficult. With original recipes from our Everyday Appetizers series, you can pull off showstopping starters without losing your cool. 
Eating breakfast foods any time after noon always sounds especially appealing because it's sort of like breaking the rules. Those who go for eggs or pancakes definitely have their needs met with 24-hour diners and other restaurants, but the bagel crowd doesn't have nearly as many opportunities to enjoy their favorite outside the regularly allotted time. We decided it was time to remedy that problem and this phenomenal flatbread was the result.
About this Recipe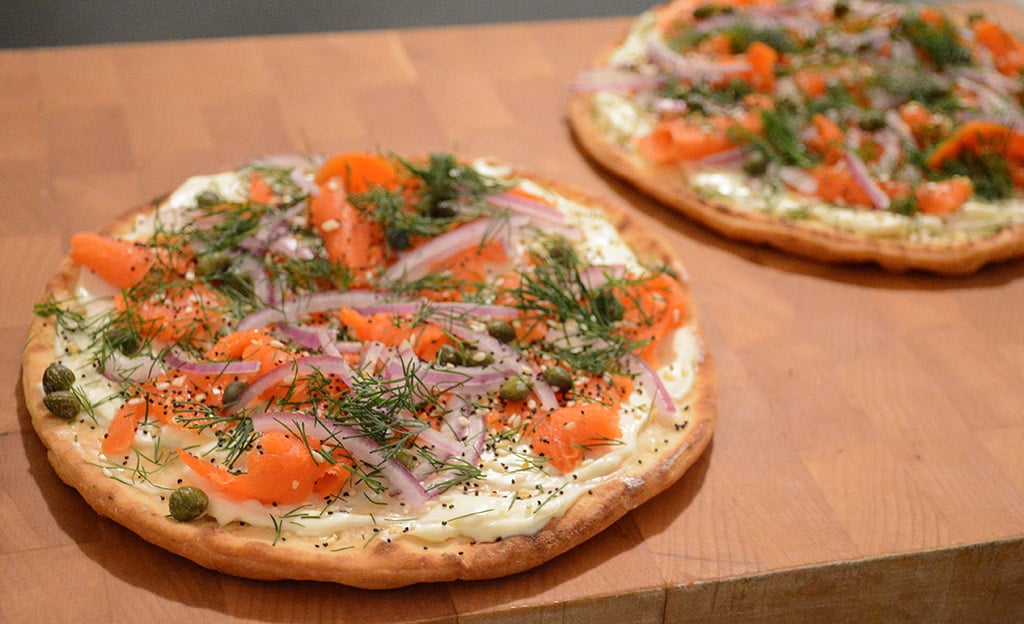 Bagels loaded with salmon and all the usual toppings manage to taste sophisticated while still feeling casual. We wanted this appetizer to have the same vibe, so we opted for smoked salmon to deliver the elegance and premade pita to keep this dish firmly in the easy category. From there we just filled in the rest of the flatbread with the usual suspects: cream cheese, capers, onions, dill, and a seasoning blend similar to what you'd find on an everything bagel. What you end up with tastes as wonderful as the bagel sandwich, but doesn't require advanced baking experience.
The only rule for picking out a bread base for this dish is to go for quality. Pita, naan, chapati, and manousheh, are all good choices. Go for a true bread rather than a par-baked pizza crust because they'll have much better flavor. One you have your flatbread, pop a few pieces into the oven to begin crisping while you gather the rest of your ingredients.
Next, mix the poppy seeds, sesame seeds, and dehydrated garlic in a small bowl. This step is entirely optional, but the seed topping really recreates the taste of an everything bagel. These blends typically include dried onion as well, but we skipped it here since we'll be adding sliced raw onion later on. Besides, it's one less ingredient to worry about.
Once the bread has crisped, immediately smear the cream cheese over the entire surface. The warm bread should help it spread pretty evenly, but don't stress over trying to make it perfect because it'll melt and even out a bit when you return the flatbreads to the oven for a few minutes.
Now it's just a matter of layering the rest of the ingredients. As for the fish, look for cold-smoked salmon. This type of salmon has the same velvety texture you find on the standard bagel while the hot-smoked varieties are much firmer. Add the rest of your toppings, slice, and dig in. This dish proves, once again, breakfast food is always a good choice.
Salmon Bagel Flatbread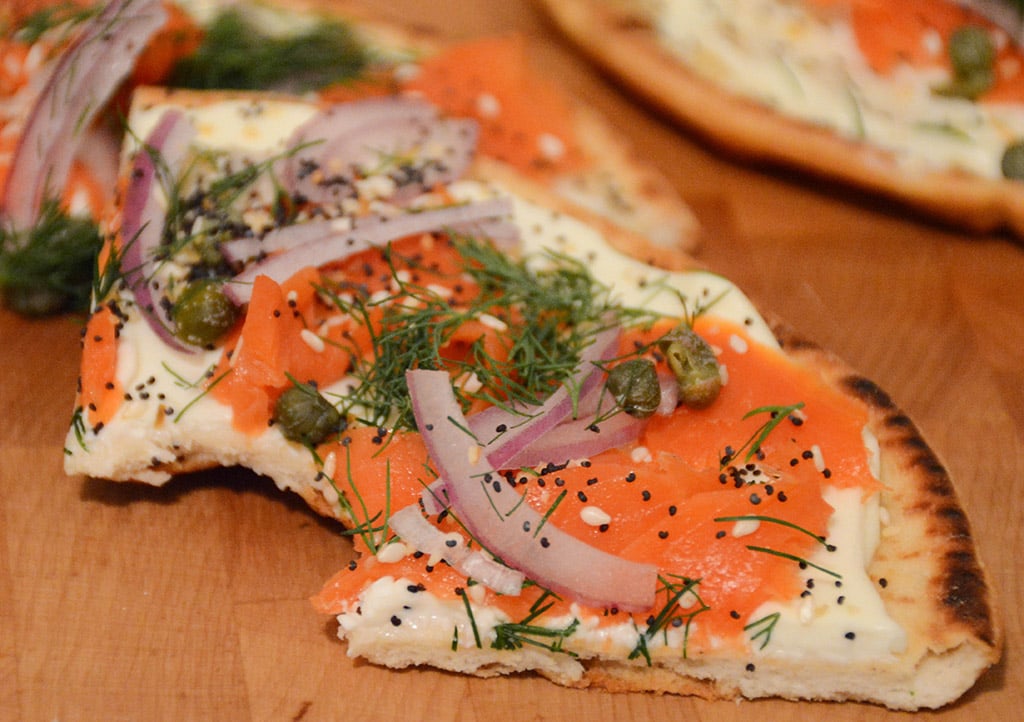 Don't sweat it if you can't find 7-inch flatbreads at your store because you can follow the same method to make one large appetizer or individual ones. This recipe makes enough for 4.
Ingredients:
2 (7-inch) pita or flatbreads
½ teaspoon toasted sesame seeds
½ teaspoon poppy seeds
½ teaspoon dried minced garlic
3 ounces cream cheese, softened
3 ounces thinly sliced cold-smoked salmon
⅛ small red onion, thinly sliced
1 tablespoon capers, drained
1 tablespoon roughly chopped fresh dill
Directions: Preheat oven to 450 degrees Fahrenheit. Place flatbreads on a cookie sheet and bake until crisp and beginning to darken, 7 to 8 minutes. Meanwhile, combine both seeds and dried garlic in a small bowl.
Divide cream cheese evenly between flatbreads and spread evenly over the surface. Return to oven for 1 to 2 minutes, or until hot and cream cheese starts to melt.
Top flatbreads with salmon, seed mixture, red onion, capers, and dill. Slice each into fourths and serve.
More from Culture Cheat Sheet: