These Unconventional Rentals Are So Much Better Than a Hotel Room
Why rent a boring hotel room when you can post up at one of the countless unconventional rentals available today? Whether you're looking to live out your childhood dreams of sleeping in a treehouse or you're on the hunt for the coziest cottage in the country, chances are you'll find it.
Thanks to sites like Airbnb, there are now more vacation rental options than ever. And the best part is, they're well within reach, which is why we've rounded up the best that the U.S. has to offer. So, from the coast of California to the shores of South Carolina, here are 15 places you can rent for the most inspired vacation ever.
1. Malibu dream airstream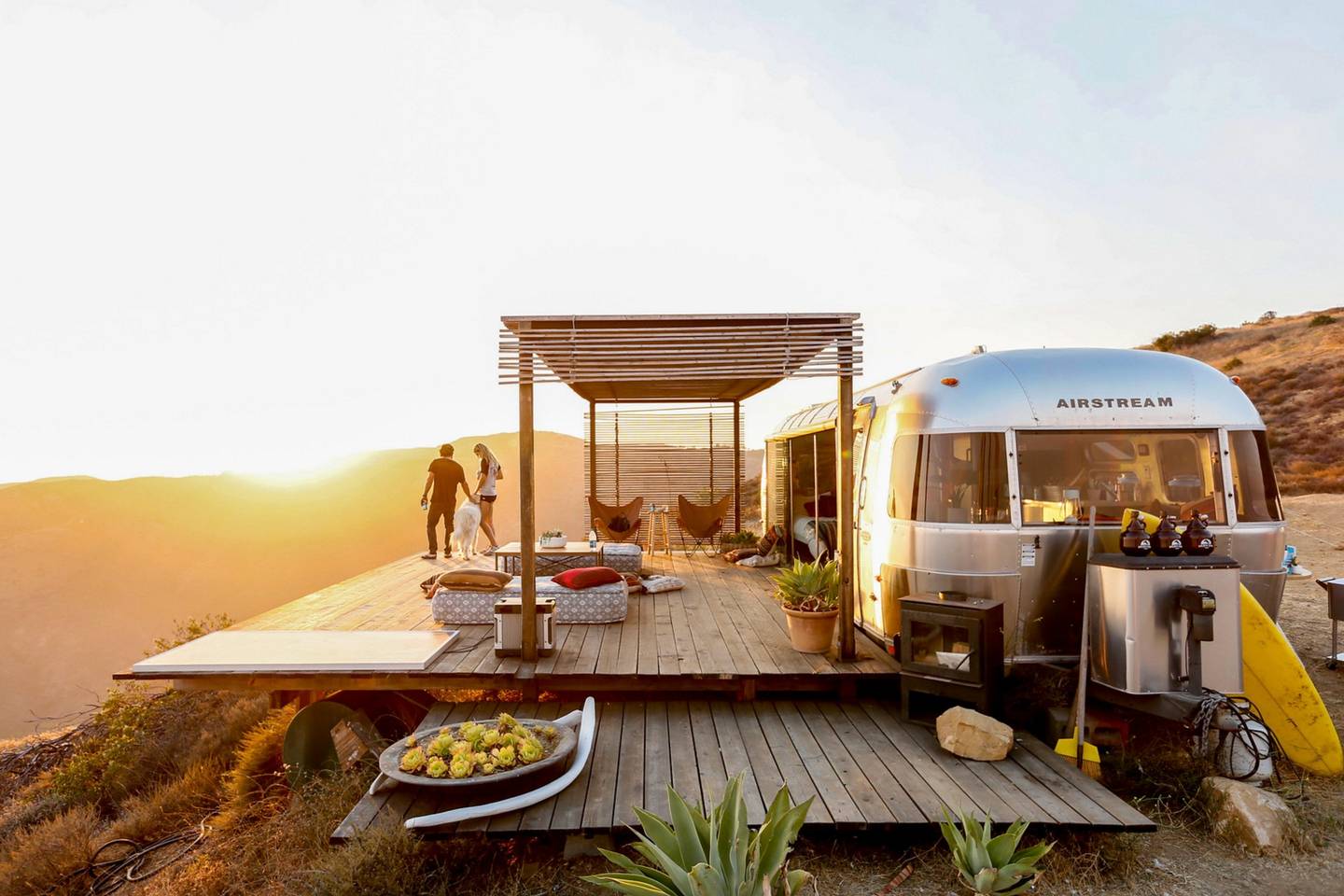 Price and location: $500/night; Malibu, California
If Barbie's Malibu dream house came with a parking spot for an airstream, this would be it. Because, wow. As soon as you see the photos, you'll understand why this place is absolute perfection. It's perfection for any adventurer who wants to escape the hustle and bustle of the city, and one who also appreciates a night spent in the lap of luxury.
Combine the breathtaking backdrop with all the creature comforts, and it's clear to see that this totally renovated, stylish space is a dream come true.
Next: This place is fit for a LOTR fan. 
2. Hobbit hole in Washington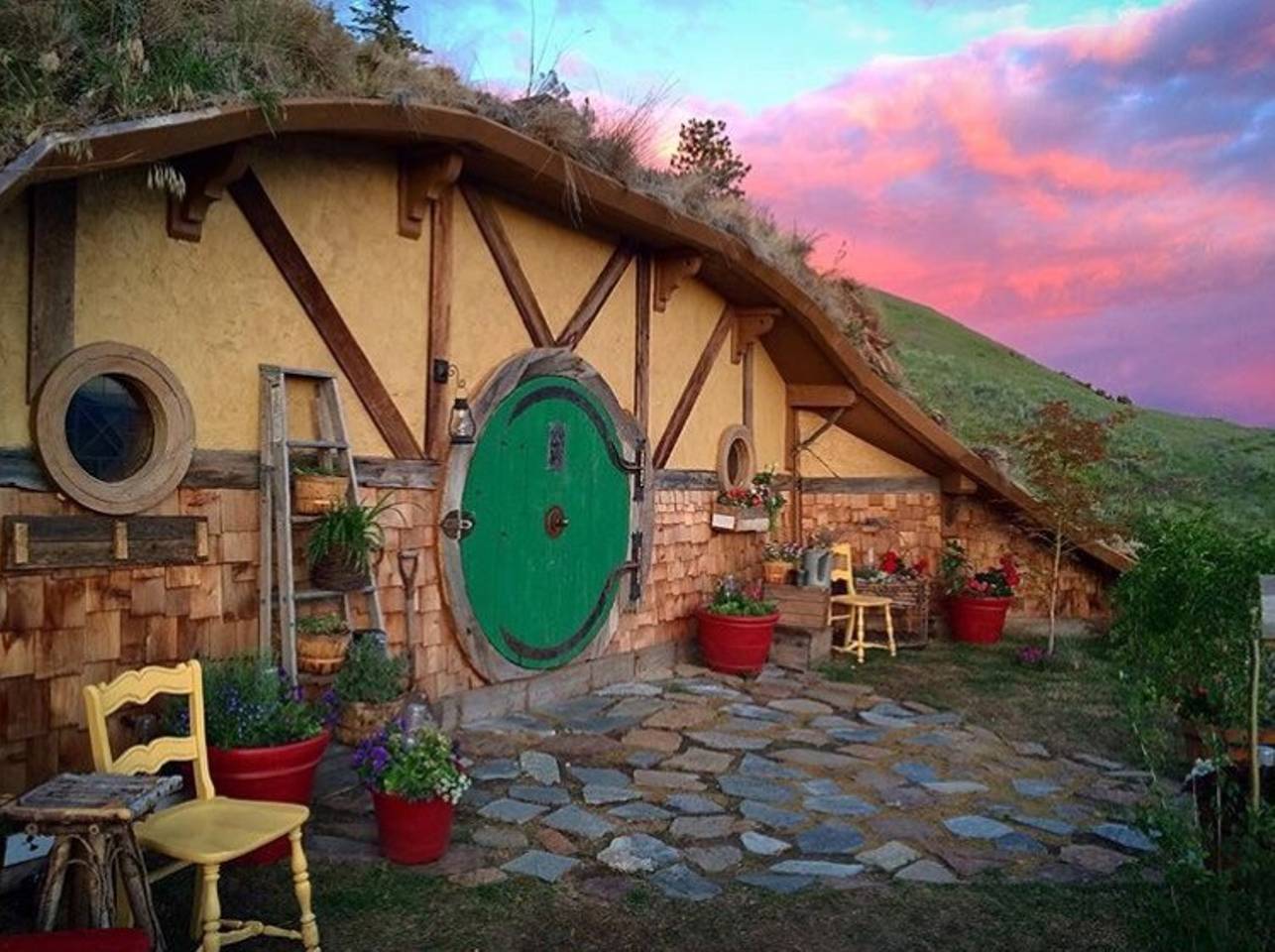 Price and location: $200/night; Orondo, Washington
Calling all Lord of the Rings fans: This one's for you. Searching for a cozy enclave where you can live out your favorite LOTR fantasies? Great, because this is just the place. This hobbit hole is carved right into the hillside, guaranteeing guests the ultimate in peace and privacy.
The residence is only accessed by foot via a steep hill. But that, of course, is no deterrent for the determined. Whether you're after a romantic getaway or an inspired writing trip, you'll find what you need at this storybook hideaway.
Next: This spot ranks as the most popular on Airbnb, and it's not even a real house.
3. Adorable Atlanta treehouse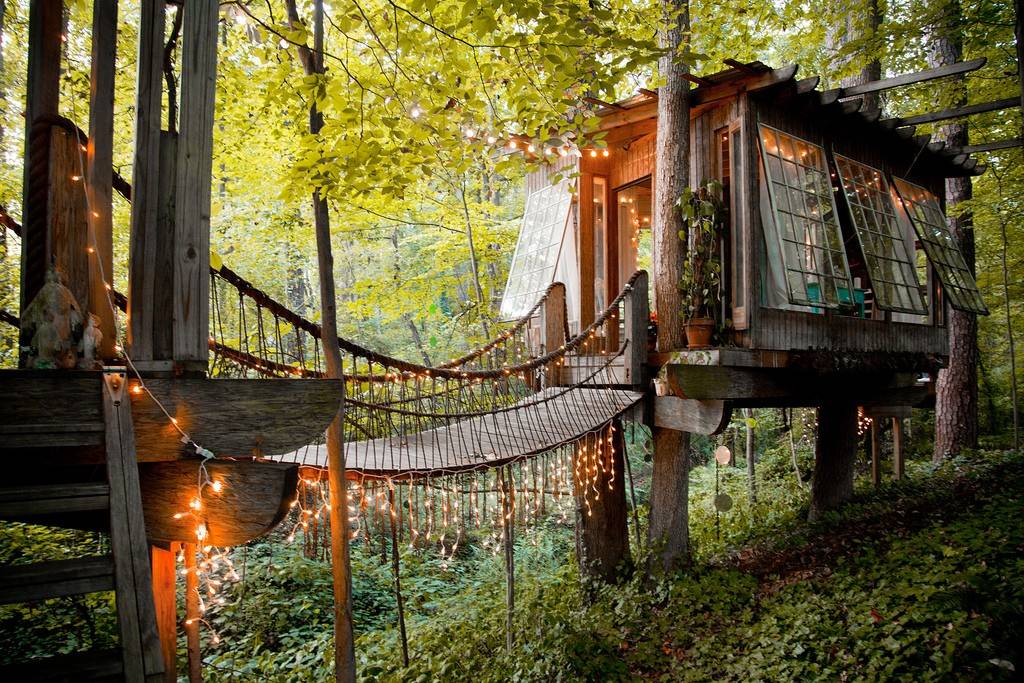 Price and location: $375/night; Atlanta, Georgia
As one of the most popular rentals ever listed on Airbnb, this secluded treehouse is the ideal spot to live out your fairy tale dreams. But you'd better book fast, because it's in high demand. In fact, the treehouse is "AirBnb's most wished-for listing in the world, with over 300,000 site visits per month and 147,052 people saving it to their Airbnb 'wish lists,'" Today reports.
Next: Are you a fan of this cult holiday movie classic?
4. 'A Christmas Story' house
Price and location: $395/night (prices jump seasonally, and it costs $1,995 on Christmas Eve and Day); Cleveland, Ohio
Think we're pulling your leg (lamp) here? Think again, because A Christmas Story House actually exists, along with A Christmas Story House Museum across the street. Anyone who grew up wanting nothing more than a Red Ryder BB gun for Christmas now has the chance to live like Ralphie did, but it'll cost you, especially during the holiday season.
Next: Western Massachusetts is the perfect place to escape.
5. Silo studio guest house in the Berkshires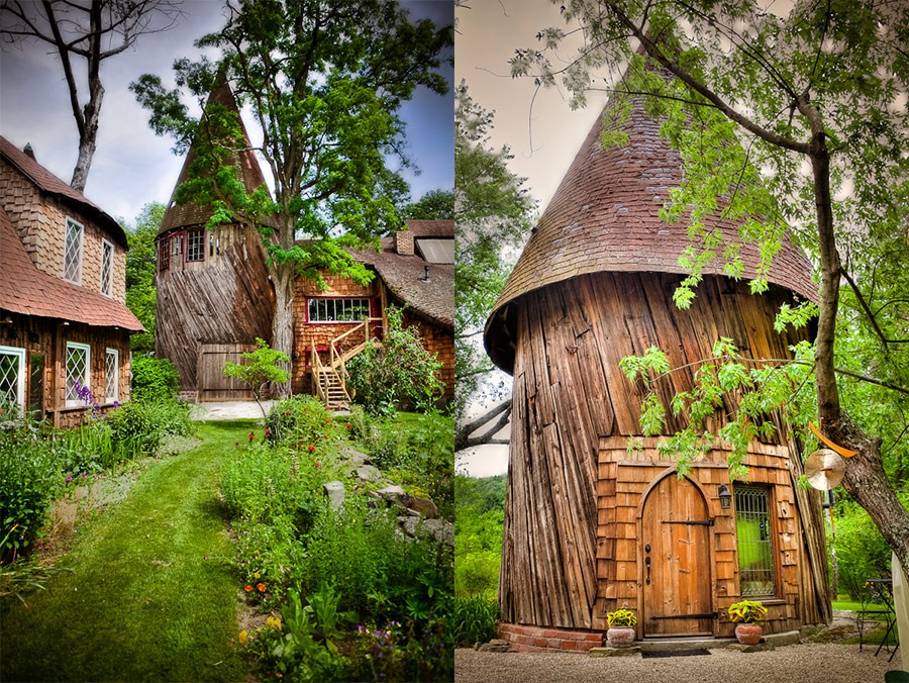 Price and location: $225/night; Tyringham, Massachusetts
Complete with barn-door style windows, a pellet stove, and an expertly crafted wooden interior, this silo studio cottage gives folks a chance to step back in time. As if the classic silo shape isn't enough, the grounds are chock-full of abundant greenery, complete with a babbling brook and lily ponds to boot.
Next: Stunning views abound at this unique spot. 
6. Converted California water tower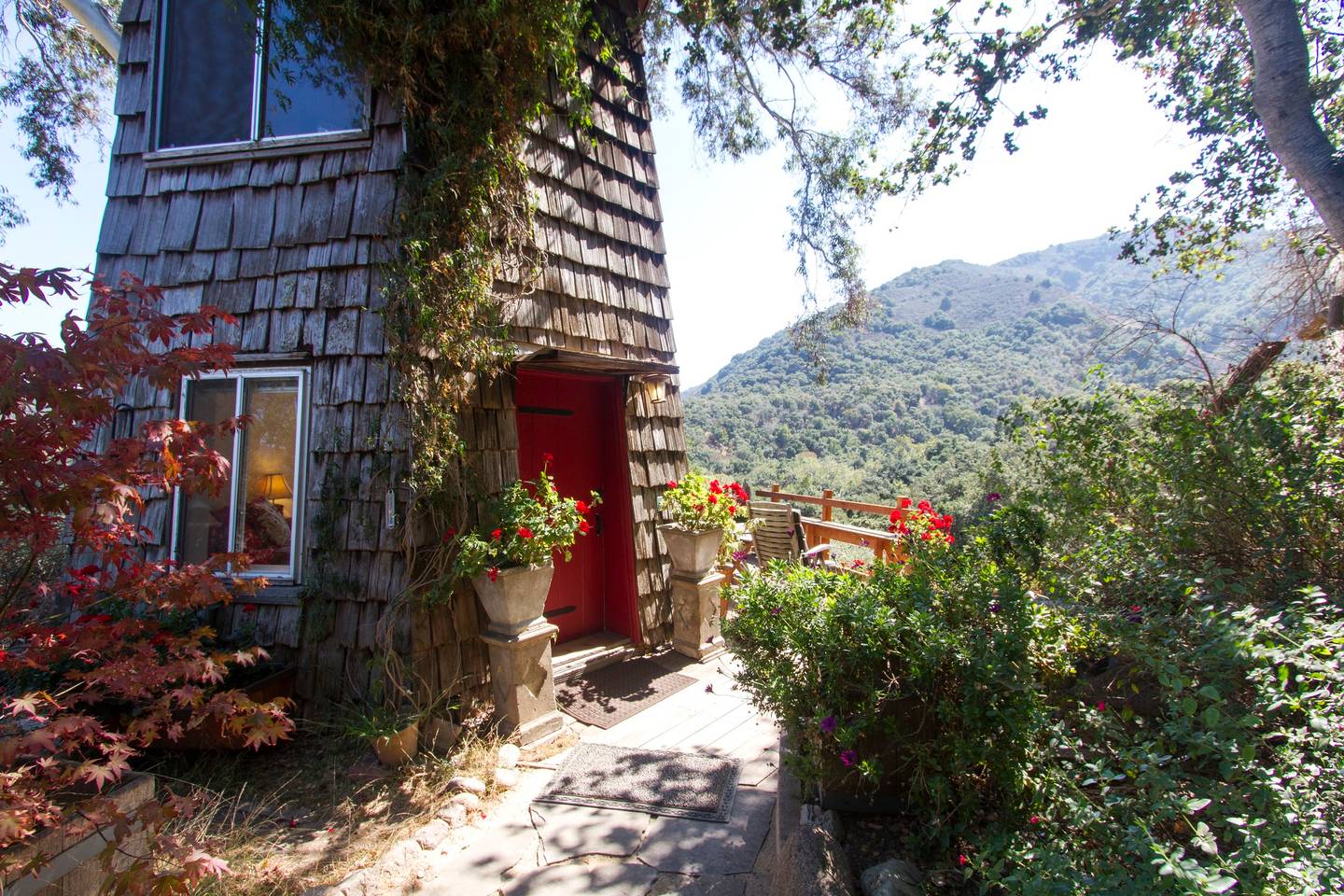 Price and location: $175/night; Carmel Valley, California
Surrounded by sweeping mountain views, this water tower cottage serves as the perfect perch for your next adventure. At this water tower, it's all about the hiking, biking, and horseback riding trails just outside your door. And what's more? Perhaps this spot's biggest claim to fame are the panoramic views to be had, which can be enjoyed from the scenic patio or even the comfort of your bed.
Next: Could this airstream be any cuter?
7. Retro airstream in the Texas Hill Country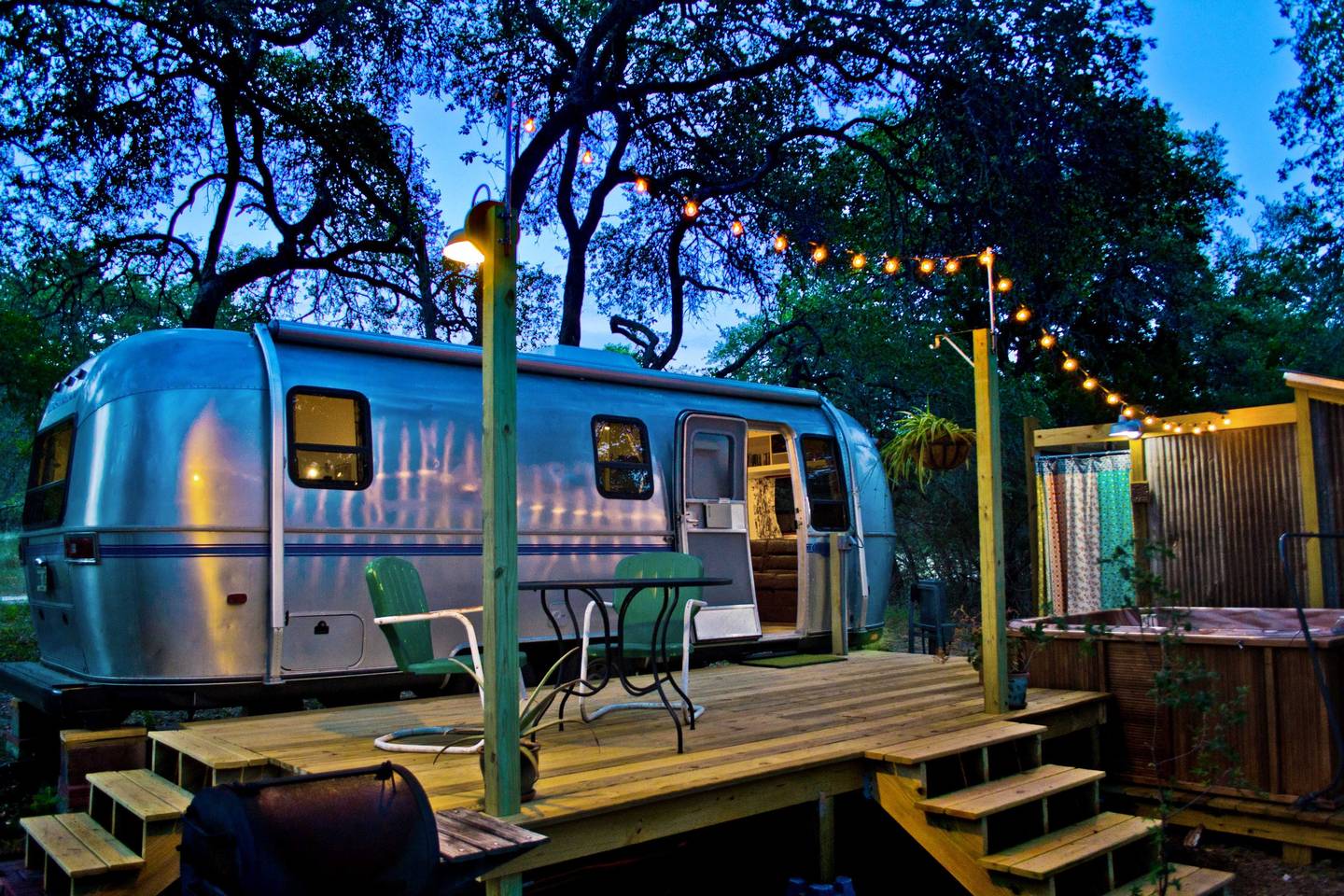 Price and location: $130/night; Wimberley, Texas
Glamping — it's so hot right now. And what's even better than escaping for an unplugged weekend? Escaping to a place that's guaranteed to be a hit on your Instagram feed, which is just what you'll find here. Located in the Texas Hill Country, this retro airstream is just too cute. Oh, and the property that it sits on is pretty alright, too. You'll have your very own deck, hot tub, outdoor shower, and even a little treehouse.
Next: Fancy yourself a sailor?
8. Charming houseboat in Charleston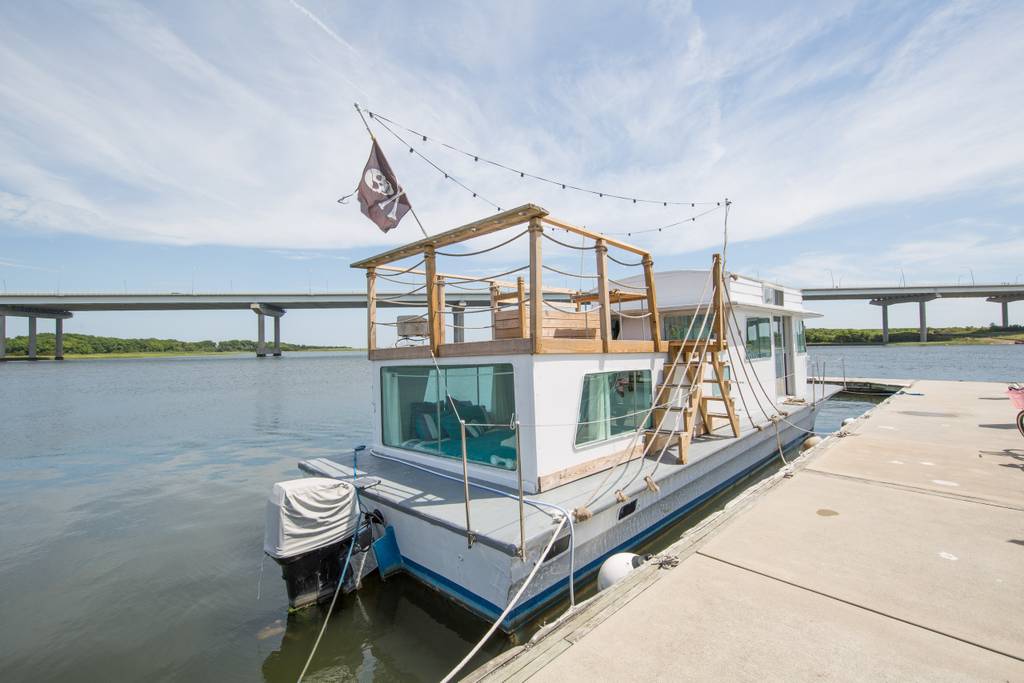 Price and location: $149/night; Charleston, South Carolina
A life at sea may make a man go mad, but what harm could a couple of nights do? With easy access to downtown, this houseboat won't soon give any sailor-in-the-making cabin fever. The boat, which was completely gutted and redone using reclaimed materials, is an ode to Southern style with a dash of salt water. And it's totally worth it.
Still on the fence? Just remember, you didn't choose the pirate life, the pirate life chose you.
Next: This adorable abode is exactly what you've been looking for for your next vacation.
9. Gingerbread house in Hawaii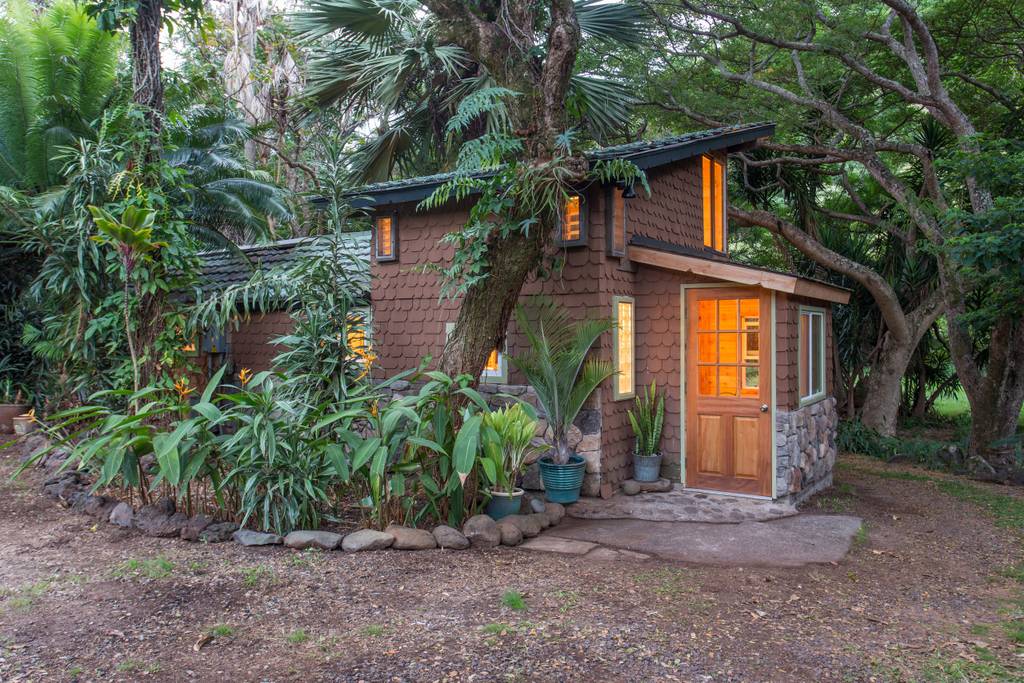 Price and location: $175/night; Makawao, Hawaii
Yes, this place is actually called the Garden Gingerbread House, so … we're in. Never mind the cedar-lined interior — Jimi Hendrix even stayed here. But don't worry, it's been remodeled since then. Promising an authentic Maui experience, it's hard to deny the silly charm of this adorable cottage.
Next: Love Burning Man? Then you'll love this creative spot. 
10. Tile house in the desert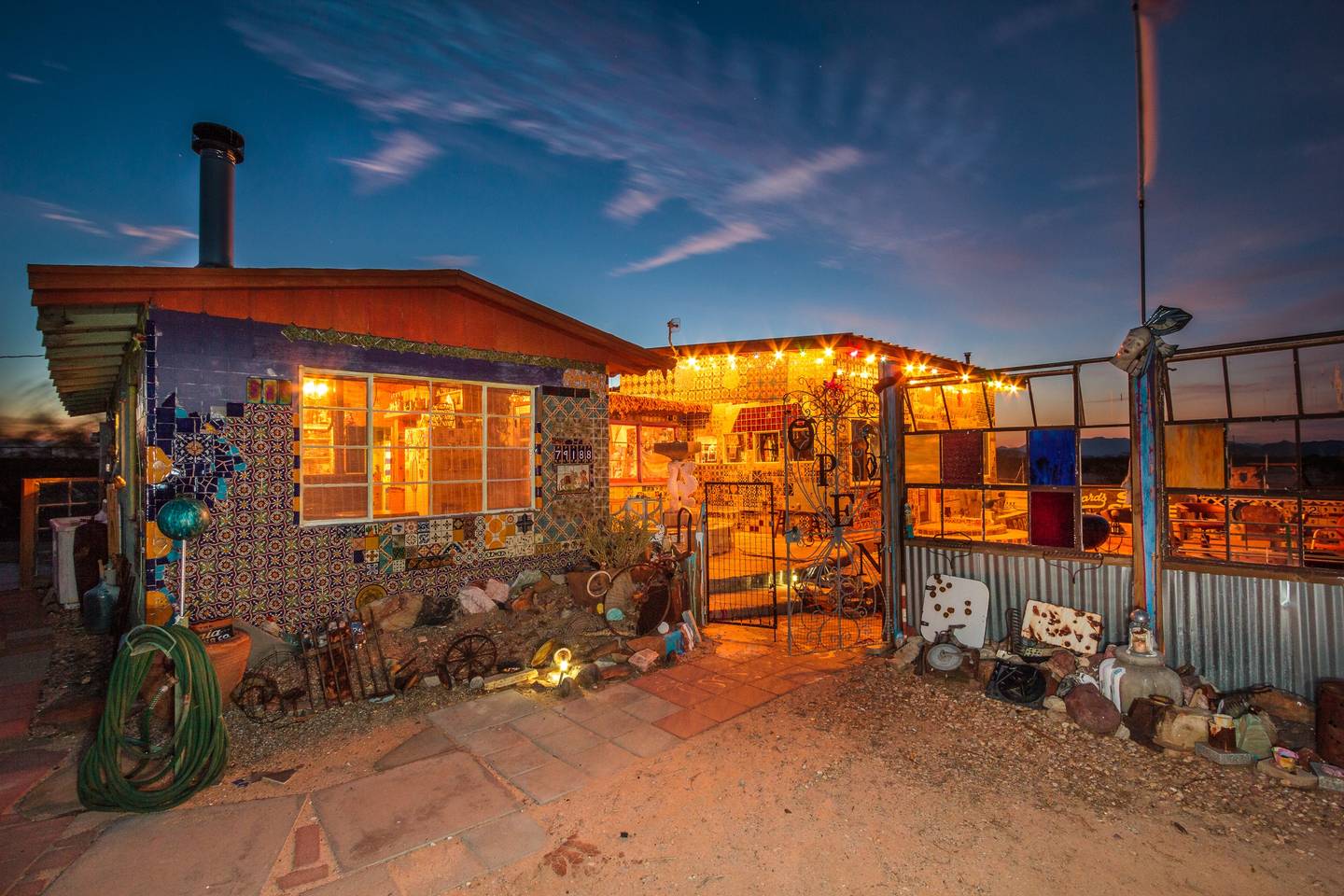 Price and location: $185/night; Twentynine Palms, California
Located in the rural desert, this place is probably best described as a passion project. Keep an open mind here, because the tile house rental is for the true artist-at-heart.. Not surprisingly, it's covered by and in a vast collection of Mexican tiles, tile and fused glass, stained glass, and ceramics.
Thinking about shacking up here? You may have to dig deep for your inner burning man. As the listing explains, "You are ironically completely alone in the middle of nowhere and the center of the universe." So, if you're allergic to over-the-top decor and eclectic taste, this place is better off skipped.
Next: This spot isn't your typical house design, because it's round. 
11. East Coast yurt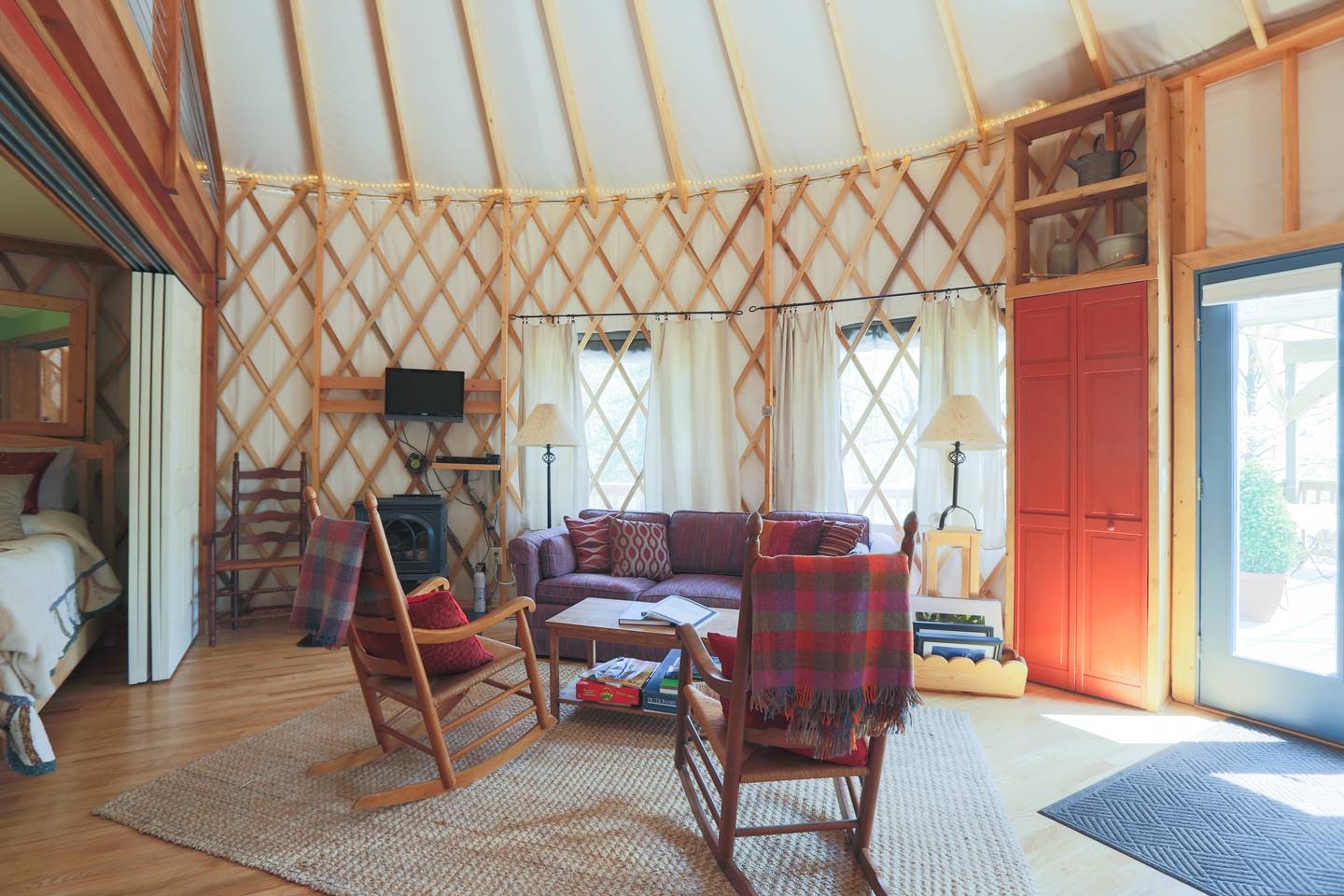 Price and location: $166/night; Stanardsville, Virginia
Fancy yourself a farm stay? Then this is the spot for you. Situated in the iconic Blue Ridge Mountains with easy access to Shenandoah National Park, this yurt is done right. In fact, if you've never been to a yurt before, don't walk away thinking this one is the status quo.
While most yurts tend to be a bit more bare bones, the one at the Cair Paravel Farmstead delivers all the creature comforts a paying guest would expect. It has a full kitchen, access to an outdoor hot tub and pool, and even an updated bathroom with a shower and a bathtub — definitely not the norm for others in the yurt category. And of course, the experience comes with a bevy of livestock and working pets, so non-animal lovers need not apply.
Next: This home totally fits in with the Portland vibes.
12. Quirky tiny home in Portland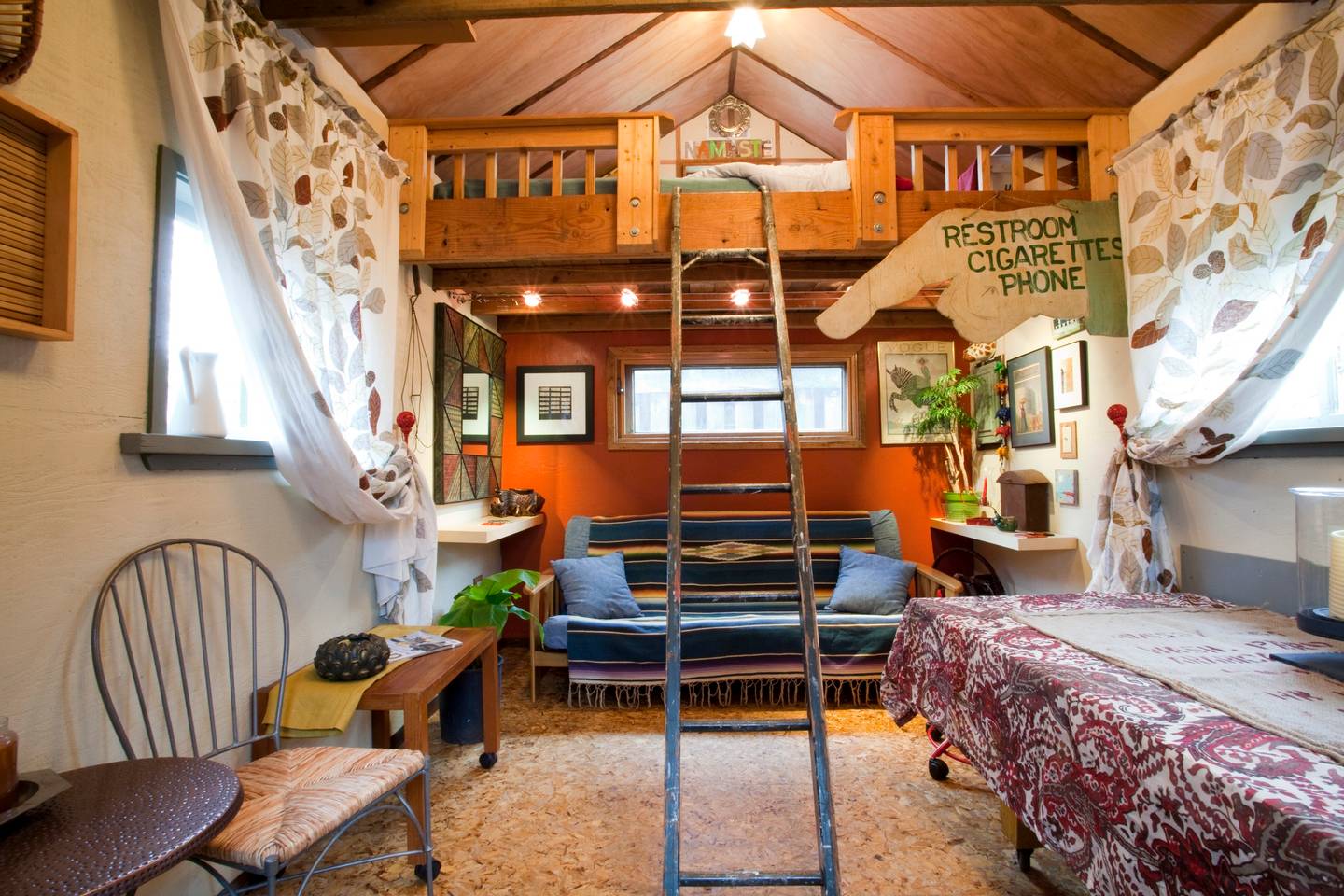 Price and location: $68/night; Portland, Oregon
Located only a few short blocks from funky shops, stores, and restaurants, this tiny home screams location, location, location. Although the facilities are located inside the main house, for this price, it's worth the walk — which is through the property's fruit-tree-filled yard, by the way. The kitchenette is rustic, the sleeping accommodations lofted, and the vibes totally on point with exactly what you'd expect during a trip to Portland.
Next: Have a honeymoon coming up? This may be the place for you. 
13. Pirate-inspired California guest house
Price and location: $225/night ($128/night for multiple nights); Topanga Canyon, California
This Polynesian-inspired guest house is so remarkable, it was even featured in a music video. And given its abundance of waterfalls, ponds, and privacy, it's no surprise. The grounds are filled with grottoes, the scenery is that of a secluded tropical enclave, and the outdoor amenities, well, they're just what you'd expect.
Winding, private paths lead to a bevy of outdoor features, including a daybed, private patio nooks, and a hot tub. Couple these with a lounge teepee and even an outdoor seashell bathtub, and it's no wonder why the host is adamant about his strict adults-only policy.
Next: This is truly a one-of-a-kind accommodation. 
14. Train caboose at Strawberry Park Hot Springs
Price and location: $175/night; Steamboat Springs, Colorado
Steamboat Springs is home to some of the very best hot springs around. If you're lucky enough to be able to snag a spot right on the grounds, you'll be steps away from the world-famous Strawberry Park Hot Springs. But don't be fooled, these accommodations are anything but your average hotel or resort.
Boasting one of the most unique vacation experiences you could ever have, the train caboose is the most comfortable lodging available (so if you're not super outdoorsy, this option is your best bet). The caboose includes a fireplace, bathroom with a shower, pull-out sofa bed, and a kitchenette. And trust us, you really need to see this place to believe it. Come winter, Strawberry Park Hot Springs turns into a winter wonderland covered in icicles, steaming natural pools, and snow blanketed trees.
Next: Why fly to England when you can find it right in Portland?
15. Oregon English cottage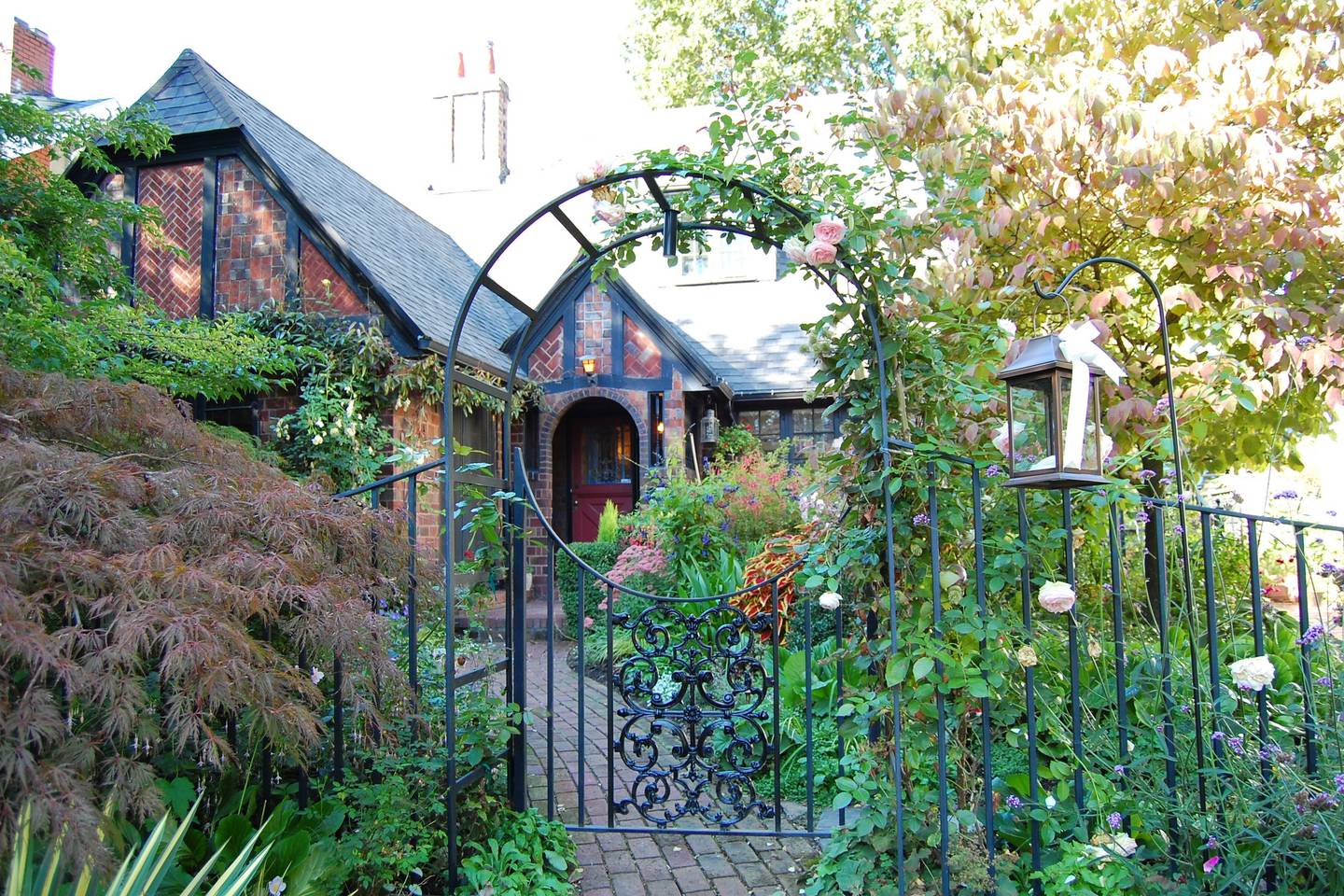 Price and location: $95/night; Portland, Oregon
Why get on a plane when you can live like you're across the pond without a passport? Lucky for you, that's just the experience you'll get at this quaint English cottage. Although it may not be unconventional in the traditional sense, this cottage is something out of a romantic comedy, and it sure as hell beats your average hotel room (which may even cost you well over this nightly rate).
Delivering a cozy stay to those looking for an English-inspired getaway, the decor of the garden apartment fits the overall feel of the entire house. Perhaps the most notable aspect of the property, though, is the ample English garden and patio space.
So, have you decided where you'll be heading for your next getaway?
Read more: These Are the Downright Craziest Homes You Can Rent for $200 or Less
Check out The Cheat Sheet on Facebook!