Unexpectedly Tasty Celery Recipes That Are Easy to Make
Many people struggle to eat enough vegetables, so they often prioritize certain ones over others. Produce like spinach and broccoli get a lot of love while another green vegetable remains mostly ignored in the produce department: celery. Most are happy to munch on a few sticks when greeted with a veggie platter, but that's usually as much attention as this crunchy vegetable gets. It's a shame because celery is a smart choice for anyone sticking to a healthy diet. According to Livestrong, two medium stalks contain just 12 calories and offer a good dose of vitamin K to support healthy bones. And celery is particularly good thanks to its bedroom-boosting effect. It contains high levels of a hormone called androsterone, which helps get women in the mood.
Lest you think you need to chomp on raw stalks, we've gathered a sampling of five completely different ways to cook with celery. It works in everything from quick salads to slowly cooked braises, so you'll never run out of ways to use this vegetable. Try these recipes, and you'll happily eat your veggies.
1. Celery Salad with Feta and Soft-Boiled Egg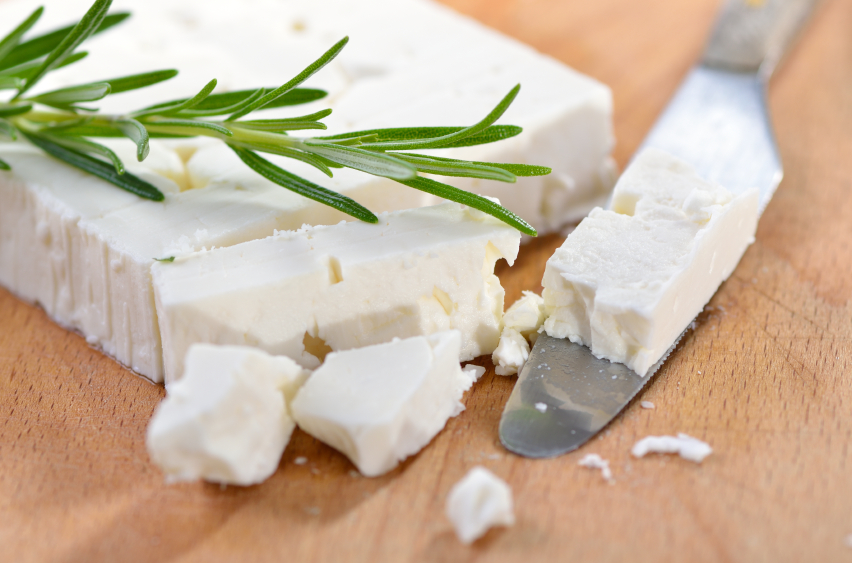 If you're struggling to fit enough produce into your diet, starting the day with a salad is one of the easiest changes you can make. Though it might seem a bit unusual, it's not that strange when you consider it creates a perfect base for eggs, one of our favorite breakfast staples. Give it a try with Yotam Ottolenghi's celery breakfast salad, featured on The Guardian. It's a lighter way to start the day, but you can easily add another egg and a bit more cheese if your stomach is grumbling when you wake up.
This breakfast may also be a good way to help protect your brain. A 2010 study found a compound called luteolin, which is found in celery and other vegetables, can lead to better cognitive health later in life. Eggs also play their part thanks to high levels of vitamin B12, which a recent study linked to a reduced risk of developing Alzheimer's disease.
Ingredients:
8 celery stalks, thinly sliced on the diagonal
2 green pepper, seeded, and cut into ¼-inch-thick slices
1 medium onion, peeled, and thinly sliced
1 teaspoon sugar
½ teaspoon salt
4 lemons
¾ ounce celery leaves
½ ounce parsley leaves
½ ounce cilantro leaves
4 tablespoons capers
2 green chilis, seeded, and thinly sliced
2 tablespoons olive oil plus more, divided
4 eggs
7 ounces feta, cut into 4 thick slabs
Black pepper
Directions: Place celery, green pepper, and onion in a medium bowl. Sprinkle with sugar and salt, and stir. Let sit 30 minutes to soften and allow vegetables to release juices.
Cut ends off the lemons, then cut off the skin and pith. Holding lemons over a small bowl, cut between membranes to remove segments, Add lemon segments to vegetables, then add celery leaves, parsley, cilantro, capers, chilis, 2 tablespoons olive oil, and a bit of black pepper. Mix gently, and taste for seasoning.
Just before serving, spoon eggs into a pan of boiling water. Simmer for 6 minutes. Run under cold water until cool enough to handle, but still warm, and peel off shells. Yolks should still be runny. Arrange salad on four plates and top each with a slice of feta and a soft-boiled egg. Serve garnished with a drizzle of olive oil and some freshly ground pepper.
2. Braised Celery and Tomato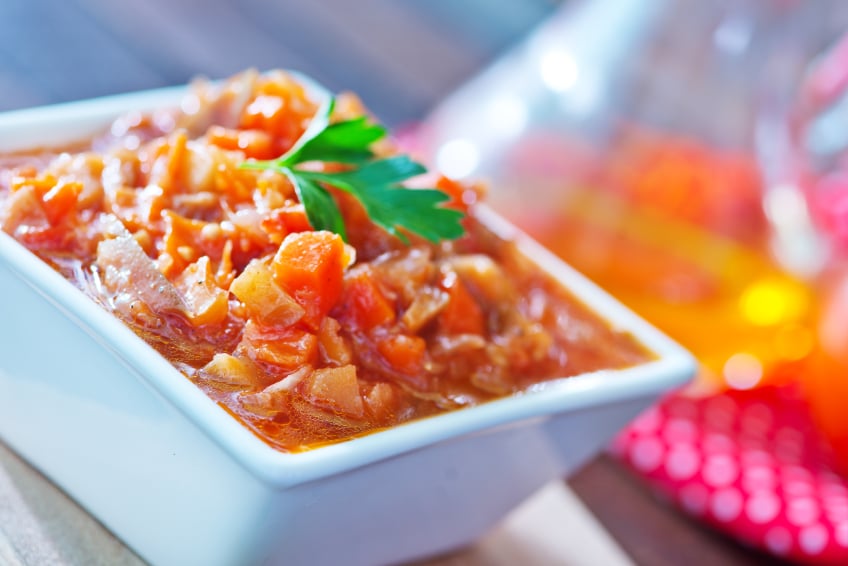 Many braises call for big pieces of meat, though the technique works just as well for vegetables. Celery is a particularly good pick for the low-and-slow method, because it transforms into something tender and almost creamy. We like this version with tomatoes and pancetta from Saveur, which was adapted from Marcella Hazan's Essentials of Classic Italian Cooking. It takes some time, but the method is incredibly simple. You can serve it as a side one night, then pack leftovers for lunch the next day.
Though many worry about nutrients lost during baking or boiling vegetables, this dish will still do your body a lot of good. Cooked tomatoes might actually be a better choice than fresh since our bodies are more able to absorb the lycopene once the cell walls have been broken down a bit.
Ingredients:
3 ounces pancetta, cut into 1-inch matchsticks
¼ cup extra-virgin olive oil
1 large yellow onion, halved, cored, and thinly sliced
2 pounds celery stalks, trimmed, and cut diagonally into 2-inch lengths
¾ cup whole, peeled canned tomatoes with juice, crushed by hand
Kosher salt and freshly ground black pepper
Directions: Cook pancetta in a 6-quart saucepan set over medium-high heat. Cook, stirring occasionally, until fat renders, about 12 minutes. Reduce heat if pancetta browns too quickly. Using a slotted spoon, transfer pancetta to paper towels to drain and set aside.
Add olive oil to pan and return to medium-high heat. Add onion and cook, stirring occasionally, until soft and lightly browned, about 10 minutes. Add celery, tomatoes, and ¼ cup water. Season with salt and pepper. Cover pan with lid and cook, stirring occasionally, until clery is very tender, about 1½ hours.
Divide celery and juices between serving bowls and sprinkle with reserved pancetta. Serve hot or at room temperature.
3. Roast Pork Tenderloin with Celery Slaw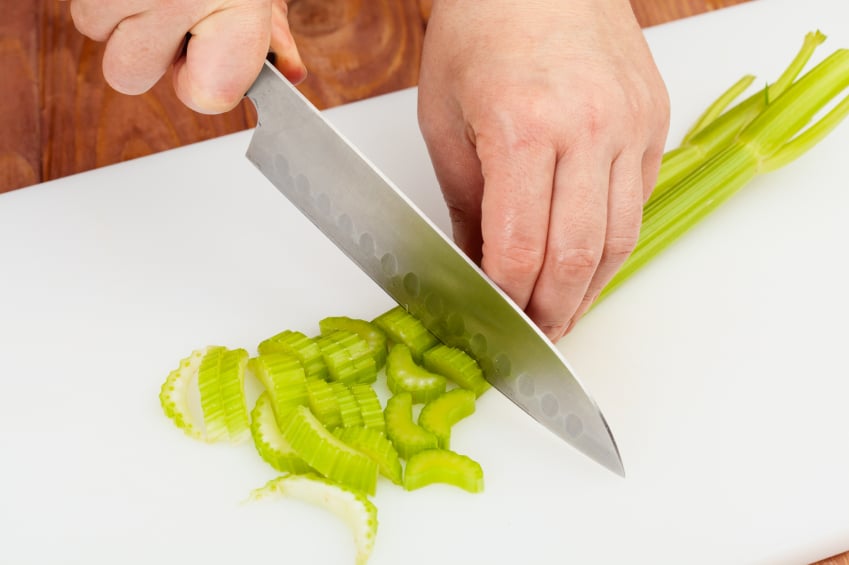 Give raw celery a flavor boost by making Every Day with Rachael Ray's refreshing slaw and pork combo. Just toss sliced celery stalks with a simple vinaigrette, start searing the pork on the stove, then transfer it to the oven. You'll have just enough time to make an arugula and pecan pesto while the meat finishes cooking. It's quick, delicious, and perfect for weeknight suppers. Save leftovers to pile onto whole-wheat bread for sandwiches later in the week.
Ingredients:
½ cup extra-virgin olive oil, divided
3 tablespoons apple cider vinegar
½ cup flat-leaf parsley leaves, finely chopped, plus 2 tablespoons whole leaves
2 garlic cloves, 1 finely chopped
6 celery ribs, thinly sliced
Salt and pepper
1 pound pork tenderloin, trimmed,  halved crosswise, and patted dry
1 cup baby arugula
1 cup pecans, toasted
2 tablespoons grated Parmesan cheese
Directions: Preheat oven to 450 degrees Fahrenheit. In a medium bowl, whisk ¼ cup olive oil with vinegar, then whisk in chopped parsley and garlic. Stir in celery and season with salt and pepper.
Season pork with salt and pepper. Heat 1 tablespoon oil in a large cast-iron skillet over medium-high heat. Add pork and cook until browned all over, about 5 minutes. Transfer skillet to the oven and roast until pork reads 150 degrees Fahrenheit on an instant-read thermometer, about 12 minutes. Let pork rest 10 minutes, then thinly slice.
Meanwhile, chop whole garlic clove in a food processor. Add arugula and parsley leaves. Pulse until finely chopped, then scrape down sides of bowl. Add pecans and cheese and season with salt and pepper. Pulse mixture to combine. With machine running, slowly add remaining 3 tablespoons olive oil. Serve pesto with pork and celery slaw.
4. Pasta with Chickpeas, Celery, and Parsley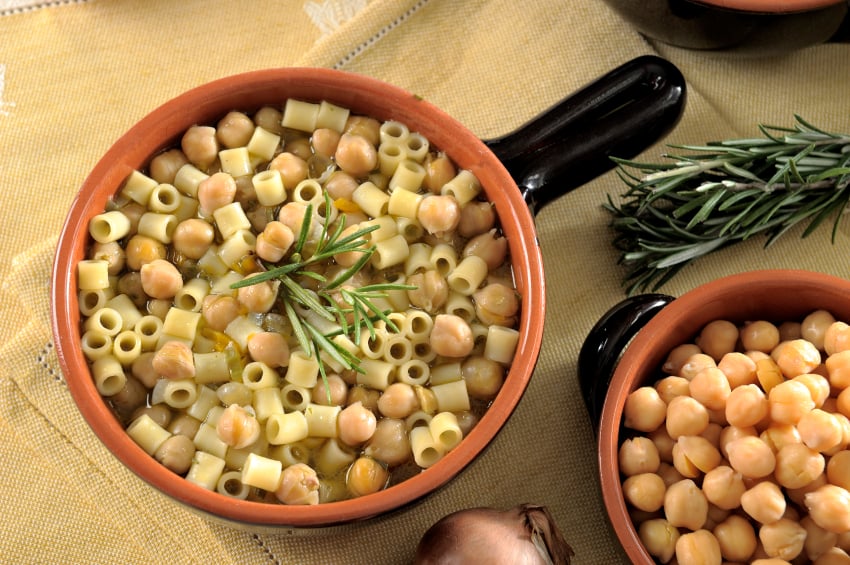 Pasta doesn't have to be loaded with a mass of meat sauce to be satisfying. The carb-centric dish can actually be super healthy with a slightly different approach. This pasta with celery and chickpeas from The Washington Post is a perfect example. It's vegetarian, but still plenty satisfying thanks to a good dose of protein and fiber from the chickpeas. Though it's great as is, we like a little sprinkle of Parmesan cheese to finish it off.
Plant-based diets get a lot of attention for various health benefits, particularly when it comes to keeping your ticker in shape. A 2003 review in The American Journal of Clinical Nutrition indicated these diets play a huge role in reducing the risk of cardiovascular disease. Celery might boost the effect even more. A 2013 study found celery extract could help lower blood pressure. Here's to your heart.
Ingredients:
1 teaspoon salt, plus more
1½ cups celery pieces, cut diagonally into ¼-inch-thick slices
8 ounces dried pasta, preferably penne or another short-cut shape
¼ cup plus 4 teaspoons extra-virgin olive oil
1 to 2 garlic cloves, crushed, and chopped
2 dried arbol chilis, seeded, and broken into small pieces
1½ cups cooked chickpeas, drained, and rinsed
¼ cup packed coarsely chopped parsley
Freshly ground black pepper
Directions: Bring a large pot of water to a boil over high heat. Add a generous pinch of salt, then add celery. Cook 1 to 2 minutes. Using a slotted spoon, transfer celery to a colander and rinse with cool water. Drain. Cook pasta according to package directions.
When pasta is 5 minutes from being done, heat ¼ cup olive oil in a large skillet set over medium heat. Add garlic and chilis. Cook, stirring occasionally, until garlic is nearly golden and chilis are beginning to brown. Stir in the celery and cook 2 to 3 minutes. Celery should be tender, but not mushy. Stir in chickpeas, season with 1 teaspoon salt and some black pepper. Continue to cook until warmed through.
Drain pasta, reserving ½ cup cooking water. Add pasta, parsley, and a few tablespoons of cooking water to the pan. Stir to incorporate, making sure to mix in any bits stuck to the bottom of the pan. If needed, add more cooking liquid. Ladle pasta into shallow bowls, drizzle with oil, grind on some black pepper, and serve.
5. Cumin-Scented Stir-Fried Beef with Celery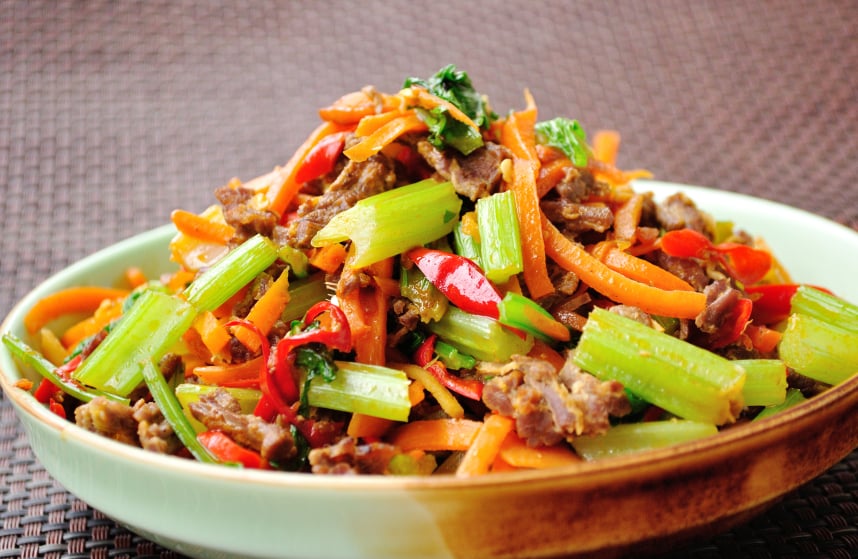 If you like stir-fried beef with broccoli, you'll love Epicurious's twist with celery. Though cumin isn't a typical ingredient in these types of dishes, it adds a hint of smoky flavor that goes really well with the beef and soy sauce. Serve the dish with brown rice to soak up the flavorful sauce while giving you a dose of fiber.
Ingredients:
6 ounces blade or flank steak, trimmed
2½ teaspoons reduced-sodium soy sauce, divided
½ teaspoon cornstarch, divided
2 tablespoons Chinese rice wine or medium-dry Sherry
2 teaspoon vegetable oil, divided
½ teaspoon minced ginger
½ teaspoon minced garlic
⅛ teaspoon cumin seeds
⅛ teaspoon red pepper flakes
2 celery ribs, sliced diagonally into ¼-inch-thick slices, leaves chopped and reserved
Directions: Halve steak lengthwise if large. Slice across the grain into ⅛-inch-thick slices. Toss with ½ teaspoon soy sauce, ¼ teaspoon cornstarch, and a pinch of salt. In a separate bowl, stir together rice wine, remaining soy sauce, and remaining cornstarch.
Heat a wok over high heat until smoking, then add 1 teaspoon oil and swirl to coat. Add beef in one layer and cook, turning occasionally, until browned, less than 1 minute. Transfer beef to a bowl.
Add remaining oil to wok, then add ginger, garlic, cumin, and red pepper flakes. Stir-fry 15 seconds. Add celery and stir fry an additional 1 minute. Add beef and accumulated juices and cook 15 seconds longer. Stir rice-wine mixture to combine, then add to wok, and stir-fry until bubbling, about 30 seconds. Remove from heat, stir in celery leaves, and serve.
More from Culture Cheat Sheet: