Unique Ways to Make Pancakes
Anyone can master the art of weekend pancakes, but sometimes you want to mix it up on lazy Saturdays and Sundays and make something different. Whether you have a miscellaneous ingredient in your pantry or simply feel like being creative, there are a number of food formulas you can follow to make your pancakes a little more fun. Add color, fruit, sweets, or a different kind of syrup to your hot cakes to serve a breakfast that is easy to make and fun to eat, and make your Saturday morning that much more exciting. Here are 7 recipes for unique pancakes to get you started.
1. Funfetti Pancakes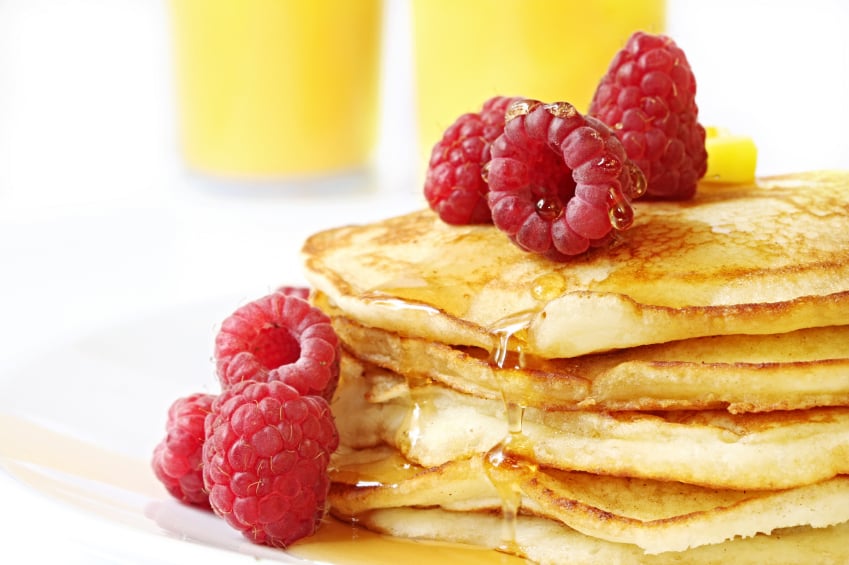 First up are funfetti pancakes from The Kitchen Magpie for the next time you're craving dessert for breakfast. It's easy to wake up for a morning meal when it involves sprinkles and it's hard to resist making funfetti pancakes when they require fewer than 10 minutes. Follow this fool-proof recipe that serves 4 and make your breakfast that much more colorful. You'll even get a punch of protein from your pancakes thanks to the enlistment of Greek yogurt, and fresh berries in the summer don't hurt, either.
Ingredients:
2½ cups of flour
1 teaspoon salt
2 tablespoons baking powder
1 teaspoon baking soda
4 tablespoons white sugar
2 egg
⅔ cup of half & half/coffee cream
1⅓ cups of water
½ cup of Greek yogurt
4 tablespoons melted butter
2 teaspoons vanilla
2 cup of fresh blueberries
½ cup sprinkles
Directions: Take all of your dry ingredients and sift them together well. In a small cup, combine the cream, water, yogurt, vanilla, cooled melted butter and beaten egg.
Make a well in the dry ingredients and pour the liquid ingredients into the well. Mix until almost combined, then add in the blueberries, stir until the dry ingredients are just mixed in.
To cook them, spread them out on the oiled griddle with the back of your spoon. Flip the pancakes when you see that the edges are well cooked.
2. Red Velvet Pancakes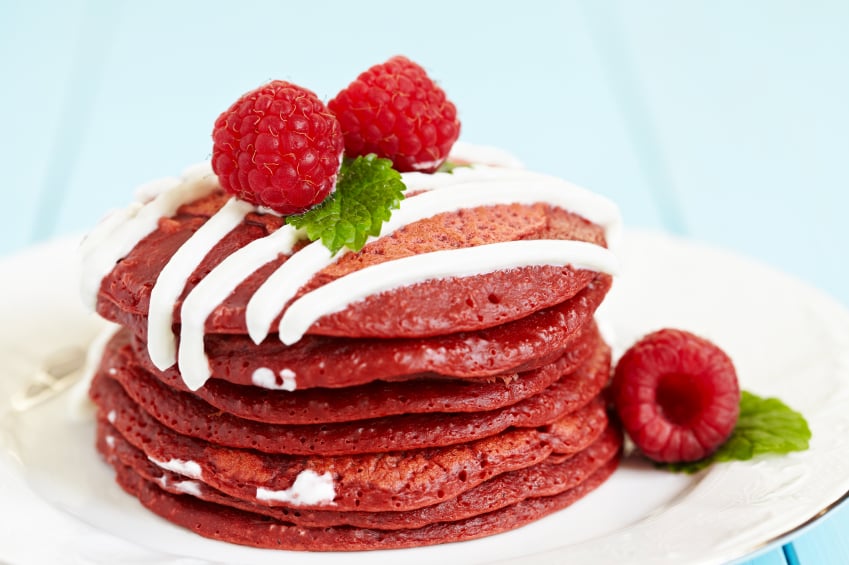 Another decadent pancake idea come from Food Network and it's for red velvet pancakes. This recipe feeds a crowd (it yields 20 pancakes!) and is sure to impress everyone. The pancakes are delicious on their own but are taken to another level by the addition of cream cheese frosting, maple syrup, and toasted pecans. The bright breakfast is easy to make and feels indulgent to eat, but who says you can't begin your day with a treat?
Ingredients:
4 ounces cream cheese, at room temperature
¼ cup sour cream
3 tablespoons whole milk
2 tablespoons confectioners' sugar
2 cups all-purpose flour
1 tablespoon unsweetened cocoa powder
½ teaspoon baking soda
½ teaspoon baking powder
Fine salt
2 large eggs
¾ cup granulated sugar
1 ¼ cups buttermilk
½ cup melted and cooled unsalted butter, plus more for griddle
2 teaspoons red food coloring
1 teaspoon pure vanilla extract
1 teaspoon apple cider vinegar
Maple syrup, for serving
Toasted, chopped pecans, for serving
Directions: Whisk the cream cheese, sour cream, milk, and confectioners' sugar until smooth in a medium bowl; set aside.
Sift the flour, cocoa powder, baking soda, baking powder, and ½ teaspoon salt into a large bowl.
Beat the eggs and granulated sugar in a medium bowl until pale yellow; beat in the buttermilk, melted butter, food coloring, vanilla and vinegar. Add the egg mixture to the flour mixture and fold just until incorporated.
Heat a griddle or large nonstick skillet over medium-low heat. Lightly coat the hot skillet with melted butter. Pour ¼-cupfuls of batter on the hot skillet, spaced evenly apart; use a spatula to spread out slightly if needed. Cook until bubbles begin to pop on the surface, about 3 minutes.
Carefully flip and cook until the bottoms are set and the pancakes are cooked through, 1 to 2 minutes longer. Repeat with the remaining batter.
To serve, drizzle the cream cheese and syrup on top of the pancakes and sprinkle with pecans.
3. Greek Yogurt Lemon Poppyseed Pancakes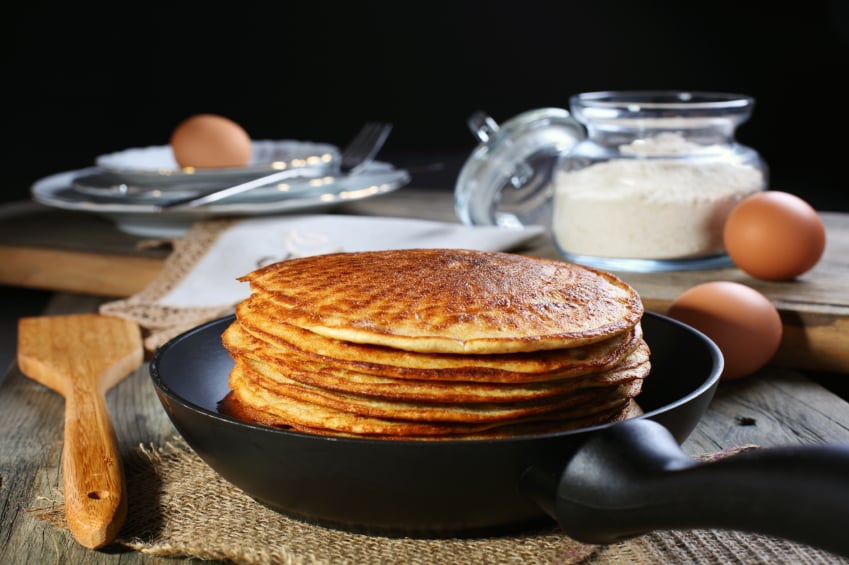 The next recipe on our list is from Sally's Baking Addiction and it yields a plate of pancakes that are just as unique, but a bit healthier than our aforementioned hot cakes. Greek yogurt lemon poppyseed pancakes are perfect for spring and summer, as a fat stack will surely fill you up, but is packed with Greek yogurt and whole wheat flour so it won't put a dent in your summer diet. Some pancakes weigh you down, but these are light and fluffy enough to satiate without stuffing you. Even better, the citrus kick in the pancakes keep things light and refreshing for summer.
Ingredients:
2 cups whole wheat flour (or white whole wheat flour)
¼ cup granulated sugar
2 teaspoons baking powder
½ teaspoon baking soda
½ teaspoon salt
2 Tablespoons poppy seeds
1 cup Greek yogurt
1 cup milk
¼ cup unsalted butter
2 large eggs
Zest and juice of 1 lemon
1 teaspoon pure vanilla extract
Directions: Microwave butter until melted. Set aside to slightly cool. In a large bowl, toss the flour, sugar, baking powder, baking soda, salt, and poppy seeds together until combined. Set aside.
In another large bowl, whisk the yogurt, milk, butter, eggs, lemon zest, lemon juice, and vanilla until combined.
Pour the wet ingredients into the dry ingredients and gently whisk to combine it all.
Heat a griddle or skillet over medium heat. Coat generously with nonstick cooking spray or butter. Once hot, drop about ¼ cup of batter on the griddle. Cook until the edges look dry and bubbles begin to form on the sides, about 1 minute. Flip and cook on the other side until cooked through, about 2 more minutes. Coat griddle/skillet again with cooking spray or butter for each pancake or batch of pancakes.
Keep pancakes warm in a preheated 200°F oven until all pancakes are cooked. Serve pancakes immediately with toppings of choice.
4. Chocolate Pancakes with Salted Caramel Sauce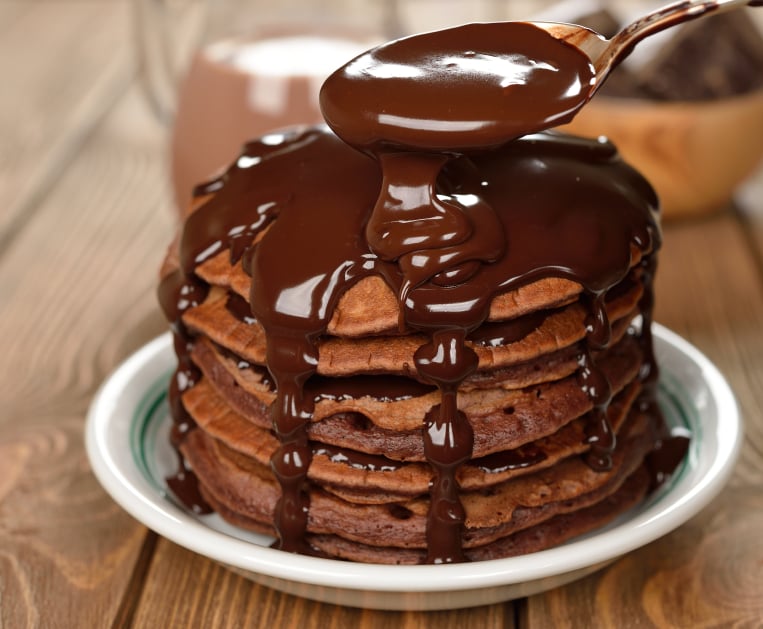 Back to the decadent side of things, we come to these chocolate pancakes with salted caramel sauce from Averie Cooks. If these won't get you out of bed in the morning, we're not sure what will. The pancakes are light and fluffy thanks to buttermilk, and they get their sweetness from two kinds of sugar and cocoa powder. The addition of the salted caramel sauce also helps, and that is made from the combination of sugar, cream, vanilla extract, and butter. This recipe makes 10 to 12 pancakes and you can rest assured you'll be fighting for seconds.
Ingredients:
1 cup all-purpose flour
2 tablespoons unsweetened cocoa powder
2 tablespoons granulated sugar
1 tablespoon light brown sugar, packed
1 teaspoon cinnamon
1 teaspoon baking powder
½ teaspoon baking soda
Pinch salt, optional
1 cup buttermilk , plus a splash more only if necessary
1 large egg
2 heaping tablespoons canola or vegetable oil
1 teaspoon vanilla extract
Salted Caramel Sauce:
1 cup granulated sugar
¼ cup water
¾ cup heavy cream or half and half
1 tablespoon vanilla extract
2 tablespoons rum, optional
¼ cup butter
½ to 1 teaspoon kosher salt, or to taste
Directions: For pancakes: In a large mixing bowl, whisk together first 8 dry ingredients; set aside.
In a large measuring cup or bowl, whisk together final 4 wet ingredients. Add wet to dry, and fold gently to combine. Don't overmix; batter will be lumpy.
Spray a large non-stick skillet with cooking spray, and place over medium heat. Using a 2-tablespoon cookie scoop or spoon that's been sprayed with cooking spray, place 2-tablespoon mounds of batter in skillet. Cook pancakes on first side for about 3 minutes, flip and cook on second side for about 2 minutes, or until done. Repeat until all batter is gone, respraying both skillet and scoop with cooking spray as necessary.
Serve pancakes immediately with butter, syrup, or your favorite topping.
For the salted caramel sauce: In a heavy-bottomed medium saucepan with tall enough sides to accommodate the mixture when it starts bubbling, combine the sugar and water. Heat over medium-low heat until the sugar dissolves, stirring occasionally.
Increase the heat to medium-high and bring mixture to a boil without stirring. Using caution, use a wet pastry brush or damp paper towel to wipe down any crystals that are clinging to the sides of the saucepan. Failure to remove them could result in a grainy sauce. Boil until the mixture is a deep amber color, about 5 to 6 minutes.
Remove the pan from the heat, and using caution, whisk in the cream. Add the vanilla and optional rum.  Stir in the butter and salt to taste; or omit salt for regular caramel sauce.
Transfer caramel to a glass or heatproof jar with a lid. Caramel sauce will keep airtight for many months in the refrigerator.
5. Sticky Toffee Pancakes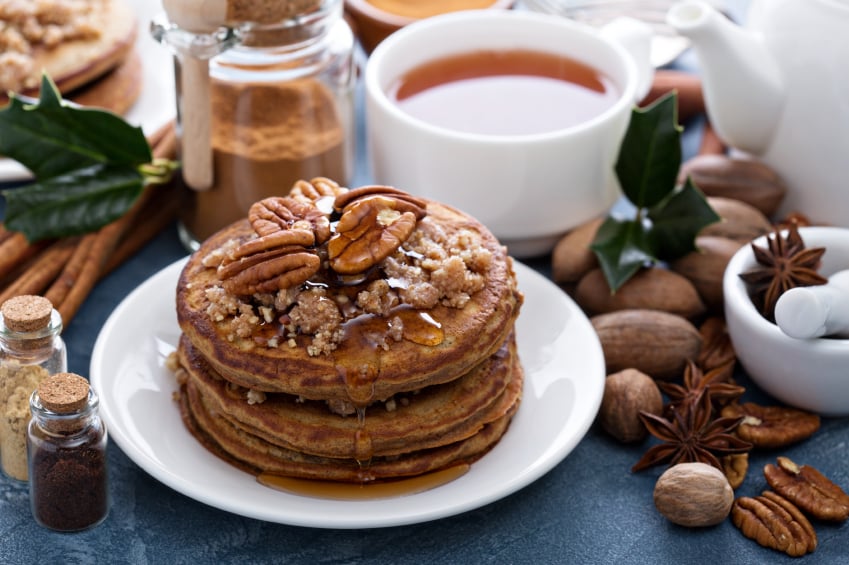 Read this next recipe and weep, because after you take one bite of these sticky toffee pancakes, you'll never go back to traditional buttermilk again. The food formula for these hot cakes comes from Lady and Pups and it yields 4 large, decadent pancakes. A toffee sauce made out of brown sugar, honey, heavy cream, brandy, and butter dresses the pancakes, and the whole breakfast will take you fewer than 30 minutes.
Ingredients:
Toffee sauce:
½ cup dark brown sugar
½ cup honey
¼ cup heavy cream
3 tablespoons unsalted butter
½ teaspoon brandy
¼ teaspoon sea salt
¼ teaspoon vanilla extract
Pancake batter:
1 large egg white plus 1/8 teaspoon cream of tartar
1 cup whole milk
2 tablespoons molasses
1 large egg yolk
½ teaspoon grated ginger
2 tablespoons unsalted butter, melted
1¼ cups cake flour (all-purpose flour is also fine)
1 tablespoon light brown sugar
2½ teaspoons baking powder
¼ teaspoon ground cinnamon
¼ teaspoon ground allspice
Canola oil and unsalted butter for cooking
Directions: Toffee sauce: Combine dark brown sugar, honey, heavy cream, unsalted butter, brandy, and sea salt in a small pot and set over medium heat. Bring to a gentle boil and cook for 3-4 min, stirring occasionally. Turn off the heat and stir in the vanilla extract, set aside.
To make pancakes: In a clean bowl with handheld-mixer, whisk together egg white and cream of tartar on high speed until stiff peak forms. Set aside. In another large bowl, whisk together whole milk, molasses, egg yolk and grated ginger until even. Sift flour, light brown sugar, baking powder, ground cinnamon, and allspice right into the wet ingredient. Then add the melted butter and stir everything together with a fork just until it comes into a thick batter. Fold the beaten egg white into the batter with a spatula in 3 additions, just until even. Try not to overwork the batter too much.
With a flat non-stick skillet with lid, heat 1 tablespoon of canola oil and 1 tablespoon of unsalted butter over medium heat. Once the butter starts to bubble, spoon the batter onto the skillet. Put the lid on now and turn the heat down to medium-low, and cook for 2-plus minutes, until the first side of the pancake is golden brown. Remove the lid and flip the pancake over. Turn the heat back to medium and cook until the second side is golden browned as well. Repeat until all the batter is used, and add more canola oil and unsalted butter as you go.
Reheat the toffee sauce to loosen the consistency if needed, and serve immediately with pancakes.
6. Nutella-Stuffed Pancakes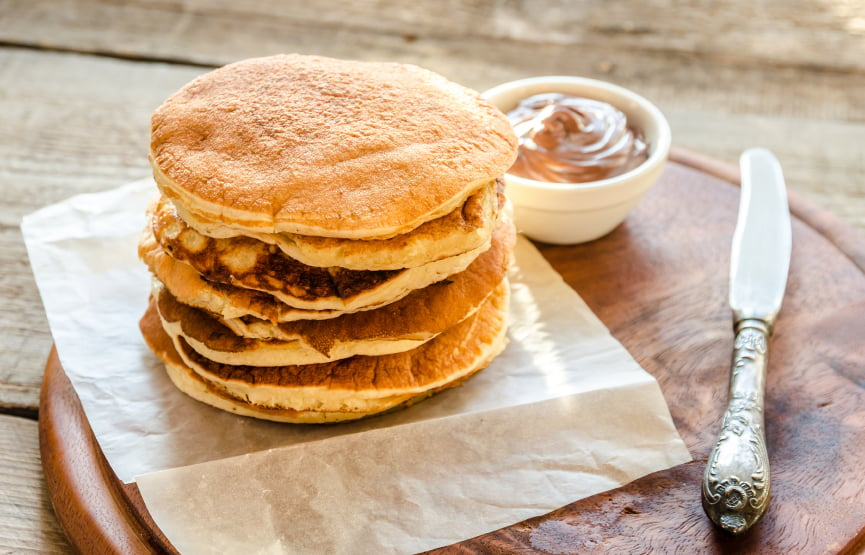 If you're a Nutella fan, this next recipe from Marsha's Baking Addiction is for you. It will help you serve nutella-stuffed pancakes in under 30 minutes. Requiring baking staples you likely already have in your pantry, all you need to do to master the perfect Nutella-filled pancake is take your traditional pancake recipe and then mix frozen Nutella discs into the batter when you're frying your hot cakes on the skillet. You'll be serving pancakes that come with pockets of a Nutella-filled surprise, and then you can serve them with your favorite toppings.
Ingredients:
1½ cups plain flour
1 tablespoon baking powder
½ teaspoon baking soda
¼ cup caster sugar
¼ teaspoon ground cinnamon
¼ teaspoon salt
1 large egg
1 cup milk
1 teaspoon vanilla extract
14 tablespoons Nutella
Directions: Line a baking tray with parchment paper.
Drop 2 tablespoons of Nutella onto the baking tray, and spread out to make 1 disc. Repeat to make 7 discs. Place the baking tray into the freezer until the Nutella firms up.
Whisk together the flour, baking powder, baking soda, sugar, cinnamon, and salt. Add the egg, milk, and vanilla extract, and mix until combined with no lumps.
Take out one disc of Nutella. Heat a little oil in a frying pan over medium heat. Drop ¼ cup of the batter into the pan, place the Nutella in the middle, then top with more batter (about 2/3 of the ¼ cup). When the underside is golden, flip and cook until the other side is golden. Repeat with the remaining batter and Nutella, adding more oil if necessary.
Serve warm with your favorite toppings.
7. Strawberry Pancakes with Strawberry Syrup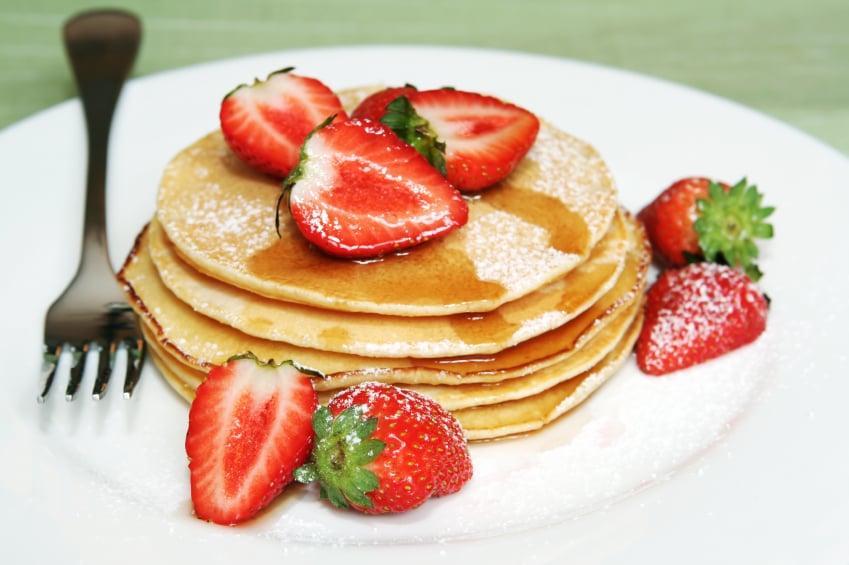 Our last recipe from A Bountiful Kitchen screams summer. It yields strawberry pancakes with strawberry syrup, and tastes as fresh as they come. Take advantage of summer produce and mix fresh strawberries into your pancake batter. The naked pancakes will taste good on their own, and when you top them with a homemade strawberry syrup, they'll taste even better. The breakfast formula serves 4 but can easily be doubled depending on the guests you're expecting at your breakfast table. You can top your hot cakes with syrup, whipped cream, and even some ice cream if you're in the mood to splurge.
Ingredients:
1 egg
2 tablespoons melted butter
1 cup buttermilk, shaken
⅓ cup cold water
1⅓ cups all purpose flour
½ teaspoon baking soda
1 teaspoon baking powder
2 tablespoons sugar
¼ teaspoon salt
1 to 2 pints fresh strawberries for pancakes and garnish
Ice cream or whipped cream for topping if desired
Syrup:
1 cup water
1½ cups sugar
2 cups whole berries, fresh or frozen
1 teaspoon vanilla
Directions: Make the fresh strawberry syrup: Measure water and sugar into a sauce pan and whisk together. Place whole strawberries into pan with hot water and sugar. Bring to boil and cook for about 5 to 7 minutes. Remove from heat and add 1 teaspoon vanilla.
Using an immersion blender, place the blade attachment in the pan and pulse until the mixture is smooth. Or, let cool while making pancakes. After cooled, use a blender and place the syrup into a blender and blend until smooth. Set the syrup aside until ready to use.
For strawberry pancakes: Heat griddle to 350 degrees. Beat egg, melted butter, buttermilk, and cold water together in medium bowl. Add all dry ingredients to bowl and stir a few times with a large whisk or fork or rubber spatula. Mix just until wet and dry ingredients are incorporated.
Wash and cut strawberries into small pieces. Lightly grease the griddle with butter or cooking spray. Using a ¼ cup measure, scoop out the batter onto the griddle. When the batter is on the griddle, sprinkle a few slices of the strawberries onto each pancake. Cook until bubbles start to appear and pop.  Flip the pancakes. Cook for an additional 1 to 2 minutes.
Serve with Fresh Strawberry Syrup, garnish with more fresh strawberries, whipped cream or vanilla ice cream.
More from Culture Cheat Sheet: