Upgraded Ice Cream Desserts That Take the Sweet Treat Up a Notch
When the weather gets warm, it's time to indulge your craving for ice cream. But not everyone has an ice cream maker. Cartons of ice cream typically suffice, but sometimes you want to treat yourself to something more. That's where homemade ice cream desserts come in. They enlist the ice cream you already have in your freezer and take things up a notch.
Homemade ice cream desserts will keep you from overpaying at your neighborhood ice cream spot, and they'll cool you down from the comfort of your own home. So take that ice cream from the tub, and make it into sundaes, sandwiches, pies, and cakes. You'll have fun getting creative in the kitchen with these 10 ice cream recipes.
1. Homemade Ice Cream Sandwiches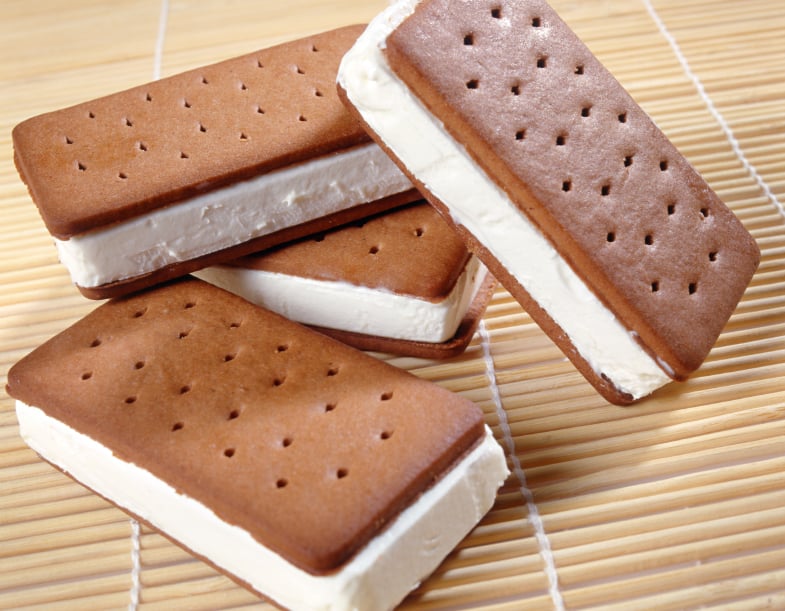 Ice cream sandwiches are a fan favorite, and with this recipe from Williams Sonoma, you can make them in your kitchen. You might think the packaged variety is hard to beat, but just wait until you sink your teeth into homemade chocolate brownies that sandwich chocolate chip ice cream. They're much better than the packaged treats you find in the grocery store aisles, and they don't have the plastic aftertaste. Make the brownies, spread the ice cream onto their halves, and then store your sandwiches until frozen.
Serves: 10
Ingredients:
1 tablespoon unsalted butter, at room temperature, for greasing foil
12 tablespoons unsalted butter
¾ cup unsweetened cocoa powder
1½ cups sugar
3 eggs
2 teaspoons vanilla extract
1½ cups all-purpose flour
Pinch of salt
1 quart chocolate chip ice cream, softened
See recipe directions from Williams Sonoma.

2. Graham Cracker Ice Cream Sundaes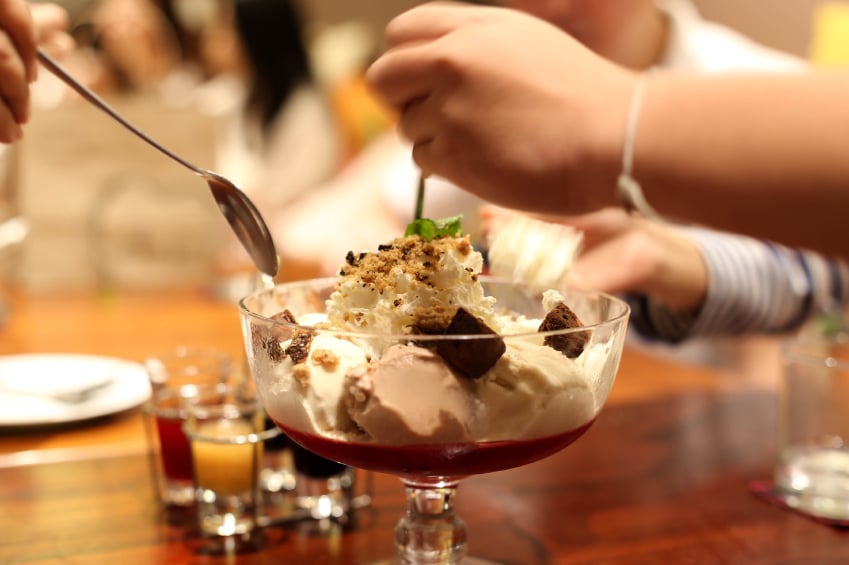 Next up is a sophisticated take on the ice cream sundae. Enter: graham cracker ice cream sundaes from Food & Wine. The ingredients list is short, and the end result is decidedly decadent. To make the good stuff, you'll simply blend vanilla ice cream with graham cracker crumbs, and then freeze it until firm. While your ice cream is chilling, you'll get to work on a warm and luxurious brown butter sauce that will top the ice cream and raspberries. Homemade ice cream sundaes can be both satisfying and fancy.
Serves: 8
Ingredients:
2 pints vanilla ice cream, softened slightly
1½ cups graham cracker crumbs (7 ounces)
1 stick (4 ounces) unsalted butter
2½ tablespoons balsamic vinegar
2 pints raspberries
See recipe directions from Food & Wine.
3. Fudge Sundae Pie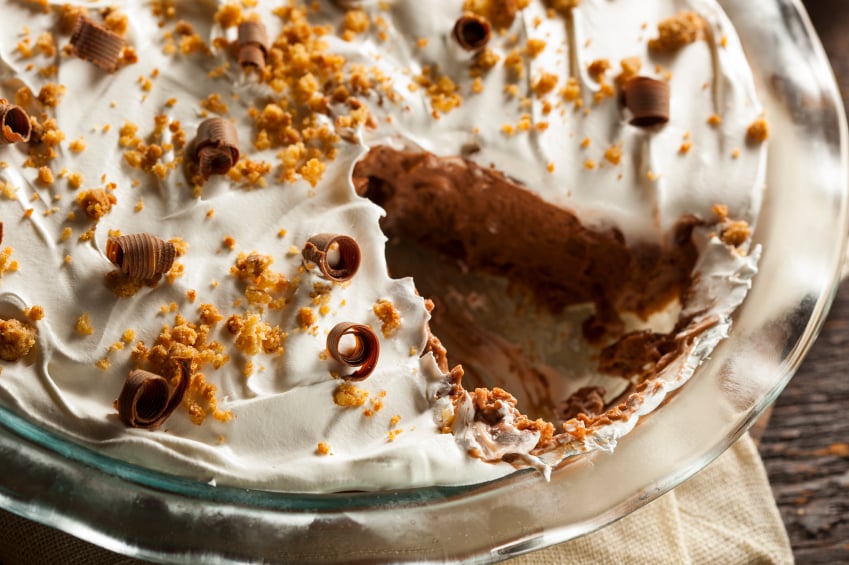 If you're craving an ice cream pie, this fudge sundae version from Taste of Home might crush your craving with a little less guilt. It enlists frozen yogurt, along with the lower-calorie forms of butter, peanut butter, and hot fudge, all while yielding a homemade sweet treat that still tastes great. The crust of the fudge sundae pie is a combination of corn syrup, butter, cereal, and brown sugar. And that gets topped with peanut butter, hot fudge, peanuts, and frozen yogurt. Practice your patience, and freeze it for at least six hours before digging in.
Serves: 8
Ingredients:
¼ cup plus 3 tablespoons light corn syrup, divided

3 tablespoons reduced-fat butter

2 tablespoons brown sugar

2½ cups crisp rice cereal

¼ cup reduced-fat creamy peanut butter

¼ cup fat-free hot fudge ice cream topping, warmed

¼ cup chopped unsalted peanuts

4 cups fat-free vanilla frozen yogurt, softened
See recipe directions from Taste of Home.
4. Brownie Ice Cream Cups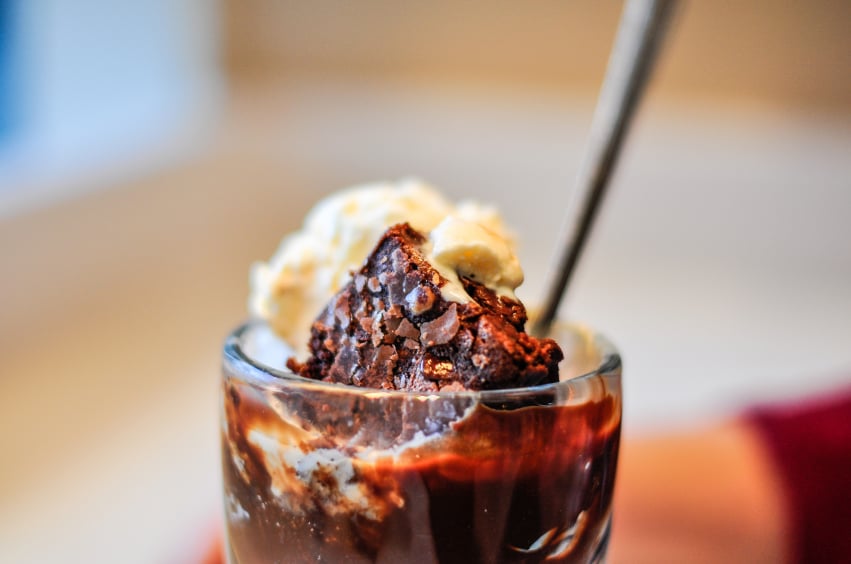 Here's a creative dessert that takes some shortcuts. Say hello to these brownie ice cream cups from Delish. They are about to become your new favorite frozen dessert, and all you need are ice cream, brownie mix, chocolate sauce, and sprinkles. Make your brownie bases in muffin tins, and then serve your ice cream as muffin tops once the brownie bases have cooled. Who needs a cone when you can serve your ice cream on top of a brownie? Add chocolate sauce and rainbow sprinkles for extra flavor and color.
Serves: 12
Ingredients:
1 box brownie mix, plus ingredients called for on box
Cooking spray, for pan
Ice cream, for serving
Chocolate sauce, for serving
Rainbow sprinkles, for serving
See recipe directions from Delish.
5. Grilled Pineapple with Ice Cream and Rum Sauce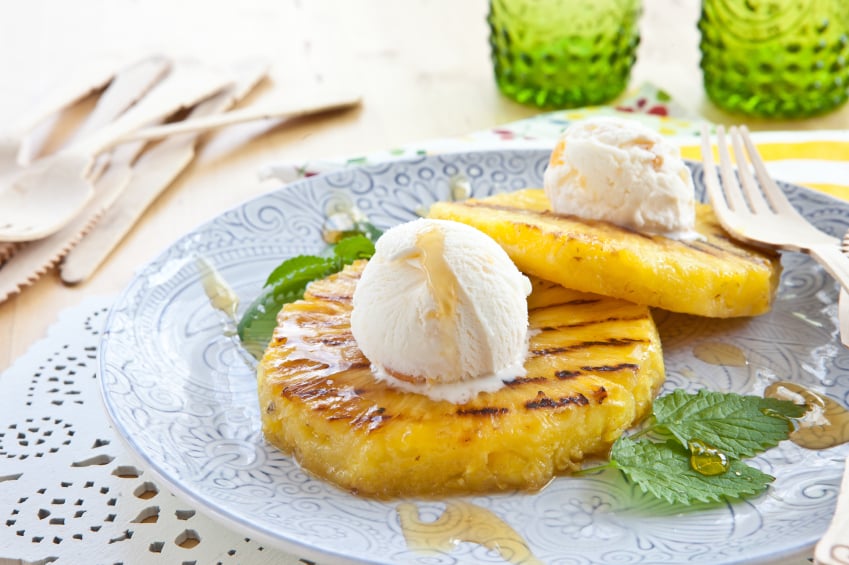 You're going to want to fire up the grill for this one. Here's an ice cream dessert from Cooking Channel TV that stars in-season fruit, ice cream, and, most importantly, rum. The grilled pineapple with ice cream dessert comes together in just 30 minutes, and the longest step is simply cutting your pineapple into rings and grilling each side. The grilled pineapple rings then get topped with ice cream and a sauce made from brown sugar, butter, and rum. This fun dessert is simple, sweet, and boozy, but it's still healthier than many other sweet treats.
Serves: 8
Ingredients:
1 (3 to 4 pound) pineapple
Nonstick cooking spray
2 teaspoons butter
¼ cup brown sugar
¼ cup rum
1 pint light vanilla ice cream
See recipe directions from Cooking Channel TV.
6. Affogato Mocha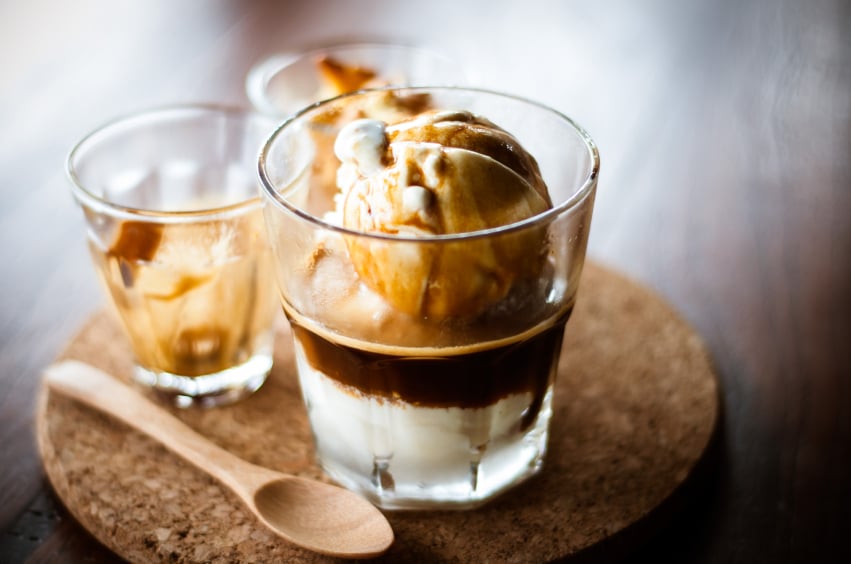 Coffee lovers are going to jump at this one. Now, they have an excuse to have coffee at night. This recipe from Epicurious yields the classic Italian dessert: affogato. It even takes it up a notch by adding in chocolate, making it an affogato mocha. Ice cream topped with chocolate, espresso, and rum is the way to go, as it'll cure your caffeine, chocolate, and ice cream cravings. The affogato will cool you down as it spikes your sugar and caffeine levels, and the extra rum takes things over the top.
Serves: 4
Ingredients:
1 pint chocolate ice cream
8 tablespoons finely chopped bittersweet (not unsweetened) or semisweet chocolate
8 tablespoons hot freshly brewed espresso coffee
8 tablespoons dark rum
See recipe directions from Epicurious.
7. Black and White Ice Cream Tart
If you want a dessert with an easy preparation and an impressive presentation, this black and white ice cream tart from Martha Stewart is the way to go. The no-bake treat requires only three ingredients, and they're ones you likely already have in your refrigerator and pantry. Crushed chocolate sandwich cookies make up the crust, and ice cream forms the filling. Freeze your tart until firm, and then serve to eight lucky people. You can choose any kind of ice cream to make your black and white ice cream tart, though if you go for mint chocolate chip, you might need to update the dessert's name.
Serves: 8
Ingredients:
24 chocolate sandwich cookies (about 10 ounces)
1 tablespoon butter, melted
2 pints vanilla ice cream, softened
See recipe directions from Martha Stewart.
8. Ice Cream Truffles
Most people have been lucky enough to try truffles, but not everyone has enjoyed the ice cream variety. A recipe for the good stuff comes from Real Simple, and it yields 30 truffles made from ice cream, malt bars, Heath bars, PayDay bars, and white chocolate. Now you have an excuse to pick up your favorite candy from the checkout line. Not only that, you get to melt down the candy, and roll ice cream balls in the toppings. If you think these ice cream truffles sound too good to be true, try the recipe and see for yourself. You're dangerously close to success.
Serves: 30
Ingredients:
1 pint vanilla ice cream
10 malt balls, finely chopped
2 Heath bars, finely chopped
2 PayDay bars, finely chopped
10 ounces white chocolate
See recipe directions from Real Simple.
9. Banana Split Ice Cream Sandwiches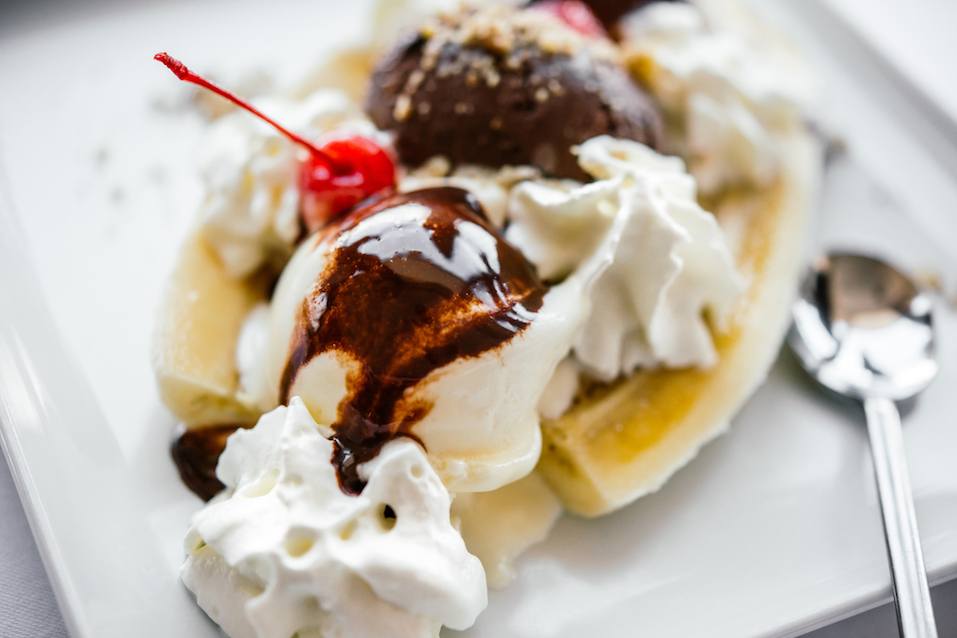 Upgrade the classic dessert that is the banana split by taking its components and making them into banana split ice cream sandwiches. The end result will let you eat your banana split dessert with your hands. This recipe from Cooking Light will show you how it's done. Your cookies are made from flour, powdered sugar, vanilla extract, and an egg, while ice cream, banana, and peanuts make up the filling. The finished product of sandwich cookies covered with whipped cream, chocolate syrup, peanuts, and a cherry are as fun to look at as they are to eat.
Serves: 6
Ingredients:
Cookies:
7 tablespoons powdered sugar
6 tablespoons sifted all-purpose flour
¼ teaspoon vanilla extract
1 large egg
Filling:
2 cups vanilla low-fat ice cream, softened
¾ cup ripe mashed banana (about 1½ medium bananas)
6 tablespoons coarsely chopped dry-roasted peanuts, divided
Remaining ingredients:
6 tablespoons frozen fat-free whipped topping, thawed
3 tablespoons chocolate syrup
6 maraschino cherries, drained
See recipe directions from Cooking Light.
10. Mexican Fried Ice Cream Dessert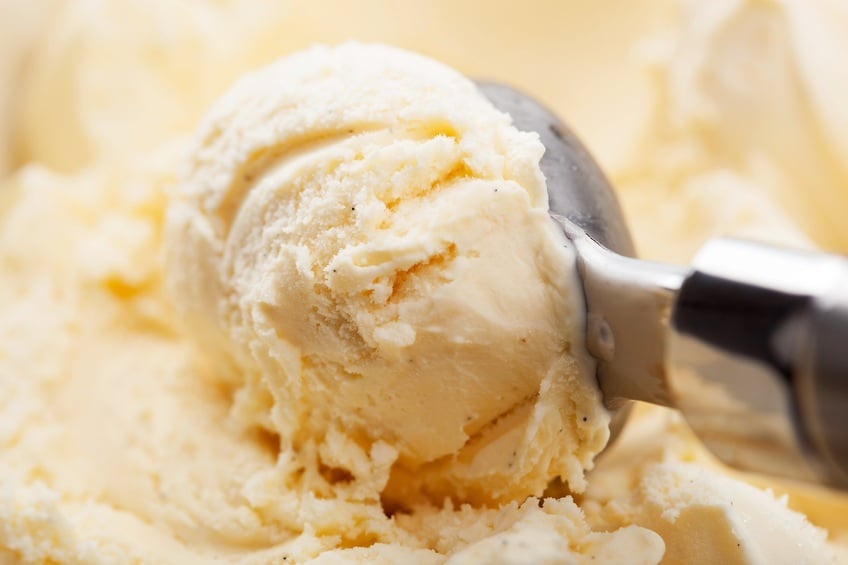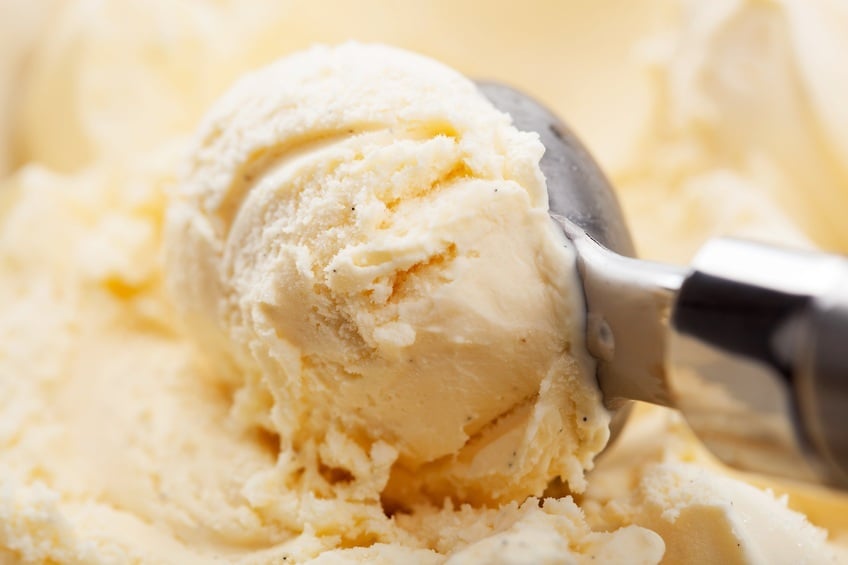 There's nothing quite like fried ice cream, but we're not attempting to master that dessert today. Rather, we're highlighting an easier route you can take that will let you get your fried ice cream fix. This Mexican fried ice cream dessert recipe from Betty Crocker has all of your favorite flavors of Mexican fried ice cream packed into an easier layered sweet treat. With just 20 minutes of prep time, you can enjoy a dessert that has a base of crushed cereal, coconut, and brown sugar, topped with ice cream and cinnamon. You'll have to wait eight hours to freeze the Mexican fried ice cream before serving, but this decadent treat is worth the wait.
Serves: 15
Ingredients:
2 tablespoons butter
½ cup sliced almonds
1 cup crushed cinnamon toast cereal
½ cup shredded coconut
½ cup packed brown sugar
1 carton (1.5 quarts) vanilla ice cream
1 teaspoon ground cinnamon
See recipe directions from Betty Crocker.