7 Vegetarian Dishes You Can Make in a Crockpot
The crockpot is ideal for meat-centric Sunday suppers and weekdays when everything can cook while you're at work, but what many consumers forget is that the slow cooker can work its magic on vegetarian dishes, too. Dishes like veggie-heavy curries, chilis, soups, and stews are also easily mastered when cooked and marinated for hours on low heat in the slow cooker. The flavors blend together, filling your house with a mouth-watering aroma, and pretty soon you have eaters of all kinds waiting for your vegetarian dinner. Check out these seven dishes that are perfect for your slow cooker, and let the appliance do all the hard work for you.
1. Slow Cooker Vegetarian Chili with Butternut Squash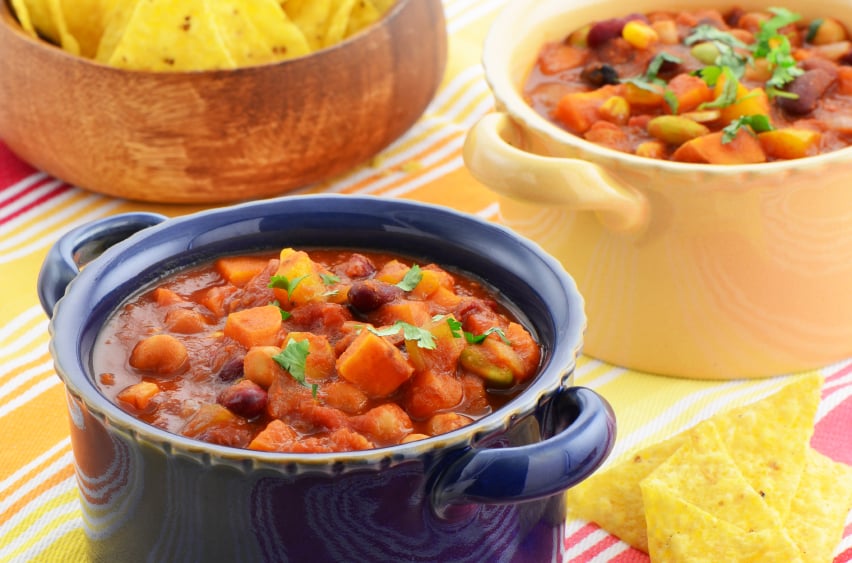 First up is a chili recipe from The Lemon Bowl that is perfect for the fall and winter harvest. Enlisting butternut squash, this Vegetarian Chili is packed with sweet and savory flavor, and it's also full of plant-based protein and fiber thanks to beans, corn, and tomatoes. The dish can cook in the crockpot for up to 8 hours and should be served with sour cream and chips.
Ingredients:
1 medium onion – diced
1 red pepper – seeded and diced
14 oz fire roasted diced tomatoes
14 oz kidney beans – drained and rinsed
4 cups butternut squash – peeled and diced
2 cups vegetable or chicken broth – low sodium
1 cup corn – fresh or frozen
3 cloves garlic – minced
2 chipotle peppers in adobo
2 tablespoons cumin
1 tablespoon chili powder
1 tablespoon smoked paprika
1 teaspoon oregano
salt and pepper to taste
Read full recipe directions at The Lemon Bowl. 
2. Tofu and Chickpea Curry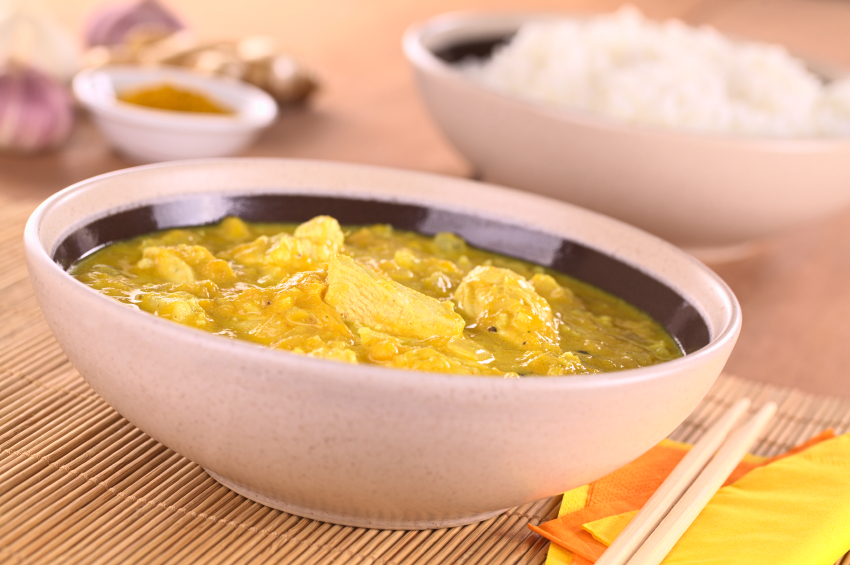 To add a kick of spice to your slow cooker, follow this recipe from Cooking Light for Tofu and Chickpea Curry. Instead of leaving curries to restaurant chefs, simply leave them to your slow cooker. After you put in the minimal prep work, your slow cooker will do all the work for you. This curry is full of sweet potato, cauliflower, chickpeas, and tofu, and its smoky flavor can be attributed to the curry powder and ginger also on its ingredients list. Coconut milk ties the curry together and lends an irresistible creaminess to the dish.
Ingredients:
2 cups cubed peeled sweet potato
2 cups small cauliflower florets
1 cup chopped onion
1 tablespoon Madras curry powder
1 tablespoon brown sugar
1 tablespoon grated peeled fresh ginger
1 ¼ teaspoons salt
2 garlic cloves, minced
1 (16-ounce) can chickpeas (garbanzo beans), rinsed and drained
1 (14.5-ounce) can no-salt-added diced tomatoes, undrained
1 (13.5-ounce) can light coconut milk
1 (14-ounce) package extra-firm tofu, drained
1 tablespoon canola oil
3 cups hot cooked rice
3 tablespoons chopped fresh cilantro
Freshly ground black pepper (optional)
Read full recipe directions at Cooking Light. 
3. Slow-Cooker Moroccan Lentil Stew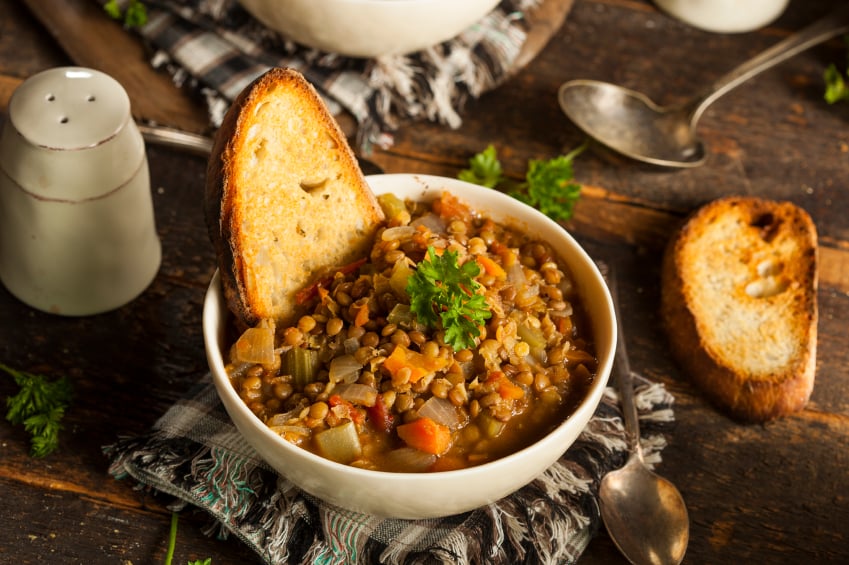 To go the Moroccan route, try this Lentil Stew from Eating Well. It's also full of flavor thanks to an array of spices, and the lentil-heavy dish is packed with protein and fiber, filling you up without filling you out. The Moroccan Lentil Stew tastes great the day of and also is perfect for workday lunch leftovers. It promises to make a lentil lover out of just about anyone.
Ingredients:
2 cups chopped onions
2 cups chopped carrots
4 cloves garlic, minced
2 teaspoons extra-virgin olive oil
1 teaspoon ground cumin
1 teaspoon ground coriander
1 teaspoon ground turmeric
¼ teaspoon ground cinnamon
¼ teaspoon ground pepper
6 cups vegetable broth or reduced-sodium chicken broth
2 cups water
3 cups chopped cauliflower
1 ¾ cups lentils
1 (28-ounce) can diced tomatoes
2 tablespoons tomato paste
4 cups chopped fresh spinach or one 10-ounce package frozen chopped spinach, thawed
½ cup chopped fresh cilantro
2 tablespoons lemon juice
Read full recipe directions at Eating Well. 
4. Skinny Veggie Crockpot Lasagna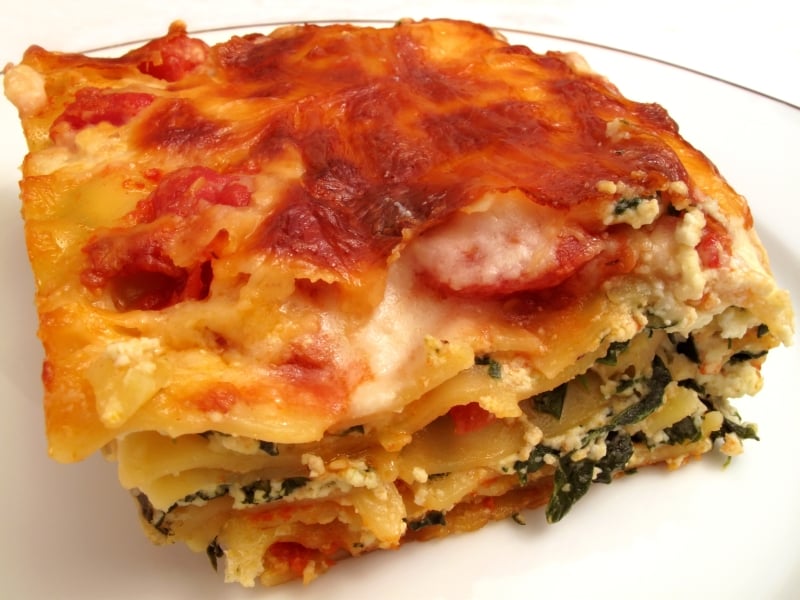 The slow cooker can make vegetarian comfort food, too. This Crockpot Lasagna recipe from Pinch of Yum proves it. Packing three types of cheese, tomato sauce, and veggies on top of the noodles, the Veggie Crockpot Lasagna will make your tastebuds sing while (surprisingly) not devastating your diet. The lack of meat in the dish leaves room for more greens and one serving of this 9-serving recipes yields only 309 calories. Get ready to take a bite out of this easy guiltless slow cooker comfort.
Ingredients:
2 (24-ounce) jars or cans of Italian tomato sauce
9 thick lasagna noodles with wavy edges
24 ounces part-skim ricotta cheese OR cottage cheese
3-4 cups chopped vegetables of choice
2 cups shredded Mozzarella or Provolone cheese
Parmesan cheese for topping
fresh parsley for topping
Read full recipe directions at Pinch of Yum. 
5. Slow Cooker Broccoli Cheddar Soup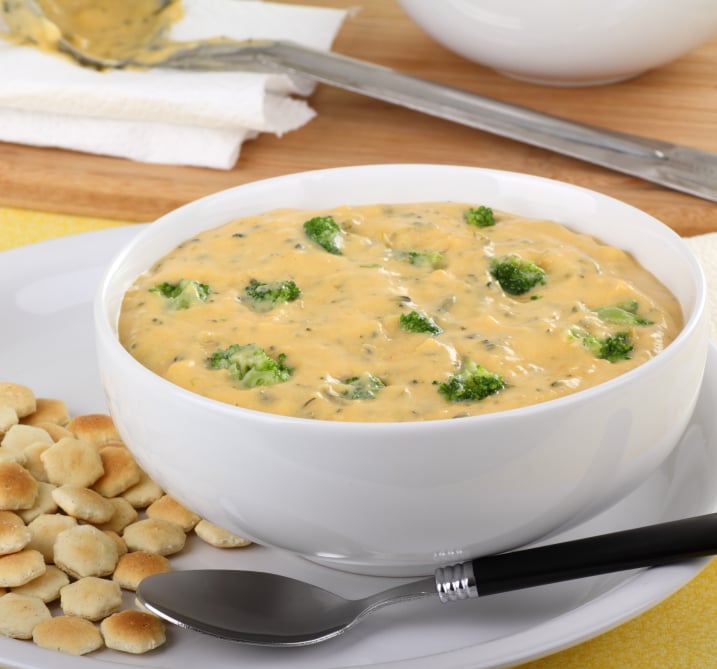 Speaking of comfort food, there's more where that came from in vegetarian crockpot land. Stand back, Panera, because this homemade Broccoli Cheddar Soup is not only more healthy and wholesome than the chain's popular rendition, it's also tastier. Le Creme de la Crumb has a recipe for Broccoli Cheddar Soup that is mastered in the slow cooker and prepped in only 15 minutes. Turn your slow cooker on low and come back in 4 to 6 hours. Your broccoli, butter, cheese, and milk will have blended together beautifully into a vegetarian dish of which you'll definitely want seconds.
Ingredients:
4 tablespoons butter
5 tablespoons flour
3 cups milk
3 cups chicken broth (or vegetable broth for vegetarian)
½ onion, diced
3-4 cups chopped broccoli florets
1 tablespoon minced garlic
1 teaspoon Italian seasoning
2 ounces cream cheese
2 cups shredded sharp cheddar cheese (yellow)
2 teaspoons salt
1-4 teaspoon black pepper
Optional: extra cheese for topping
Read full recipe directions at Le Creme de la Crumb. 
6. Slow-Cooker Root Vegetarian Stew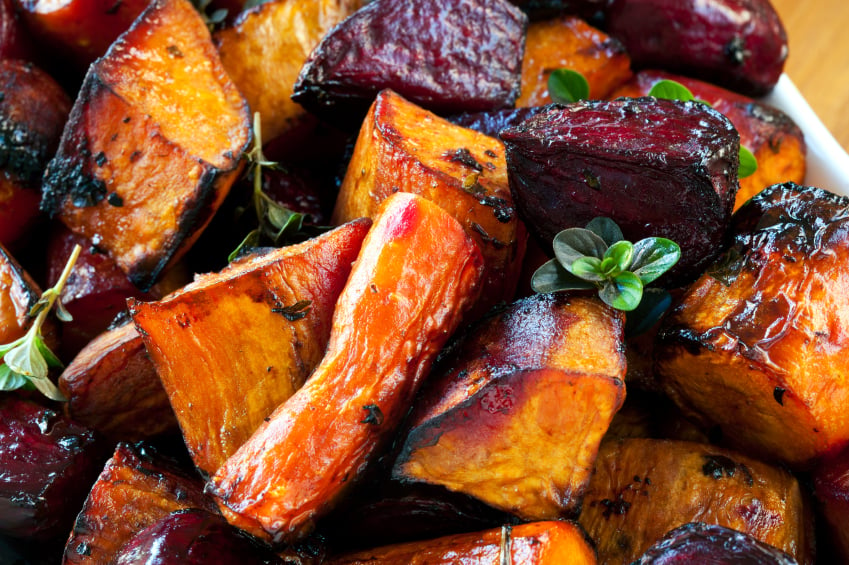 Get back to your roots and add this Slow-Cooker Vegetarian Stew to your meal rotation while the vegetables are fresh in season. Gimme Some Oven's stew is not only vegetarian, it's vegan, too, and it's soul-warming and satiating thanks to fibrous and hearty potatoes and veggies. Vegetarian Stew is a perfect Sunday supper dish that everyone can enjoy, and it makes great leftovers for the days following. Whether you serve it with cheese or alone, the flavors of the ingredients blend together perfectly to remind us just how good wholesome, simple food tastes.
Ingredients:
1 large white onion OR 2 leeks, chopped
1 pound butternut squash, peeled, seeded and chopped
1 pound carrots, peeled and chopped
1 pound parsnips, peeled and chopped
1 pound sweet potatoes, peeled and chopped
1 pound Yukon Gold potatoes, peeled and chopped
2 celery ribs, stems removed and chopped
6 cloves garlic, peeled and thinly sliced
3 cups chicken or vegetable broth
1 bay leaf
1 tablespoon fresh sage leaves, finely chopped
1 teaspoon freshly-cracked black pepper
½ teaspoon sea salt
2 cups chopped fresh kale
Optional: fried sage leaves for garnish
Read full recipe directions at Gimme Some Oven. 
7. Mushroom and Barley Stew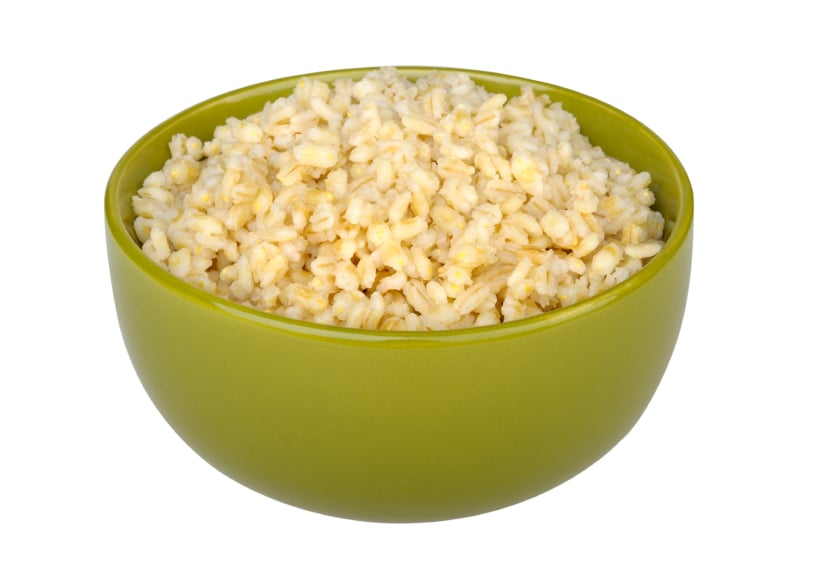 This last recipe from Macheesmo gets down with a different kind of grain. Add barley to your back pocket and you'll find yourself enlisting the fibrous grain time and time ahead. It's hearty and healthy and adds an earthy texture to your dishes. Macheesmo's Mushroom and Barley Stew provides a great example. The stew cooks in the crockpot for 10 hours and serves 6. It's full of vegetables, beans, potatoes, barley, and herbs, and it's filling in the best way possible. Instead of walking away from dinner in a carb coma, you'll have fueled up the healthy way and will have energy for the day or night ahead.
Ingredients:
½ large onion chopped
1 large carrot, halved and sliced
1 rib of celery, sliced
¾ pound mushrooms, quartered or halved if they are smaller
1 can (15 ounces) red or black beans, drained
1 can (14 ounces) stewed tomatoes
2 cups new potatoes, quartered
1 10 ounce bag frozen corn
½ cup barley (not the quick cooking variety)
1 bay leaf
1 teaspoon dried thyme
1 teaspoon dried basil
½ teaspoon red pepper flakes
1 teaspoon black pepper
3 cloves garlic
5 cups vegetable broth
Pinch of salt
Toppings:
Scallions
Red Pepper
Greek Yogurt
Read full recipe directions at Macheesmo. 
More from Culture Cheat Sheet: