7 Vegetarian Meals You Can Make in 30 Minutes or Less
Making a meatless dish doesn't have to translate to more time spent in the kitchen. Many vegetarian meals are even quicker to make than their meaty counterparts, and we're proving it by showcasing 7 food formulas that take 30 minutes or less to prep. Homemade, vegetarian food is some of the healthiest stuff you can make for dinner, and you have no excuse not to master the meals when only 30 minutes and a handful of accessible ingredients are involved. Check out these fuss-less, fool-proof dinners you can make in an half hour and feel good about the vegetarian spread you're making for dinner.
1. Rainbow Stir-Fry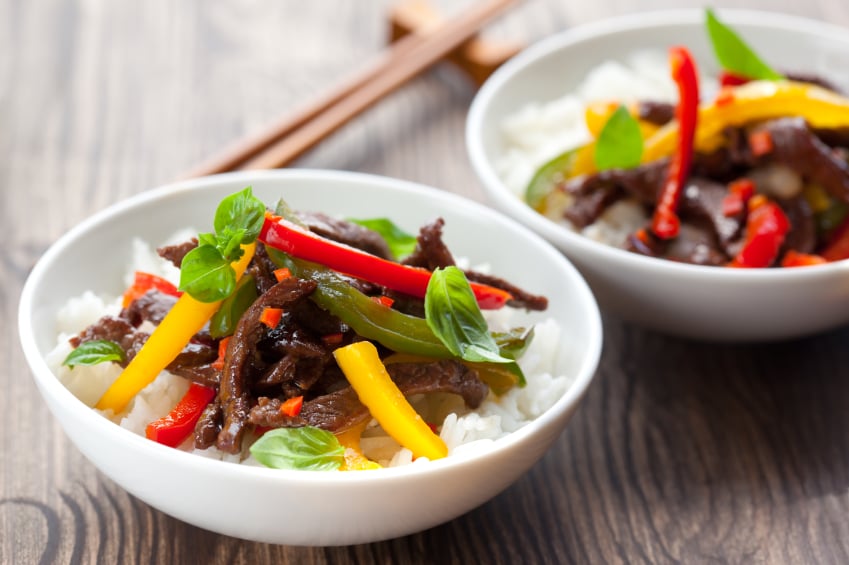 Stir-fries are easy to make, fun to customize, and delicious to eat. They can be packed with fresh ingredients and/or a protein source of your choosing. This recipe from Vegetarian Times goes heavy on the veggies. The rainbow stir-fry is packed with green beans, cabbage, corn, bell peppers, and shelled edamame. It's also dressed with a sauce made from orange juice concentrate, hoisin sauce, soy sauce, and chili-garlic sauce.
The meat-free dish will take you fewer than 30 minutes to make and it serves 4. Serve it over brown rice and you have a dinner that is packed with enough fresh flavor that you won't miss the chicken, shrimp, or beef.
Ingredients:
3 tablespoons frozen orange juice concentrate
2 tablespoons hoisin sauce
1 tablespoon low-sodium soy sauce
½ teaspoon chile-garlic sauce
2 teaspoons toasted sesame oil
½ lb. green beans, halved crosswise
1 cup thinly sliced purple cabbage
1 (15-ounce) can baby corn, rinsed and drained
1 small red bell pepper, sliced (1 cup)
1 cup frozen, shelled edamame
1 (8-ounce) can sliced water chestnuts, drained
4 green onions, thinly sliced
Read the recipe directions at Vegetarian Times. 
2. Butternut Squash Pizza with White Sauce, Spinach, and Goat Cheese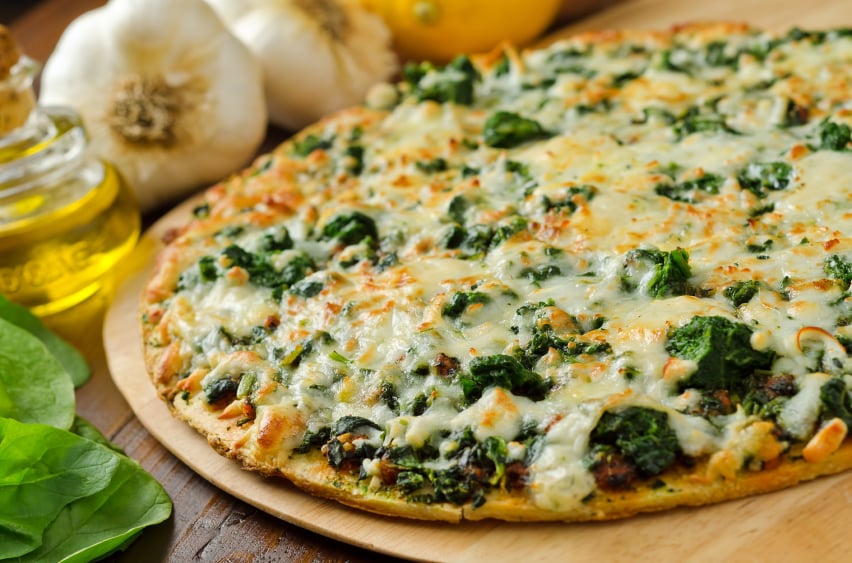 Vegetarian pizzas can also be made in just minutes, and this recipe from Cooking Light proves it. The butternut squash pizza is a tasty deviation from the pepperoni, cheese, and red sauce norm, and it's healthier, too. No need to feel guilty about indulging in pizza when your crust is topped with squash, light alfredo sauce, goat cheese, and spinach. You'll get a healthy dose of vitamins, fiber, and protein, and each serving of the pie is fewer than 300 calories.
Ingredients:
2 cups pre-cut peeled butternut squash
¼ teaspoon kosher salt, divided
1 pre-baked thin pizza crust
5 tablespoons refrigerated light Alfredo sauce
1 teaspoon extra-virgin olive oil
6 cups fresh baby spinach
1 ounce goat cheese, crumbled
¼ teaspoon freshly ground black pepper
Read the recipe directions at Cooking Light. 
3. Sweet Potato and Kale Quesadillas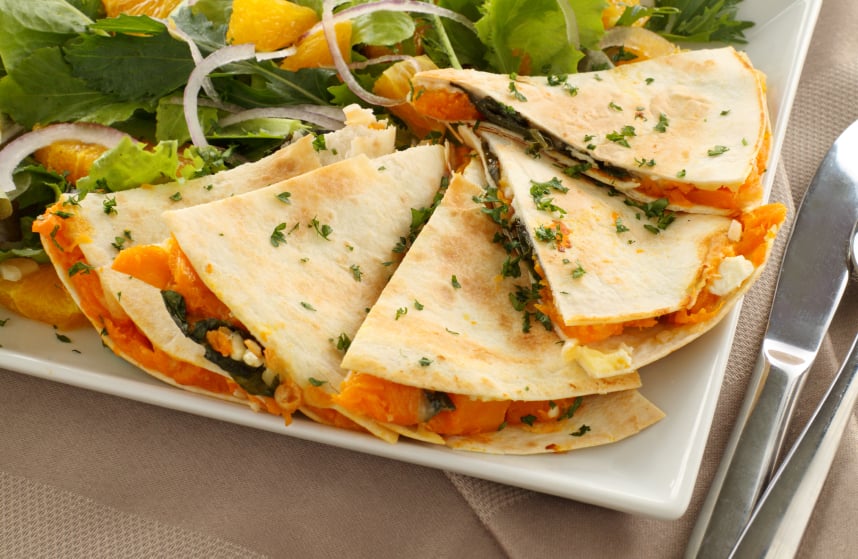 Quesadillas are next and these ones from Quarter Life Crisis Cuisine are packed with sweet potatoes and kale. Shredded cheese is also thrown into the mix. The quesadillas will take you just minutes to make, and they'll help you kick your Mexican craving the healthy way. Making your stuffed tortillas at home ensures that you know exactly what is going into your carby lunch or dinner, and a thin layer of cheese is all you need to make the fresh flavors of kale and sweet potatoes shine. One whole quesadilla yields only 300 calories, and you can serve it alongside a guacamole or salsa of your choice.
Ingredients:
8 tortillas
1 large or 2 small sweet potatoes, peeled and cubed
1 large handful kale, cut to bite-sized
1 clove garlic, minced
2 handfuls shredded cheese
1 pinch cayenne pepper
Salt and pepper
1 pat butter or olive oil
Read the recipe directions at Quarter Life Crisis Cuisine. 
4. Orecchiette with Broccoli Rabe and Chickpeas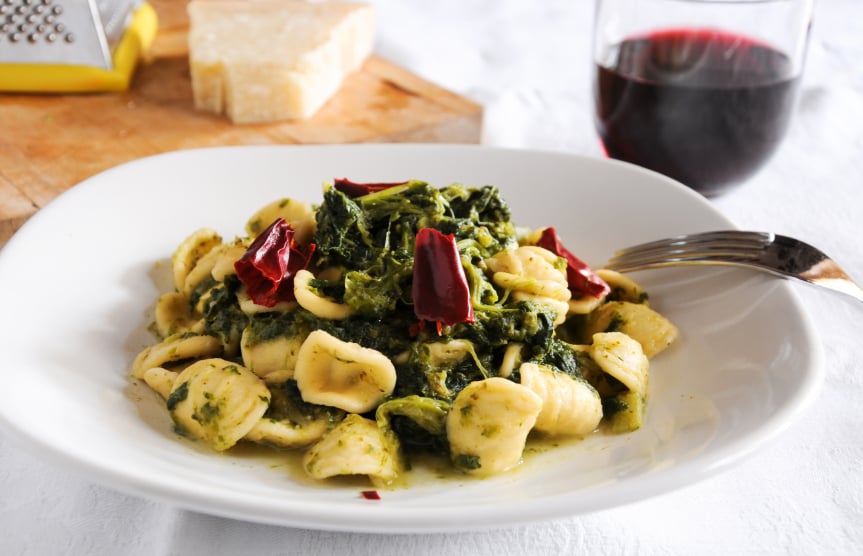 It's no secret that pasta is quick and easy to make, and this orecchiette with broccoli rabe and chickpeas proves that it can be mastered healthfully, too. The dish from Eating Well will take 30 total minutes, and it serves 2. The whole-wheat orecchiette pairs perfectly with chickpeas, and fresh broccoli rabe studs the carbs as well. You don't need meat when this delicious trio of flavors is involved, and the garlic and rosemary homemade sauce takes things over the top.
Ingredients:
1 (15-ounce) can chickpeas (drained and rinsed)
1 cup cooked quinoa (3/4 cup uncooked quinoa and 1⅓ cup water)
4 basil leaves, thinly sliced
½ tablespoon parsley, finely chopped
½ tablespoon dill, finely chopped
¼ small red onion, finely chopped
1 medium zucchini, grated
2 garlic cloves, minced
1 teaspoonpaprika
¼ cup bread crumbs
1 tablespoon parmesan cheese
¼ teaspoon powdered ginger
¼ teaspoon black pepper
salt to taste
Read the recipe directions at Eating Well. 
5. Spicy Almond Soba Noodles with Edamame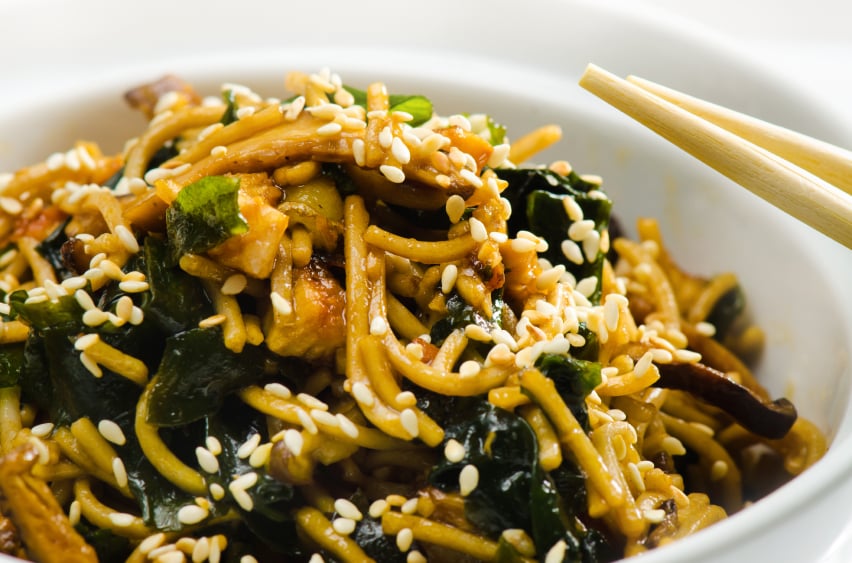 The key to a delicious dish of soba noodles is nut butter. An almond or peanut sauce takes an otherwise unexciting bowl of soba noodles and makes them shine. Try this recipe for spicy almond noodles from Fine Cooking and see what we mean. The nutty noodles are complemented by crunchy peppers and edamame, and the different flavors and textures in the bowl will make you forget all about any absence of meat. Similar to the other recipes on our list, this dish takes 30 minutes to master and makes great leftovers.
Ingredients:
2 ounces dried soba noodles
½ cup shelled edamame (fresh or frozen)
1 tablespoon sliced raw almonds
1 tablespoon almond butter
2 teaspoons unseasoned rice vinegar, or more to taste
1 clove garlic, crushed and finely chopped
¼ teaspoon red pepper flakes, plus more to taste
Kosher or sea salt
1 scallion, white and green parts, thinly sliced
½ red bell pepper, stemmed, seeded, and thinly sliced
Read the recipe directions at Fine Cooking. 
6. One Pot Stovetop Enchiladas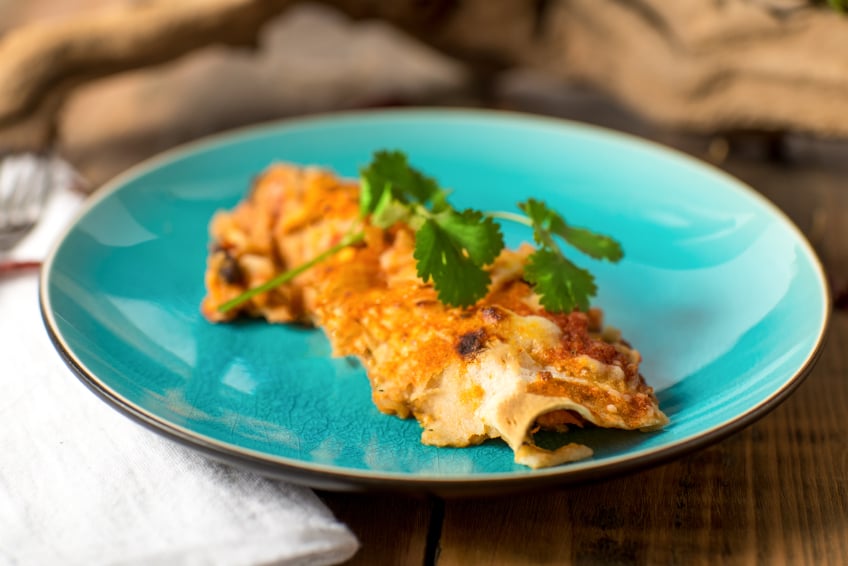 Enchiladas, anyone? Even better, why not make them on the stove? The recipe for one pot stovetop enchiladas from She Likes Food shows you how make this dish the easy way. Instead of preheating the oven this summer, make your enchiladas in a skillet and get ready for your Mexican dinner to be ready in just 30 minutes. Into the vegetarian enchiladas go zucchini, squash, pepper, garlic, corn, black beans, and spices, and after a hefty layer of enchilada sauce, you're ready to turn up the heat, melt your cheese, and go.
Ingredients:
3 teaspoons olive oil, divided
8 corn tortillas, cut into one inch pieces
½ yellow onion, small diced
1 small zucchini, small diced
1 small yellow squash, small diced
1 small red bell pepper, small diced
1 clove garlic, minced
¾ cup fresh corn kernels
1 (15 ounce) can black beans, rinsed and drained
½ teaspoon salt
¼ teaspoon black pepper
½ teaspoon ground cumin
½ teaspoon paprika
1½ cup grated cheese, divided
1½ cup enchilada sauce
Cilantro leaves for topping, if desired
Read the recipe directions at She Likes Food. 
7. Quinoa and Zucchini Veggie Burgers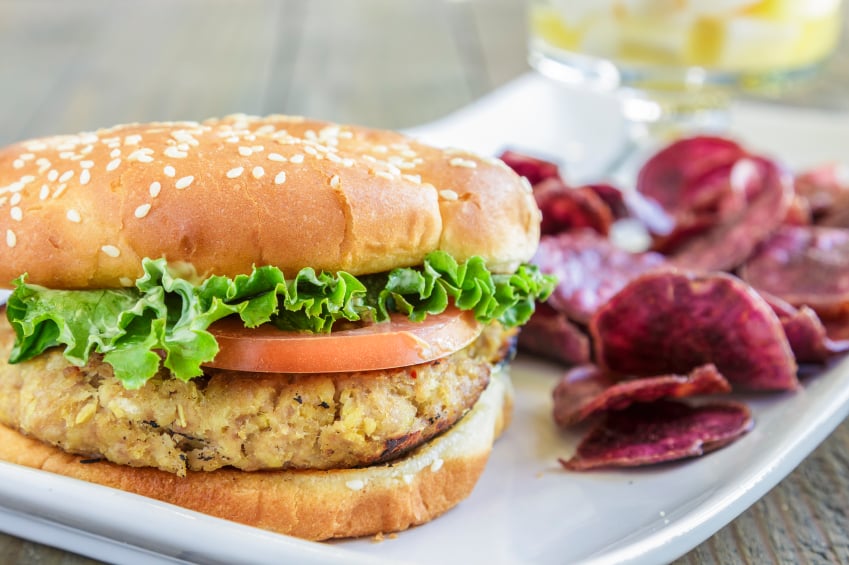 We're concluding with a veggie burger recipe from Food Wine Thyme that you may elect to eat over the typical meat patty. Summer is the best time to perfect your veggie burger game, and you should kick things off with these quinoa and zucchini burgers. You can feed 4 to 5 people with the recipe, and again, they'll take you only 30 minutes to make. Get ready to combine quinoa, zucchini, chickpeas, herbs, red onion, garlic, paprika, bread crumbs, and Parmesan cheese into patties, and then bake the burgers for 10 minutes.
Ingredients:
1 (15-ounce) can chickpeas
1 cup cooked quinoa
4 basil leaves, thinly sliced
½ tablespoon parsley, finely chopped
½ tablespoon dill, finely chopped
¼ small red onion, finely chopped
1 medium zucchini, grated
2 garlic cloves, minced
1 teaspoon paprika
¼ cup bread crumbs
1 tablespoon Parmesan cheese
¼ teaspooon powdered ginger
¼ teaspoon black pepper
salt to taste
Read the recipe directions at Food Wine Thyme. 
More from Culture Cheat Sheet: