Tasty Ways to Make a Classic Lasagna Even Better
There's something incredibly comforting about making classic recipes. Some remind you of family; others are simply too good to change over the years. However, every now and then the same recipes can seem repetitive. When that happens, don't be afraid to get a little creative in the kitchen and mix things up. You can always come back to your tried and true favorites, but it doesn't mean you can't experiment with new flavors. And when it comes to a dish like lasagna, there are plenty of ways to make a classic dish new again.
You can't go wrong with layering a dish full of sauce, lasagna noodles, ricotta and other cheeses, and whatever trusted ingredients you normally use. But if you're looking to spread your wings a bit, these recipes should inspire you to try some new flavors.
1. White Mushroom Lasagna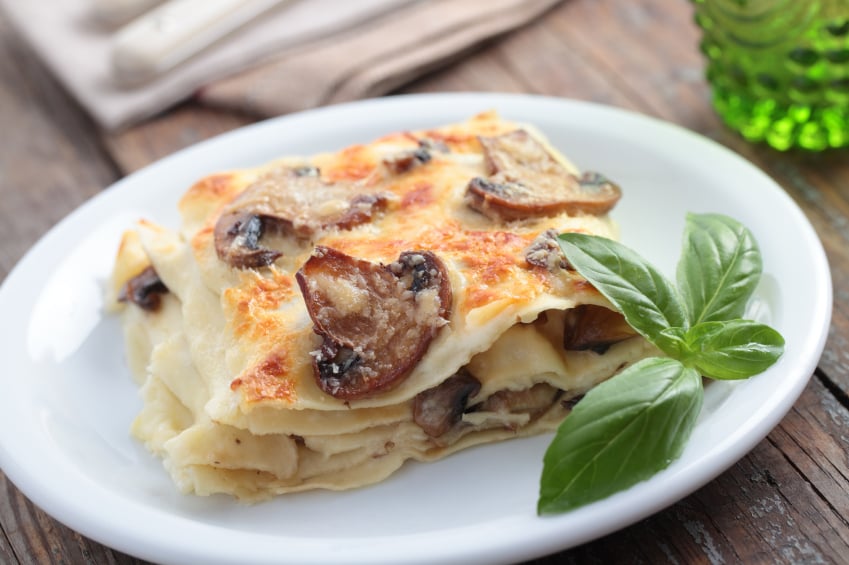 This creamy and rich lasagna variation is so hearty, you won't even realize there's no ground beef or turkey in it. Two full pounds of mushrooms take the place of meat, and the rich white sauce complements them perfectly. The mushrooms shrink down as you cook them, so don't skimp! You'll need them all for this lasagna recipe from The View From Great Island.
"The time commitment and the cost of the ingredients for this are a little bit steep, but the splurge is worth it, trust me," writes Sue, the blogger on the site. The best part is that this lasagna holds up even after being frozen, so you can make it and pull it out whenever you're looking for a rich dish.
Ingredients:
2 pounds fresh mushrooms (the author uses a combination of cremini and white)
1 package dried mixed wild mushrooms
1 bunch of fresh thyme, leaves plucked off, about 4 tablespoons
1 tablespoon olive oil
1 tablespoon butter
3 large shallots, finely chopped
½ cup Marsala wine
3 tablespoons flour
1 cup whole milk
1 cup half-and-half
2 cups ricotta cheese
2 eggs
Salt and fresh cracked black pepper
½ cup grated Parmesan cheese
8 ounces sharp white cheddar cheese, grated
About 1 pound fresh pasta sheets, enough for 4 layers
8 ounces Gruyère cheese, grated
Head to The View From Great Island for the full recipe. 
2. Skillet Lasagna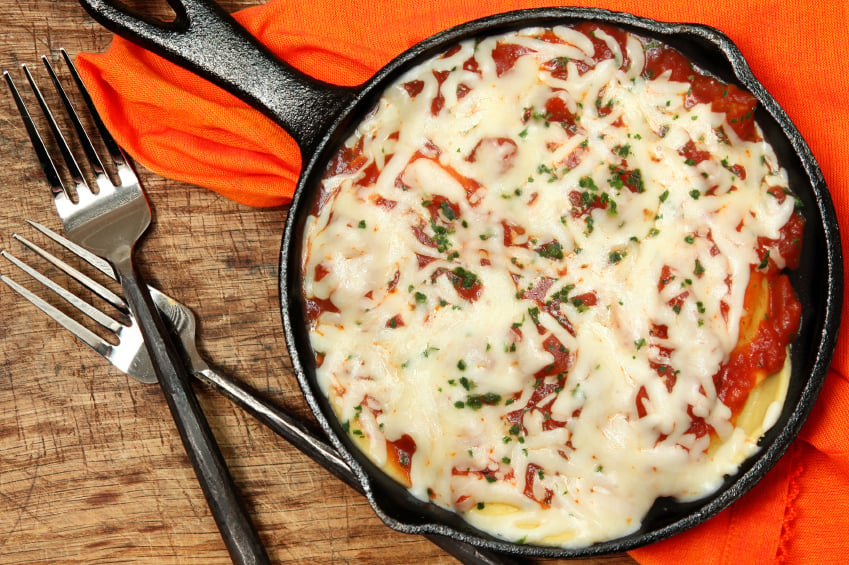 Though lasagna is traditionally stacked in a casserole pan, this recipe from Five Heart Home deconstructs the classic dish and uses a skillet instead. You still get the robust flavors you expect from a classic version, but a big perk is that this recipe is ready to serve in 30 minutes — much faster than a typical lasagna recipe.
Ingredients:
1 (28-ounce) can petite diced tomatoes
Water
1 (8-ounce) can tomato sauce
2 tablespoons sugar
1 tablespoon extra-virgin olive oil
5 cloves garlic, minced
¼ teaspoon red pepper flakes
1 pound ground beef
Garlic salt and freshly ground black pepper
5 tablespoons chopped fresh Italian herbs (such as basil, oregano, thyme, parsley), divided
8 ounces bow-tie pasta (farfalle)
1 cup shredded mozzarella
½ cup plus 2 tablespoons grated Parmesan cheese
1 cup ricotta cheese
Head to Five Heart Home for the full recipe. 
3. Spinach Artichoke Lasagna Roll Ups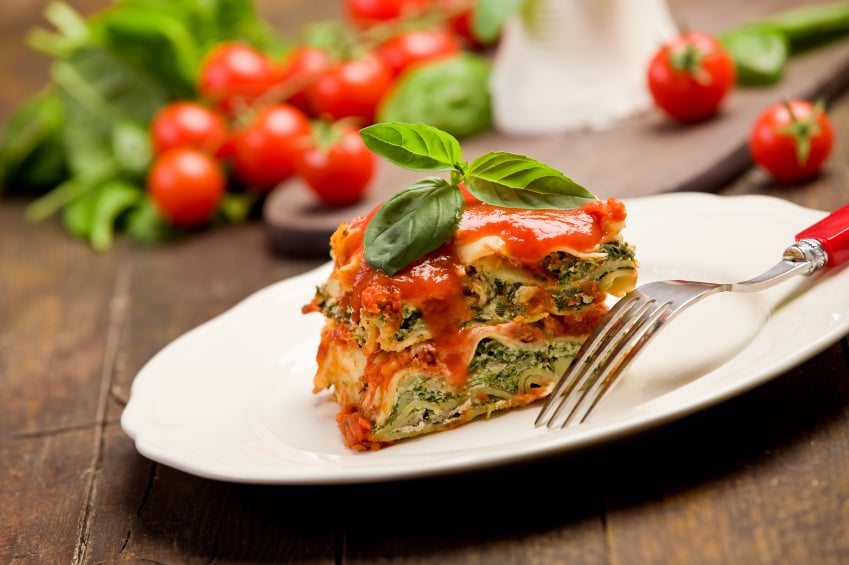 This recipe from Two Peas & Their Pod keeps the traditional lasagna noodles intact, but rolls them up for individual servings instead of layered in a casserole dish. The spinach and artichoke filling is another unique twist, adding extra vitamins and goodness to an already hearty meal. The bloggers attest that these little rolled lasagnas also freeze well, so feel free to bake extra and enjoy the leftovers whenever you need a quick meal.
Ingredients:
12 lasagna noodles
1 teaspoon salt
2 cups ricotta cheese
1 large egg
2 cloves garlic, minced
10 ounces frozen spinach, thawed, drained, and squeeze to remove water
1 cup chopped canned or jarred artichoke hearts
¼ cup Parmesan cheese
¼ teaspoon dried basil
⅛ teaspoon crushed red pepper flakes
Pinch of nutmeg
Salt and freshly ground black pepper, to taste
2 cups shredded mozzarella cheese
4 cups of your favorite sauce
Head to Two Peas & Their Pod for the full recipe. 
4. Chicken Florentine Lasagna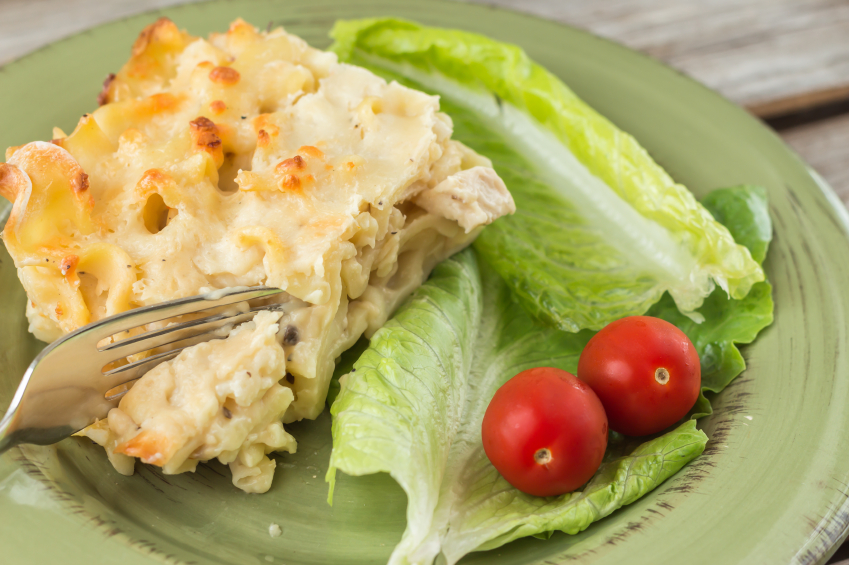 Chicken in lasagnas can be rare compared to other proteins, but that doesn't mean it's any less delicious. This recipe from The Cozy Apron adds the chicken, bacon, and baby spinach with the pasta in a creamy garlic sauce that's sure to satisfy, whether you're making it for your family or for guests. Similar to some other recipes in this list, the sauce is made from scratch. Make this ahead of time, or just plan to spend a little extra time in the kitchen on a lazy weekend — then save the leftovers for quick and easy meals later in the week.
Ingredients:
Creamy garlic sauce (recipe below)
12 lasagna noodles, cooked
1 pound chicken tenderloins (about 8 to 10 tenderloins), cooked and diced
3 cups shredded parmesan cheese
4 cups shredded mozzarella cheese
1 (6-ounce) bag baby spinach, raw
12 strips bacon, cooked crispy
1 teaspoon Italian seasoning
1 tablespoon chopped flat-leaf parsley
Creamy garlic sauce 
8 cups (½ gallon) 1% low-fat milk
2 tablespoons natural chicken base
4 ounces (8 tablespoons) butter
4 cloves garlic, pressed through garlic press
4 ounces flour (about 12 tablespoons)
Pinch or two of salt
½ teaspoon black pepper
Pinch of ground nutmeg
1 teaspoon Italian seasoning
¼ cup grated parmesan cheese
Head to The Cozy Apron for the full recipe. 
5. Roasted Ratatouille Lasagna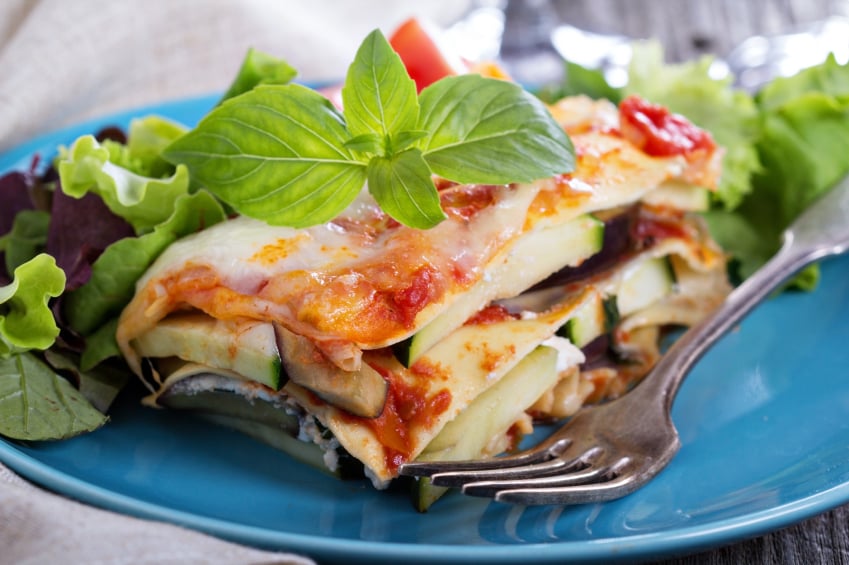 Lasagna is undoubtedly a rich dish, and it can often feel very heavy. However, this version from Eats Well With Others puts vegetables front and center, lightening up the meal and giving you an extra dose of your daily veggies. You'll still have the noodles and ricotta, but with a leaner, vegetarian version that's full of flavor from the roasting process.
Ingredients:
1 pound cherry tomatoes
Salt and black pepper, to taste
6 tablespoons olive oil, divided
1 medium eggplant, cut into ½-inch dice
2 summer squash, cut into ½-inch dice
1 red bell pepper, cut into 1-inch dice
1 onion, diced
6 cloves garlic, minced
2 tablespoons balsamic vinegar
1 teaspoon red pepper flakes
1 teaspoon herbs de Provence
¾ pound lasagna noodles, cooked
1 pound ricotta
2 large eggs
8 ounces fresh mozzarella, grated
Head to Eats Well With Others for the full recipe. 
6. Apple Pie Lasagna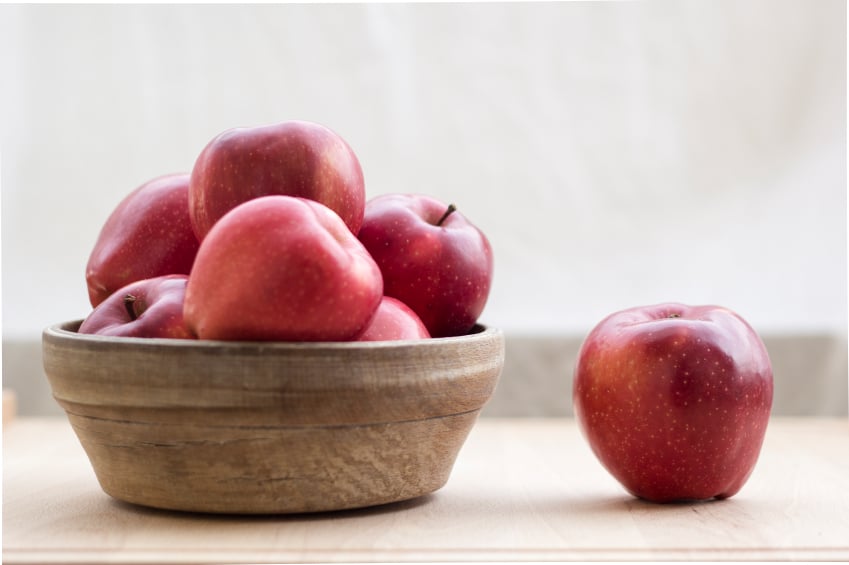 No, you won't find actual lasagna noodles, sauce, or ground beef in this dish. But with plenty of layered, no-bake desserts out there, we couldn't ignore this sweet take on "lasagna" to round out your meal. This recipe from Beyond Frosting combines delectable flavors of apples, cinnamon, brown sugar, and caramel into a delicious dessert. You might not find this in a traditional Italian kitchen, but it would be a shame to ignore such a wonderful confection. The blogger makes her own apple pie filling, but admits you could purchase the filling if you wanted to save time.
Ingredients:
5 to 6 medium apples, peeled and sliced
Juice from 1 lemon
2 tablespoons all-purpose flour
½ cup packed light brown sugar
1 teaspoon cinnamon
½ teaspoon apple pie spice
2 tablespoon maple syrup
 Cream cheese filling
8 ounces cream cheese, softened
1 cup powdered sugar
2 tablespoons brown sugar
1 teaspoon cinnamon
½ cup heavy cream
½ teaspoon pure vanilla extract
2 tablespoons caramel
8 ounces whipped topping
The layers
2 to 3 packages graham crackers
8 ounces whipped topping
1 cup milk chocolate toffee bites
Head to Beyond Frosting for the full recipe.