Tasty Ways to Eat Poached Eggs for Breakfast, Lunch, and Dinner
The idea of poaching eggs can be intimidating. One moment of negligence and your yolk is broken, convincing many people to go the easy route and stick with scrambled or hardboiled. But if you're up for the task, poached eggs are worth the work, because they complement a number of dishes beautifully and add an air of sophistication to just about any breakfast, lunch, or dinner. What's more, as long as you keep a watchful eye on your eggs, the process is more painful in theory than in execution.
All you need to do is pour your egg in simmering water and cook for 4 to 5 minutes. Once you've got the methodology down, it's time to explore the dishes in which poached eggs can star. Check out this list of 7 recipes and you'll see that poached eggs can be a welcomed addition to many kinds of dishes.
1. Warm Spinach Salad with Poached Eggs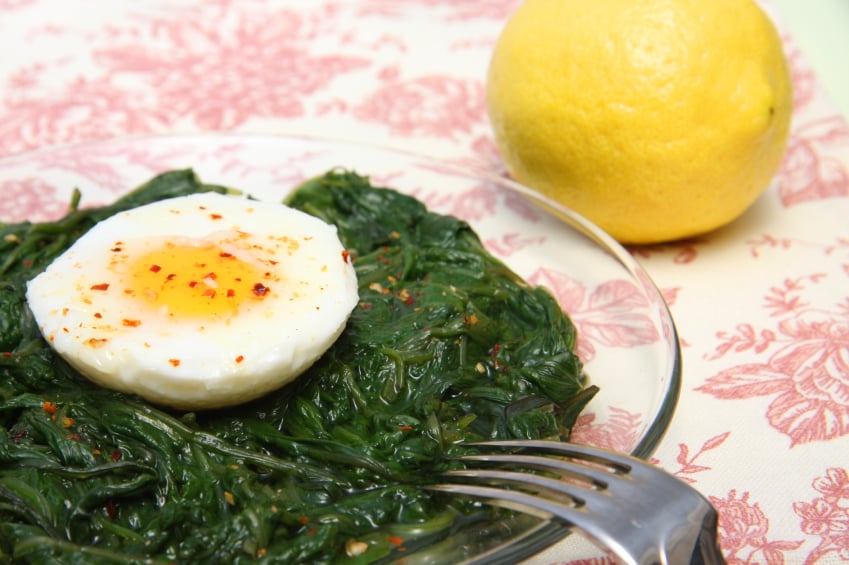 Starting out on the healthy side of things, we come to this warm spinach salad from Food & Wine. Spinach isn't something many consumers get overly excited about, but when you add poached eggs to the mix, the salad gets a lot more interesting. Not only does a homemade dressing flavor the greens, but so too does the yolk from the poached egg that complements the warm dressing made from olive oil, sherry vinegar, balsamic vinegar, and shallots.
Ingredients:
Salt
4 large eggs
1 pound baby spinach
5 tablespoons extra-virgin olive oil
¼ cup sherry vinegar
2 tablespoons balsamic vinegar
2 large shallots, thinly sliced
2 teaspoons coarsely chopped thyme
Freshly ground pepper
Directions: In a small saucepan, bring 1 quart of water to a boil. Add 1 teaspoon of salt to the eggs and simmer over moderately high heat for 5 minutes. Using a slotted spoon, transfer the eggs to a bowl of cold water and let stand for 3 to 4 minutes. Keep the pan of hot water on the stove over low heat.
Meanwhile, put the spinach in a large bowl. In a medium skillet, combine the olive oil, sherry and balsamic vinegars, shallots and thyme, and boil for 1 minute.
Crack the eggs all over and gently peel them under warm running water, keeping them whole. Using a slotted spoon, slip the eggs in the hot water for 30 seconds.
Pour the warm dressing over the spinach, season with salt and pepper and toss. Mound the salad on plates, top each with an egg and serve.
2. Simple Eggs Benedict
For breakfast, the most popular way to employ poached eggs is in an eggs Benedict dish. The morning meal is often left to restaurant chefs, but you can also perfect it at home via this formula from Simply Recipes. Next time you are craving a fancy breakfast or have company coming over for brunch, try your hand at eggs Benedict and master poached eggs and homemade hollandaise sauce. You'll surprise yourself with your technique and definitely impress your guests.
Ingredients:
8 pieces of bacon or 4 pieces of Canadian bacon
2 tablespoons chopped parsley, for garnish
4 eggs
2 teaspoons white or rice vinegar
2 English muffins
Butter
Hollandaise Sauce:
10 tablespoons unsalted butter
3 egg yolks
1 tablespoon lemon juice
½ teaspoon salt
Dash of cayenne or tabasco
Directions: For bacon: Heat a large skillet on medium low heat. Add the strips of bacon or the slices of Canadian bacon. Slowly fry, turning occasionally, until the bacon is browned on both sides, and if using strip bacon, much of the fat is rendered out (about 10 minutes).
While the bacon is cooking, bring a large saucepan two-thirds-filled with water to a boil, then add the vinegar. Bring the water to a boil again, then lower the heat to a bare simmer.
To make blender hollandaise, melt 10 tablespoons unsalted butter. Put 3 egg yolks, a tablespoon of lemon juice, ½ teaspoon salt in a blender, blend on medium to medium high speed for 20-30 seconds, until eggs lighten in color. Turn blender down to lowest setting, slowly dribble in the hot melted butter, while continuing to blend. Taste for salt and acidity and add more salt or lemon juice to taste. Transfer it to a container you can use for pouring and set it on a warm — but not hot — place on or near the stovetop.
To poach the eggs: Working one egg at a time, crack an egg into a small bowl and slip it into the barely simmering water. Once it begins to solidify, slip in another egg, until you have all four cooking. Turn off the heat, cover the pan, and let sit for 4 minutes. (Remember which egg went in first, you'll want to take it out first.) When it comes time to remove the eggs, gently lift out with a slotted spoon.
As soon as all the eggs are in the poaching water, toast English muffins.
To assemble the eggs benedict, butter one side of an English muffin. Top with two slices of bacon or 1 slice of Canadian bacon. You can trim the bacon to fit the muffin if you'd like. Put a poached egg on top of the bacon, then pour some hollandaise over. Sprinkle some parsley over it all and serve at once.
3. Poached Egg Burger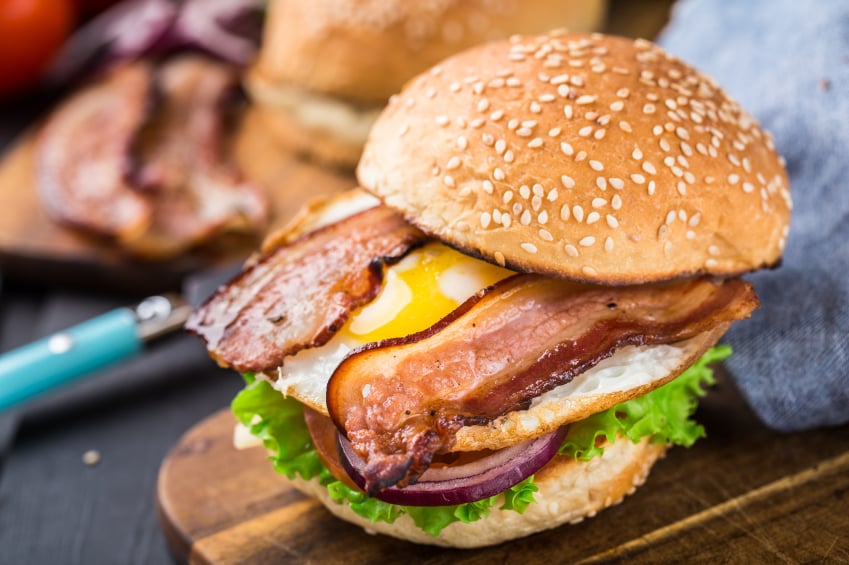 Ready to try a different take on the burger? Throw an egg into the mix. This recipe for a poached egg burger featured on San Francisco Food will forever change your burger game. For the formula, you'll make your ground beef burgers as usual, but the kicker comes when you add a poached egg on top of each patty and serve it open-faced. Once again, the yolk from the egg pairs perfectly with the already juicy burger, and that complex taste combination leaves little room for any Ketchup or mustard.
Ingredients:
6 hamburger buns
1.5 lbs ground beef
½ cup panko breadcrumbs

—

no seasoning
3 tablespoons Worcestershire sauce
2 tablespoons mustard
8 eggs
Salt
Pepper
Extra virgin olive oil
Butter
Mayonnaise
Baby kale
1 yellow onion
Tomatoes
Directions: Combine ground beef, breadcrumbs, Worcestershire sauce, mustard and two eggs with salt and pepper into a large bowl. Mix thoroughly with your hands. Take a small piece and microwave as shown in the post to test for seasoning. Add additional seasoning, if necessary. Make into loosely formed patties.
Heat 1 teaspoon of oil and ¼ teaspoon of butter in pan for each patty. Once hot, put a single patty in and decrease heat to 80%. Cook on each side for two minutes to the desired level of doneness. While cooking the patties, slice half an onion into thin slices and salt. Remove each patty when cooked and top with the salted onions; let cool for a few minutes.
After applying condiments to the buns, lay the patty with onions on the bottom bun and build your burger as you would like. If you have poached eggs while cooking the burger, gently lay one on top of each burger and serve open-faced to prevent any from popping or toppling over.
4. Arugula Pizza with Poached Eggs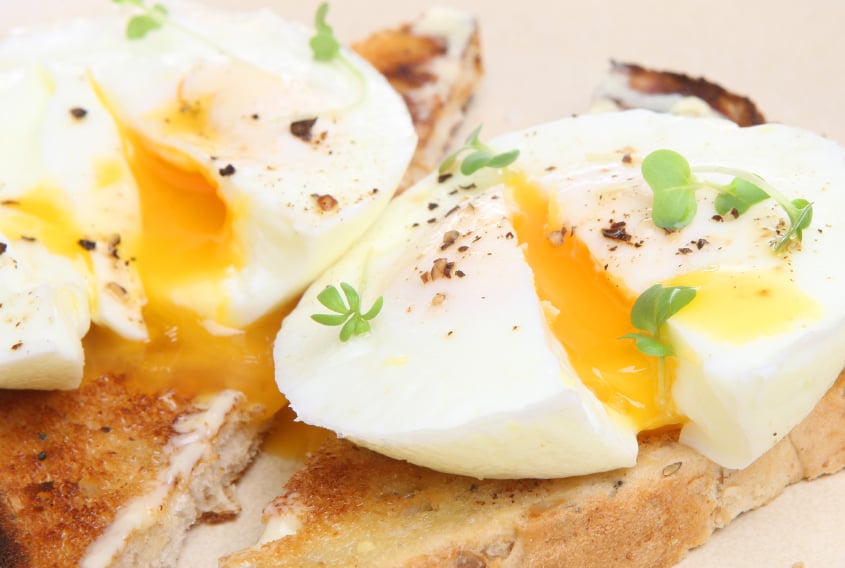 Poached eggs can also top your pizza, and this formula featured on My Recipes shows you how to make an arugula pizza with poached eggs that can be served for breakfast, lunch, or dinner. There's a lot of greenery on the pizza dough in addition to the poached eggs, making the dish a healthy one you can feel good about eating. What's more, if you go the prepackaged dough route, the pizza also couldn't be easier. Your Arugula Pizza will come together in just 20 minutes and it serves 6. Master the art of poaching eggs and give delivery pizza a rest. Your wallet and waistline will thank you.
Ingredients:
1 package refrigerated pizza crust dough
Cooking spray
½ cup part-skim ricotta cheese
½ cup (2 ounces) shaved fresh Romano cheese, divided
1 tablespoon white vinegar
6 large eggs
1 (5-ounce) package baby arugula
4 teaspoons extra-virgin olive oil
½ teaspoon grated fresh lemon rind
1 tablespoon fresh lemon juice
1/8 teaspoon salt
¼ teaspoon freshly ground black pepper
Directions: Preheat oven to 450 degrees Fahrenheit.
Unroll pizza dough on a baking sheet lightly coated with cooking spray; place in preheating oven. Bake as oven heats for 7 minutes.
Combine the ricotta and ¼ cup Romano. Remove pan from oven. Quickly spread cheese mixture over dough, leaving a ½-inch border around the edges. Return pan to oven, and bake for 5 minutes.
While pizza bakes, add water to a large skillet, filling two-thirds full; bring to a boil. Reduce heat; simmer. Add vinegar. Break each egg into a custard cup, and pour gently into pan. Cook 3 minutes or until desired degree of doneness. Carefully remove eggs from pan using a slotted spoon.
Combine arugula, remaining ¼ cup Romano cheese, and the next 4 ingredients in a large bowl; toss well. Top pizza with arugula mixture and eggs; sprinkle with pepper. Cut into 6 pieces.
5. Poached Egg with Baked Yogurt and Watercress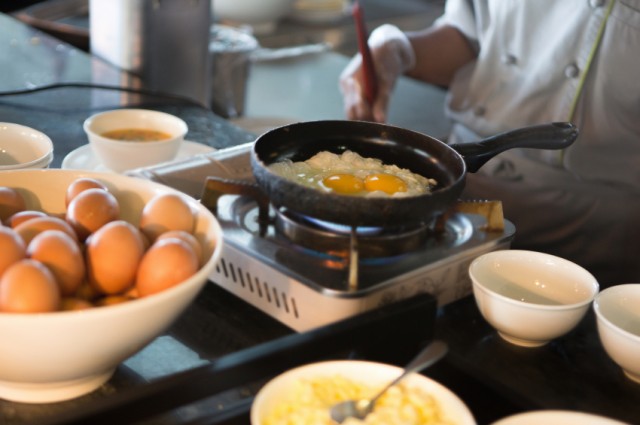 Next up is an especially sophisticated breakfast recipe from Martha Stewart. If you're looking for a high-protein, elegant morning meal, give this poached egg with baked yogurt and watercress a shot. If you've never baked your yogurt, you're missing out, and here's an excuse to deviate from the norm and try your dairy paired with egg instead of granola. For the recipe, you'll first bake your yogurt for 10 to 15 minutes until it is just firm. Then, you'll get to work on poaching the eggs. Once you have both elements of the dish prepared, you'll top each baked yogurt with a poached egg and garnish with watercress, tomatoes, and scallions.
Ingredients:
2 cups plain nonfat Greek yogurt
3 tablespoons thinly sliced scallions
1 garlic clove, minced
1 teaspoon coarse salt
Freshly ground pepper
4 large eggs
1 bunch watercress, torn into small sprigs
¼ cup thinly sliced cherry tomatoes
¼ teaspoon paprika
4 slices whole-grain bread, toasted
Directions: Preheat oven to 350 degrees Fahrenheit. Stir together yogurt, 2 tablespoons scallions, the garlic, salt, and 1/8 teaspoon pepper in a bowl. Spoon ½ cup yogurt mixture into each of four 6-ounce ovenproof dishes. Place on a rimmed baking sheet. Bake until yogurt is just firm, 10 to 15 minutes.
Meanwhile, fill a large straight-sided skillet with 1 inch water. Bring to a simmer over medium-low heat. Working quickly, crack each egg into a small cup, and gently slide egg into water. Simmer until whites are opaque but yolks are still runny, 2 to 3 minutes. Using a slotted spoon, transfer eggs to a plate lined with paper towels, and let drain.
Place 1 egg on top of each baked yogurt. Top with watercress, tomatoes, and remaining tablespoon scallions. Sprinkle with ¼ teaspoon pepper and the paprika. Serve immediately with toast.
6. Poached Egg and Bacon Sandwich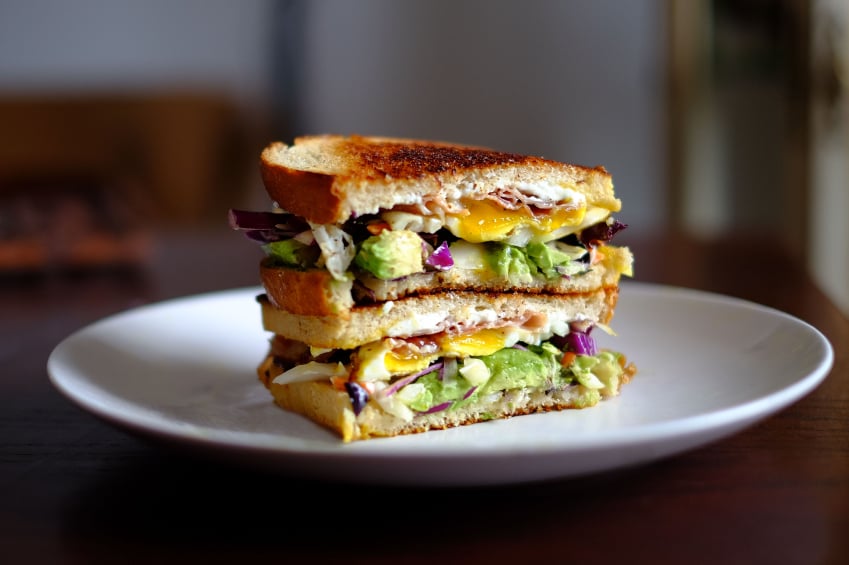 To take your traditional breakfast sandwich up a sophisticated notch, try this recipe for a poached egg and bacon sandwich featured on Food 52. It blows McDonald's famous breakfast sandwich out of the water and is free of unpronounceable ingredients and preservatives. On the fresh ciabatta roll go butter, bacon, dressed greens, and poached eggs, and then it's time to eat. The simple yet refined sandwich will make you feel fancy without putting you in the fat and calorie doghouse for the day.
Ingredients:
2

fresh ciabatta rolls

1

tablespoon butter

4

pieces uncured bacon

2

handfuls curly endive, frisee or other bitter salad green

1

tablespoon extra virgin olive oil

½

tablespoon red wine vinegar

½

teaspoon mayonnaise

2

large eggs
Directions: Slice rolls in half and spread butter on each half. Heat a non-stick skillet over medium-low heat and toast each roll half. Set aside.
Meanwhile, cook bacon in a skillet over medium heat until crispy. Remove from heat and set aside.
Make the dressing for the greens: Combine 1 tablespoon extra virgin olive oil, ½ tablespoon red wine vinegar, and ½ teaspoon mayo. Whisk this together until well combined. Roughly chop the greens and toss with dressing.
Fill a medium saute pan with about 2 inches of water and bring to a slow boil. When water is boiling, add one egg and poach. Keep the water to a low boil and, using a spoon, gently spoon hot water over the top of the egg to cook it. Cook each egg for about 1 minute for over easy.
Assemble the sandwich: On one half of each roll layer 2 slices of bacon, 1 egg, and half of the greens. Top with the other roll half.
7. Spaghetti Marinara with Poached Eggs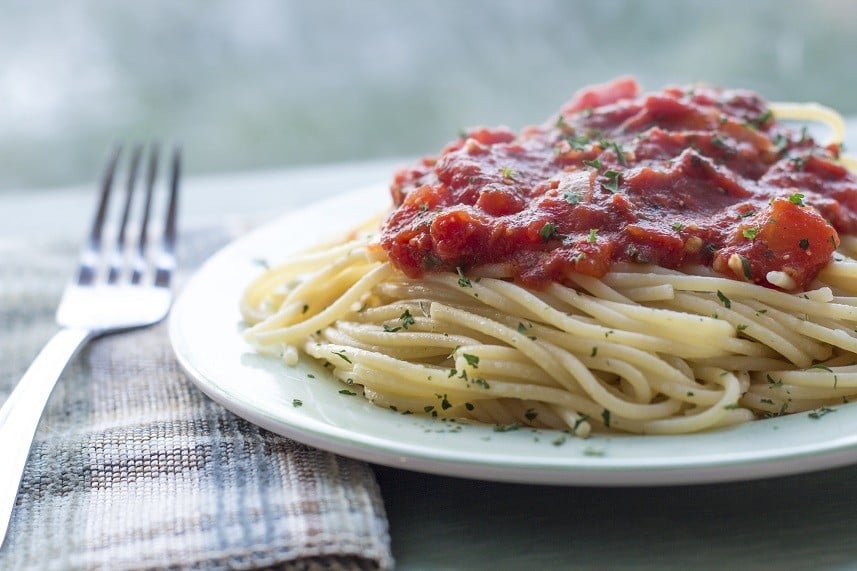 Rounding things out we come to a recipe from Pinch of Yum that features poached eggs but should get served for lunch or dinner. Spaghetti Marinara with Poached Eggs may seem like an unlikely deviation from your typical bowl of carbs, but you'll find that the runny yolk from the egg effectively makes your noodles that much more creamy. You may never stray from the dreamy dish again. This fresh comfort food that is Spaghetti Marinara with Poached Eggs not only tastes great, it's aesthetically-pleasing, too, and it proves that carbs and marinara can get even tastier with the addition of some omega-3s and protein.
Ingredients:
2 tablespoons olive oil
3 garlic cloves, minced
2 cans fire roasted diced tomatoes, undrained
2 cups chicken broth*
½ cup red wine
1 teaspoon salt
1 teaspoon dried basil
1 teaspoon dried oregano
8 ounces uncooked whole-wheat spaghetti
4 eggs
Fresh basil for topping
Cracked pepper to taste
Directions: Make the sauce: Heat the olive oil in a deep pot over medium heat. Add the garlic and stir frequently for a minute — don't let it burn or brown because it tastes bitter. Add the tomatoes, broth, wine, salt, basil, and oregano. Simmer while you prep the spaghetti.
Make the spaghetti: Bring a large pot of water to boil and cook the spaghetti according to package directions. Drain and toss with a little olive oil; set aside. When the noodles are done, transfer the simmered sauce to a blender and puree until you achieve your desired smoothness. Return the sauce to the pot and add the spaghetti. Toss and cover to keep warm.
Poach the eggs: Bring a pot of water to a boil and place a few metal rims from mason jars in the bottom of the pot — these will act as handy little egg holders. When the water starts boiling, turn the heat off. Quickly (before the water cools off too much) crack individual eggs into a small bowl and pour directly into the metal rim in the boiling water. Repeat for all the eggs. Cover and let the eggs cook on the hot water for 4-5 minutes. Carefully remove the eggs from the water with a spatula. Tilt the eggs over the pot to let excess water run off before plating the eggs on your spaghetti.
More from Culture Cheat Sheet: