Delicious Ways to Make Enchiladas at Home
Enchiladas are one of our favorite Mexican-inspired dishes because there are versions for meat eaters, vegans, and everyone in between. The only real rules are that you fill the tortillas, roll them up, then top with sauce. Apart from that, the stuffing and sauce are completely customizable. Whether you want your enchiladas filled with meat, cheese, veggies, beans, or all of the above, we have a recipe on our list for you. We're highlighting seven enchilada formulas that appeal to every palate to prove just how versatile the dish can be.
1. Beef Enchiladas 
If you want to make enchiladas in their most authentic form, fill your tortillas with beef. Here's a recipe from Brown Eyed Baker that will show you how. In these enchiladas, you get your steak, cheese, and jalapeños. The enchiladas are mildly spicy and but not so extreme that the heat covers up the other flavors. You can even make the enchilada sauce and filling ahead of time so you're ready to go when it's dinner time.
Ingredients:
3 cloves garlic, minced
3 tablespoons chili powder
2 teaspoons ground cumin
2 teaspoons ground coriander
1 teaspoon granulated sugar
1 teaspoon salt
1¼ pounds boneless chuck steak, trimmed
1 tablespoon vegetable oil
2 yellow onions, finely chopped
1 (15-ounce) can tomato sauce
½ cup water
4 ounces Monterey Jack cheese, shredded, divided
4 ounces sharp cheddar cheese, shredded, divided
⅓ cup chopped fresh cilantro
¼ cup chopped canned pickled jalapeños
12 (6-inch) corn tortillas
Head to Brown Eyed Baker for the full recipe. 
2. Chicken Enchiladas With Salsa Verde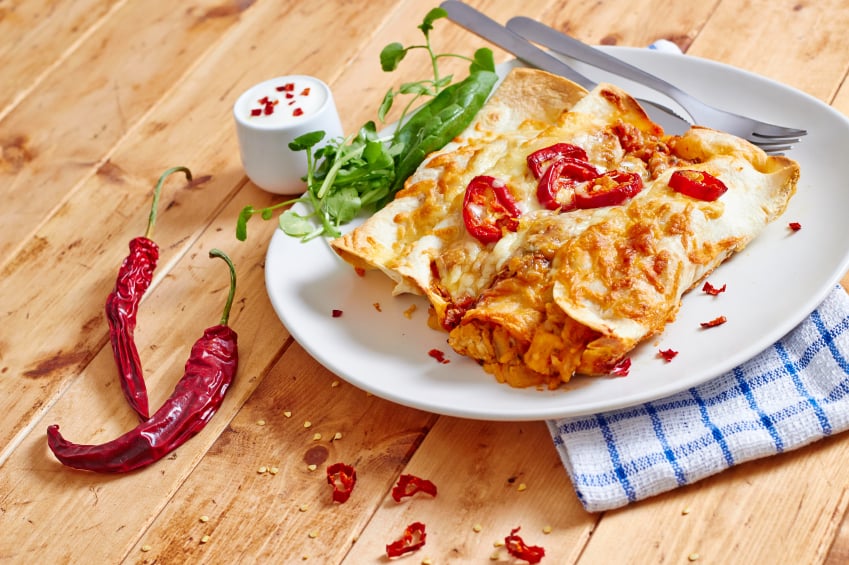 If poultry is more your thing, try these chicken enchiladas from A Spicy Perspective. The chicken pairs perfectly with salsa verde, sour cream, and cheese. You can even buy your chicken precooked to avoid an extra step. After that, all you need to do is assemble your enchiladas by rolling up the corn tortillas with the creamy filling before baking.
Ingredients:
1¼ pounds tomatillos, husked and halved
1 white onion, peeled and quartered
4 to 5 garlic cloves
1 to 2 jalapeños, stemmed
2 teaspoon ground cumin
1 teaspoon salt
½ cup cilantro
6 cups chopped or shredded cooked chicken
1 cup sour cream, plus extra for serving
12 ounces shredded Monterey Jack or Mexican blend cheese, divided
10 large tortillas
Salt and pepper
Chopped tomatoes
Chopped cilantro
Diced avocado
Head to A Spicy Perspective for the full recipe. 
3. Shrimp Enchiladas With Green Sauce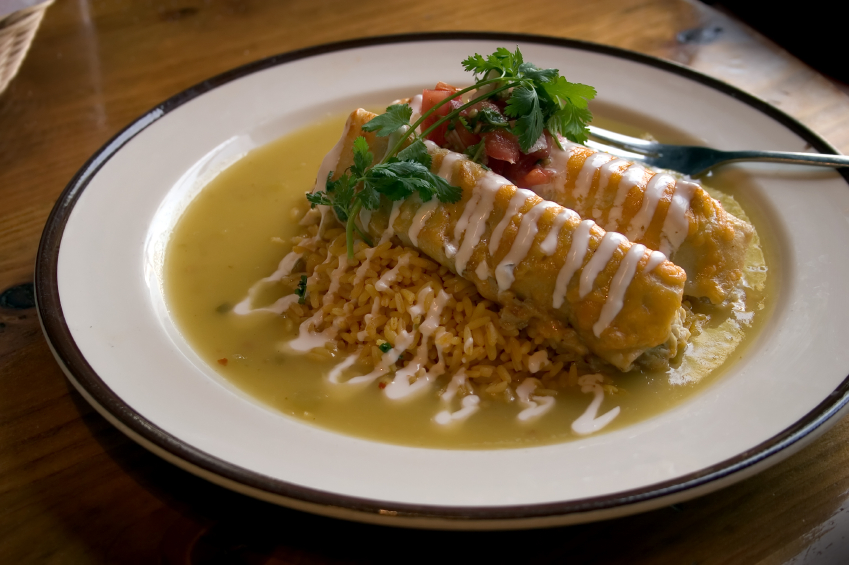 Feeling fish for dinner? Make these shrimp enchiladas from Taste of Home. The shrimp-packed tortillas are also dressed in an irresistible green sauce and combined with spinach and mozzarella cheese. If you're looking for a healthier enchilada dish but still want your animal-based protein, this recipe is for you. And they're good no matter the season, so get cooking.
Ingredients:
16 corn tortillas (6 inches)

½ cup plus 1 tablespoon olive oil, divided

2 medium tomatoes, chopped

2 medium onions, finely chopped

4 garlic cloves, minced

½ teaspoon ground cumin

1½ pounds uncooked small shrimp, peeled and deveined

2 packages frozen chopped spinach, thawed and squeezed dry

2 cups shredded part-skim mozzarella cheese, divided

2 cans green enchilada sauce
Head to Taste of Home for the full recipe. 
4. Vegetable Enchiladas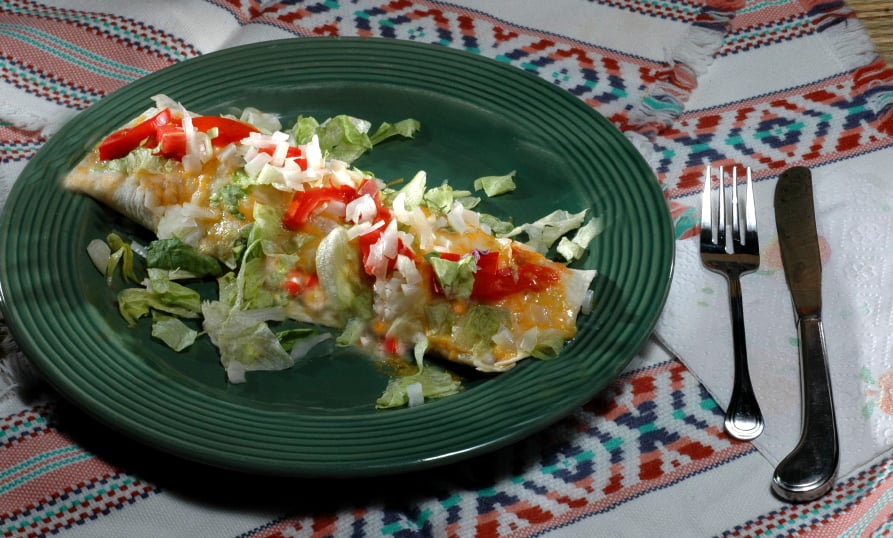 Make these vegetable enchiladas for Meatless Monday or when you're serving your vegetarian friends. This recipe from Martha Stewart is so packed with cheese, beans, and corn that you won't even miss the animal protein. Try them out and see for yourself. Martha's recipe serves 8 and can feed a crowd. Even if you don't have friends or family coming over for dinner, you can freeze your leftovers and have meals for the upcoming weeks.
Ingredients:
2 tablespoons olive oil, plus more for baking dishes
2 teaspoons ground cumin
¼ cup all-purpose flour
¼ cup tomato paste
1 can reduced-sodium vegetable broth
Coarse salt and ground pepper
3 cups grated pepper Jack cheese
1 (15-ounce) can black beans, rinsed and drained
1 (10-ounce) box frozen chopped spinach, thawed and squeezed dry
1 (10-ounce) box frozen corn kernels, thawed
6 scallions, thinly sliced, white and green parts separated
16 corn tortillas
Head to Martha Stewart for the full recipe. 
5. Roasted Vegetable Enchiladas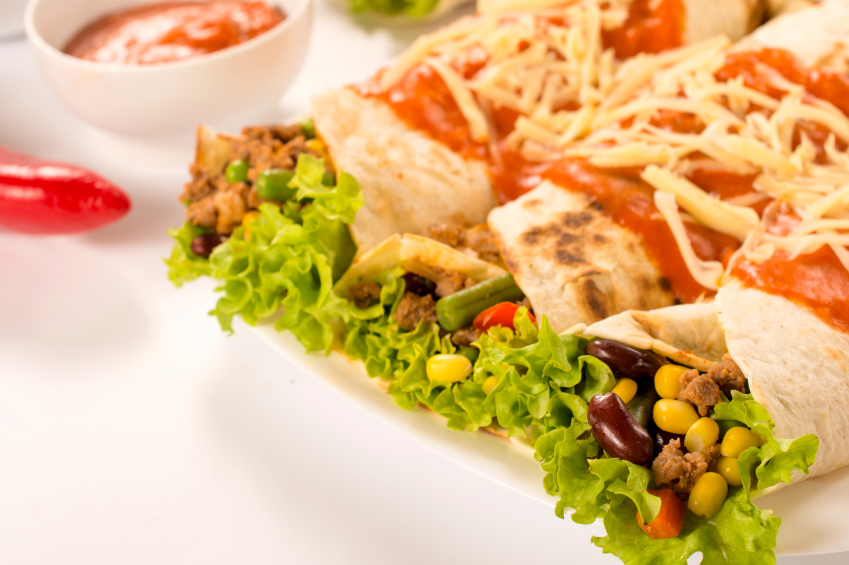 These next enchiladas from Gimme Some Oven are also vegetarian-friendly but they're more about the roasted vegetables than the cheese and corn. Into the corn tortillas go squash, peppers, sweet potatoes, broccoli, cauliflower, and mushrooms. Then they're dressed with a red enchilada sauce you can buy at the store or make yourself. These enchiladas will treat your body and taste buds.
Ingredients:
1 yellow squash, cut into ½-inch pieces
1 red pepper, cut into ½-inch pieces
1 medium red onion, roughly chopped
1 medium sweet potato, cut into ½-inch pieces
1 small head broccoli, roughly chopped
1 small head cauliflower, roughly chopped
1 container button mushrooms, halved or quartered
2 tablespoons olive oil
Salt and black pepper
8 tortillas
1½ cups red enchilada sauce, homemade or store bought
2 cans black beans, drained and rinsed
2 cups Mexican shredded cheese
Optional Garnishes
Fresh cilantro
Chopped avocado
Pico de gallo
Sour cream
Head to Gimme Some Oven for the full recipe. 
6. Vegan Veggie and Black Bean Enchiladas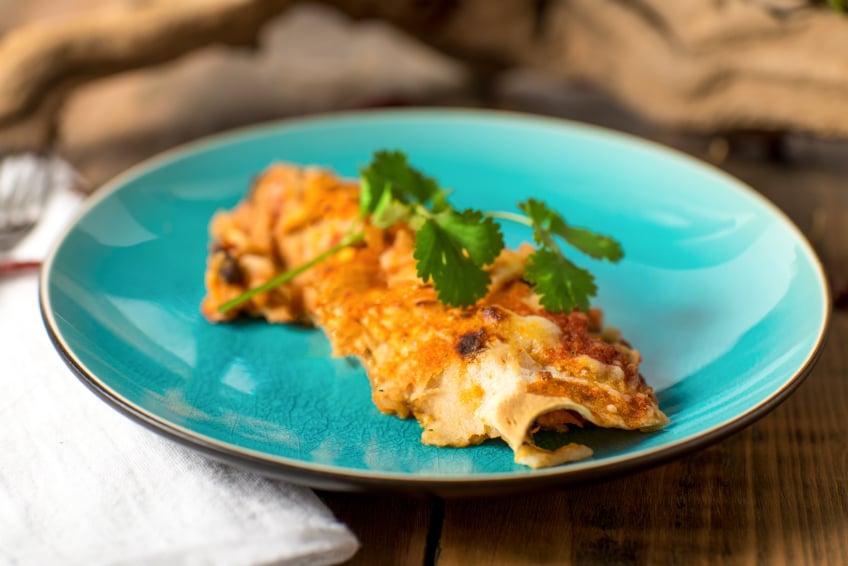 Can enchiladas really be vegan? Yes, they can, and this recipe from Vegan Insanity proves it. It's all about the cashew cheese sauce, made with a blend of soaked cashews, lemon juice, garlic, salt, and pepper. What's more, with this recipe, you're even making your own enchilada sauce out of olive oil, flour, garlic, chili powder, tomato paste, and veggie broth. The formula for these enchiladas proves that even some of our favorite cheesy and meaty dishes can be made vegan. All you need to do is put in a little extra effort.
Ingredients:
2 tablespoons extra virgin olive oil
2 tablespoons flour
1 teaspoon garlic powder
1 tablespoon oregano
4 tablespoons chili powder
½ teaspoon salt
1 tablespoon tomato paste
2 cups vegetable broth
Cashew Cream
⅓ cup raw cashews
2 tablespoons lemon juice
1 garlic clove
¼ cup water
½ teaspoon salt
¼ teaspoon freshly ground black pepper
Filling
½ tablespoon extra-virgin olive oil
1 small yellow onion, diced
1 small bell pepper, diced
1 small zucchini, diced
1½ cups cooked black beans
½ cup corn kernels
¼ sliced olives
3 to 4 green onions, sliced
½ cup chopped cilantro or parsley
Salt and pepper
8 flour or corn tortillas
Head to Vegan Insanity for the full recipe. 
7. Chicken Quinoa Enchiladas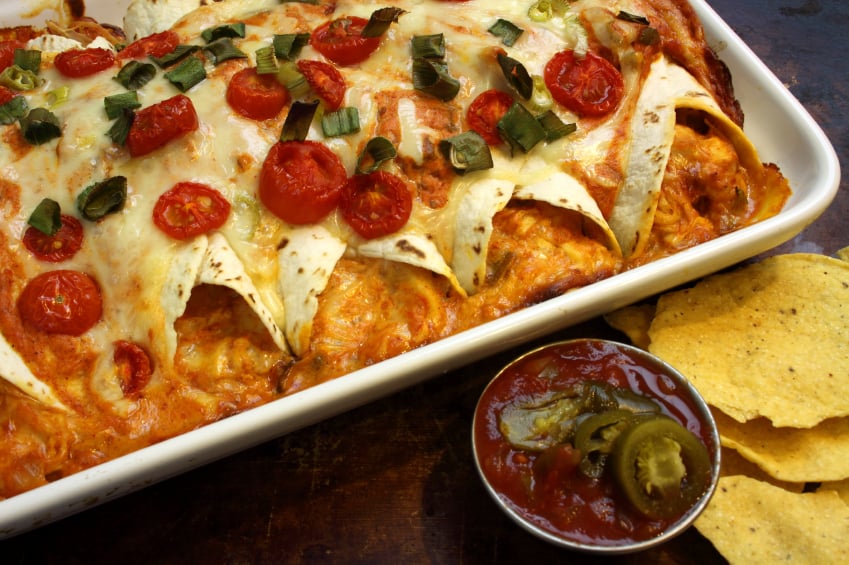 Last but not least: enchiladas with a super grain. Your health-conscious dinner guests will be thrilled when you serve these chicken quinoa enchiladas from Pinch of Yum. The recipe serves 10 large enchiladas and can be made for family and friends or saved for leftovers. Whether you decide to go the homemade sauce route is up to you because the most important part is the filling. Grab your quinoa, chicken, beans, and cheese, and get ready to stuff. Flour tortillas are best for this recipe.
Ingredients:
1 cup uncooked quinoa, rinsed
1½ cups chicken or vegetable broth
1 pound boneless, skinless chicken breasts
1 (14-ounce) can black beans, rinsed and drained
2 cups shredded cheese
4 cups enchilada sauce (use canned sauce or see recipe below)
10 (10-inch) flour tortillas
Sauce
1 (28-ounce) can tomatoes (refilled once with water or broth)
3 tablespoons chili powder
3 tablespoons taco or Southwestern seasoning
Half an onion, chopped
3 cloves garlic
1 jalapeño, ribs and seeds removed
½ teaspoon salt
Head to Pinch of Yum for the full recipe.