How to Make Healthier Baked Goods Using Whole Wheat
Baking with whole-wheat flour is a good way to enjoy dessert guilt-free. The whole wheat substitution is not as simple as white flour out and whole wheat in, but there are a number of food formulas you can follow that show you how the swap is done. Check out these six whole-wheat baked goods recipes and see which ones you like best. Now you can have your dessert and eat it too!
1. Whole-Wheat Chocolate Chip Cookies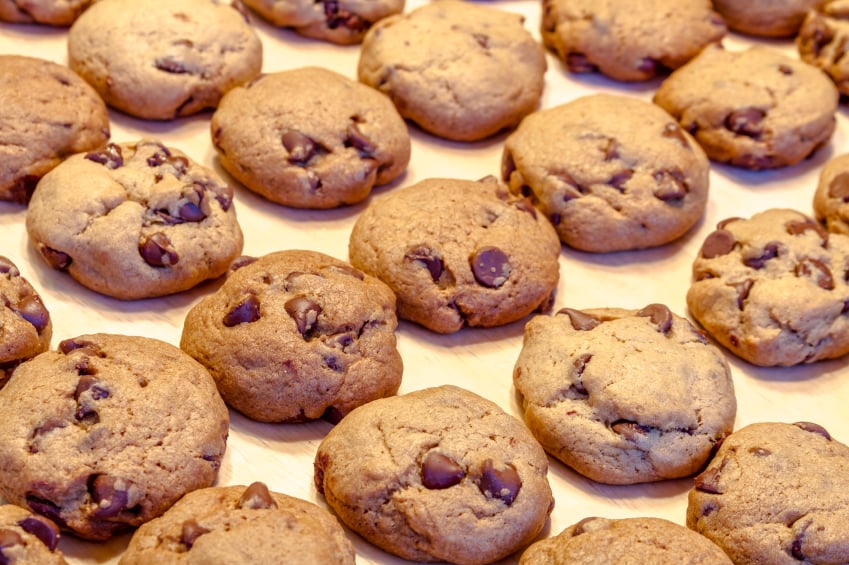 We're kicking things off with these whole-wheat chocolate chip cookies from The Baker Chick. Made with whole-wheat pastry flour, coconut sugar, and dark chocolate chips, a plate of these sweet treats is healthier than their refined flour and sugar counterparts — but still just as tasty. The recipe makes 2 dozen cookies and they'll bake for only 9 to 10 minutes. Next time you have a craving for your favorite sweet, swap in some whole-wheat pastry flour and feel better about your treat.
Ingredients:
2 cups plus 2 tablespoons whole-wheat pastry flour
½ teaspoon baking soda
½ teaspoon salt
12 tablespoons unsalted butter, room temperature
1½ cups coconut sugar
1 large egg plus 1 egg yolk
2 teaspoons vanilla extract
1½ cups dark chocolate chips
Optional: sea salt for sprinkling
Directions: Preheat oven to 350 degrees Fahrenheit. Line cookie sheets with parchment paper, and set aside.
Cream together the butter and coconut sugar in a large bowl. Add the egg, yolk, and vanilla. Mix until well combined.
Stir together the flour, baking soda and salt in a small bowl. Add to the butter mixture and stir until just combined. Fold in the chocolate chips. Scoop dough onto cookie sheet and sprinkle with sea salt, if desired. Bake for 9-10 minutes or until the edges are set.
2. Whole Wheat, Oatmeal, and Raisin Muffins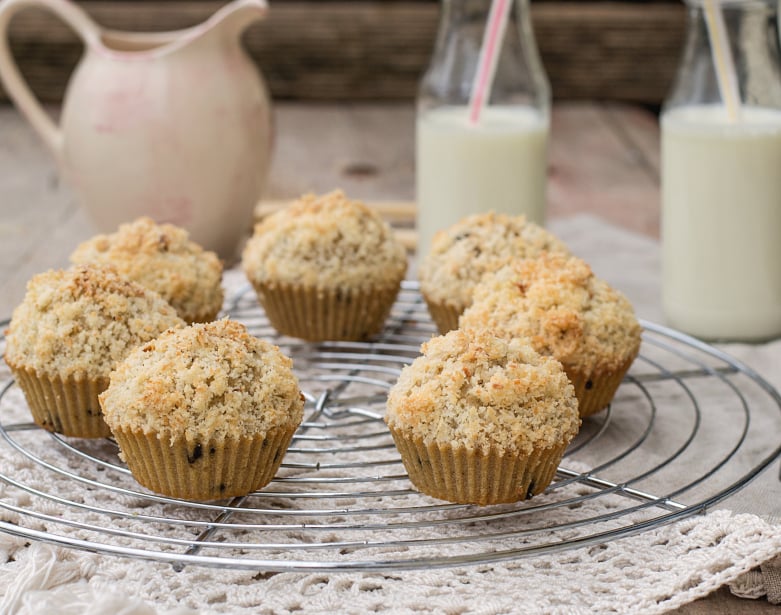 If you want to start your day with something sweet but don't want to devastate your diet, these whole wheat, oatmeal, and raisin muffins from Cooking Light are for you. The dense muffins are made from whole-wheat flour, wheat germ, and wheat bran, and they're packed with antioxidants and fiber. One muffin yields only 204 calories, and this recipe makes 12 of them. Pair your whole wheat, oatmeal, and raisin muffins with a cup of coffee or tea and you have a delicious and nutritious breakfast.
Ingredients:
1 cup whole-wheat flour
¼ cup granulated sugar
¼ cup packed brown sugar
2 tablespoons untoasted wheat germ
2 tablespoons wheat bran
1½ teaspoons baking soda
1 teaspoon ground cinnamon
½ teaspoon salt
1½ cups quick-cooking oats
1/3 cup chopped pitted dates
1/3 cup raisins
1/3 cup dried cranberries
1 cup low-fat buttermilk
¼ cup canola oil
1 teaspoon vanilla extract
1 large egg, lightly beaten
½ cup boiling water
Cooking spray
Directions: Preheat oven to 375 degrees Fahrenheit. Lightly spoon flour into a dry measuring cup; level with a knife. In a large bowl, combine flour and next 7 ingredients, stirring with a whisk. Stir in oats, dates, raisins, and cranberries. In the center of the mixture, make a well. Combine buttermilk, oil, vanilla, and egg; add to flour mixture, stirring just until moist. Stir in boiling water. Let batter stand 15 minutes.
Spoon batter into 12 muffin cups coated with cooking spray. Bake for 20 minutes or until muffins spring back when touched lightly in center. Remove muffins from pans immediately; place on a wire rack.
3. Whole-Wheat Blondies with Pecans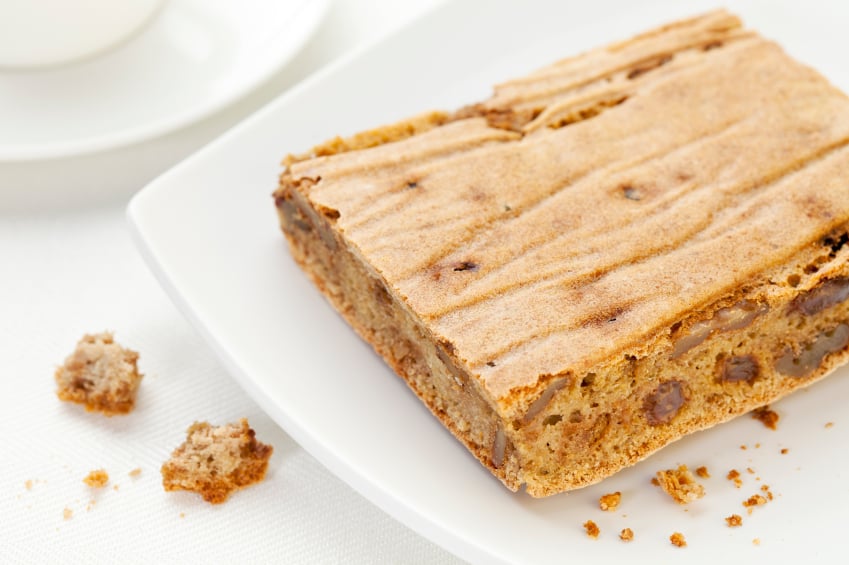 Next up are whole-wheat blondies with pecans from Little Chef Big Appetite. The nutty and buttery treats taste like a splurge but they're actually made with less butter and sugar than typical baking recipes. The recipe serves 16 and will take you fewer than 45 minutes from start to finish.
Ingredients:
¼ cup canola oil
6 tablespoons unsalted butter
¾ cup packed brown sugar
2¼ teaspoons vanilla extract
2 large eggs, room temperature
1.5 cups white whole wheat flour
1 teaspoon baking powder
¼ teaspoon salt
⅓ cup chopped pecans, toasted
16 toasted pecan halves (optional)
Directions: Preheat oven to 350 degrees Fahrenheit. Using unsalted butter or cooking spray, grease an 8-by-8-inch square pan. Set aside.
Warm the oil, butter and brown sugar in a small saucepan. Cook until the butter is melted, stirring constantly, about 1 minute. Remove from heat. Pour into a large bowl. Add the vanilla extract and eggs to the sugar mixture. Stir to combine.
In a separate bowl, combine the flour, baking powder, and salt. Whisk to combine. Add the flour mixture and the chopped pecans to the sugar mixture and stir until all ingredients are thoroughly combined.
Scrape the mixture into the prepared baking dish. Arrange the pecan halves in 4-by-4 rows. Bake for 22-24 minutes. Cool completely and then cut into 16 squares.
4. Whole-Wheat Banana Bread
Banana bread is a favorite for many, and when you make it with whole-wheat flour, only 1/3 cup of syrup or honey, and 2 tablespoons of coconut oil, it's hardly a splurge. You can enjoy this whole-wheat banana bread from iFoodReal for breakfast or as a snack or dessert, and one slice clocks in at fewer than 200 calories. The bread is naturally sweetened by ripe bananas, applesauce, and maple syrup, and it's even more satiating thanks to the hearty whole-wheat flour. Make your bread, enjoy a slice warm, and then freeze the rest for breakfast for the upcoming days.
Ingredients:
4 medium very ripe bananas
2 eggs, large
½ cup applesauce, unsweetened
1/3 cup raw honey or maple syrup
2 tablespoons avocado or coconut oil, melted
1 teaspoon pure vanilla extract
2 teaspoons baking powder, aluminum free
1 teaspoon baking soda
¼ teaspoon himalayan pink salt
2¼ cups whole-wheat or spelt flour
Directions: Preheat oven to 350 degrees Fahrenheit. Line 9-by-5-inch loaf pan with unbleached parchment paper.
Mash bananas with a fork or a masher in a large bowl. Push to a side, add eggs and whisk. Add applesauce, honey, oil, vanilla, baking powder, baking soda and salt; whisk to combine. Add flour and stir gently just enough to mix. Pour batter in prepared loaf pan and bake for 50-60 minutes or until a toothpick inserted in the middle comes out clean. Remove from the oven and let cool for 15 minutes. Then transfer to a cooling rack to cool completely.
5. Whole-Wheat Lemon Blueberry Scones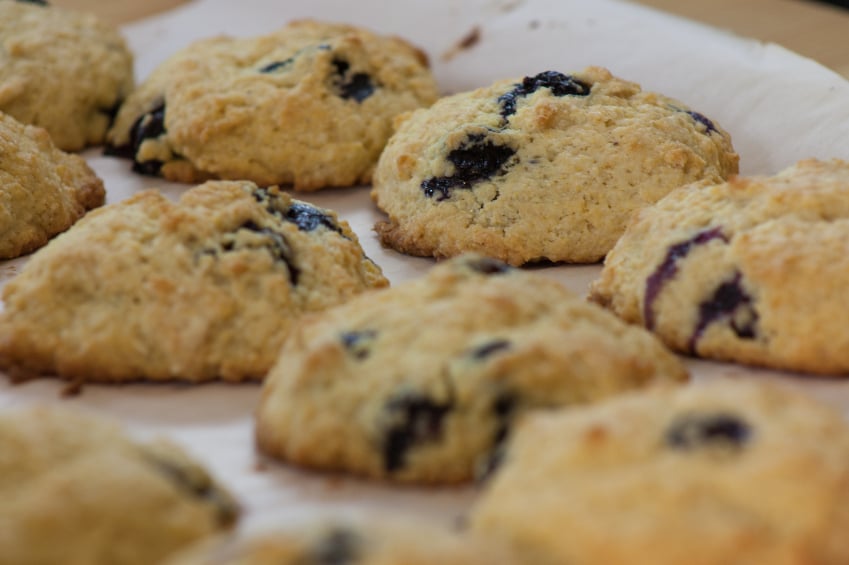 Scones are intimidating for many home bakers, but the baked good is surprisingly easy to make, and when you try your hand at these whole-wheat lemon blueberry scones from Cookie & Kate, you'll see that you can even master healthy ones. Once again, it's all about the whole-wheat flour, and these scones also get their moist texture from Greek yogurt, allowing you to use less butter. The whole-wheat lemon blueberry scones are a perfect spring or summer treat, and the ever-important lemon zest gives them a refreshing citrus kick.
Ingredients:
1½ cups whole-wheat pastry flour or whole wheat flour
½ cup whole wheat flour
1 tablespoon baking powder
3 tablespoons turbinado (raw cane) sugar, plus more for sprinkling on top
⅛ teaspoon salt
5 tablespoons cold unsalted butter
Zest of one lemon
1 cup blueberries
½ cup plain low fat Greek yogurt
½ cup milk of choice
Directions: Preheat oven to 425 degrees Fahrenheit. In a bowl, combine flours, baking powder, sugar, and salt and whisk together.
Slice butter and drop into dry ingredients. If you have a pastry cutter, use it to cut the butter into the flour. If you don't have a pastry cutter, use a knife to cut the butter into tiny pieces and mix it into the flour. Add blueberries and lemon zest; gently stir. Mix in milk and yogurt. Knead the last of the flour into the dough. Form dough into a circle that's about an inch deep all around. Cut the circle into eight slices.
Separate slices and place on a baking sheet covered in parchment paper or foil. Sprinkle the tops of the scones with a bit of raw sugar. Bake for 15 minutes or until light brown.
6. Whole-Wheat Brownies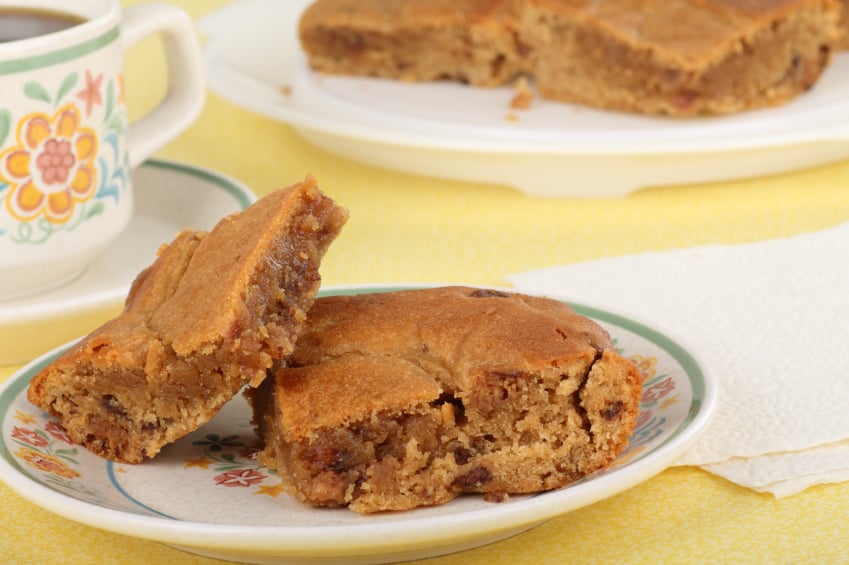 We conclude our list with whole-wheat brownies from Martha Stewart. Healthy brownies do exist, and these don't even boast any funky ingredients on the recipe's ingredients list. Rather, they're made with half all-purpose flour and half whole wheat, and they're also sweetened with applesauce and light brown sugar. Cocoa powder, of course, makes an appearance plus the semisweet chocolate keeps the brownies fudgy. If you don't believe whole-wheat brownies can be appetizing, make these sweet treats and let Martha prove you wrong.
Ingredients:
6 tablespoons unsalted butter, melted, plus more for pan
½ cup all-purpose flour
½ cup whole-wheat flour
1/3 cup unsweetened cocoa powder
1¼ teaspoons baking powder
1 teaspoon coarse salt
¼ teaspoon baking soda
1 cup packed light-brown sugar
1 ¼ cups unsweetened applesauce
1 large egg
8 ounces semisweet chocolate, coarsely chopped
Directions: Preheat oven to 350 degrees Fahrenheit. Butter an 8-inch square baking dish; line with parchment, leaving a 2-inch overhang on all sides. Whisk together flours, cocoa, baking powder, salt, and baking soda in a medium bowl.
Stir together sugar, applesauce, and egg in a large bowl. Place butter and 6 ounces chocolate in a heatproof bowl set over (not in) a pot of simmering water; stir until melted. Stir chocolate mixture into sugar mixture. Stir in flour mixture. Pour into pan and top with 2 ounces chocolate.
Bake until a toothpick inserted in center comes out with moist crumbs attached, 40 minutes. Let cool in pan on a wire rack. Use parchment to lift cake from pan and cut into 16 squares.