7 Ways to Make Nutritious Meals Using Beets
Beets are a good example of polarizing produce. Some love them, whether they come in a pink or golden hue, while others stay far away from the sweet roots characterized by their unique soft texture and sugary taste. But whether you like beets on your dinner plate, you can't deny they're impressively healthy. According to Full Circle, they are not only a great source of vitamins and minerals, they also help cleanse the body, support mental health, provide energy, and are low in calories. Beets are a clear superfood — the only thing you need to do is trick yourself into enjoying them.
But it shouldn't be hard to do, considering they're high in natural sugars and are extremely versatile. You can easily complement your pasta, pizza, salad, and even meat dishes with them, and today we're showing you how. Here are seven recipes that enlist beets in a way we promise you'll enjoy. Find your sugar high the natural way and learn how to eat better with beets.
1. Roasted Beet and Garlic Pasta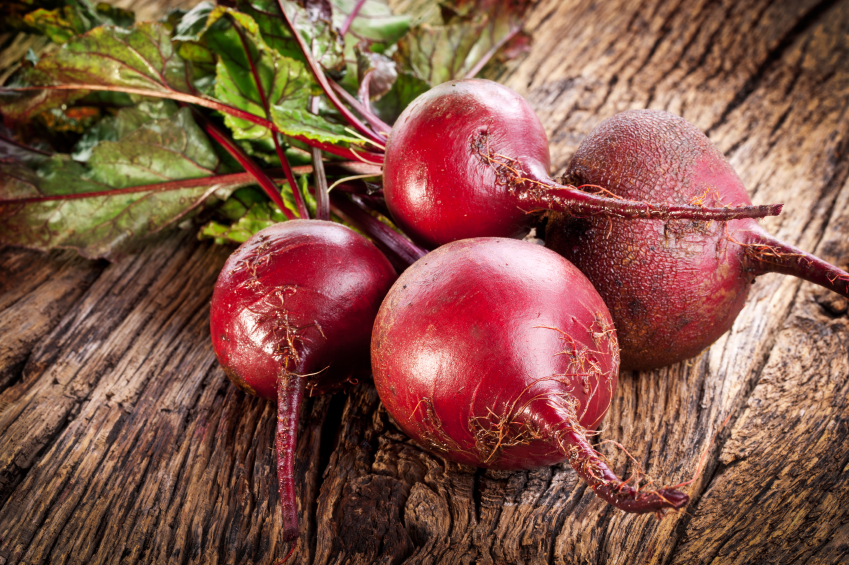 We're starting off strong with a recipe for Roasted Beet and Garlic Pasta from Simple Bites. This pasta is pink, and it pairs perfectly with a scoop of ricotta and a sprinkle of red pepper flakes. The dinner can be whipped up in a food processor in just minutes — the hardest part is simply waiting for your beets to roast.
Ingredients:
1 pound whole-grain spaghetti
1½ pounds red beets, trimmed and scrubbed
4 whole garlic cloves, peeled
¼ cup olive oil, divided
½ cup toasted walnuts
2 tablespoons sun dried tomatoes, chopped
Freshly ground salt
Red pepper flakes
⅔ cup ricotta
Read recipe directions at Simple Bites. 
2. Beet Pesto Pizza with Kale and Goat Cheese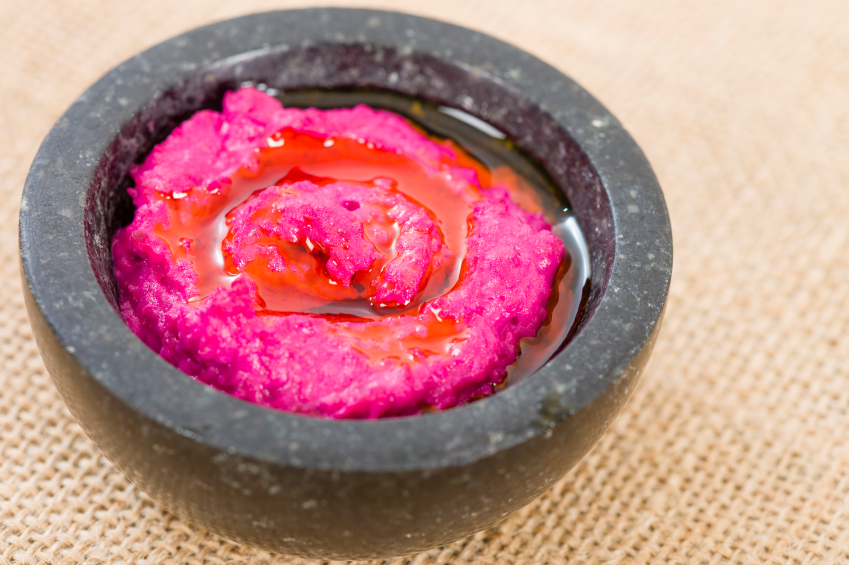 This next recipe from The Roasted Root yields a pizza that comes with a side of vitamins and minerals rather than guilt. This Beet Pesto Pizza is both nutritious and delicious, allowing you to get your greens, cheese, and beet fix all in one pie. You only need a handful of ingredients to make this pizza happen — just prepare ahead and make your beet pesto before spreading it liberally on your pizza dough.
Ingredients:
Pizza
1 pound pizza dough
1 cup beet pesto
2 cups kale leaves, thinly sliced
1.5 cups mozzarella cheese, grated
2 ounces goat cheese
Beet Pesto
1 cup red beets, chopped and roasted (about 1 medium beet)
3 cloves garlic, roughly chopped
½ cup walnuts, roasted
½ cup parmesan cheese, grated
½ cup olive oil
2 tablespoons lemon juice
Salt to taste
Read recipe directions at The Roasted Root. 
3. Roasted Beet & Orange Salad with Pistachios and Feta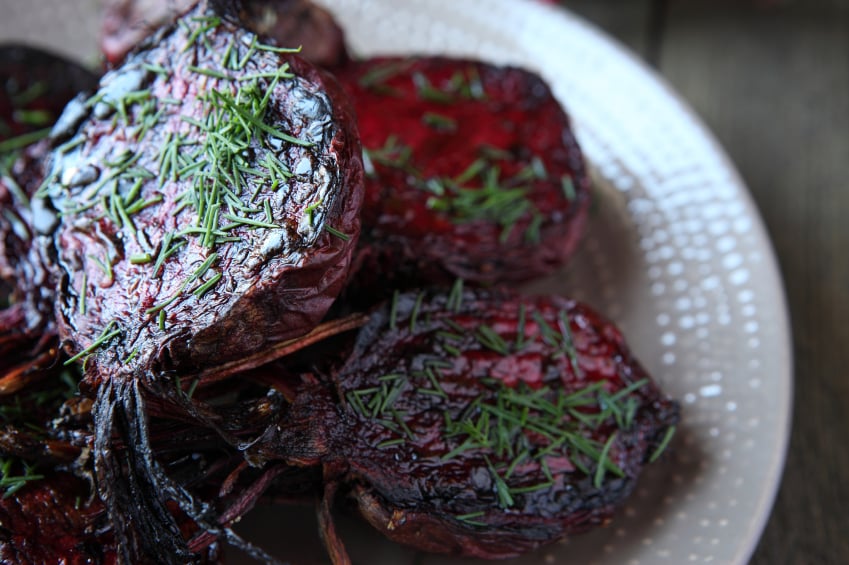 For a lighter option, try this Roasted Beet and Orange Salad from Girl Versus Dough. There aren't any greens in this dish, but there are sweet beets and oranges, crunchy pistachios, and salty hints of feta. This beautifully colorful salad is not only easy on the eyes, it's also easy on the waistline, and aside from roasting the beets, it can be thrown together in just 15 minutes or less. Get your beet and citrus fix, and serve this salad as a side dish or a light lunch or dinner.
Ingredients:
3 pounds beets, trimmed, peeled and cut into 1-inch chunks
¼ cup olive oil, plus more for drizzling
¼ cup fresh-squeezed orange juice (from about 1 small orange)
½ teaspoon salt
1 medium shallot, cut in half lengthwise and thinly sliced
4 oranges, peel and pith removed, sliced into supremes or thick half-moons
¼ cup shelled, salted pistachios
1 cup (4 ounces) crumbled feta cheese
¼ cup chopped fresh chives
Ground black pepper, to taste
Read recipe directions at Girl Versus Dough. 
4. Grilled Steak with Beets and Radicchio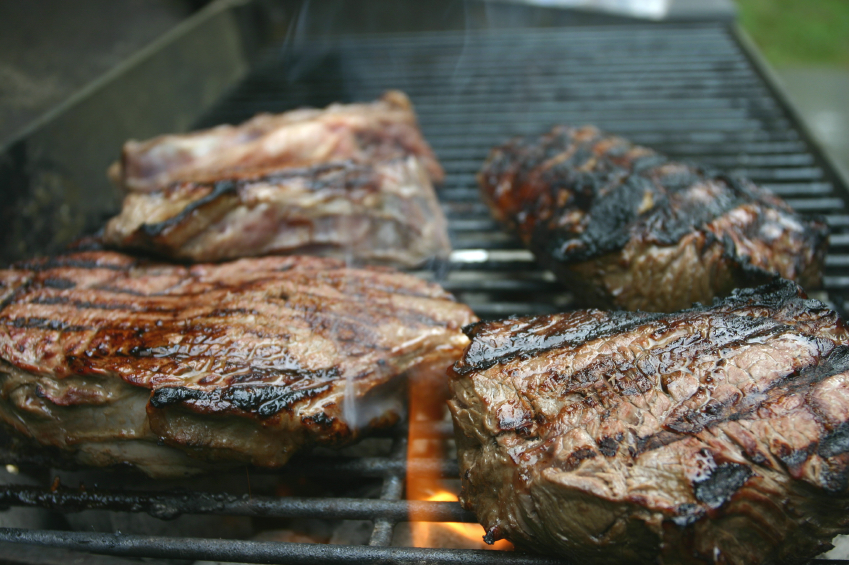 For some red meat with your beets, try this Grilled Steak with Beets & Radicchio from Eating Well. The star ingredient in this decadent dinner is the steak, but the sweet beets and rich goat cheese dressing provide the perfect accompaniment. The supper is packed with protein, fiber, nutrients, and minerals, and thanks to the nutrient-rich beets, you don't even have to feel guilty about indulging in juicy grilled steak.
Ingredients:
2 tablespoons crumbled goat cheese, or feta cheese
2 teaspoons white-wine vinegar, or champagne vinegar
¼ teaspoon dry mustard
1 tablespoon minced shallot
2 teaspoons minced fresh parsley
¼ teaspoon kosher salt, divided
¼ teaspoon freshly ground pepper, divided
3½ teaspoons extra-virgin olive oil, divided
1 small head radicchio, halved, cored and each half quartered
1 (8-ounce) can baby beets, drained
8 ounces New York strip steak, trimmed and cut into 2 portions
Read recipe directions at Eating Well. 
5. Potato-Beet Gnocchi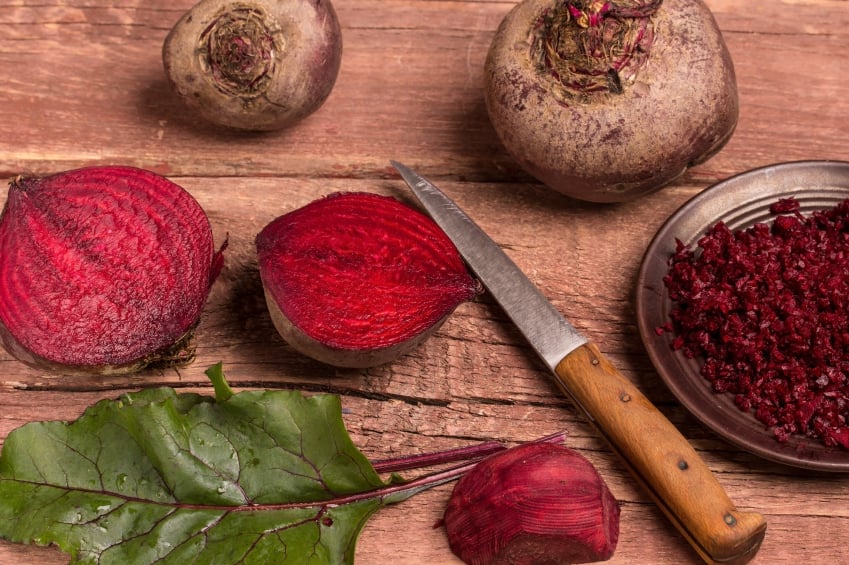 Potato-Beet Gnocchi, anyone? Your carbs just got a whole lot prettier. This recipe from Cooking Light has you pairing your potatoes with beets, flour, and cheese to yield an indulgent yet nutritious dish. If you've never made your own gnocchi, it's time to try, and this recipe serves 4 with only 25 minutes of prep time. 
Ingredients:
1 (8-ounce) medium red beet with greens
1 pound medium baking potatoes
5.6 ounces all-purpose flour, divided
4 cups vertically sliced onion
1 ounce shaved fresh Parmesan cheese
Read recipe directions at Cooking Light.  
6. Smoky Vegetarian Beet Reubens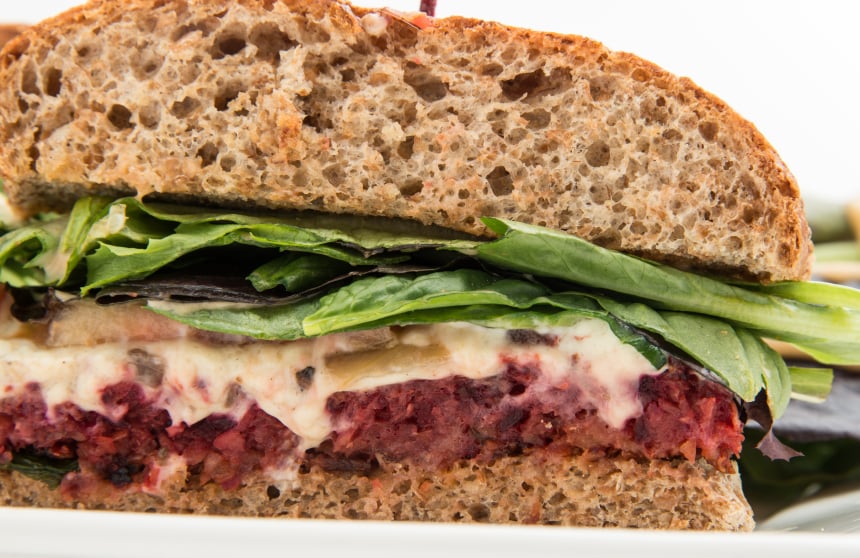 If you're looking for a sophisticated sandwich recipe, this next one is for you. Say hello to this Smoky Vegetarian Beet Reuben featured on Food & Wine. A veggie sandwich never sounded so good. Salted beets mixed with a Russian dressing make up the meat of this meal, and sauerkraut and cheese also play starring roles. This smoky twist on the traditional reuben will impress any and all of your dinner guests, and it helps make eating beets fun.
Ingredients:
1 large beet (about 14 ounces)
1 tablespoon extra-virgin olive oil, plus more for brushing
Kosher salt
Freshly ground pepper
½ teaspoon coriander seeds, finely crushed
Smoked salt, for sprinkling
¼ cup mayonnaise
1 tablespoon ketchup
1 tablespoon sweet pickle relish
1 tablespoon fresh lemon juice
8 slices of rye bread
Softened unsalted butter, for brushing
½ cup sauerkraut, drained and warmed
6 slices of Swiss cheese
Read recipe directions at Food & Wine. 
7. Roasted Beet Salad with Goat Cheese, Walnuts, and Honey-Dijon Vinaigrette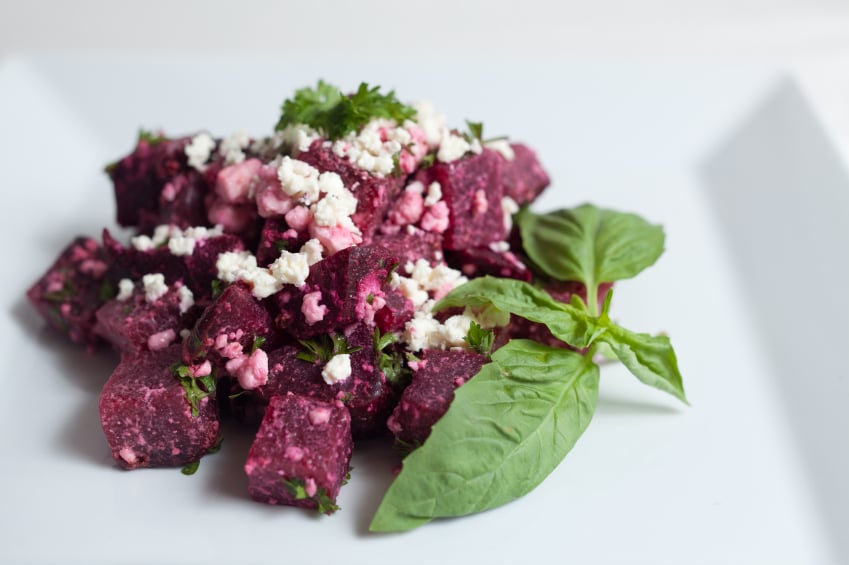 Last but not least: a simple and healthy salad that stars beets. This Roasted Beet Salad from Once Upon a Chef pairs sweet beets with tangy goat cheese and crunchy walnuts, making sure you enjoy fun flavor and texture with every bite. A homemade Honey-Dijon Vinaigrette ties everything together, and before you know it, you have an aesthetically pleasing and appetizing-appeasing salad recipe on your hands. This light dinner or lunch is easy to make and easy to eat, helping teach you the trick to enjoying your beets.
Ingredients:
1

bunch medium beets

1 tablespoon

extra virgin olive oil

10 ounces

mixed greens 

3 ounces

goat cheese

½ cup

walnuts, coarsely chopped

2 tablespoons

honey

1½ tablespoons

Dijon mustard

3 tablespoons

red wine vinegar

1½ tablespoons

minced shallots

½ teaspoon

salt

¼ teaspoon

ground black pepper

6 tablespoons

vegetable oil
Read recipe directions at Once Upon A Chef. 
More from Culture Cheat Sheet: