What Are Disney Magic Bands and How Do You Get One
Booking a Walt Disney World vacation for you and your family? You've probably seen Disney Magic Bands pop up while researching park admission, hotel accommodation, and where to book a reservation for dinner. That's because Disney Magic Bands can help make your Disney vacation more convenient than ever before. What are Disney Magic Bands and how do you get one? We share everything you need to know about the newest accessory trend at Walt Disney World, below.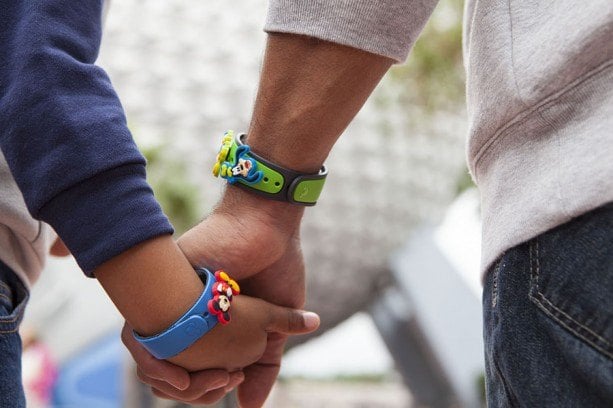 What are Disney Magic Bands
Wouldn't it be great if you could leave your wallet in your hotel safe instead of bringing it into Disney World? With Disney Magic Band there is no need to risk losing your wallet or your ticket, as it can access everything you need for a fun-filled day at the Magic Kingdom and beyond. Disney Magic Bands are all-in-one devices attached to a colorful wristband that syncs with your hotel room key, Fastpass, and even your park tickets. Also, it allows you to charge food and merchandise to your hotel room, so there's no need to bring your wallet!
Are Magic Bands free?
Depending on your situation, some Magic Bands are free. If you're staying at a Walt Disney Resort Hotel or are an annual pass holder, you should receive a MagicBand with your pass or at check-in. Those who do not fit the above criteria can still use a Magic Band but must purchase them online or in select stores.
Can you use Fastpass without a Magic Band?
Disney Magic Bands are not necessary — they're just convenient. That said, without a Magic Band you can still access various offerings such as Disney Fastpass. However, if you want similar convenience, you might want to consider get a FastPass+ for the day, as it allows you to keep track of — and get new ones — your Fastpass from your mobile device.

How do you get a Disney Magic Band
Guests staying at a Disney Resort Hotel in Walt Disney World automatically receive a Magic Band upon check-in. Also, those with Wat Disney World annual passes also get Magic Bands. Magic Bands are also available online for purchase and at select Walt Disney shops. The Magic Bands sold online and in stores sometimes feature limited-edition features such as certain lights or sound effects if used at a touch point area in the parks.
Want to know how to personalize your Magic Band? For guests staying at a Disney Resort Hotel or annual pass holders, you can customize your wristband up to 11 days before your arrival. All you have to do is log onto your Disney account on the Walt Disney World website and link your annual passport or reservation. Once you've done that, you'll have the option to customize colors for a unique Magic Band experience.
Are Magic Bands at Disneyland
Right now, Magic Bands are only offered at Walt Disney World. While things change all the time at both Disney World and Disneyland, Magic Bands help create a unique, connected experience for Magic Kingdom guests. That said, Disneyland does offer special services like the MaxPass, which allows guests to access — and request new ones — their Fastpasses, as well as keep track of photos taken inside the park.
Check out The Cheat Sheet on Facebook!