What New York City's New Marijuana Policy Will Look Like
Marijuana policy in New York City will continue getting more lenient under Mayor Bill de Blasio. In May 2018, Manhattan District Attorney Cyrus Vance said his office would stop prosecuting cases involving possession or consumption of the drug.
That same month, de Blasio called on the New York Police Department (NYPD) to stop arresting people for smoking weed or possessing small amounts. However, you could still get thrown in jail if you're caught with a joint anywhere in New York.
Those days will soon end. As of September 1, anyone the NYPD catches smoking marijuana on a New York street will get only a summons and small fine. De Blasio made the announcement June 19 with Police Commissioner James O'Neill at his side.
Here's everything you need to know about the new policy, including who will get arrested if caught with weed beginning September 1.
1. Smokers face a $100 fine and a court appearance.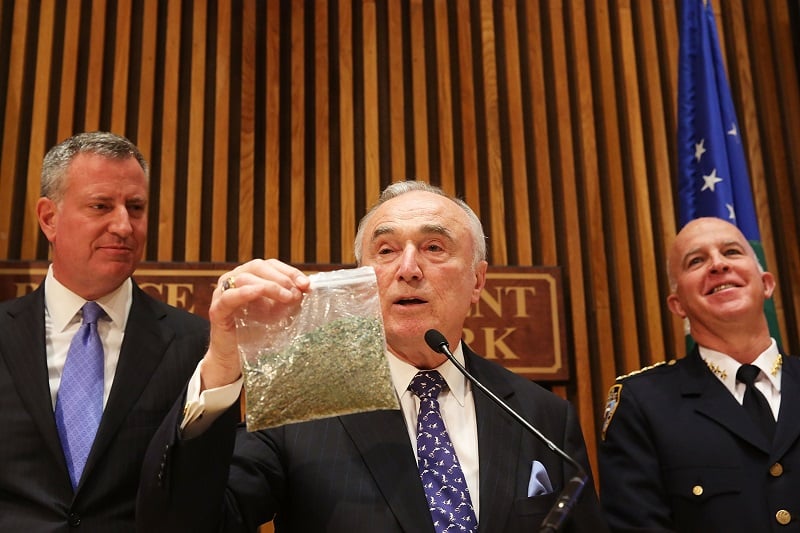 As the NYPD reminded everyone on Twitter, the new policy doesn't mean New York has a new law in place. Smoking marijuana remains illegal In New York.
However, cops will not be cuffing people and taking them off for fingerprinting when they see them lighting up in town. Instead, anyone in possession of weed will receive a summons and a $100 fine, CBS reported. Later, they will need to make a court appearance.
2. These people could still go to jail for smoking weed.
The new policy applies to people with no criminal record. Mayor de Blasio and NYPD officials stressed that some people will still end up in jail for marijuana-related crimes. They include:
Anyone on probation or parole
People with a warrant out for their arrest
Anyone without identification
People caught behind the wheel of a car or otherwise representing a public safety risk
Anyone with a documented history of violence
Basically, if your record is clean and you have ID on you, you won't go to jail. Anyone else might.
3. It could save 10,000 arrests in 2019 and beyond.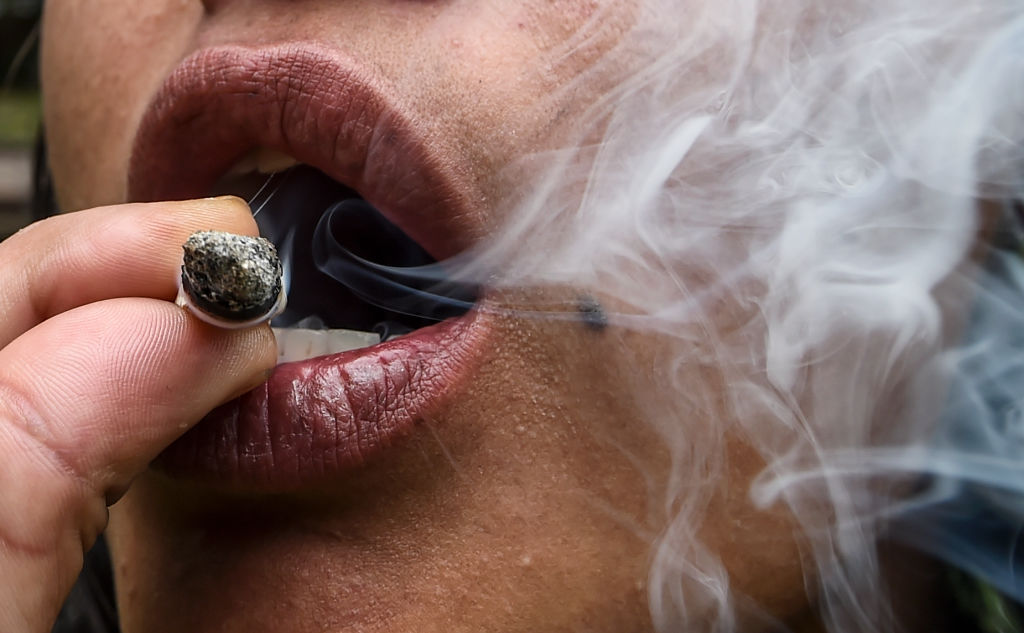 Regardless of your opinion on the legalization of marijuana, you probably agree the NYPD has bigger concerns than people smoking weed on the street. (For example, the department's anti-terrorism squad would rank much higher on the list.)
With this policy in place, New York cops can avoid making several thousand arrests for marijuana offenses."Next year, we think at least 10,000 fewer New Yorkers will be arrested under this new policy," de Blasio told the media.
4. NYPD racial profiling was a factor here.
Looking at the data, it's clear New York City's current policy affected minorities disproportionately. Of the nearly 17,000 marijuana possession arrests in the city in 2017, 86% were people of color.
"The ongoing arrest and criminal prosecution of predominantly black and brown New Yorkers for smoking marijuana serves neither [justice nor safety]," Vance said in May.
"Today is a day where we take a step into the future, we take a step towards fairness, we take a step towards greater safety," de Blasio said when he announced the policy on June 19.
5. New Yorkers had some priceless reactions.
After repeating the announcement on his @NYCMayor account, de Blasio encountered the usual Twitter jokesters. Predictably, one even suggested a start time for the policy to begin.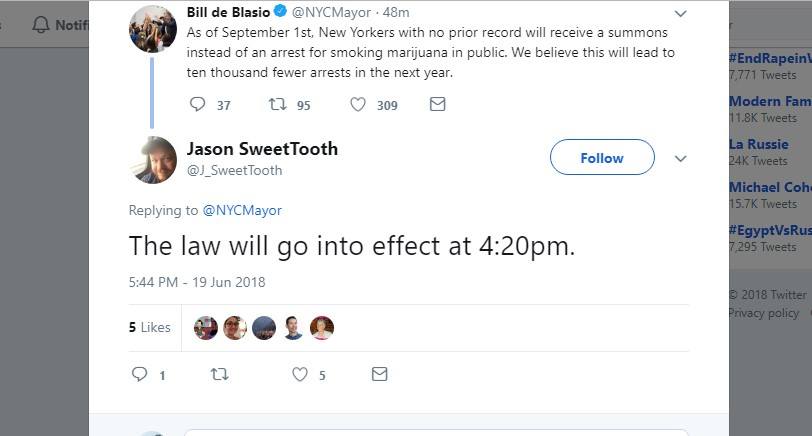 On the state level, Health Commissioner Howard Zucker will recommend legalizing marijuana in the coming months, CBS reported. Andrew Cuomo, who faces a primary challenge from Sex and the City actress Cynthia Nixon in 2018, will likely accept that recommendation.
For her part, Nixon saw the latest news as part of Cuomo's swinging left in an election year. "It's been over two months since I announced my intent to legalize marijuana as governor, and only now has Cuomo taken a similar stance. #TheCynthiaEffect," she tweeted.
With the primary election set for September 13, it could be a wild few weeks outside Nixon campaign headquarters.