What President Donald Trump and Other Political Figures Did During the Marches Against Gun Violence
Thousands of people across the country took part in the March for Our Lives. More than 200,000 people participated in Washington, D.C., according to Digital Design & Imaging Service, Inc., a company that determines crowd size through aerial photographs. Ahead, see what President Donald Trump (page 7), and other political figures did, during the march.
Bernie Sanders
Sen. Bernie Sanders participated during the march, shaking hands. In addition, he also shared  a congratulatory video on YouTube, thanking students across the country and in Parkland, Florida, for their efforts, according to CNN.
Hint: One senator regularly shows his support on social media.
Cory Booker
In a slideshow on Instagram, Sen. Cory Booker, shared 10 pictures of participants holding signs or wearing hats or t-shirts supporting the marches against gun violence. He also posted other photos leading up to the day of the march, including a call to action on a church message board and the cover of Time magazine.
Hint: Mike Pence recommended a movie.

Mike Pence
During the march, the vice president, Mike Pence, shared with his Twitter followers, that he received a sneak peak of the film, I Can Only Imagine. He saw the film "a few weeks ago," according to his tweet, "Great movie! Inspiring message!" he wrote.
Hint: A former president and first lady write a letter to survivors.
Barack and Michelle Obama
In a letter to the survivors at Marjory Stoneman Douglas High School, the former president and first lady, Barack and Michelle Obama, say how inspired they are by the students. "We wanted to let you know how inspired we have been by the resilience, resolve and solidarity that you have all shown in the wake of unspeakable tragedy," the handwritten letter says, according to MIC.
Hint: One senator releases a statement and isn't afraid to speak his mind.

Marco Rubio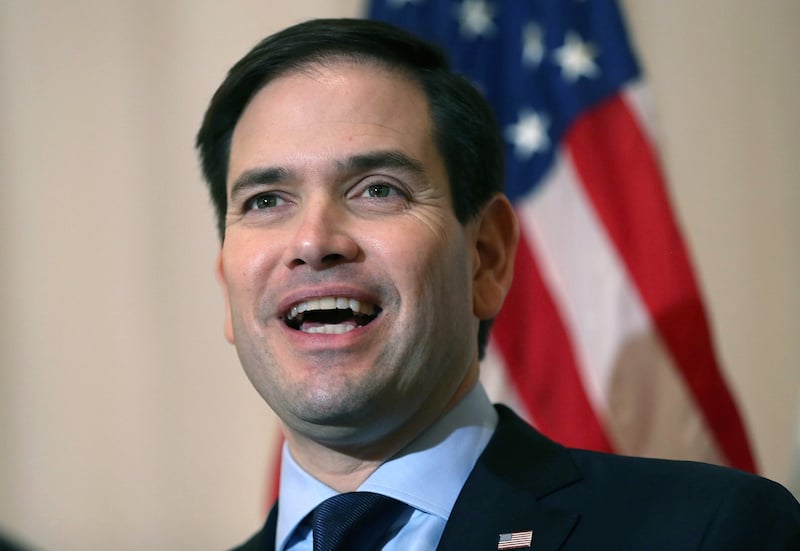 Sen. Marco Rubio made a statement about the march and shared the statement in full on Twitter. "I commend those who today are peacefully exercising their First Amendment rights to march," Rubio said. He also made it clear he doesn't "agree with all of the solutions they propose," but he does "respect their views."
Hint: This leader in the House of Representatives shared a video.
Nancy Pelosi
The day of the march, Nancy Pelosi, the minority leader of the U.S. House of Representatives, shared her views on Twitter. "Congress has a duty to end the daily tragedy of gun violence in America. We must act," she wrote. The message accompanied a video of parents describing their children who were killed due to gun violence.
Hint: Donald Trump took to Twitter the day of March for Our Lives.
Donald Trump
While the nation marched for policy changes, President Donald Trump spent the day golfing at his Mar-a-Lago, according to Vogue. The day of the march, Trump sent his "thoughts and prayers" to the victims of a terrorist attack in France with a tweet.
Check out The Cheat Sheet on Facebook!
Read more: 9 States With the Loosest Gun Laws