When Is Fire Season in California?
When we think of California, we think of good weather and fire season. But while it might seem like The Golden State is on fire year-round, it does have two very different fire seasons: One caused by heat and the other caused by wind. When is fire season in California? We share everything you need to know about the California wildfire seasons, including why they are getting worse, ahead.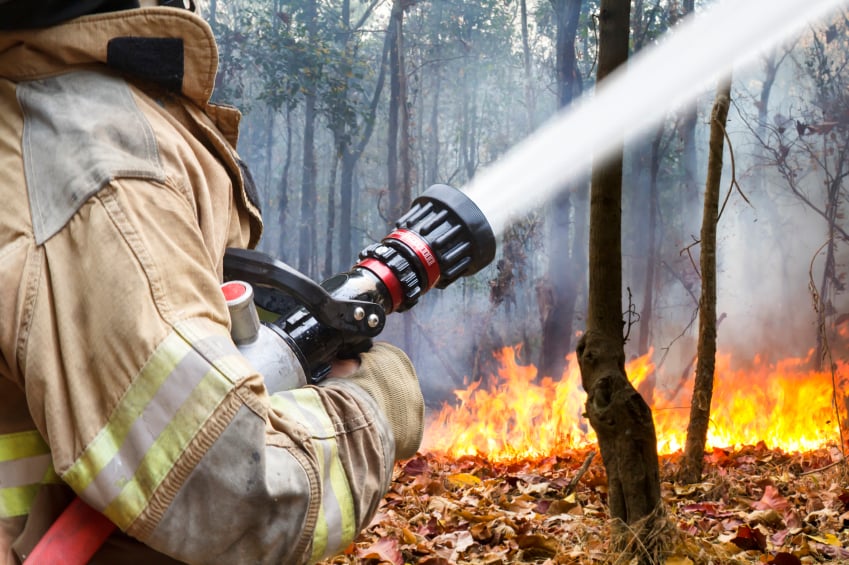 When is fire season in California?
With two long fire seasons, Californians see potential wildfire threat almost year round. From October until April, Santa Ana winds kick up and pose a threat to The Golden State. Then, from June until September, summer heat can create perfect conditions for wildfires to thrive. That said, it's not the summer months that worry Californians.
Although summer fires are just as serious — and typically last longer — they generally burn a lot slower and less intensely. Santa Ana wildfires, on the other hand, are as intense as they come. The wildfires caused by wind in October through April tend to spread at a rapid pace and often impact more developed areas along the coastline — such as Ventura's Thomas Fire in December 2017.
According to a study conducted by the U.S. Forest Service along with the University of California at Irvine, UC Davis, and UCLA, the two fire seasons are as different as they come. Summer fires can occur anywhere in the state and typically target more wild and remote areas. For those along the coast — San Diego, Los Angeles, San Francisco Bay Area, Santa Barbara, Napa, to name a few — Santa Ana fires are a major concern and economically devastating.
When is fire season over in California?
Despite having two distinct fire seasons in California, some cities are on fire watch year round. With high temperatures, winds, and other conditions creating a perfect climate for fires, they can happen any time, anywhere. However, studies show the state of California doesn't typically see fires in May — though they can pop up.
Why are California wildfires getting worse?
If you think wildfires in California are getting worse, you're not wrong. According to The Guardian, 2018 is the most destructive year for wildfires in California history. And, the Cal Fire recently asked for more funding, marking the earliest emergency wildfire funds ever requested.
According to a report published by California Natural Resources Agency, residents can expect longer drought periods, warmer weather patterns, and, subsequently, larger wildfires. But, why are California wildfires getting worse? Many blame global warming. As the Earth's temperatures rise, the state of California sees much hotter, drier temperatures — two key components in fire season.
It doesn't help that California recently came out of long drought — and could see more in the future — as rainfall also plays a huge part in the cause of wildfires. Lack of groundwater results in more tree deaths, which can act as fuel during the California fire season.
Check out The Cheat Sheet on Facebook!