Which President Plays More Golf: Donald Trump or Barack Obama?
Both Donald Trump and Barack Obama enjoy playing golf. And for years, Donald Trump criticized his predecessor for making time for a game when there were other matters to attend to at the White House. But Trump is famously a fan of the game himself. (It's the only kind of "workout" he really enjoys.) And Trump has attracted some criticism himself for playing golf while in office.
Check out how Donald Trump and Barack Obama's games compare. And on page 8, don't miss the opportunity to find out which president has actually played more golf while in office.
Barack Obama's golf habit attracted criticism — especially from Donald Trump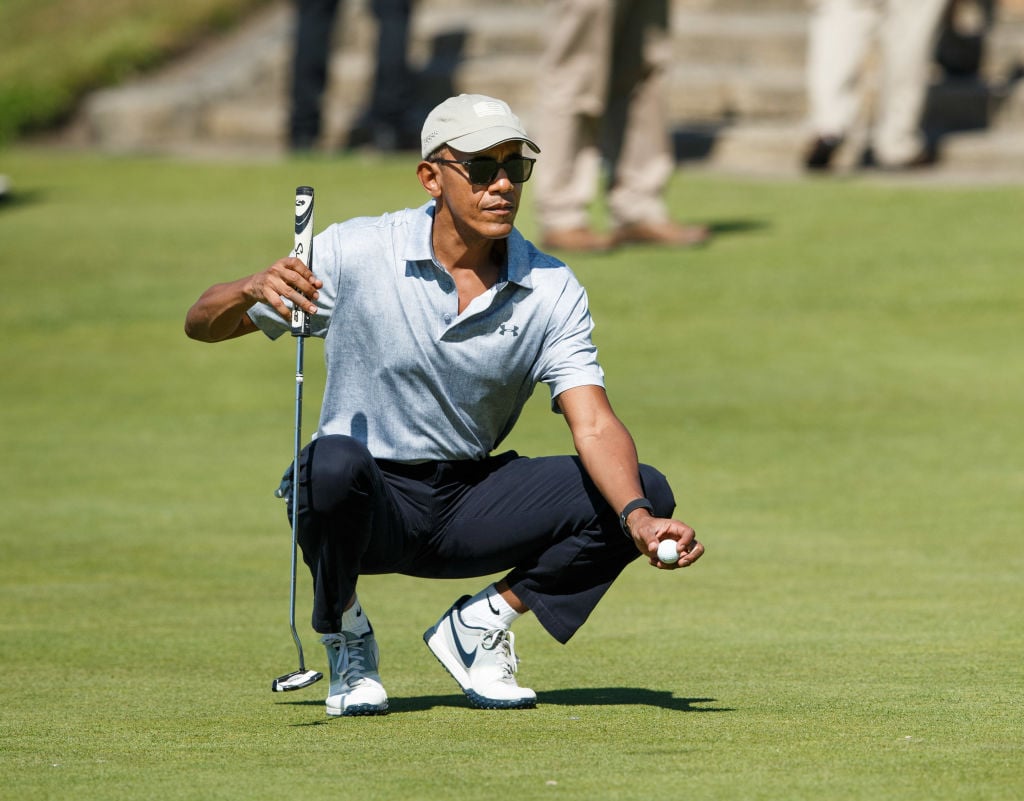 As SB Nation reports, Donald Trump repeatedly tweeted that Barack Obama was playing too much golf. The publication reported mid-2017 that Trump had "tweeted about golf at least 460 times since creating his Twitter account in 2009." In those tweets, Trump promoted the courses that he owns. But he also tweeted "at least 27 complaints, jokes, or scoldings about Barack Obama playing golf while president."
Once, Trump even tweeted, "I play golf to relax. My company is in great shape. @BarackObama plays golf to escape work while America goes down the drain." Another time, he wrote, "I don't mind that @BarackObama plays a lot of golf. I just wish he used it productively to make deals with Congress!" And on another occasion, Trump advised, "Obama should play golf with Republicans & opponents rather than his small group of friends. That way maybe the terrible gridlock would end." Which leads us to our next point.
Next: Here's one difference between Donald Trump and Barack Obama's games — at least according to Trump.
Donald Trump reportedly uses the game to do business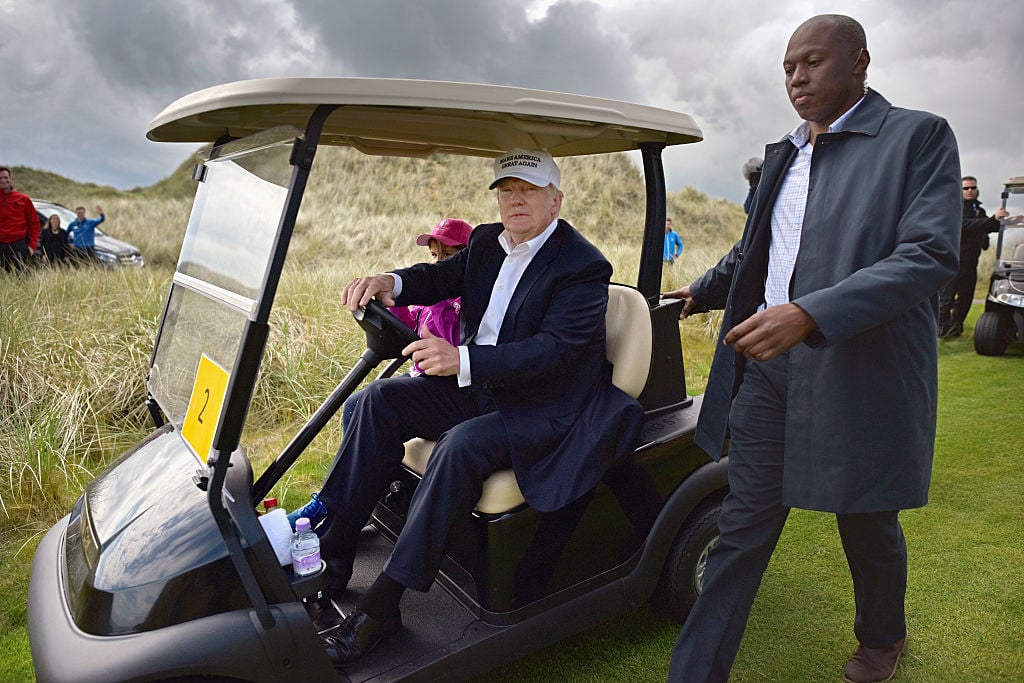 Barack Obama didn't seem to enjoy playing golf with other lawmakers during his presidency. Donald Trump may or may not be the same way. The Trump administration hasn't been too eager to talk about Donald Trump's game. But the administration has characterized Trump's golf habits as different from Obama's because Trump uses the game to do business with lawmakers and officials.
Yet CNN reports that while Donald Trump has "used his golf game to foster relationships with other lawmakers, the majority of his outings have been more personal the [sic] professional." He's played at least seven times with a member of the U.S. Senate. He played twice with Rand Paul, three times with Lindsey Graham, once with Bob Corker, and once with David Perdue. But as CNN notes, all of those senators are Republicans. "It doesn't appear that Trump golfed with a Democratic lawmaker during his first year in office."
Next: Donald Trump isn't interested in what experts have to say about his game.
Donald Trump is self-taught
Donald Trump claims to have never consistently worked with any golf coach in his life. According to a Golf World article, Trump views the game of golf to be a very "natural game." He told Jaime Diaz of GW that "I never really wanted to know a lot about my technique. I really trust instinct a lot, in golf and a lot of things." That's very concerning considering that even the best golfers have a golf coach. But let's take a look at his short, middle, and long game before we jump to conclusions.
Next: Most recent presidents have golfed during their time in the Oval Office. 
Almost all presidents in the past century golfed during their time in office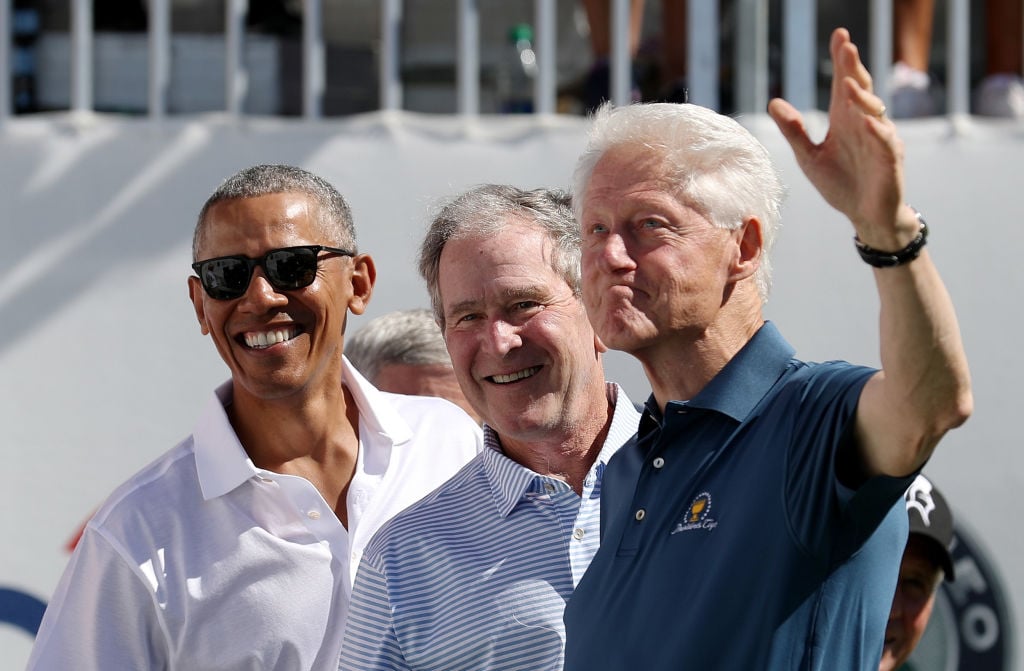 CNN reports that in the last century, almost all American presidents have golfed during their time in office. Some of the most avid golfers? Woodrow Wilson and Dwight Eisenhower, who played an estimated 1,200 and 800 rounds, respectively. Other presidential golfers of note? MSN names Ronald Reagan, Gerald Ford, Richard Nixon, Lyndon B. Johnson, John F. Kennedy, and Franklin D. Roosevelt as notable players.
Politico notes that both Republican and Democratic presidents have fielded criticism about their affinity for the game. But one historian tells Politico, "Despite the persistent worries that golf reminded most voters that presidents felt comfortable among the elite and their gated, private country clubs, no president was ever encouraged to quit because of a disappointing poll number or a comment's barb." The first presidential golfer, William Howard Taft, played throughout his campaign despite the criticism.
Next: Curious whether Donald Trump or Barack Obama is a better player? The evidence makes it pretty clear.
Is Barack Obama or Donald Trump better at golf?
NBC's Golf Channel notes that Donald Trump has said that he would definitely win a match against Barack Obama. Trump also said that he's won "many, many club championships." (He hasn't publicly shared that list, though.) But is that just Donald Trump being competitive and confident? Or do his skills on the course back him up? CNBC reports that golfers say Trump has the best game of any president. And Golf Digest seems to agree with Trump.
The publication reported before Trump's inauguration that "Donald Trump will be the 16th of the past 19 American presidents to play golf. And immediately upon entering office he will be the best player of the group, thanks to his current 2.8 Handicap Index and his 19 club championship victories." Trump knocked John F. Kennedy out of first place as the best golfer to occupy the Oval Office. Currently, JFK takes second place, Dwight D. Eisenhower third — and Barack Obama lands in ninth place.
Next: Donald Trump has been accused of doing this while playing.
Donald Trump has been accused of cheating
Sports Illustrated made waves by reporting that Donald Trump isn't the most honest golf player. "Trump will sometimes respond to a shot he duffed by simply playing a second ball and carrying on as if the first shot never happened," the publication explains. "In the parlance of the game, Trump takes floating mulligans, usually more than one during a round. Because of them it is impossible to say what he has actually shot on any given day, according to 18 people who have teed it up with Trump over the last decade."
Sports Illustrated adds that according to one of Trump's playing partners, Trump takes "all the usual liberties common among everyday golfers: mulligans, gimmes, improved lies, etc." However, Trump is hardly the first president to cheat at golf. Bill Clinton notoriously took multiple mulligans, or extra and uncounted shots, as U.S. News notes. And you could argue that because there are so many ways to cheat at the game, at least some of them have to be pretty common.
Next: Discover how often Barack Obama played while president.
Barack Obama played golf 333 times over his 8 years in office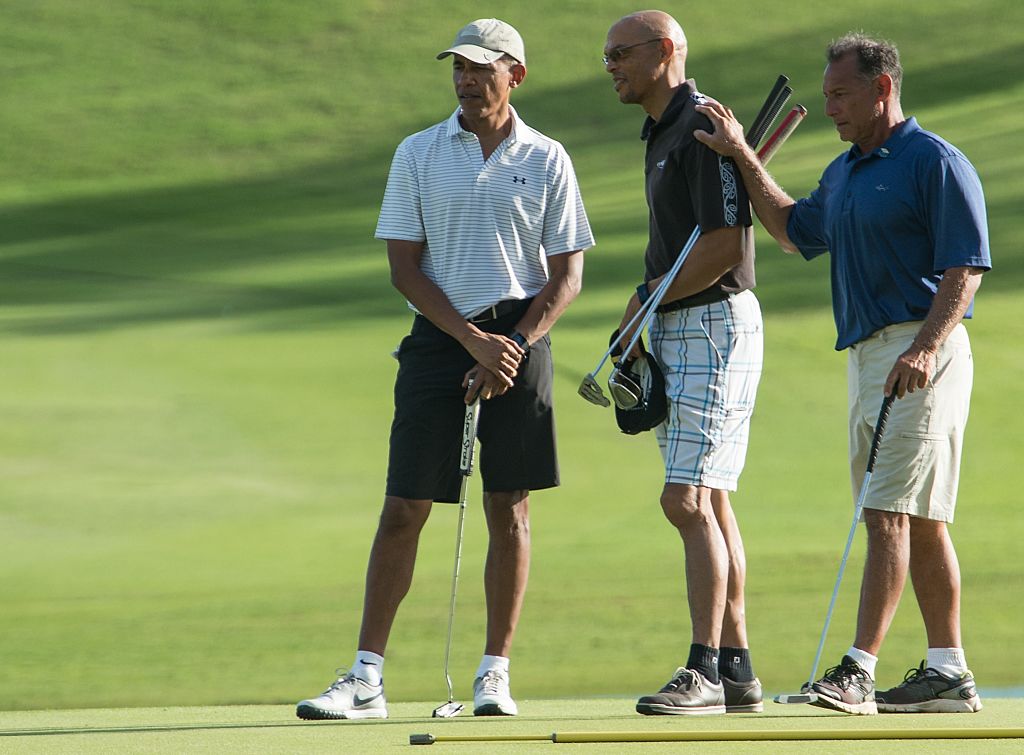 Politifact reports that Barack Obama played his first game of golf as president on April 26, 2009. Obama reportedly went on to play 333 times over the course of his eight years in office. Early in 2017, the New York Daily News reported that during his presidency, Obama had "played more golf than any commander-in-chief since Dwight Eisenhower."
So how much has Donald Trump played? Politifact notes that it hasn't been "as easy to track Trump's game as you might think. His staff has on several occasions declined to confirm he played golf while spending the day at his golf club." And on one famous occasion, a large truck blocked journalists from filming or photographing Trump on the course.
Next: Has Donald Trump or Barack Obama played more while in office?
So has Donald Trump or Barack Obama played more golf while in office?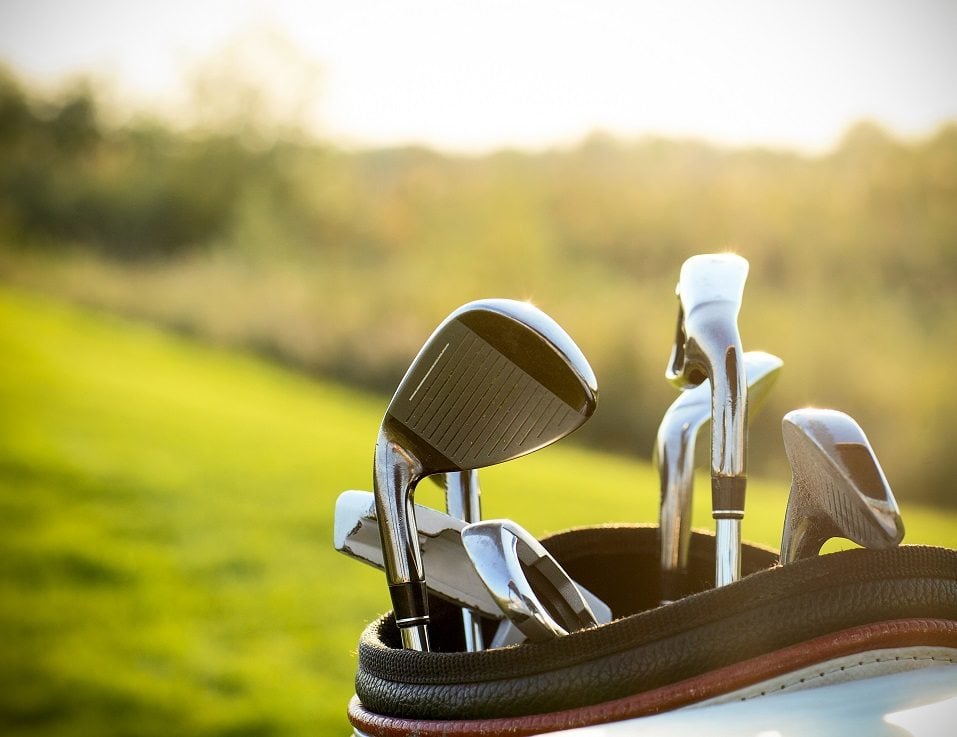 Politifact reports that since taking office, Donald Trump has made regular visits to his own golf clubs in Florida and Virginia. CNN reported in January 2018 that in his first year in office, Donald Trump spent 95 days at his signature golf clubs. He golfed in Florida, Virginia, and New Jersey.
NBC's Golf Channel reported early in 2017 that Barack Obama played 333 rounds as president and averaged 41 rounds per year. CNN noted at the end of 2017 that Donald Trump could be on track to triple Obama's time on the course. But the network did note that "It is unclear, however, whether Trump golfs each day he visits a course or how many rounds he plays when he does." CNN adds, "Trump's golf outings are notable only because he repeatedly mocked Obama for the time he spent on the golf course and said he wouldn't have time if he were elected president."
Check out The Cheat Sheet on Facebook!