Why Is Alexandria Ocasio-Cortez's Instagram So Awesome?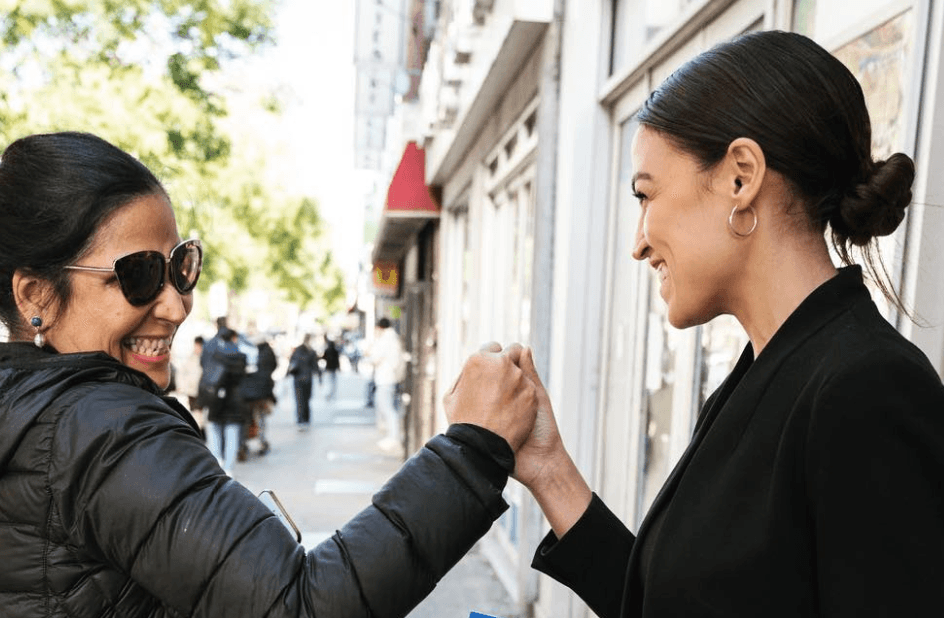 As the country marvels at Alexandria Ocasio-Cortez being the youngest woman nominated to Congress at age 29, many are just as excited about her Instagram account.
Her 780,000 followers find her refreshing and real, unlike other politicians. And while Ted Cruz has 280,000 followers, The New York Times points out his posts look rigid and staged. In a social media world bombarded with clutter, what is about Ocasio-Cortez's Instagram that makes her fun to follow?
She's just like us
In a recent story, she queried about whether the leftover macaroni and cheese in her refrigerator was still o.k. to eat. She also shares recipes on her story and easily chatted with 600,000 people while she made loaded macaroni and cheese in an Instant Pot.
She also added inside peeks into the halls of Congress during freshman orientation and jokes about how it seems like a yearbook, The New York Times reports. "At orientation you get a swag bag," she says in her story. In another story, she jokes and whispers, "Guys, there are secret underground tunnels," with the Instagram caption"Jk they're not secret but it's cool."
Cortez shares her true emotions
When faced with challenges or emotions, Ocasio-Cortez turns to Instagram to share how she truly feels. In a story pinned "Pep Talk," she lays out what is really going on with her (which is pretty un-Congress rep like). She echoes what many young people feel in general about being good and perfect all the time. And she reminds followers she's a regular, everyday working class American. And that we have to accept imperfection and humanity in our government.
She reveals that while some kids grew up with class and privilege, she grew up scrubbing toilets with her mom. Ocasio-Cortez also admitted as a woman of color running, you get opinions from others from all sides. Viewers can tell she is strong but emotional. "On one end you will never be good enough, or experienced enough or knowledgeable enough," she said. And added there are people who don't want to see "folks like us run."
And shuts down the haters with class and humor
Anyone in politics knows they are going to receive their fair share of hate. And while some politicians hit back with anger, Ocasio-Cortez uses class and humor. Fox News posted a screen graphic featuring Ocasio-Cortez, along with other young women of color who were nominated to Congress. Under "Radical New Democratic Ideas" included a list like free college for all, free healthcare for all, abolish ICE and Green New Deal.
Ocasio-Cortez re-posted the graphic with the comment, "Fox News discovered our vast conspiracy to take care of children and save the planet [along with laughing emoji]."
She was also shamed for not having the funds to rent an expensive D.C. apartment until her salary from Congress kicked in. A conservative journalist posted an image of Ocasio-Cortez's outfit, commenting "that jacket and coat doesn't look like a girl who struggles."
Ocasio-Cortez's amazing response (on Twitter), "If I walked into Congress wearing a sack, they would laugh & take a picture of my backside. If I walk in with my best sale-rack clothes, they laugh & take a picture of my backside. Dark hates light – that's why you tune it out. Shine bright & keep it pushing."
She accommodates the hearing impaired
Ocasio-Cortez is all-inclusive, which means including an Instagram tool called Clipomatic on her stories for the hearing impaired, The Huffington Post reports. She wrote on Twitter, "Advocates for the deaf community hit me up to connect me with tools (i.e. Clipomatic) to better serve all of us. Thanks to them, I now caption all my IG stories so our deaf brothers and sisters can follow along too."
Check out The Cheat Sheet on Facebook!