The Amazing Reasons People Want a Fairy Tale Wedding at Disney
Disney is the happiest place on earth, and plenty of Disney fans get married at Disney World or Disneyland each year. But not everybody understands why anyone would want to get married at an amusement park. Sure, some people just really love Disney parks, and others like the cheap flights to Orlando. For some people, a Disney wedding would be a dream come true, while others think it would be a nightmare come to sparkly life.
Whether you didn't know that people get married at Disney or find yourself confused about why they would, here are the reasons people want a fairy tale wedding at Disney. Some of them may surprise you.
1. You can show off your love for Disney as much or as little as you like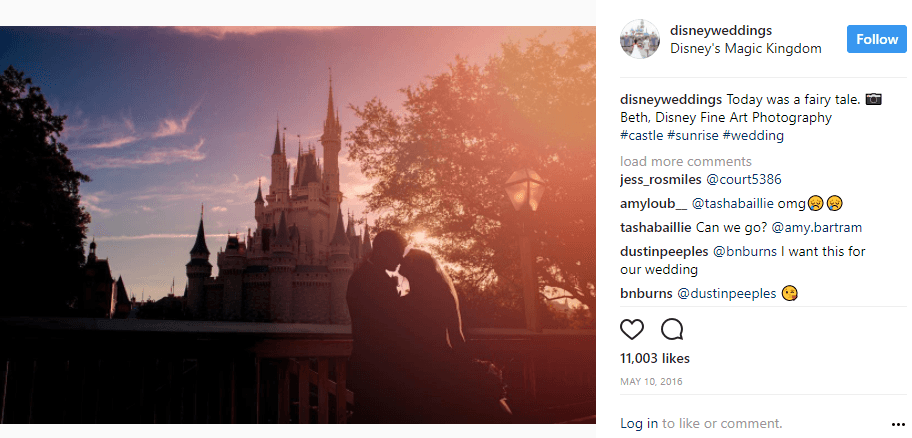 Some people love the idea of a wedding where everybody's wearing mouse ears or there are characters on the dance floor. Others think it's tacky. But the great thing about a Disney wedding is that you can choose to show off your love for Disney as much or as little as you'd like. Touring Plans reports that a Disney wedding "is only as 'cheesy' as you make it." Want to dance with Mickey and Minnie at your reception, or have a playlist of exclusively Disney songs at your ballroom reception? You can! Or you can opt for subtler Disney references, if that's more your style. 
2. A Disney wedding can feel just as grown-up as one not at an amusement park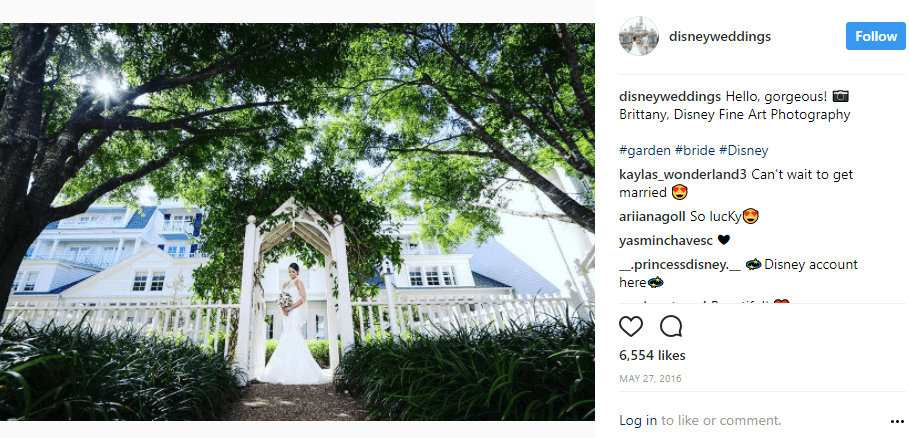 Several couples who got married at Disney told Cosmopolitan that their friends or family members assumed that a Disney wedding would feel childish. However, because you have your pick of numerous elegant venues, that isn't the case at all. If you're a big Disney fan — or even if you just love fairy tales — it can feel difficult to strike the right balance between magical and sophisticated at your wedding. But couples who have had Disney weddings assure Cosmopolitan that Disney wedding planners are great at finding that sweet spot. 
3. You can have Disney characters at your wedding — if you want
If you book them far enough in advance, you can definitely have Disney characters (i.e., cast members in costume) attend your wedding reception. But as The Huffington Post reports, you don't have to host or even feature Disney characters at your wedding. (If you do want your favorite characters to show up, you can have two at your reception for 30 minutes.) You can plan a wedding that's completely free of Disney characters just as easily as you can plan one covered in Mickey Mouse motifs. It's all up to you. 
4. 'Uninvited Guests' can entertain your friends and family, too
Not sure about having your favorite Disney characters show up at your reception? Then perhaps you'll want to have another kind of entertainer. The Disney Wedding Podcast learned that you can have "Uninvited Guests" — actors disguised as Disney-obsessed tourists — show up at your reception. There, they'll crash the party and entertain your friends and family with improv and Disney facts.
5. You can choose from a wide variety of venues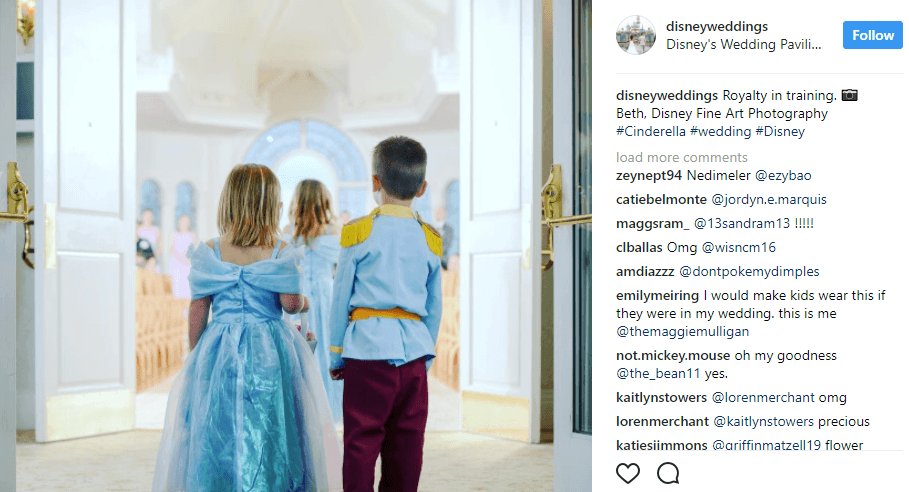 If you want to get married at Disney, you can choose from a wide variety of different venues — not just the aptly named wedding pavilion, wedding gazebo, or wedding garden. In Florida, for instance, Disney offers the Wishes Collection, the Memories Collection, and the Escape Collection, each with unexpected venues like the Italy Plaza at Epcot and the Luau Beach at the Polynesian Village Resort. In California, you can choose between the Wishes Collection and the Escape Collection, with venues like the Sleeping Beauty Castle Forecourt.
6. You can also get married in Hawaii, or on a Disney cruise
Not set on Disney World in Florida or Disneyland in California? You can still have a Disney wedding! Disney actually offers two more location options for weddings. You can say "I do" in Hawaii at Aulani, Disney's resort in Ko Olina and Oahu. Or you can have your ceremony and celebration on a Disney cruise. And if you opt for a cruise, that means that you could say your vows either aboard the ship or at the dreamy Castaway Cay in the Bahamas. 
7. You can feel like you're getting married abroad, without the expensive international flights
Wish you could get married in Europe or Asia, but don't think you could get your friends and family to fly there? Then you might want to consider getting married at Disney World. You can choose from among many locations at Epcot for your ceremony and reception. Book the Canada Terrace or the China Courtyard, or go for the Germany Courtyard, the Italy Plaza, the Japan Courtyard, or the Morocco area. You could even choose the United Kingdom Courtyard or the Great Hall of China. You could visit your dream destination without even having to make sure that your passport is current!
8. A Disney wedding doesn't have to be expensive
A Disney wedding sounds expensive. And some certainly are — especially if you want to shut down the park so you can get married in front of Cinderella's castle. However, you can choose a more budget-friendly plan, too. The Washington Post reports that a small-scale ceremony with four guests may cost as little as $2,500 to $4,500. A ceremony-only occasion for up to 18 guests costs $5,000 to $9,000. Customized ceremonies for more than 18 guests start at $12,500. You can choose anything from an intimate elopement to a 300-person celebration. But that after-hours wedding in front of the Cinderella Castle will run you a minimum of $180,000. 
9. Plus, you can get better prices if you book off-season
Booking a wedding at the height of wedding season can make your dream venue more expensive or make it difficult to get the caterer you want. And a trip to Disney will be more expensive when tons of other tourists want to go. So, logically, booking an off-season Disney wedding is a good move for budget-minded couples. If you don't mind having your dream Disney wedding in January, you can save a bundle of cash. Touring Plans reports that during the off season, Disney typically offers great deals on hotels. Compounded with the discounts Disney already offers for wedding parties, that can amount to major savings. 
10. Disney can handle all the details for you
When you plan a wedding at a venue other than Disney, you'll need to pay — often a lot — to have a wedding planner handle the details for you. But at Disney, assistance from a wedding planner is just a part of the package. You can meet with an expert at Franck's Bridal Studio, the wedding planning space at Disney World's Wedding Pavilion. (Disney named it for the wedding planner character Martin Short played in Father of the Bride.) Other than obtaining your license and hiring an officiant, Disney can take care of choreographing all the details. 
11. You get Disney's famous customer service
A Slate writer who got married at Disney explains that "there's one aspect of Disney that you can't escape when you get married there, and that's customer service. No one can ever accuse Disney of not understanding hospitality." Touring Plans reports that the Disney staff "cares about you and making sure your event goes off like a dream even after you've signed the checks." That's true even though there are usually several weddings happening each day. The team goes out of its way to ensure that brides and wedding parties don't encounter one another, so that your wedding day won't feel any less "yours." 
12. Disney chefs can make you just about any food (or cake) you want
An important part of planning a wedding is choosing a caterer. But when you decide on a Disney wedding, you'll find that few things are off limits when it comes to the menu. As Disney explains on its website, the dining options at your wedding can include "almost anything your heart desires." That includes tuxedoed waiters offering your guests elegant hors d'ouevres. Or it can mean the staff setting up walk-around food stations or serving a five-course dinner. Disney can accommodate just about any requests you have, including replicating a family recipe, just so long as your budget can accommodate it, too. 
13. You can choose a unique way to arrive at or depart from your wedding
Brides who dream of a feeling like a princess for a day often love the idea of arriving at their wedding in Cinderella's coach. (You can arrange for the coach as transportation whether you want to get married in Florida or California.) But that's just one of the options you can choose for making a grand entrance or exit when you plan a Disney wedding. You can also choose a luxurious limousine, Ford Model A, or a Rolls-Royce to roll up to your wedding in style. 
14. You can wear an official Disney wedding dress
A bride who really wants to feel like a princess on her wedding day can get pretty close by wearing a boutique Disney bridal gown. These official collections feature gowns named for Disney princesses. You can even accessorize them with official Disney veils and jewelry, too. Disney also sells dresses for your bridesmaids and flower girls. Add in some optional perks at the ceremony or reception — like an English butler to deliver your wedding bands in a glass slipper, a white dove flyover, or a private fireworks display — and you'll really feel like royalty.  
15. You can even wear your gown inside the park during operating hours — if you spend enough
Disney parks typically prohibit adults from wearing costumes, including floor-length dresses and gowns. And that usually means that brides can't wear their gowns to the park during regular hours. (Many Disney weddings take place before the parks open or after they close.) But Racked reports that if you get married at the East Plaza Garden, you can wear your gown inside the Magic Kingdom during operating hours. However, East Plaza Garden weddings have a $25,000 ceremony venue fee, and they cost $75,000 with minimum expenditures.
16. You and your guests can enjoy fireworks at the end of the night
You can catch a fireworks show nightly at Disney World or Disneyland. So if you choose a venue with a view of those fireworks, you and your guests will be able to enjoy the show at the end of the night. But if your venue of choice doesn't have a great view of the regular fireworks show, you can arrange for a private fireworks display specifically at your location. 
17. Disney is welcoming to LGBTQ couples
Looking for a welcoming place to have a queer wedding? Disney may just fit the bill. Disney opened its Fairy Tale Wedding program to same-sex couples back in 2007, before either California or Florida permitted or recognized same-sex marriages. In fact, some Disney fans argue that Disney has actually done a great job of supporting gay rights over the decades. And while it's hard to argue that Disney movies aren't heteronormative, it's also difficult to deny that Disney has used its movies and franchises to try to make the world a more accepting place. 
18. You can hang out with your friends and family at Disney — or let them entertain themselves
Whether you opt for a wedding at Disney World in Florida or Disneyland in California, you'll get to hang out with your new spouse and all the friends and family members at the park. If you have time to spend with your guests before or after the ceremony, you'll find plenty of attractions and dining options at the parks. But the parks are also the perfect place to send guests when you can't entertain them yourself. Between the resorts and the parks, nobody will have an excuse to get bored. 
19. You can honeymoon at Disney
If you're getting married at Disney, you can take advantage of special rates to have your honeymoon at Disney, too. Travel + Leisure reports that the Florida parks are the most popular and, to some people, overrated honeymoon destinations in the United States. You can spend your time checking out rides and attractions. Or you can kick back at a resort and enjoy world-class dining. The options are numerous. And you won't have to board an early-morning flight the day after your wedding to get to your honeymoon destination, either.
Read More: These Are the Tourists You'll Encounter at Every Disney Park