Will Your Dream Retirement Reach Its Destination?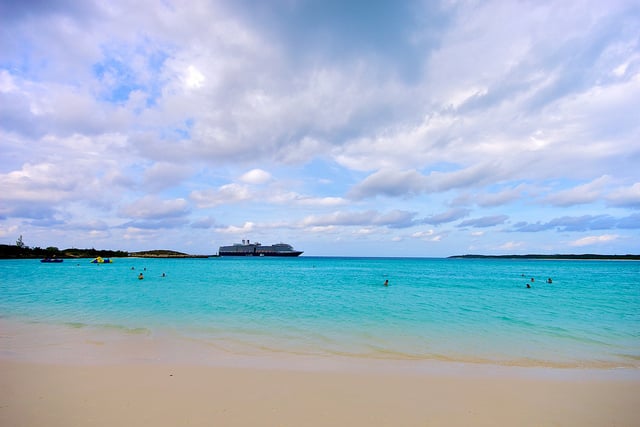 If your dream retirement includes getting out and seeing the world, you're not alone. Americans want to travel and seize the benefits of getting away from it all during their golden years, but most are not saving enough to make these goals a reality.
Travel ranks as one of the top two goals for retirement, coming in second only to spending time with family and friends. In fact, 59 percent of Americans dream of traveling during retirement, and 69 percent say travel is an important goal worth saving toward, according to a new report from the Transamerica Center for Retirement Studies and the Global Coalition on Aging. At the same time, only 15 percent place a high priority on retirement travel, while just 12 percent have given "a lot" of attention to saving for it.
"Retirees were asked how they would have prepared differently for travel in their retirement. Of those with regrets, more than half wish they would have saved more," said Catherine Collinson, president of the Transamerica Center for Retirement Studies. "People of all ages need to plan and save to make their retirement dreams of traveling a reality."
Unsurprisingly, sufficient savings is the top consideration for travel. The study finds that only four in 10 adults are confident that their current financial strategy will allow them to travel as desired in retirement. Only two in 10 adults have explicitly factored travel into their retirement savings plan.
Even though nearly half of retirees say they would have done nothing differently to ensure ability to travel as wished throughout their retirement years, a quarter said they would have saved more for travel expenses.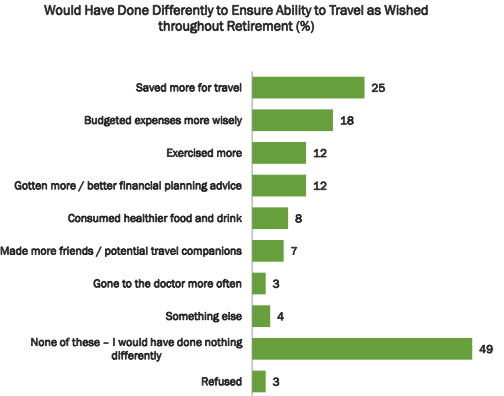 "While lack of financial resources is the largest barrier to saving for travel, Americans are only just beginning to understand the value of travel for physical and mental well-being and social connections. Armed with this new knowledge, Americans must now take action and begin saving for travel as a means to live longer, healthier and more fulfilled lives," said Collinson.
Several health benefits are associated with travel. Vacations help people relax, sleep better, and raise mental stimulation. People who take annual vacations are also less likely to develop heart disease or die of a heart attack. Furthermore, the study finds that 71 percent of adults say travel has helped them enjoy the current period in their life, while 86 percent say it helps improve their mood and look.
The word cloud below details how respondents described their emotional experiences associated with travel.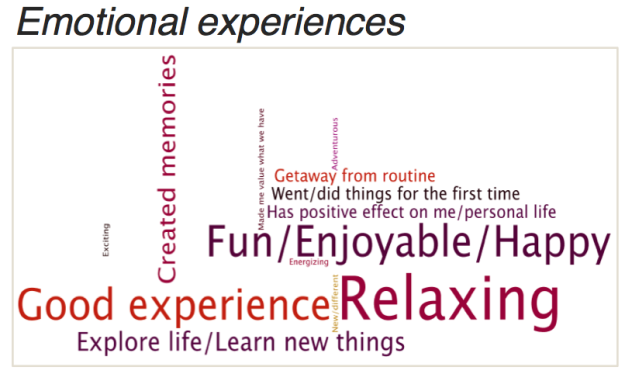 "The phenomenon of longer lives applies to millennials as much as it does to baby boomers, and it requires us to think, plan and act differently," said Michael W. Hodin, executive director of the Global Coalition on Aging. "We are beginning to see this powerful relationship between travel and healthy aging, which should motivate us all to begin saving for it now."
Don't Miss: 5 Reasonable Economic Predictions for 2014
Follow Eric on Twitter @Mr_Eric_WSCS