You'll Never Believe the Disturbing Number of Missing Kids in This 1 State
Every 40 seconds, a child in the United States becomes missing or is abducted. Of the thousands of people who go missing in the country each year, especially tragic are the disappearances of the young and vulnerable. The good news regarding missing child cases is more than 99% of kids reported missing in America each year come home alive, according to Ernie Allen, president of the National Center for Missing & Exploited Children.
The Polly Klaas Foundation assists in the recovery of missing children, in part by maintaining an online database. It currently holds the names and information of more than 9,300 kids reported missing since 1994. While 85% of these have been located, the rest remain missing.
Here we'll list the 15 states with the most missing children reported since 1994, based on the Polly Klaas Foundation website. We'll highlight a current missing child case from each of those states. As you'll see, the state with the most reported missing kids since 1994 has a total number 45 times greater than the average number per state.
15. Indiana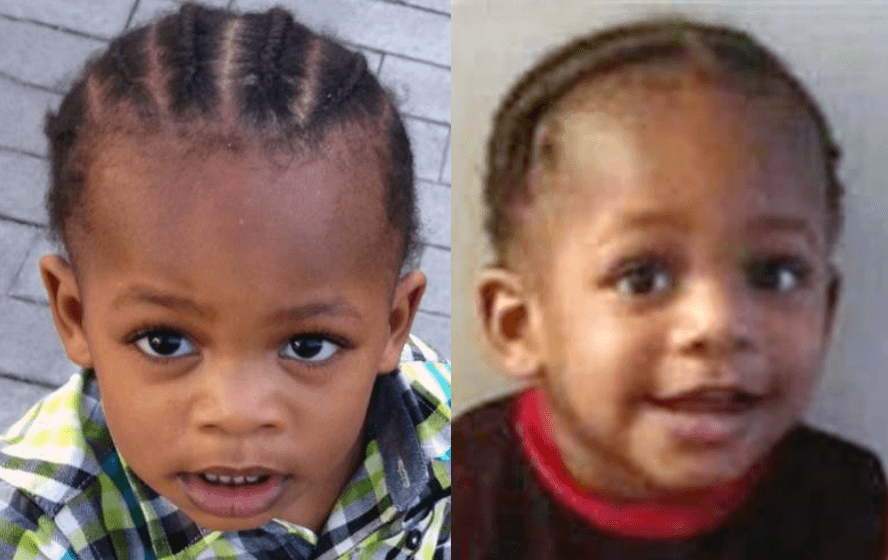 Number of reported missing children since 1994: 124
A toddler and his aunt remain missing after possibly being taken across state lines.
In one case from 2015, two-year-old King Walker, his aunt, Diamond Bynum, and his grandmother settled down for an afternoon nap in their home in Gary, Indiana. When his grandmother woke up, King and Bynum were gone from the house and nowhere to be found outside. The family believed Bynum, 21, took King for a walk and the two became lost. Bynum is developmentally disabled, and the two may have met with foul play.
After a Silver Alert was issued, Bynum's mother stated that numerous people claimed to see the missing pair with an unknown woman at White Castle and Checkers restaurants in Chicago. The family believes someone possibly lured the pair when they were lost and has been keeping them ever since. To this day, they have not been found.
Next: A boy vanished from his dead-end street.
14. Michigan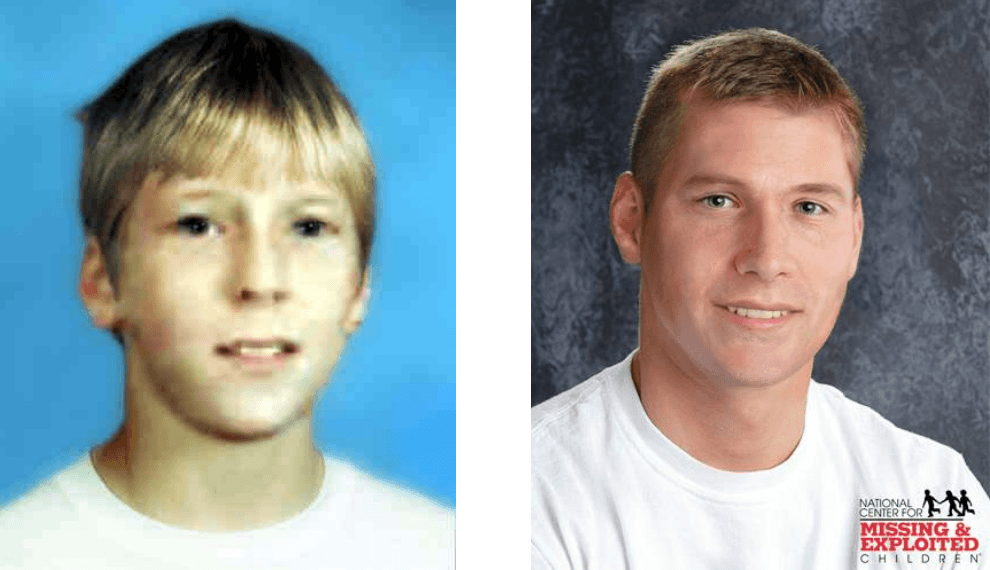 Number of reported missing children since 1994: 130
A 12-year-old playing with his dogs vanished from his dead-end street.
One boy who maybe vanished from his own block was 12-year-old Steven Earl Kraft, Jr. from Benton Harbor, Michigan. The boy was last seen playing with his two dogs near his home in February 2001. The green-eyed, sandy-brown haired boy was wearing a Hornets jacket and parachute pants. He often played on his dead-end street or in the nearby woods. On this cold evening, his family knew something was wrong when he didn't come home by curfew. Both dogs were soon found, but Steven was never heard from again.
Hundreds of friends, family, and police officers searched for days in the bitter cold, but nothing came up. Searchers looked through forests, fields, and empty houses. Ponds and streams were scoured, all to no avail. Although there is no physical evidence to this day, police are sure that someone knows what happened to Steven, and they continue to search. He would be 29 years old this year.
Next: A girl disappeared on the short walk from 7-11.
13. Nevada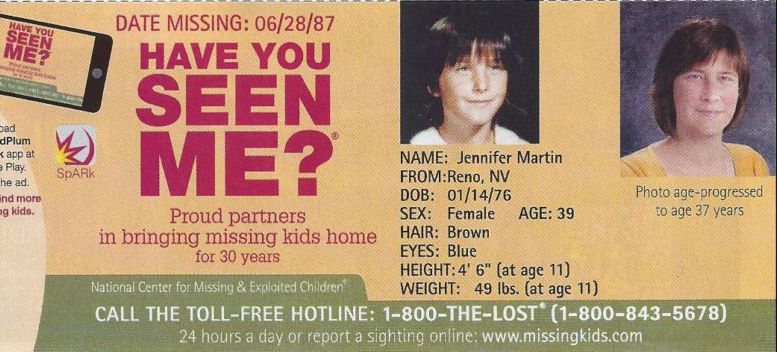 Number of reported missing children since 1994: 150
An 11-year-old girl vanished while walking a few hundred feet from a 7-11.
One Reno, Nevada child who seemingly disappeared without a trace was 11-year-old Jennifer Martin. She vanished while walking back from a 7-11, a few hundred feet from her home in 1987. The freckle-faced girl had gone to the store from her Lemmon Valley trailer park around 3 p.m. She bought soda and a candy bar. Jennifer then walked out of the store and turned left toward home and was never seen again.
"She would never in a million years get in a vehicle with someone she didn't know or even someone she did know if she didn't have permission to," said Colleen Martin, Jennifer's sister. "And she wasn't shy. She had no problem telling an adult off."
A defrocked priest was named a suspect in this case and the disappearances of three other children in 2002. Police searched the former priest's yard using cadaver-sniffing dogs, radar, and a backhoe. The only item located was a bag full of decomposed clothing. To this day, whatever happened to Jennifer Martin remains a mystery.
Next: A high school honors student's whereabouts remain a mystery.
12. Pennsylvania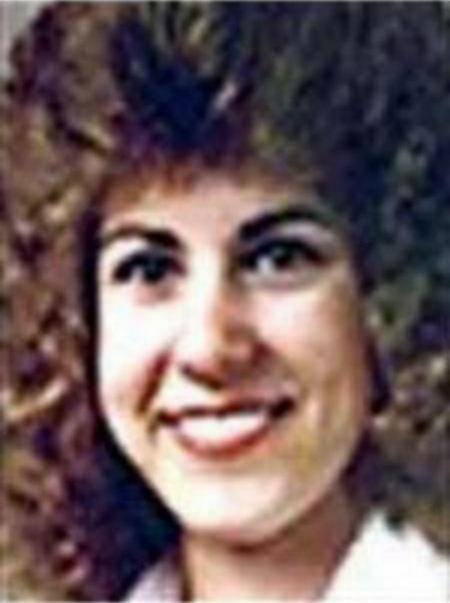 Number of reported missing children since 1994: 153
A shy high school honors student vanished, her car found empty.
One unsolved case from Millersburg, Pennsylvania is that of Tracy Marie Kroh, who went missing in 1989. The high school honors student drove from her parents' home to his sister's trailer home for a visit one night at 10 p.m. When no one answered the door, she left some coupons and a barbecue grill on the front steps and left. She never made it home that night.
The next day, when her parents realized she hadn't slept at her sister's house, they called the police. Her locked car was found the next day in nearby Millersburg Square with no sign of foul play. Four years later, items from Tracy's wallet were found along a creek bed in the area.
In a 2016 news report, Tracy's case was described as being as active now as it's ever been. Investigators said they believe there is a killer in the community who has not been brought to justice. The case continues to be investigated as a homicide, although Tracy has never been found. The disappearance of the teen, who was described as shy and studious, remains a mystery.
Next: A cluster of disappearances in the wilderness
11. Oregon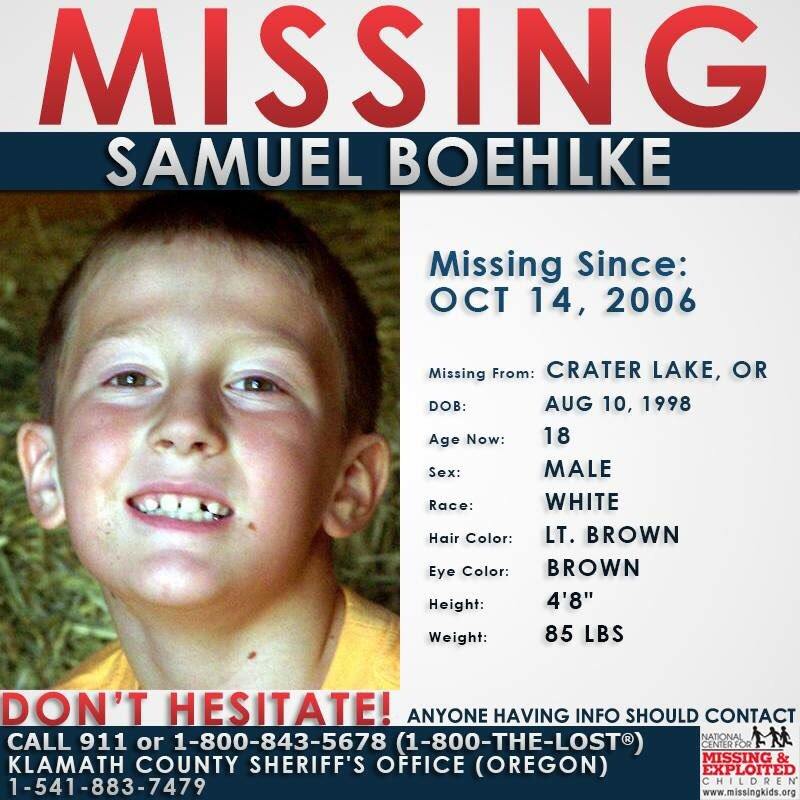 Number of reported missing children since 1994: 153
An 8-year-old boy vanished into the wilderness in 2006 and remains missing.
Crater Lake, located in Oregon's Cascade mountains, has been the site of a cluster of disappearances. One such case is that of eight-year-old Samuel Boehlke, who disappeared in 2006 while camping there. The boy, who had mild autism, walked away from his father at a scenic overlook and entered the forest. He was never seen again.
A multi-day search ensued using canines and air support, to no avail. "The circumstances behind his disappearance and the subsequent inability of the park service to find him is unusual," said David Paulides, who has mapped out clusters of disappearances in forests and national parks. In an uncanny coincidence, eight years prior, another eight-year-old boy, Derrick Engebretson, vanished from a nearby spot without a trace and has never been found, either.
Next: A mom and son missing for 15 years
10. Georgia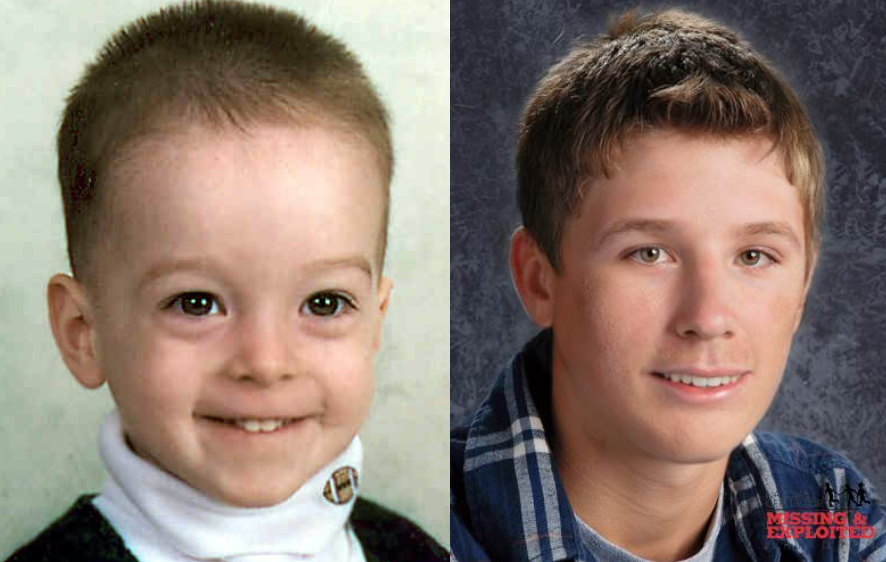 Number of reported missing children since 1994: 171
A boy nicknamed Munchkin and his mom have been missing since 2002.
One unsolved case involves Valdosta, Georgia resident Brandon Wade, who went missing at age three in 2002. His mother Paula Wade also disappeared at the time. Paula's coworkers at Sam's Club became concerned when she didn't show up for work one morning. They sent someone to Paula's apartment where no one appeared to be home. However, Paula's Chevy Blazer was there – with the child safety seat removed.
Police became involved and questioned Paula's roommate and his friend. The friend told officials where the bodies could be found, but only deer bones turned up at the location. Paula's husband, Staff Sergeant Lance Wade, stationed at Shaw Air Force Base in South Carolina, was cleared of any involvement. Although the area was searched extensively, no leads were uncovered as to the disappearance. Paula had been granted a job transfer to a Sam's Club in Kissimmee, Florida, and her father had been planning to help her move there at the time she disappeared.
To this day, no one knows the whereabouts of Paula or Brandon, whose nickname was Munchkin. Brandon would be 18 years old now.
Next: A girl vanished one night while catching fireflies.
9. Illinois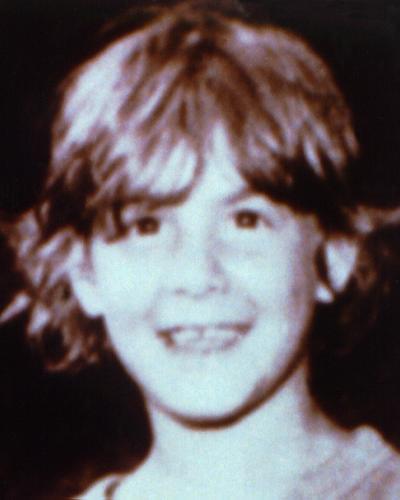 Number of reported missing children since 1994: 177
A 6-year-old vanished into thin air while catching fireflies.
In a 36-year-old case that is every parent's nightmare, six-year-old Joliet, Illinois resident Sarah Elizabeth Avon vanished playing outside one summer night in 1981. The blond-haired, brown-eyed girl was wearing a blue park district t-shirt and blue jogging pants, with four pigtails in her hair. Sarah was outside with her five-year-old sister Marie and some friends, catching fireflies. She walked across the street to ring the doorbell of another friend. She was never seen again.
At 9 p.m., when Marie came home but Sarah didn't, their mother Mary and other neighbors started a search and soon called the police. For the next night and day, searchers went door to door and looked under bushes. Firefighters dragged a nearby quarry, coming up with nothing.
Over the years, police kept searching. In 1993, a man on his deathbed told police his mentally-impaired nephew had murdered Sarah in 1981. The informant said his brother, the nephew's now-deceased father, had buried the body in what was now a vacant lot to protect his son. The lot was excavated later in the year, but nothing was found. Sarah's former babysitter had once lived in a residence on the lot. Sarah's whereabouts are still unknown. She would be 43 now.
Next: A missing teen had plans to become a nurse.
8. Colorado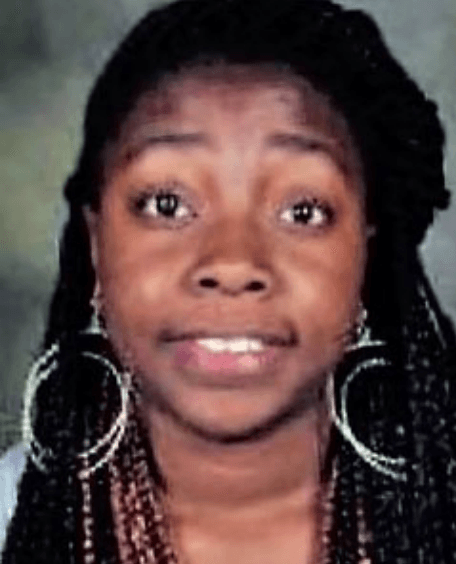 Number of reported missing children since 1994: 183
An honors student disappeared while waiting to start an internship.
In July 2016, Aurora, Colorado resident Lashaya Stine, 16, walked out of her home at night and never returned. Her mother remains convinced there was some foul play, especially because the teen's belongings, including her cell phone charger and movie tickets, were left behind in her bedroom. No extra clothes had been taken, either.
Street camera footage showed Lashaya walking down the street at 2:30 a.m. on the night she vanished. Her mother thinks her daughter is being held by sex traffickers since people have claimed to have seen her in a desolate area of cheap motels where prostitution is rampant. Around the time of her disappearance, the honors student had been looking at colleges with plans to become a nurse. She was set to start an internship at a hospital in coming months, her mother said.
Next: A body was never found after a fatal accident.
7. Ohio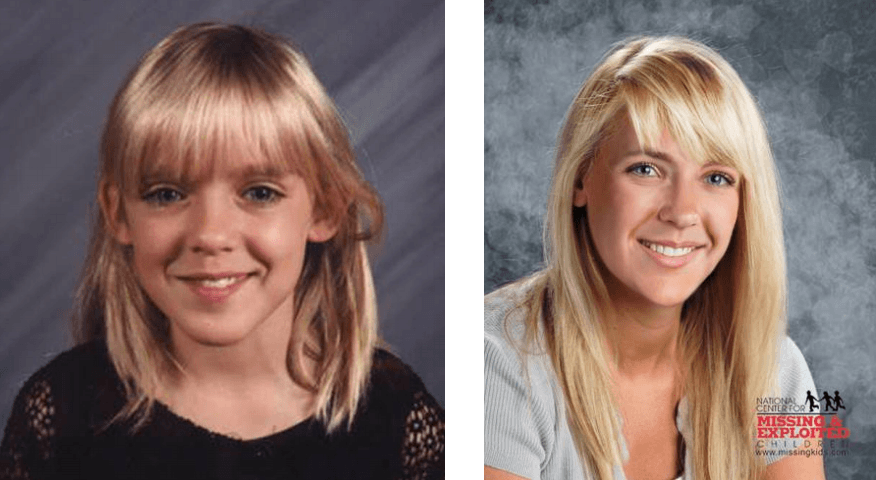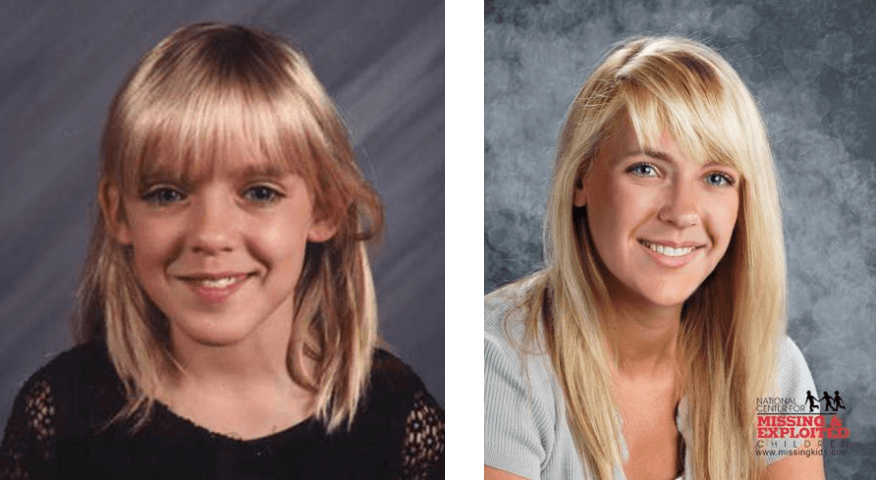 Number of reported missing children since 1994: 209
A fatal accident was reported almost 2 decades ago, but the body was never found.
In what has been called Miami Valley's greatest mystery, Kettering, Ohio resident Erica Baker hasn't been seen since she left to walk her dog on Feb. 7, 1999. The nine-year-old girl headed out around 3 p.m., wearing a pink rain jacket and blue jeans. When she later failed to return home, her grandmother called 911. Although the dog was soon found, there was no sign of Erica. A man named Christian Gabriel eventually admitted to accidentally striking Erica with his vehicle, killing her. He testified he hit Erica with his white van when she darted into a busy street full of parked cars. He stated he had buried the body.
Gabriel maintained he and a now-deceased accomplice had been shoplifting that day, fueled by drugs and alcohol that dulled his memory. As a result, he said has does not recollect where they buried Erica's body. Gabriel was convicted and served a complete prison sentence.
Sergeant Bob Green, the lead detective on the case for decades, isn't buying that Gabriel doesn't know the body's whereabouts. "Don't tell me he was drunk and then in detail told me the positioning of her body, how he rested it in the hole he dug, placed her arms across her chest and covered her face … you don't just bury an individual and not know where it happens and where you've done it," Green said in an interview.
Erica would be 28 years old now. Although it has been said with virtual certainty she is no longer alive, Erica remains missing.
Next: A story about a disappearance at Target changed several times.
6. Washington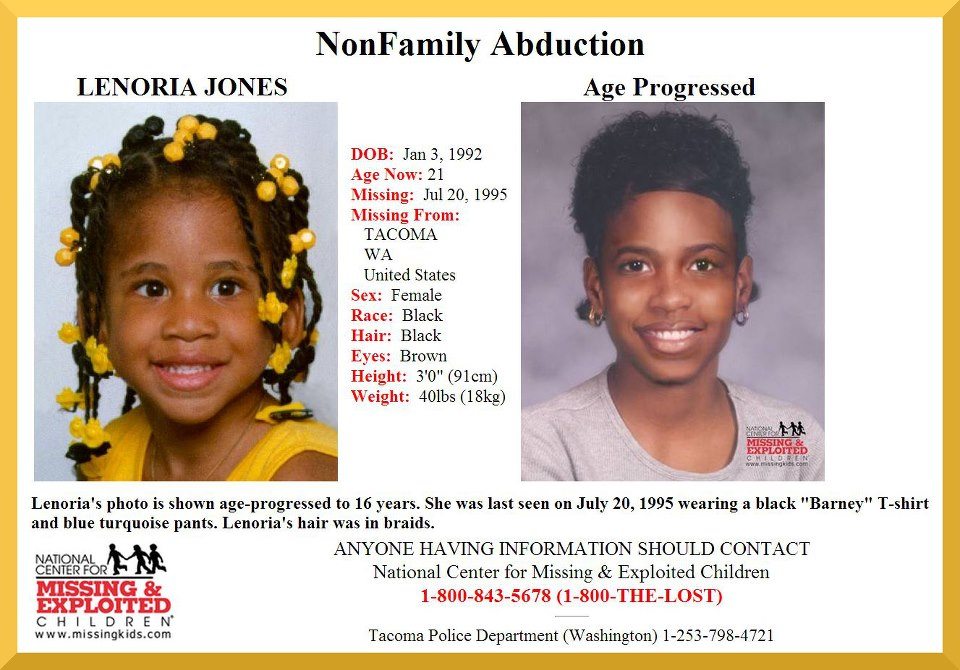 Number of reported missing children since 1994: 218
A toddler was reported taken from Target, but the story changed.
One perplexing case is that of Lenoria Jones from Tacoma, Washington, who went missing in 1995 at the age of three. Lenoria was last seen wearing a black Barney T-shirt and turquoise pants. She had braids in her hair. The little girl was in the legal custody of her great aunt, Berlean Williams, who also ran a daycare. On the day Lenoria disappeared, Williams first reported it to police an hour after it happened, saying the girl disappeared inside a Target store. When the security video only showed Williams walking into the store alone, she changed the story several times. Other scenarios she provided were Lenoria was abducted from the store's parking lot and that she was kidnapped near their home.
To this day, the case is still open, and Lenoria has not been found. Just days prior to her disappearance, she had gone on prescription medication for ADHD, and some investigators theorized she had overdosed on the pills. Others believe she is still alive in an unknown location.
Next: A teen disappeared after leaving for school.
5. New York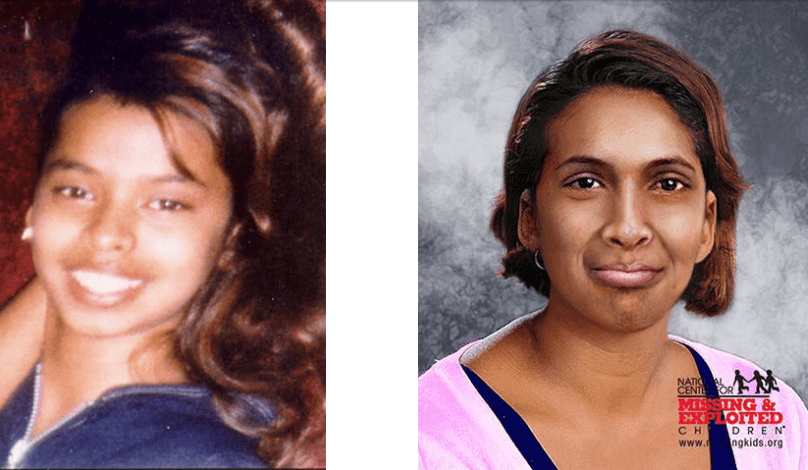 Number of reported missing children since 1994: 223
Deniese Hiraman has been missing since 1999.
In a New York case that doesn't seem to have garnered much media attention, Queens resident Deniese Hiraman, 13, vanished after leaving for school on Aug. 27, 1999. When she disappeared, the teen had brown hair with dyed blond highlights. Her nicknames were Pjnks and Pinky. She spoke English and fluent Guyanese. Authorities had classified her as a runaway for many years but changed her status to endangered missing.
Deniese was said to be involved in a gang and to have a fake ID that listed her age as 18. There have been reported sightings of her far from home, in places like Minnesota, Canada, and Trinidad. But no one knows her whereabouts with any certainty. Whether she left by choice also still remains a mystery. She would be 32 years old now.
Next: A girl vanished while waiting for the ice cream truck.
4. Arizona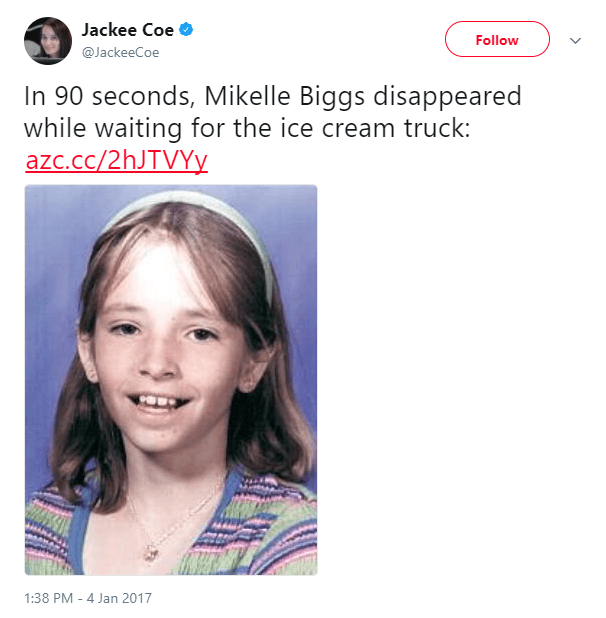 Number of reported missing children since 1994: 246
An 11-year-old girl vanished waiting for the ice cream truck in 1999 and is still missing.
One troubling missing child case that's hard to forget is that of Mikelle Biggs, an 11-year-old girl who vanished into thin air when waiting for the ice cream truck on her block in 1999. The hazel-eyed, blond-haired girl heard the truck's cheerful music and waited on her bike, holding two quarters. She planned to buy her favorite gumball popsicle. It was getting dark, so Mikelle's mom sent her nine-year-old daughter Kimber outside to bring Mikelle in.
When Kimber went outside, all she found was the white bike with purple ribbons on the ground, its wheels still spinning. The two quarters were also lying on the ground. A massive, highly-publicized search ensued, but no solid evidence was ever uncovered. No suspect was ever identified, and Mikelle remains missing to this day.
Next: An infant vanished from her crib in the night.
3. Florida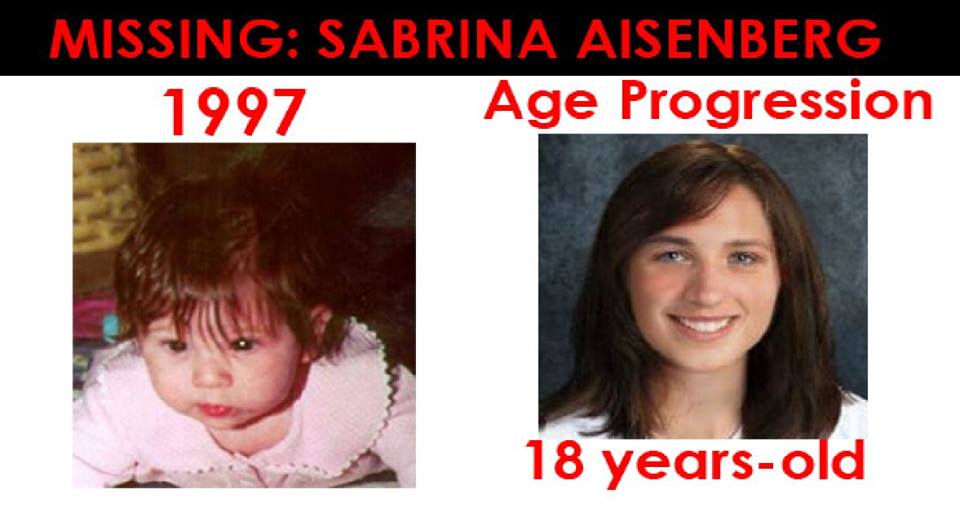 Number of reported missing children since 1994: 364
A baby was taken from her crib and never seen again.
In one particularly baffling Florida case from 1997, five-month-old infant Sabrina Paige Aisenberg vanished from her crib in the middle of the night. Her mother called 911 early the next morning, to say her baby was missing. A massive search ensued, within a five-mile radius of the home, bringing up nothing.
The parents were under heavy scrutiny for their lack of emotion during public appearances. They were investigated in the disappearance and eventually prosecuted, but the case was later thrown out. The Aisenbergs were compensated $2.9 million for prosecution made "in bad faith." Their home had been bugged during the investigation, with no conclusive results.
Colonel J.R. Burton, from the local county sheriff's office, was one of the investigators involved in the case. To this day, he carries a faded photo of baby Sabrina in his pocket. Both Burton and the Aisenbergs believe someone who wanted a baby may have snatched Sabrina from her crib, and that she is alive somewhere today. She would be 20 years old now.
Next: In a bizarre case, a foreigner impersonated a missing teen.
2. Texas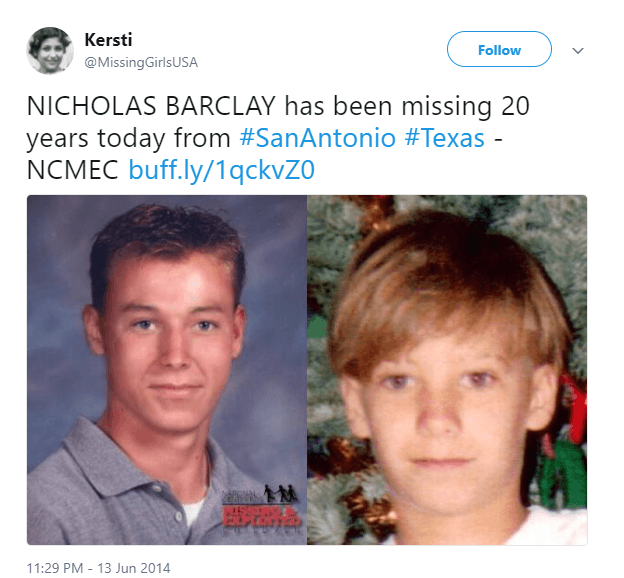 Number of reported missing children since 1994: 489
In a sensational case, an imposter tried to impersonate a missing teenager.
One intriguing Texas disappearance involving an imposter was that of Nicholas Barclay, 13, who vanished on his way home from a basketball court in San Antonio, Texas in 1994. There were no leads until three years later when police told Nicholas' family he had been located in a shelter in France. He had been a victim of a pedophilic ring, they said. A boy claiming to be Nicholas came home and lived in the house for three months before a private investigator outed him as serial con-artist Frederic Bourdin.
Prior to his disappearance, the real Nicholas was known for being troubled, and police had been called to the house to calm him down a number of times. He had a criminal record for theft, threatening a teacher, and breaking into a convenience store.
Interestingly enough, Bourdin, the impostor, told police the family never believed he was Nicholas. Bourdin believed Nicholas' older brother Jason was involved in foul play toward Nicholas. Incidentally, Jason had made an unsubstantiated call to police three months after the disappearance to say the boy was back and breaking into their garage. No evidence of that was ever found. Jason died of a drug overdose before he could be questioned further.
Whether or not Nicholas is still alive, he has never been found. He would be 36 years old now.
Next: A pre-schooler was taken from her bike.
1. California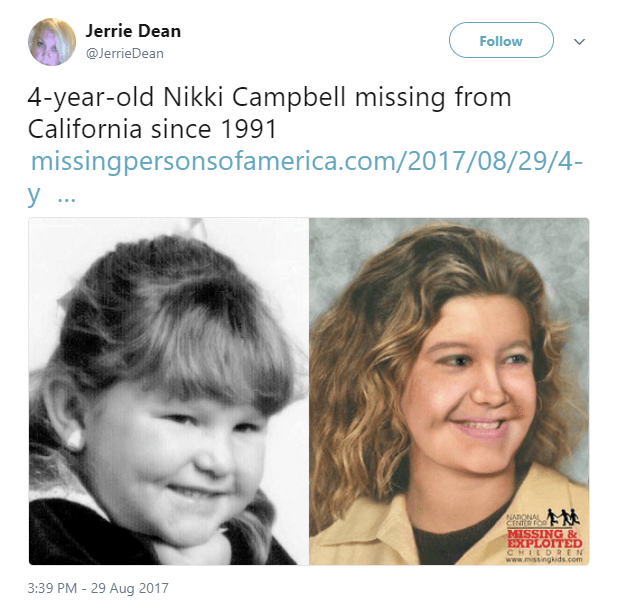 Number of reported missing children since 1994: 4,541
A pre-schooler disappeared riding her bike to a friend's house 8 doors down.
Based on listings on the National Center for Missing & Exploited Children website, California currently has 614 missing children – a number almost nine times the national average.
One haunting, unsolved case is that of Amanda Nicole "Nikki" Campbell who vanished while riding her bike two days after Christmas in 1991. The four-year-old was wearing Santa Claus earrings, a pink nylon jacket, and purple corduroy pants. Nikki left her brother and a friend around 5 p.m. to ride her bicycle to another friend's house around the corner, eight doors down from home. She never arrived and has not been seen again. Her abandoned bike was found a few blocks away later that evening.
Search dogs tracked Nikki's scent to a nearby McDonald's drive-through, then east to an on-ramp for Interstate 80. Authorities believed she had been pulled into a vehicle near her house. Two men were named as possible suspects, including a sewage treatment plant worker named Timothy Bindner, who had been sending birthday greetings to young girls in the area. Although Bindner was investigated in Nikki's case and other disappearances of young girls, no evidence was ever found linking him to the crimes. He sued Fairfield for defamation and received a $90,000 settlement in 1997.
To this day Nikki's disappearance remains unsolved. She would be 30 years old now.
Check out The Cheat Sheet on Facebook!