Danger at the Palace: The 1 Reason Security Just Got Even Tighter for the Upcoming Royal Wedding
Meghan Markle and Prince Harry have become one of the most talked about couples in the world ever since they announced their engagement in November 2017. But being such recognizable public figures also means they become targets.
In early 2018, a suspicious envelope containing a white powdery substance was sent to St. James Palace, which was the official residence of the royal family before Buckingham Palace. It was addressed to Prince Harry and his bride-to-be and was intercepted by mail handlers before it could make it to the pair.
The substance was later tested and found to be harmless. Given the anthrax scare though means that security at the couple's upcoming wedding will be even tighter now. Here's more on what police know about the package and how the threat is going to impact Markle and Harry's nuptials.
Threat is treated as 'racist hate crime'
Police are now looking for the person responsible for sending the parcel and are investigating the incident as a "racist hate crime" because of a message in the letter thought to be for Markle. Harry's fiancée had been the victim of racist abuse by online trolls in the past, but this is the first known physical threat directed towards her.
On Feb. 13, the day after the package sent to the royals was received, another suspicious letter with white powder was mailed to Parliament and addressed to Amber Rudd, the Home Secretary. That package was also found to be harmless and detectives are working to determine if there is a link between the letters.
Next: Staffers need to be protected. 

Palace staffers are given anti-radiation gear
Harry and Markle live at Nottingham Cottage, which is on the grounds of Kensington Palace so security there has been amped up. EWN reported that following the apparent anthrax scare, staffers at the palace were given anti-radiation protection gear.
"The staff tasked with opening letters are now on high alert," a palace source explained. "They have been given goggles and protective face masks as anthrax and other substances can kill if they are inhaled. Police officials have also given them gloves usually worn to handle asbestos."
Next: The royals have to constantly deal with threats.
Everyone from the queen to Prince George has been threatened
At some point in time, just about every royal has had a threat made against their life. The queen was threatened multiple times over the years, as was the late Princess Diana, Prince William, Prince Harry, and even Prince George.
The disturbing threat made against the young royal reportedly came from ISIS in 2017. Prosecutors said that a photo of little Prince George outside his school was allegedly posted on an app with the caption, "Even the royal family will not be left alone."
Next: Markle had to undergo special training. 

Markle has received hostage training
Because dealing with such threats is the reality of the world the royals live in, Markle has already received the necessary training required. The former actress has undergone specific training from the Special Forces unit of the British Army in the event that she is ever taken hostage.
"When you are part of the royal family, suddenly, you become a victim for ISIS, for a terrorist group, for a kidnapping," terrorism expert Robert Strang told Inside Edition.
Markle was taught things like how to cope mentally and physically, how to alert the authorities and loved ones, and how to stay alive in such a situation.
Next: This is how Markle is being protected.  

Markle has 24-hour security detail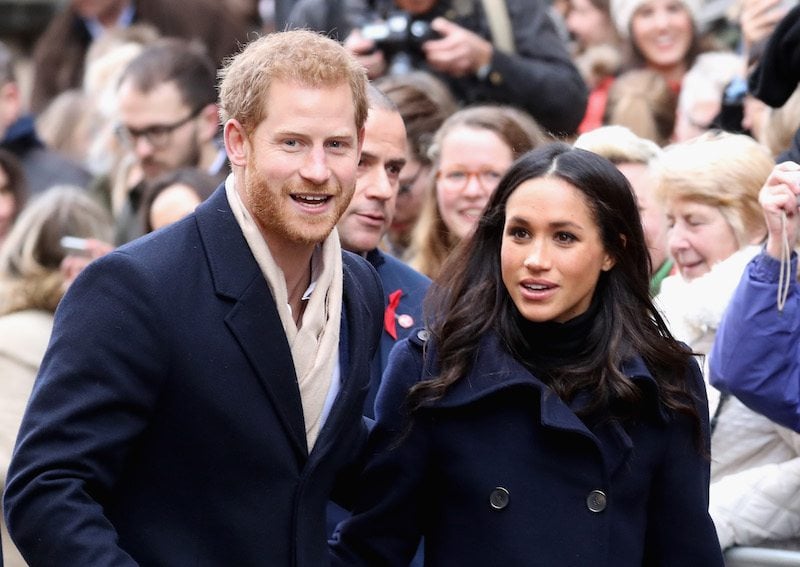 Even though she is not technically a royal yet, Markle had been assigned a 24-hour guard from the Royalty and Specialist Protection command long before the threat.
British security expert Robert Jobson told Us Weekly that the most recent scare, though, will put her detail on heightened alert as she and the prince are set to make several public appearances prior to their wedding.
This will have an impact on security to just make them more aware that there could be a threat. Her security could be looking into the crowds for this one person who is possibly targeting her, being more careful about her in public and likely go back and review any public statements she's made as of late to see if there could have been a trigger. But most likely this person is just sick.
Next: Increased security measures

Preparing for everything from stalkers to terrorists
Officials in London have been mapping security measures for the royal wedding for the last several months. Those plans, however, are under constant review, especially following any type of threat, as they must be prepared for everything from a terror attack to individual stalkers.
The Evening Standard reported that the Thames Valley Police have employed several tactics to stop any type of threat from an automobile. This includes spikes, which can be deployed in less than a minute, to stop a vehicle before it can be used as a weapon.
Next: The show must go on. 

Wedding will go on as planned
Despite the threat, Markle and Harry's wedding will take place as planned on Saturday, May 19, 2018, at St. George Chapel in Windsor Castle.
The two are scheduled to take a carriage ride through the streets to allow well-wishers the chance to catch a glimpse of them. During that time, police will be taking every precaution to ensure the couple's safety.
Follow Michelle Kapusta on Twitter @philamichelle.
Follow The Cheat Sheet on Facebook!