10 Amazing Locations From 'Midnight in Paris'
One of the greatest strengths of Woody Allen's 2011 film Midnight in Paris is that it functions like a dream tour of Paris, tapping into the way in which Gil (Owen Wilson) perceives and romanticizes the city. But the Paris that Allen photographs is very much real, even if it isn't filled with the ghosts of the 1920s and 1890s that permeate the screen. Here's a list of ten amazing locations from the film along with some information about where they are and their histories.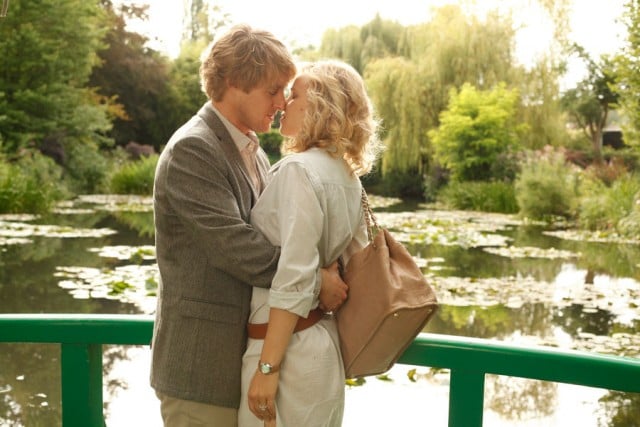 Monet's Garden
After a montage of various locations around Paris, the film truly begins with Gil in the garden of impressionist painter Claude Monet in Giverny. As Gil marvels at the garden, his fiancée is quick to shut him down. "You're in love with a fantasy," she tells him.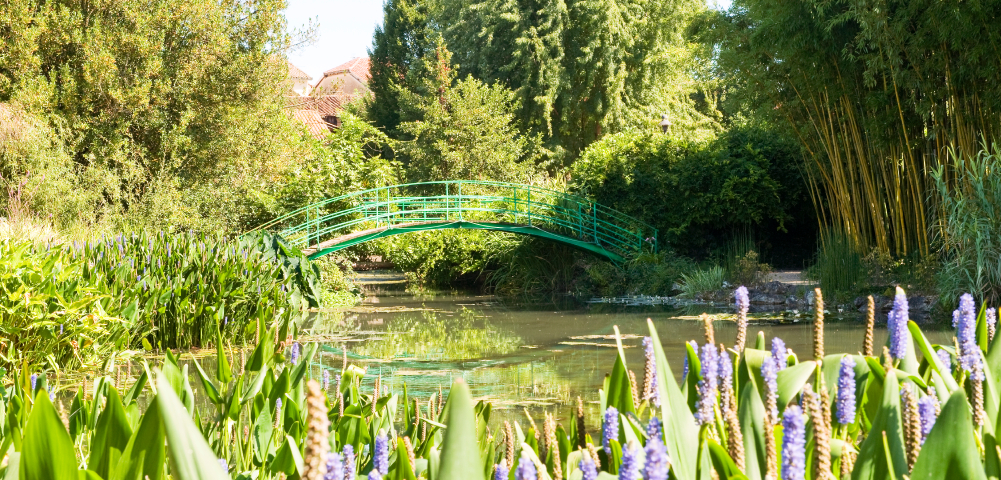 But the gardens in Giverny are no fantasy at all. Located just over an hour outside Paris, Claude Monet's gardens are available for public viewing. Visitors can see Giverny simply by taking a reasonably priced shuttle bus from Paris. Once there, stroll the gardens that inspired some of the world's most famous impressionist paintings — all for just 9.50 euros. The only element not provided for you in recreating this whimsical scene is the romantic companion — but that's a minor detail.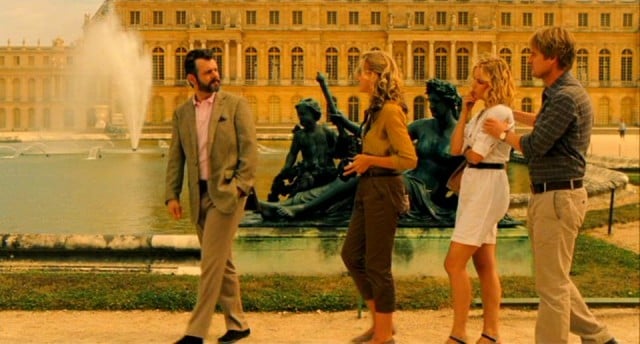 Château de Versailles
A day out with Inez's friend Paul quickly becomes a nightmare when it soon becomes clear that he's ready to throw down every bit of French historical knowledge he has, whether it's accurate or not. Add that to Inez's constant belittling of Gil's novel and Paul's altogether insufferable analysis of Gil's love of the 1920s and you have a scene that makes you grit your teeth while making you forget that the scene is playing out in front of one of the grandest sights in the world.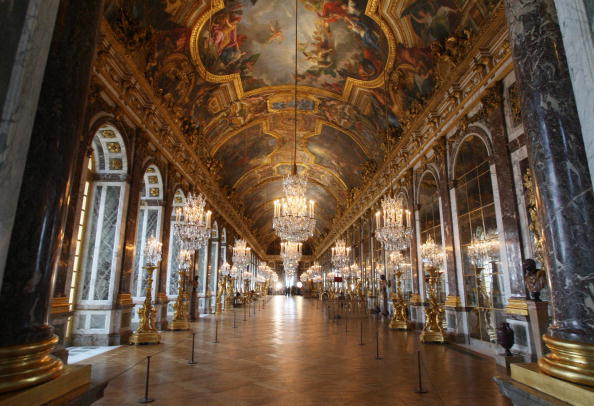 Versailles – France's center of political power from 1682 until the beginnings of the French Revolution in 1789 – is one of the world's most extravagant sights to behold. The palace is just a 40-minute drive outside Paris, and can also be accessed by rail. A combination pass to all three of the Château de Versailles tours — the palace grounds, the Trianon palaces, and Marie Antoinette's estate — costs 18 euros. For all the history and breathtaking sights you'll take in, this is a bargain.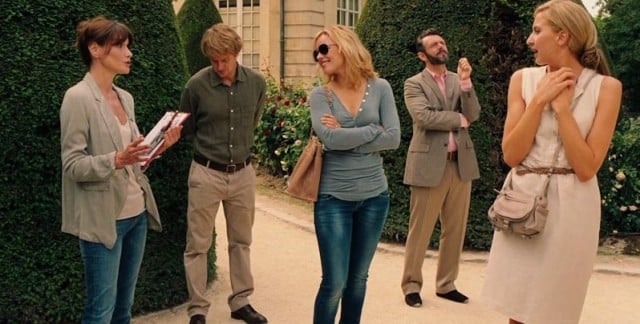 Musée Rodin
Next up on the Paul tour, Gil and Inez travel to the Musée Rodin. With Gil quietly steaming and Inez looking on in admiration, Paul then has the nerve to contradict a young tour guide insisting that his knowledge of Rodin's relationships is more accurate than hers.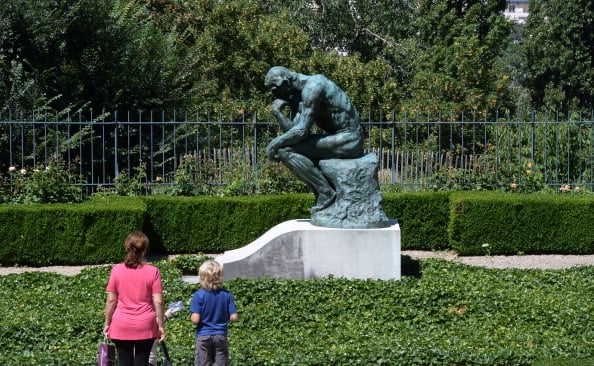 The Musée Rodin, conveniently located in Paris, is home to the largest collection of drawings and sculptures by French artist Auguste Rodin in the world. The most famous among these, perhaps, is Rodin's The Thinker sculpture. Tickets are 10.80 euros, with free admission to all permanent exhibitions taking place on the first Sunday of each month.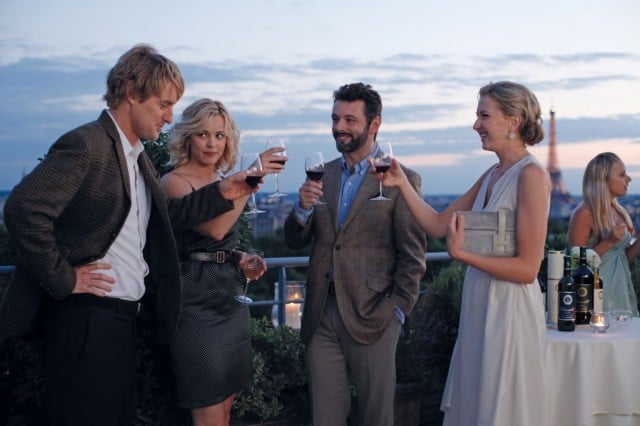 Le Meurice Hotel
After a painful day trip with Paul, the group retreats to a Le Meurice Hotel terrace overlooking the Eiffel Tower for a wine tasting. While Gil tries to drink away the day, Paul continues his pedantic speeches, this time about wine.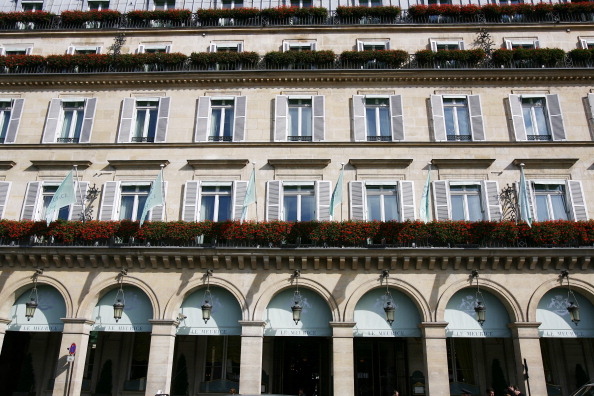 This site certainly comes at a price: Le Meurice is a 5-star hotel — directly adjacent to the Tuileries Garden — with balconies offering a panoramic view of the Paris cityscape. A classic room at the hotel starts at 670 euros ($906.95) per night, so start saving up now! Otherwise, try reserving a spot at one of the hotel's fine restaurants or bars to relive the movie magic.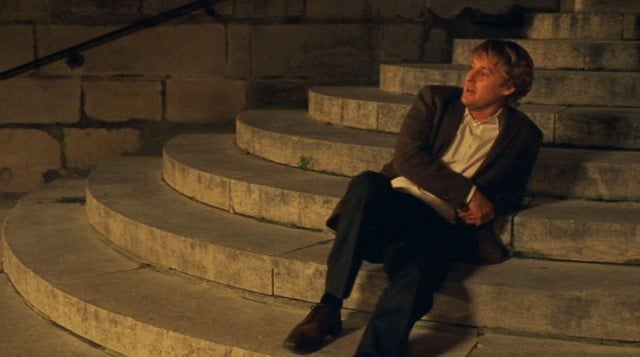 Église Saint-Étienne du Mont
It is on the front steps of the Église Saint-Étienne du Mont that Gil is first whisked away to the world of the 1920s and finds himself returning to every night in order to experience the era he romanticizes.
Also located centrally in Paris, Église Saint-Étienne du Mont contains the shrine of Saint Geneviève, the patron saint of Paris. What you miss out on in the film is the the cathedral's elegant interior, but be mindful as you tour; masses are still observed here throughout the week. After you've seen the stunning interior, take a seat on the outdoor steps to mimic one of the most surreal scenes in the film. You never know if a mysterious Peugeot might roll by…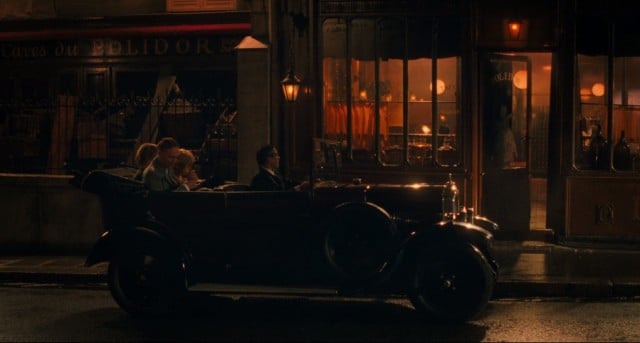 Le Polidor
It is at Le Polidor that Gil meets his idol, Ernest Hemingway, in a location that truly did house some of the greatest writers of the 1920s. Not only does Gil meet his idol, but he also receives advice in classic Hemingway fashion. "No subject is terrible if the story is true, and if the prose is clean and honest, and if it affirms courage and grace under pressure," he says when Gil asks if the premise to his novel is terrible.
Just steps away from L'Église is Le Polidor, a historic Parisian pub once visited by famous figures such as André Gide, James Joyce, Ernest Hemingway, Antonin Artaud, Jack Kerouac, and Henry Miller. The restaurant — which has changed little over the past 100 years — is still open and booming with business today. Stop by for a meal or a glass of wine — you may find yourself sitting where Hemingway (and Gil) once did.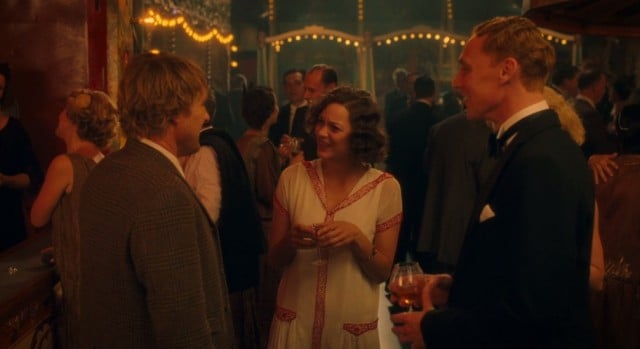 Musée des Arts Forains
During Gil's third trip to the 1920s, we see him dancing among a carnival-like, indoor location where he meets up with Adriana and the rest of the literary gang for another night of fun. It is also here that Gil finds himself falling for Adriana despite Hemingway's passes at her. "Have you ever shot a charging lion?" he asks. "Would you like to know how that feels?"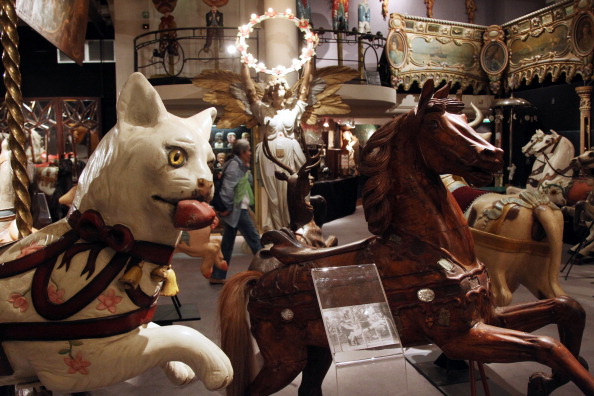 Musée des Arts Forains, created from the private collection of actor and antiques dealer Jean-Paul Favand, did not actually open to the public until 1996. Now, the space acts as a showcase of early 20th century carnival games and rides (including carousels, which visitors are welcome to ride.) Tours are available for 16.99 euros — a small price to pay for one of the most whimsical experiences out there. No guarantees you'll run into F. Scott and Zelda for the price of admission, though.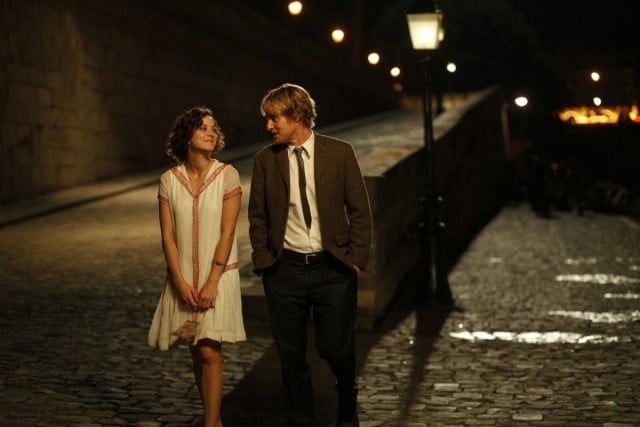 Quai de la Tournelle
After a night of partying with Hemingway, Fitzgerald, and the rest of the 1920s gang, Gil and Adriana take a quiet walk along the Quai de la Tournelle. But the quiet walk quickly turns chaotic when the pair discover Zelda Fitzgerald ready to throw herself in.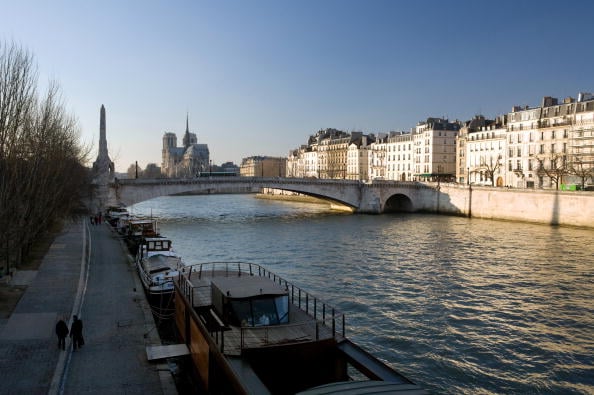 Few there are more romanticized than a stroll along Paris's Seine River, but perhaps that is with good reason. The Quai de la Tournelle is a well-known cobbled road on the Seine's southern bank. This sight is easy to enjoy — and free of charge. Zelda Fitzgerald won't be there, but that may be for the best in this case.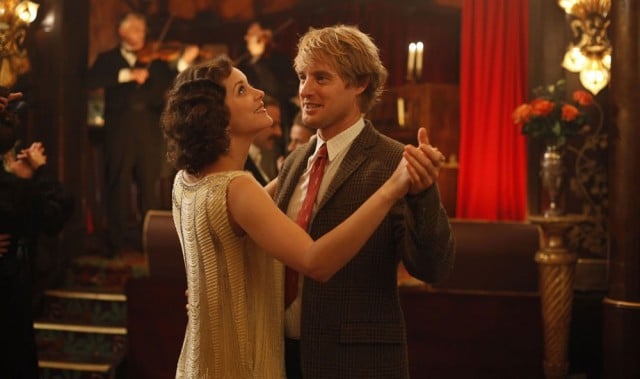 Maxim's de Paris
When Gil declares his love for Adriana in the 1920s, a horse-drawn carriage soon picks them up and sends them even further into the past — the 1890s, which happens to be what Adriana considers the greatest era. From there, they are taken to Maxim's de Paris where they meet Henri de Toulouse-Lautrec and soon after Paul Gauguin and Edgar Degas before going to the Moulin Rouge.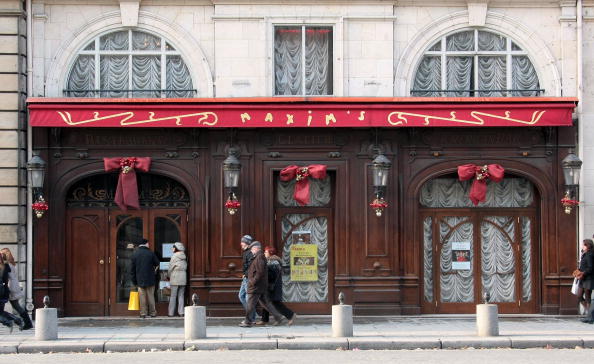 Maxim's de Paris, founded in 1893, is a bistro located just off the Champs-Élysées. Ever since its founding, Maxim's has been a celebrity hotspot, attracting the greatest minds of its time. Known visitors over the decades include Jean Cocteau, Marcel Proust, and Aristotle Onassis, among many others. (You may also recognize the restaurant from an extended sequence in the 2009 Quentin Tarantino film Inglourious Basterds.)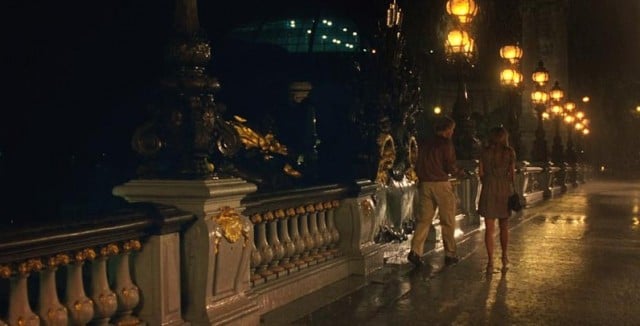 Pont Alexandre III
After Gil finally breaks up with Inez with the all-too-obvious realization that him and Inez are not at all meant for each other, Gil decides to move to Paris and runs into antiques dealer Gabrielle on the Pont Alexandre III late one night. Offering to walk her home, Gil realizes the pair might be meant to be when it starts raining and she tells him, "I don't mind getting wet." She adds, "Paris is the most beautiful in the rain."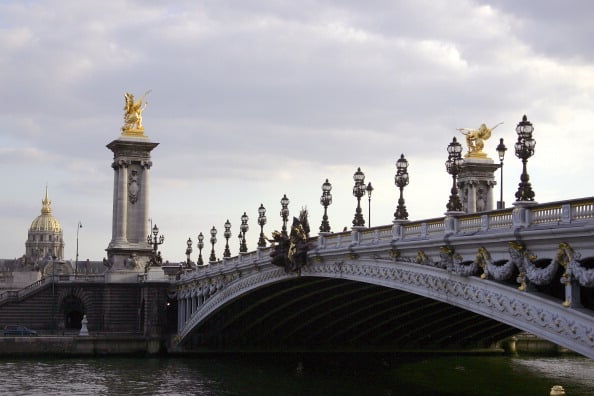 The Pont Alexandre III bridge, adorned with ornate sculptures and golden leafing, cuts across the Seine right in central Paris, connecting the city's Champs-Élysées quarter with the Eiffel Tower quarter. Paris is the city of love, and these are arguably its two most quintessentially romantic sections. It's doubtful there is a better place to find a soulmate than here!
Additional writing by Catherine Northington.
More From Wall St. Cheat Sheet:
Want more great content like this? Sign up here to receive the best of Cheat Sheet delivered daily. No spam; just tailored content straight to your inbox.