Love Sucks: 10 Songs For People Who Hate Valentine's Day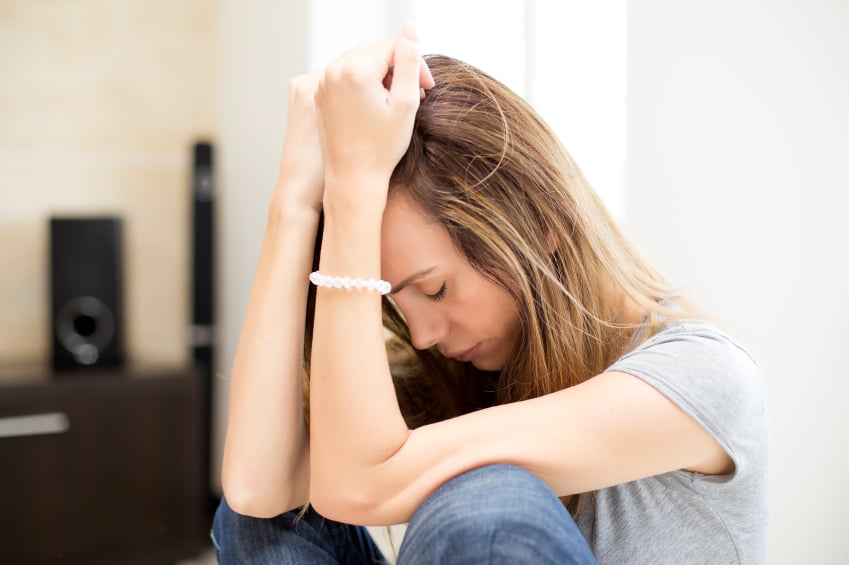 I already wrote a list of the best love songs to listen to with your sweetheart on Valentine's Day, but if you don't have a sweetheart, if you hate the whole Valentine's Day thing, or if some jerk had the nerve to dump you right before the most romantic holiday of the year, here are 10 songs to reaffirm the fact that, a lot of the time, love just sucks. These songs are about how love can make you drink, commit suicide, paint the world black, or just hang your head and cry.
1. 'Love Is Like a Bottle of Gin,' The Magnetic Fields
This subdued ditty smartly describes the myriad of ways in which love is like a bottle of gin — both good and bad. "It could make you regret your birth / or turn cartwheels in your best suit / It costs a lot more than it's worth / and yet there is no substitute," sings frontman Stephen Merritt in a deceptively cheerful melody.
2. 'Love Sick,' Bob Dylan
This eery introduction to 1997′s Time Out of Mind sounds like Halloween incarnate. "I'm sick of love / I wish I never met you," Bob Dylan growls over a staccato organ. The album, which is full of tortured songs about how awful love is, went on to win Album of the Year at that year's Grammys, where Dylan played "Love Sick" in a performance that'll make the hairs on the back of your neck stand up. "My feet are so tired/ my brain is so wired / and the clouds are weepin'," Dylan sings of the post-apocalyptic walk he takes in an attempt to cleanse his mind of a poisonous love.
3. 'Paint It Black,' The Rolling Stones
"I see a rainbow and I want to paint it black," Mick Jagger sings over Brian Jones' sitar riff. The song was supposedly about a funeral Mick Jagger witnessed, but who doesn't want to douse everything colorful with black paint when they're feeling heartbroken? Recorded for 1966's Aftermath, this Rolling Stones is a goth anthem and an ode to heartbreak, romantic or otherwise.
4. 'Heart-Shaped Box,' Nirvana
"I've been locked inside your heart-shaped box for weeks," Kurt Cobain sings in this tale of the trapped nature of obsessive love, which, like most of 1993′s In Utero, is rife with medical and fetal imagery. Being trapped in the tar pit that is love makes Cobain decide to become a parasite on his lover, eventually choosing to crawl back into her womb rather than attempt an impossible escape. "Throw down your umbilical noose so I can climb right back," he says.
5. 'Not About Love,' Fiona Apple
Honestly, you could put on almost any Fiona Apple album and find a perfect post-breakup misery song, but 2005′s Extraordinary Machine is the epitome of Apple's awful breakup chronicles. "What is this posture I have to stare at? / That's what he said when I was sittin' up straight," is just one venomous couplet from this bile-spewing song about Apple's tendency to be better at falling out of love than into it.
6. 'Back to Black,' Amy Winehouse
Winehouse's Back to Black album was famously written during the few months in which her and her future husband, Blake, were broken up. The album and especially this song are made more heart-wrenching in the aftermath of her death, as she fulfilled her own prophecy that she would never be able to live without her beloved Blake. In the music video we see Amy attending her own funeral, a funeral which, of course, would happen for real just a couple of years later. "We only said goodbye with words / I died a hundred times," Winehouse laments.
7. 'You Are My Sunshine,' traditional
Did you think this was a sweet little love song, something your mom might have sung to you as a lullaby? Well, the chorus is deceptive. Listen to the verses and you'll find this traditional folk song — which has been recorded by the Carter Family, Johnny Cash, and many others — is narrated by someone begging the love of their life not to leave them for someone else. The cheery chorus is turned on its head into a painful lament in the context of the heartbroken verses. "But if you leave me and love another / You'll regret it all someday," the song warns before launching into the plaintive begging of the well-known chorus.
8. 'I'm So Lonesome I Could Cry,' Hank Williams
The hillbilly Shakespeare is the master of the heartbreak song, and "I'm So Lonesome I Could Cry" is the heartbreak song to top all heartbreak songs. First written by Williams in 1949, it's one of many laments written about his wife, Audrey. The song has since been covered by a plethora of musicians and has lost none of its power. "The silence of a fallin' star / lights up a purple sky / As I wonder where you are / I'm so lonesome I could cry," Williams moans in lyrics that show how he got his nickname.
9. 'Cocaine Blues,' Johnny Cash
Of course, the moral of this song is that you should "lay off that whiskey / and let that cocaine be," but the narrator wouldn't have had to murder his honey and go on a bender in the first place if she hadn't been cheating on him. "I thought I was her daddy but she had five more," Cash snarls before moaning on the gallows, "I can't forget the day I shot that bad bitch down." It's the revenge fantasy to end them all, made all the more powerful by the fact that it was sung before a packed house of prisoners at Folsom, who may well have shot their own bad bitches.
10. 'Bang Bang (My Baby Shot Me Down),' Nancy Sinatra
This was originally written by Sonny Bono and was a big hit for Cher, but Nancy Sinatra slowed it down and upped the creep factor with that slithery guitar line. This song was largely forgotten until Quentin Tarantino used it for the credits in Kill Bill Vol. 1. "He didn't even say goodbye / He didn't take the time to lie / Bang, bang he shot me down," Sinatra sings about being abandoned by a childhood love.
Check out The Cheat Sheet on Facebook!