10 Best Picture Oscar Contenders You Don't Want to Miss
As 2013 winds down, award season for the film industry is heating up. This year, we've been treated to numerous remarkable films from seasoned Hollywood vets and exciting newcomers. But only a handful will go on to be nominated for the coveted Best Picture Academy Award. Between critical praise and box office success, these movies seem to have the best chances to go for Oscar gold.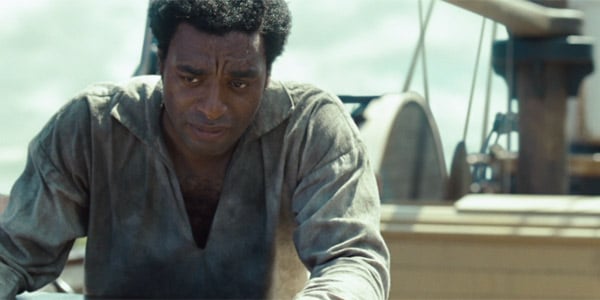 1. 12 Years a Slave
Some movies make you feel good — and some just make you feel. Steve McQueen's 12 Years a Slave is not a feel-good film — but it might be one of the most important movies of the 21st century.
It tells the true story of Solomon Northrup, a free man who's captured and sold into slavery in a pre-Civil War South. It features a large ensemble, led by Chiwetel Ejiofor in a revelatory performance as Northrup. It's a devastating, brutal, and completely memorable film, and one the Academy is almost sure to not forget when it's time to name its nominees.

2. All Is Lost
On paper, J.C. Chandor's All Is Lost may not sound like a captivating film. It features only one cast member, virtually no dialogue, and takes place almost entirely on a boat. But when translated to film, this survivalist story about what a man stranded at sea does is a heartbreaking, mesmerizing, cinematic wonder. It features a standout performance by Robert Redford, stunning cinematography, and several suspenseful moments that keep the viewer – and possibly the academy — on the edge of their seats.

3. American Hustle 
What do you get when you combine a thrilling real-life crime drama and some of Hollywood's most celebrated artists? American Hustle, a film that's made it to many industry insiders' Oscar shortlists. The film, set in the 1960s and 1970s, reunites last year's Best Actress Jennifer Lawrence with her Silver Linings Playbook cohorts Bradley Cooper and director David O. Russell. The film also features a handful of other previous Oscar winners and nominees, including Christian Bale, Jeremy Renner, and Amy Adams. This gifted cast, combined with a seasoned director and meaty story, could propel American Hustle to Oscar glory.

4. Before Midnight
Hollywood loves a love story, and the romance between Ethan Hawke and Julie Delpy's Before Midnight characters is a classic. The film is the last in acclaimed indie director Richard Linklater's heartfelt trilogy from acclaimed indie director Richard Linklater that began in Before Sunrise (1995). It follows Celine and Jesse as they find one another in Europe almost a decade after their first romantic encounter. Oscar has a history of recognizing finely crafted independent films, and Before Midnight has been called Linklater's "richest film." Will the Academy finally reward this acclaimed director with a Best Picture nod?

5. Blue Jasmine 
Woody Allen has a storied career and his latest comedy-drama, Blue Jasmine, is earning the writer, director, and actor some of his best reviews in years. The film follows Jasmine, a destitute former trophy wife who shacks up in her sister's cluttered, tiny San Francisco home. It features an unforgettable performance by Cate Blanchett, and highlights the best of Allen's filmmaking skills — sharp dialogue and idiosyncratic, memorable characters. He's already won a Best Screenplay statue — will he take home Best Picture this time around?


6. Captain Phillips
Academy voters often reward movies that depict harrowing real-life events. Paul Greengrass' Captain Phillips does this with gusto, which makes it a natural contender for the Oscar for Best Picture. It tells the story of Richard Phillips, a boat captain held hostage by Somali pirates. It puts the audience in suspense and keeps them there, making it a crowd-pleaser as well. Captain Phillips has been frequently praised for its direction, cinematography, and strong performances from Tom Hanks and Barkhad Abdi as the titular character and his captor.

7. Fruitvale Station
Like many other movies being named to the Oscar short list, Fruitvale Station is based on a true story. But what sets it apart is first-time director Ryan Coogler's realistic and heartbreaking take on the last 24 hours of Oscar Grant's life. The young man was shot and killed by two BART police officers who were called in break up a New Year's Eve fight in Oakland, California. The story made national headlines, and Coogler's stunning debut has earned him and breakout star Michael B. Jordan almost universal acclaim in Hollywood. Will Academy voters reward this brave filmmaker with top honors?

8. Gravity
It's rare that a movie earns nearly universal critical praise and enormous box office success, but Alfonso Cuarón's thriller, Gravity, has managed this feat. The film, about two astronauts stranded in space, features jaw-dropping cinematography, a nail-biting plot, and a tremendous performance from Sandra Bullock. It's one of a handful of best bets for numerous Oscar nominations, and it's a frontrunner to take home this year's top prize.

9. Inside Llewyn Davis
The Coen Brothers have already won four Academy Awards for writing and directing some of the most beloved movies of the last half-century. So it's no surprise that their most recent film, the musical comedy-drama Inside Llewyn Davis, comes up a lot when the industry talks Oscar. It tells the story of a young singer-songwriter trying to make it in 1960s New York. It's quirky, offbeat and stirring — and we'll likely be hearing a lot more about it once award season is upon us.

10. Nebraska
One of the best-reviewed films of the year, Nebraska has been cited as one of acclaimed director Alexander Payne's best. The film feels is an ode to family and nostalgia, and is fittingly shot entirely in black and white. It tells the story of a father and son, played by Bruce Dern and Will Forte, who take a road trip to the titular state to claim prize money. Nebraska has already earned accolades from the Cannes Film Festival — will it be recognized by the Academy, too?
Don't Miss: 5 Things We Can't Wait to See in 'Catching Fire'.