Family-Friendly Movies and TV Specials to Watch on Halloween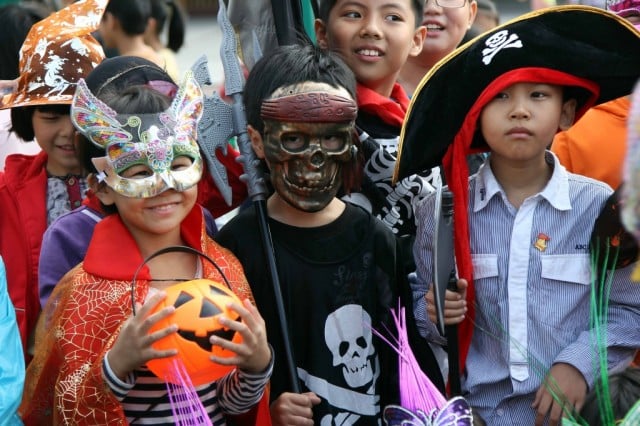 Since Halloween is a holiday that traditionally focuses on death and the supernatural, it's no surprise that many of the films about Halloween fall under the horror genre. While a few of these horror flicks may be appropriate for kids, most of them are probably not. Fortunately, there are also many non-horror movies and television specials about Halloween that won't risk turning your living room into a psychological trauma ward for your kids.
So if you're planning on spending the evening of October 31 curled up in front of the TV with your family, here are 10 great Halloween-themed movies and television specials that you can watch together. While the films and shows featured on this list were selected on the basis of personal taste, all of the selections are ordered according to their critical ranking on Rotten Tomatoes, from lowest to highest.
10. Halloween is Grinch Night (1977)

This largely-forgotten Halloween TV special was a prequel to the better known Dr. Seuss' How the Grinch Stole Christmas! In the film, the Grinch attempts to bring his mysterious and frightening "Paraphernalia Wagon" into Whoville on Halloween, which as the title indicates, is known by the Whos as "Grinch Night." However, the Grinch's plans to terrify the town are thwarted by one brave little Who.
Produced by Ted Geisel (Dr. Seuss) himself, Halloween is Grinch Night features fantastic animation and songs about the holiday. Although Halloween is Grinch Night currently has no rating from the critics at Rotten Tomatoes, it does have a 56 percent audience approval rating.
9. Scooby-Doo! and the Goblin King (2008)

Everyone's favorite gang of teenage detectives takes a crack at a Halloween mystery in this animated film that features the voice talents of actors such as Casey Kasem, Hayden Panettiere, Tim Curry, James Belushi, Jay Leno, and Lauren Bacall. After the Mystery, Inc. gang goes trick-or-treating on Halloween night, Shaggy and Scooby somehow end up in a supernatural kingdom where they must prevent an evil magician and his goblin army from taking over the world.
And he would have gotten away with it too, if it wasn't for those meddling kids. Scooby-Doo! and the Goblin King currently has no rating from the critics at Rotten Tomatoes, but it does have a 61 percent audience approval rating.
8. Garfield's Halloween Adventure aka Garfield in Disguise (1985)

This surprisingly dark animated short stars the lasagna-loving cat Garfield, his dimwitted canine companion Odie, and his long-suffering owner Jon. When Garfield and Odie go out trick-or-treating on Halloween night, the pair ends up running from pirate ghosts, thanks to Garfield's insatiable desire for sweets.
Besides garnering a Primetime Emmy Award for Outstanding Animated Program, Garfield's Halloween Adventure is also notable for its excellent soundtrack that features performances by Grammy Award-winning singer Lou Rawls. Although Garfield's Halloween Adventure has not been rated by the critics at Rotten Tomatoes, it has an average audience score of four out of five.
7. Ernest Scared Stupid (1991)

Ernest, the cartoonish yokel character played by Jim Varney in multiple television commercials and films, battles an army of evil trolls in this Halloween comedy film. If you've seen any other Ernest movies, then you should know what to expect in this film that features classic lines like, "How about a bumper sandwich, booger lips?"
Perhaps not surprisingly, Ernest Scared Stupid was not exactly critically acclaimed and the film currently only has a 17 percent approval rating from the critics at Rotten Tomatoes. On the other hand, almost half of all Rotten Tomatoes audience raters liked the movie. While Ernest Scared Stupid is marketed to children, some young viewers may find the troll character a little menacing (the other one, not the one played by Varney).
6. Hocus Pocus (1993)

Bette Midler, Kathy Najimy, and Sarah Jessica Parker play a trio of evil 17th century witches who are accidentally resurrected by a group of modern day teenagers on October 31 in this horror comedy film. As the witches search for a child to sacrifice to keep them alive past Halloween night, the teenagers look for a way to kill them once and for all. Although Hocus Pocus was panned by most critics when it was first released, it has since gained a loyal cult following.
While only 33 percent of the critics at Rotten Tomatoes gave Hocus Pocus a positive review, 70 percent of audience users said they liked the film. Although Hocus Pocus is classified as a family-friendly film, it should be noted that certain scenes in this movie may be too intense for younger children, including the opening scene in which the witches steal a child's soul.
5. Casper (1995)

Based on the cartoon character of the same name, this live-action film features Cathy Moriarty, Eric Idle, Ben Stein, Bill Pullman, and Christina Ricci. After Carrigan Crittenden (Moriarty) inherits an old mansion from her late father, she discovers that the house is haunted by a friendly ghost named Casper and his three obnoxious uncles. In an attempt to rid the house of the ghosts, Carrigan hires a ghost psychiatrist (Pullman), who has a daughter (Ricci) who is soon befriended by Casper. Ghostbusters star Dan Aykroyd also makes an uncredited appearance as a ghost exterminator.
Besides featuring appropriately spooky characters for October 31, the film also includes a Halloween party where Casper is granted his wish to spend one night alive. Although Casper was a commercial hit, it only garnered a 44 percent approval rating from the critics at Rotten Tomatoes.
4. Monster House (2006)

Several children investigate a malevolent house in this computer-animated film that takes place on Halloween night. The film features the voice talents of Steve Buscemi, Nick Cannon, Maggie Gyllenhaal, Kevin James, Jon Heder, Kathleen Turner, Mitchel Musso, Sam Lerner, and Spencer Locke. In the film, a group of children battle a haunted house that tries to eat anyone who gets too close.
Monster House received positive reviews from most critics and even garnered an Academy Award nomination for Best Animated Feature Film of the Year. The film currently has a 74 percent approval rating from the critics at Rotten Tomatoes who called Monster House "smart, monstrous fun."
3. It's the Great Pumpkin, Charlie Brown (1966)

Although made nearly 50 years ago, this beloved animated short is still regularly aired on television around Halloween each year. In the film, Linus convinces Sally to forego trick-or-treating in order to spend Halloween night with him in a pumpkin patch while he waits for the appearance of the legendary "Great Pumpkin." Meanwhile, Snoopy battles the notorious Red Baron in his Sopwith Camel fighter plane as Charlie Brown and the other Peanuts characters enjoy a Halloween costume party.
Like many of the other animated shorts based on Charles Schulz's Peanuts characters, It's the Great Pumpkin, Charlie Brown has been widely hailed as a holiday classic. It's the Great Pumpkin, Charlie Brown currently has a 94 percent approval rating from the critics at Rotten Tomatoes and the animated short received three Primetime Emmy Award nominations when it originally aired on TV.
2. The Nightmare Before Christmas (1993)

Although it was directed by Henry Selick, The Nightmare Before Christmas was conceived by famed director/writer Tim Burton, who also helped produce the film. Using a stop motion animation technique, the film tells the story of Jack Skellington (voiced by Chris Sarandon and Danny Elfman), a macabre, but loveable character who is the "Pumpkin King" of Halloween Town. In the film, Jack reveals he is bored with always celebrating the same holiday, despite his natural talent for Halloween festivities. After accidentally discovering Christmas Town, Jack becomes enamored with celebrating Christmas and decides to usurp Santa's traditional role.
The Nightmare Before Christmas was widely hailed by the critics upon its release and the film earned an Academy Award nomination in the category of Best Effects, Visual Effects. The critics at Rotten Tomatoes called the film "a stunningly original and visually delightful work of stop-motion animation" and gave The Nightmare Before Christmas a 94 percent "Certified Fresh" ranking.
1. E.T. the Extra-Terrestrial (1982)

While E.T. the Extra-Terrestrial may not fit the traditional definition of a Halloween movie, the events in the film actually take place around October 31 and E.T. even participates in traditional trick-or-treating activities while dressed as a ghost. Anyway, do you really need a reason to re-watch E.T. the Extra-Terrestrial?
This film about a loveable alien creature was a commercial hit and is regularly cited on critics' lists of the best movies of all time. The critics at Rotten Tomatoes gave the film a stellar 98 percent "Certified Fresh" rating and called E.T. the Extra-Terrestrial "a piece of movie magic for young and old."
Check out Entertainment Cheat Sheet on Facebook!