10 Famous Cars Fit for a Superhero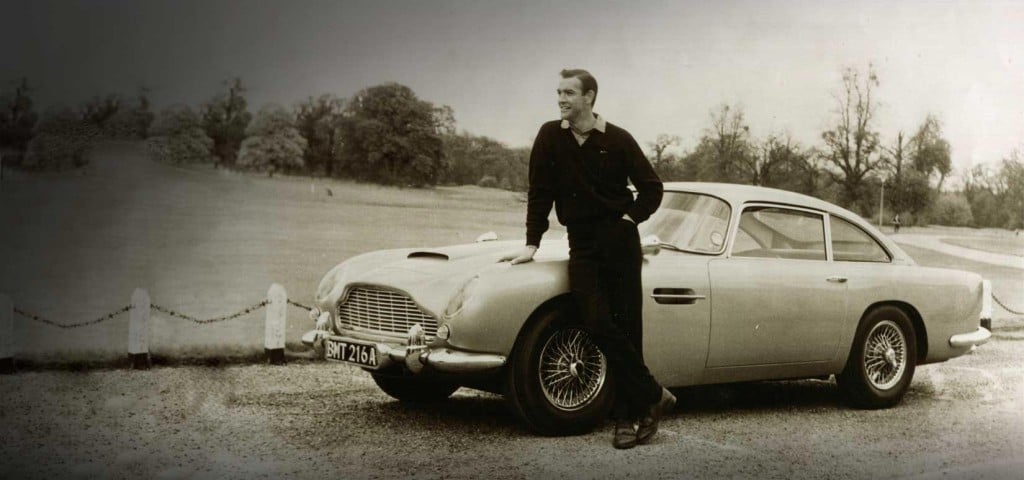 Superheroes represent the inherent good in human nature. More often than not, they put good and evil in easy to understand terms, and set in a world where the hero always wins, they're an altruistic model of what we all secretly want to be. With a combination of superpowers, intelligence, impossibly futuristic gadgets, and incredibly cool cars, they become pop cultural icons, and through comic books, TV shows, and movies, they have the power to entertain us for generations.
Because of the timeless appeal superheroes have, whenever their fictional worlds cross over into our own, the objects they use often become instant status symbols. Over the years, the creators of these crusaders have borrowed real-life cars from our universe and enlisted them in the great fictional fight against crime. As a result, many of these cars have taken on a life of their own, and have attained an added cultural status just from being associated with these fictional heroes.
When we think of James Bond, we think Aston Martin. Whenever a new Batman movie is in the works, just as much attention is paid to the what the new Batmobile looks like as the actor who plays Batman. Because of this, some real-life cars seem to be built just to attract the attention of a director or comic book writer. They're so close to what we think a superhero would drive, it's almost impossible to believe the car didn't come straight out of a comic book. On the other end of the spectrum, there have also been bona-fide classics that just happened to be the ride of choice for some of the most famous fictional heroes in history that just didn't have lasting appeal.
Between the icons, the pretenders, and the forgotten classics, here are 10 famous cars that are fit for a superhero.
1. 2015 Aston Martin DB10
He may not have superpowers, but no fictional hero's identity is as closely tied to a real-life carmaker than James Bond. For the upcoming Bond film Spectre, he'll be driving the impossibly beautiful DB10, an Aston Martin V8 Vantage-based dream car that was built specifically for the film. Unlike the iconic cars of Bond's past, the DB10 isn't available to the public – just 10 cars have been built, and all of them are being used for the new film.
2. 2013 Lamborghini Egoista
It may not come from the pages of a comic book, but the Lamborghini Egoista is the closest a major automaker has ever come to making a real superhero's car. Lamborghini built the car as a 50th birthday present to itself, and the one-seater hypercar looks more like a fighter jet than a street car. The Egoista is based on the Gallardo, and shares its 600 horsepower V10 engine. While Lamborghini had no trouble finding a buyer for the $4.9 million Lamborghini Venino, the company decided that it won't sell the Egoista at any price, and today the car sits in the Lamborghini museum.
3. 2012 Ferrari SP12 EC
A one-of-a-kind ride is essential to any discerning superhero, and while the Ferrari SP12 EC wasn't bought by a caped crusader, it was hand-built by Ferrari for one of the most legendary musicians of all-time. Designed to resemble the iconic 1973-1984 Ferrari 512BB, the SP12 EC was hand-built for Eric Clapton at a cost of $4.3 million. Based on the 458 Italia, the SP12 was built as part of Ferrari's One-Off program, which allows customers to have input on every level of their cars' design. The SP12 EC may not have been built for a superhero, but with that level of customization, it's hard to imagine a real-life Bruce Wayne wouldn't be interested in a program like this.
4. 2011 Jaguar CX75
Aside from being one of the most successful concept cars of the past decade, the Jaguar CX75 has the ignominious reputation of being one of the best cars never made. Even though Jaguar decided against building the 890 horsepower hybrid supercar, the public will get a better look at the car in the upcoming James Bond film Spectre. Unfortunately, the Jag is no hero car – it's reportedly the ride of choice for Bond's nemesis in the film.
5. 2004 Maybach Exelero
No car has ever looked like it belongs in a comic book more than Maybach's Exelero coupe. The one-off car was commissioned by German tire builder Fulda to test its next-generation extra wide tires. With a Mercedes-Benz twin-turbo V12 and styling that looks straight out of Batman: The Animated Series, the Exelero became an instant icon and appeared in a 2006 Jay-Z video for "Lost One." In 2011, rapper Birdman bought the car for $8 million. Unfortunately, there's no word on whether or not he uses the car to fight crime.
 6. 1965 Imperial Crown
Like Batman, the Green Hornet was a millionaire playboy who fought crime by night with a technologically-advanced car that always helped him catch the villain. In the 1960s, the short-lived TV series The Green Hornet had three stars: Van Williams as the Hornet, Bruce Lee as his sidekick Kato, and a ferocious looking customized 1965 Imperial Crown called "The Black Beauty." It was a fitting choice for a television millionaire – The Imperial Crown was Chrysler's top-of-the-line answer to the Cadillac Eldorado and Lincoln Continental. Off-screen, another black Imperial made news when it was given to Pope Paul VI in 1966, cementing the car's status as one of the best in the world. Nearly 50 years later, the Imperial reprised its role as the next-generation Hornet's automotive sidekick in the 2011 movie The Green Hornet.
7. 1964-1967 Sunbeam Tiger
The James Bond films were so popular in the 1960s that the super spy got his own weekly parody in the TV series Get Smart, which ran from 1966-1970. Created by comedy legends Mel Brooks and Buck Henry, the show centered around Agent Maxwell Smart and his slapstick misadventures against the evil KAOS organization. While Maxwell wasn't as slick as Bond, he had great choice in cars. Tiny British automaker Sunbeam enlisted Carroll Shelby to follow up on his Shelby Cobra by shoehorning a 289 cubic inch Ford V8 under the hood of their lightweight roadster to create the Tiger. The car was a popular (and cheaper) alternative to the Cobra until Sunbeam was bought by Chrysler, who discontinued the car rather than keep building them with Ford engines. Today the "Baby Cobra" is a legend in its own right, and RM Sotheby's sold a well-sorted example for $231,000 in 2014.
8. 1955 Lincoln Futura
The Lincoln Futura was already famous before it was taken out of retirement to become arguably the most famous Batmobile of all time. The Futura was a staple of the late-1950s auto show circuit and was featured in several Hollywood films, but by the 1960s, it sat languishing behind Hollywood car customizer George Barris' shop before it was transformed into in the 1966-1970 Batman TV series. The car was powered by a 368 cubic inch Lincoln V8 and built on a Continental Mark II chassis, but to keep up with a demanding shooting schedule, Barris built an additional four replicas of the car. The original Batmobile was kept by Barris for nearly 50 years. In 2013, he sold the iconic car at the Barrett-Jackson auction for a whopping $4.62 million.
9. 1951-1954 Nash Healey
Superman doesn't usually need a car, but Clark Kent does, and the man has good taste. In the 1952-1958 TV series The Adventures of Superman, Clark Kent gets around Metropolis in a gorgeous silver 1952 Nash Healey convertible. The car was a collaboration between Nash Motors, Healey Automobiles of England, and Italian design house Peninfarina, who designed the car before rising to fame as Ferrari's designer of choice. While the Corvette has gone down in history as "America's first sports car," The Nash Healey beat Chevy's sports car to showrooms by a full two years. Even though it was good enough for Superman, the Nash Healey never quite caught on. Today, the rare sports car is a valuable piece of automotive history. In 2014, this all-original roadster was sold by RM Sotheby's for $85,250.
10. 1949 Mercury Eight Convertible
Before Batman had a Batmobile built to handle the post-apocalyptic terrain wrought by Gotham's worst villains, he was driving a mid-range convertible bought at a Ford dealership. In the 1949 low-budget serial film Batman and Robin, the Caped Crusader and his sidekick sped around Gotham City in a stock Mercury while fighting a mysterious villain called The Wizard. Despite its lack of superhero credibility, the Mercury wasn't a bad choice for Batman's ride. It's sleek styling and easily-tuned flathead V8 made the all-new car a huge hit with the burgeoning hot rod movement. A 1949 Mercury made another big-screen appearance a few years later as James Dean's car in Rebel Without a Cause. Today, the low-slung Mercury is considered an icon of the era. Unmodified examples fetch a premium in the collector car market. This nicely-restored Eight was sold in 2014 by RM Sotheby's for $74,250.
These 10 cars are all famous in their own right, and their hero-worthy status makes them that much more impressive. They're a reminder that while lust-worthy superpowers may only exist in fiction, luckily these cars exist in reality. A great car has a personality all its own. It makes a statement everywhere it goes and usually says something about the person who drives them. With these 10 cars, it would be hard not to feel like a superhero behind the wheel.
Check out Autos Cheat Sheet on Facebook
More from Autos Cheat Sheet: