10 Great TV Shows to Catch in 2014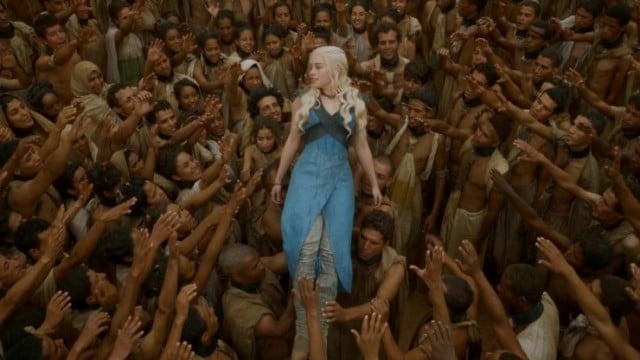 With the advent of video-streaming services like Netflix and the increasing popularity of cable television network shows, fans of great television entertainment are no longer limited to only watching shows produced by the major broadcast networks anymore. Fortunately, the increased competition appears to have encouraged all the networks to step up their game this year. While there are many established fan favorites that are returning to the tube this year, there are also several newcomers that are already generating positive buzz. Here are ten new and ongoing shows to keep an eye on in 2014.
Game of Thrones (Season 4 concluded June 15)
Who will sit on the Iron Throne? HBO's hit medieval fantasy television show based on George R. R. Martin's A Song of Ice and Fire series of novels returned for its fourth season in 2014. While fans who have read the source material may already know about some of the exciting events in store this season, the rest of us only know that those dragons aren't getting any smaller. The exciting fourth season of Game of Thrones is available in its entirety if you have the right service.
Turn (Season 1 concluded June 8)
Among the basic cable networks, AMC appears to be most adept at creating hit television shows and Turn could be another big hit for the network. This historical thriller is set during the American Revolutionary War and purports to tell "the untold story of America's first spy ring." According to AMC, the show is based on the real Culper Ring spy ring. With popular shows such as The Walking Dead, Mad Men, and Breaking Bad already under its belt, AMC may already have a guaranteed hit with Turn. 
Mad Men (Season 7 Part I concluded May 25)
Besides giving viewers zombies and meth manufacturers, AMC has also created a hit show that centers on a 1960s era advertising agency in New York. Don Draper and company returned for the first part of a two-part seventh season on April 13, while the second half of the season is scheduled for spring of 2015. The critically-acclaimed series garnered consecutive Emmy Awards for Outstanding Drama Series in 2010 and 2011. According to AMC, the seventh season will be the final season of the series.
Orphan Black (Season 2 concluded June 21)
This Canadian science fiction thriller deals with a conspiracy revolving around illegal human cloning. Thanks to the show's subject, viewers got to see versatile actress Tatiana Maslany play multiple different characters throughout the first season. Despite flying under the radar at last year's Emmy Awards, Orphan Black has been steadily gaining a loyal fan base. The second season of ten episodes premiered on BBC America on April 19.
Fargo (Season 1 concluded June 17)
If you haven't seen one of the many oddly mesmerizing teasers for Fargo yet, then you haven't been watching enough TV. Produced by the Coen brothers and based on their Academy Award-winning film of the same name, the new television series may have be one of the most anticipated new series of 2014, and for good reason. The eclectic, yet stellar, cast includes Billy Bob Thornton, Martin Freeman, Bob Odenkirk, Kate Walsh, and Oliver Platt. Fargo premiered on FX on April 15.
Salem (Season 1 concluded June 22)
Basic cable channel WGN America has tried to emulate AMC's multiple successes with original programming when it debuted Salem, its first original-scripted series, on April 20. While the show is ostensibly based on the real Salem witch trials that took place in colonial Massachusetts, the premise of Salem is that the people targeted in the witch hunt are actually real witches.
Black Box (Season 1 concludes July 10)
ABC debuted a new show in April about Catherine Black, a renowned neuroscientist who treats patients with rare and unusual mental illnesses at a facility known as "the Cube." However, Black also secretly struggles with her own mental illness. Black Box premiered on April 24  on ABC.
The Walking Dead (Season 4 concluded March 30)
Like HBO's Game of Thrones, AMC's The Walking Dead is more of a cultural phenomenon than it is a television show. This show about a post-apocalyptic world plagued by flesh-eating zombies consistently achieves strong Nielsen ratings, and the fourth season has proven to be no different. According to TV by the Numbers, the first episode of the current season attained a record 16.1 million viewers. With more to come next season, it's never too late to get into this show that is beloved by fans and critics alike.
Parks and Recreation (Season 6 concluded April 24)
Although NBC's mockumentary-style comedy series about the parks department of a small town in Indiana initially struggled with inconsistent ratings, the show has gradually won critical acclaim and cult status among fans. The show stars Amy Poehler as an endlessly optimistic bureaucrat, and the cast includes Nick Offerman, Aubrey Plaza, Aziz Ansari, Chris Pratt, and Adam Scott. According to TV by the Numbers, NBC has already confirmed that Parks and Recreation will return for a seventh season.
Community (Season 5 concluded April 17)
NBC's comedy series about a group of students at a community college in Colorado is known for its many pop culture references and self-referential jokes, and it has steadily garnered a cult following since it premiered in 2009. The show stars Joel McHale, Gillian Jacobs, Danny Pudi, Alison Brie, Jim Rash, Yvette Nicole Brown, and Ken Jeong. Community is has finished its fifth and final season on NBC, though there are many hoping that it could get picked up by another network, like Hulu or Netflix, for a sixth season..
More From Wall St. Cheat Sheet:
Follow Nathanael on Twitter (@ArnoldEtan_WSCS)