10 Noteworthy Books Being Released This Summer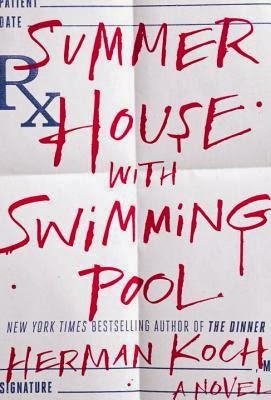 When you picture your summer, it probably involves you spending warm days lying on a beach reading a good book. Fortunately, there is a great selection of new books coming out this summer, ensuring you'll have a good beach read to enjoy. Whether you're in the market for a touching memoir, a scary thriller or a quirky read about relationships, this list has you covered. Pack your beach bag, bring your sunscreen and don't forget to check out (at least) one of these books. 
1. Summer House with Swimming Pool
Author Herman Koch, who also wrote The Dinner – set entirely at a meal between four terrible people — will release Summer House with Swimming Pool on June 3. This book, much like The Dinner, gives readers some honest insight into humanity. "A doctor who specializes in treating celebrities is forced to explain the death of a famous actor on his operating table less than a year after their families spent an eventful vacation together," according to The Week. Dr. Marc Schlosser certainly isn't upset that actor Ralph Meier is dead, but he can't let people know that — his reputation is at stake.

2

. The Book of Unknown Americans

Cristina Henríquez's latest book, set to be released June 3, centers around Arturo and Alma Rivera, who move from Pátzcuaro, Mexico to Delaware. The Rivera's move in hopes of securing a good education for their teenage daughter, Maribel, who has suffered a traumatic brain injury. But their struggles only continue upon their arrival. Arturo works 10 hours a day at a mushroom farm, and Alma worries about Maribel incessantly. Located in the same apartment building is Mayor Toro, who is the son of Panamanian immigrants. He falls in love with Maribel, a move that could potentially tear the families apart. "Evoking a profound sense of hope, Henríquez delivers a moving account of those who will do anything to build a future for their children — even if it means confronting the fear and alienation lurking behind the American dream," writes Publishers Weekly.

3. Mr. Mercedes
What kind of summer would it be without a scary Stephen King book to read? King's novel, Mr. Mercedes, starts off with a bang — Mercedes mows down eight people who are lined up for a job fair, according to the New York Post. Bill Hodges, a retired detective near suicide, decides life is still worth living after he randomly receives a letter from the one criminal who got away, otherwise known as "the Mercedes Killer." Determined to not let him get away again, Hodges sets out to discover who "the Mercedes Killer" is. Along the way, he finds love with the woman who hired him to look into the case. Mr. Mercedes will hit stores June 3.

4. The Matchmaker
Elin Hilderbrand 13th novel, The Matchmaker, will be released June 10. The book follows 48-year-old Dabney Kimball Beech, the Nantucket Island Chamber of Commerce director. Beech also happens to be a talented matchmaker with a great track record. She's managed to set up 42 couples, and they're all still together. But Beech is faced with a problem when she realizes her own daughter likes the wrong man, and more problems ensue when Beech's high school flame returns to the island, according to the New York Post.

5. Let the Tornado Come
Set to be released June 24, Rita Zoey Chin's novel captures the importance of holding on to hope no matter what the situation may be. Flavorwire writes that the memoir captures the thoughts of an 11-year-old girl who runs away to avoid her father's violence and mother's hostility. She's thrown into a dangerous world of drugs and predatory older men, but one days spots a field of horses galloping along a roadside fence. The sight of the horses gives her hope and peace, and she's able to overcome her childhood struggles. As a grown-up, the mother and award-winning poet "searches for something better than her trauma — and, again, finds something like redemption with horses," says Flavorwire.

6. Friendship
This is Emily Gould's first fiction piece (out July 1), which centers around two 30-year-old women, Bev Tunney and Amy Schein, who are barely getting by in New York City. Amy is a has-been blogger who was beginning to develop a bit of fame before being fired. She finds solace with Bev, a struggling writer, and the two bond over their constant struggles. Boyfriends, rent increases, job problems — you name it and they're struggling with it. However, when one of the girls finds out she's pregnant, their relationship starts to change, threatening the pair and their once-great friendship, per the New York Post.

7. California
On July 8, Edan Lepucki will release her first full length novel, California, a book set in California, of course. It's a post-apocalyptic book that follows a young couple, Cal and Frida, who are just trying to survive in a small shack in the wilderness, according to The Millions. The couple faces many of the same problems people face today, including marital issues and pregnancy. But, on top of that, they're also dealing with the end of society and the hardships and isolations that come along with it.

8. The Hundred-Year House
Rebecca Makkai's second novel, The Hundred-Year House will be released July 10. The book begins in 1999 with Doug and Zee (husband and wife) living in the coach house of Zee's parents' estate, a former artists colony on Chicago's North Shore. Doug is a struggling writer who is trying to finish a monograph of poet Edwin Parfitt. Zee, a professor at a local college, is plotting how to destroy a colleague in order to make room for her husband on the faculty. But, when Zee's mother's second husband allows his son and daughter-in-law to move in to the other apartment in the coach house, the group dynamic begins to shift. The plot continues to thicken when Doug discovers a secret about Zee's family that he can't share with her.
Makkai then leads the reader back in time to the 1950s when Zee's mother, Grace, was banished by her family to the mansion with her abusive first husband as punishment for marrying him. When readers hit the book's third section, they're taken back even further, to the 1920s. The owner of the mansion is plotting to shut the colony down, but the colonists make a plan to prevent that from happening. This is the scheme that Doug happens to discover decades later. "The book is exceptionally well constructed, with engaging characters busy reinventing themselves throughout, and delightful twists that surprise and satisfy," according to Publishers Weekly.

9. Bad Feminist: Essays
Author Roxane Gay is well-known in the online world as an essayist, commentator, and literary citizen, according to Flavorwire. Bad Feminist: Essays is chock full of powerful essays that take readers through Gay's journey as a woman. She also takes readers on a ride through the cultural changes that have occurred in the last few years, while commenting on where feminism is at today. She is able to give readers insight into feminism, women, and our culture as a whole. Bad Feminist is set to be released August 5.

10. Colorless Tsukuru Tazaki and His Years of Pilgrimage
Haruki Murakami's novel, Colorless Tsukuru Tazaki and His Years of Pilgrimage, will be published in the U.S. on August 12. The Los Angeles Times says the book sold more than one million copies the first week of its release in Japan last April, while translations have topped bestseller lists in Germany, Spain, and Holland. The novel is about 36-year-old Tsukuru Tazaki who decides to reconnect with old friends in order to figure out why they rejected him. His four best friends — Mr. Red, Mr. Blue, Miss White, and Miss Black — are different from Tazaki because of his name. He's "colorless" because he is the only one of his friends whose name doesn't symbolize a color. Tazaki is alone, and he's on a mission to find out why.
More From Wall St. Cheat Sheet: