Jane Fonda's Top 10 Movie Performances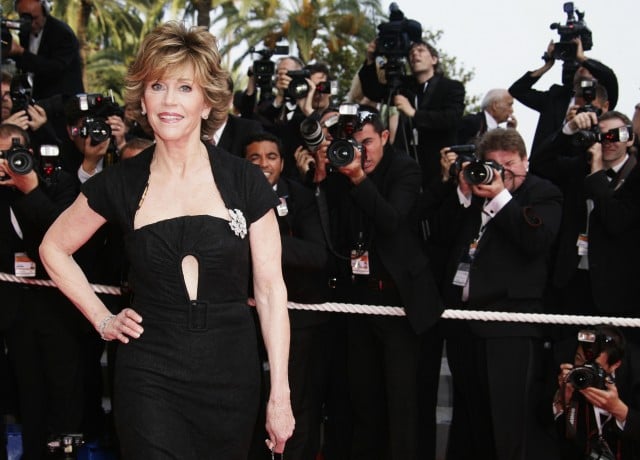 Actress, activist, and onetime aerobic video star Jane Fonda was honored as the 42nd recipient of the American Film Institute's prestigious Life Achievement Award on Friday. As the daughter of legendary actor Henry Fonda and sister of Peter Fonda, Jane Fonda seems to have acting in her DNA, and the AFI Life Achievement Award is the crowning achievement on a long and successful career in film.
The AFI tribute event featured many of Fonda's friends and costars from her many films who shared stories about the actress, including tales about her well-known political activism. Fonda was an outspoken opponent of the Vietnam war, and her infamous visit to North Vietnam in 1972 cemented her reputation as a controversial political activist.
Whether or not you agree with her political views, there is no question that Fonda is one of the most talented actresses working in the film industry today. Across an acting career that spans six decades, she has garnered an impressive seven Academy Award nominations. Two of those nominations resulted in wins in the category of Best Actress in a Leading Role — for her performances in 1972's Klute and 1979's Coming Home. In honor of this actress's recent AFI Life Achievement Award, here are 10 of Fonda's most memorable movie roles.
10. Cat Ballou (1965)
Fonda's portrayal of the title character in this Western musical comedy is widely considered to be her breakout role and garnered a Golden Globe nomination. In this film, Fonda plays Cat Ballou, a schoolteacher who becomes an outlaw in order to avenge her father's death.
The film was nominated for five Academy Awards and earned costar Lee Marvin his first and only Oscar for Best Actor in a Leading Role. Besides Fonda and Marvin, Cat Ballou also stars Michael Callan and Dwayne Hickman.  The film is notable for its use of musical interludes featuring songs performed by Stubby Kaye and Nat King Cole.
9. Barbarella (1968)
While Fonda's performance as the space-traveling title character of this science fiction comedy did not win her any critical acclaim, it did solidify her status as a sex symbol. The film was a commercial flop at the time of its release, but it has since acquired a cult following and has morphed into one of Fonda's most iconic films. Barbarella is based on a French comic book series of the same name and was directed by French filmmaker Roger Vadim, who was Fonda's husband at the time.
8. They Shoot Horses, Don't They? (1969)
Only a year after delivering a hammy performance in Barbarella, Fonda had an opportunity to demonstrate her dramatic acting chops in the Sydney Pollack-directed They Shoot Horses, Don't They? Fonda garnered rave reviews and her first Academy Award nomination for her performance as Gloria, an embittered young woman who enters a grueling dance marathon during the Great Depression in order to win a sizeable cash prize. The film was nominated in nine Academy Awards categories and secured costar Gig Young a Best Actor in a Supporting Role win for his portrayal of Rocky, the dance marathon's master of ceremonies.
7. Klute (1971)
Fonda's performance as a psychologically damaged call girl in this Alan J. Pakula-directed film won her multiple acting awards, including her first Oscar for Best Actress in a Leading Role. Donald Sutherland costars as the title character, a private detective who is investigating the disappearance of a company executive who may have been involved with Bree (Jane Fonda). As it becomes clearer that Bree is being stalked, she finds herself developing feelings for Klute. Besides Fonda's tour de force performance, Klute is also notable for being the first installment in Pakula's so-called "Paranoia Trilogy" that includes The Parallax View and All the President's Men.
6. Coming Home (1978)
Reflecting many of Jane Fonda's own views on the Vietnam war, the story of Coming Home revolves around the difficulties faced by returning veterans. In the film, Fonda plays the wife of a departed Marine who begins an affair with a paraplegic veteran she meets at a hospital. Starring Jon Voight as her paralyzed paramour and Bruce Dern as the cuckolded husband, Coming Home was a critically acclaimed and commercially successful film that won Fonda her second Oscar for Best Actress in a Leading Role. Voight won an Oscar for Best Actor in a Leading Role, while the film also secured an Oscar for Best Original Screenplay.
5. The China Syndrome (1979)
This topical thriller about a cover-up of safety violations at a nuclear power plant came out shortly before the notorious Three Mile Island nuclear plant accident in Pennsylvania. In the film, Fonda plays a reporter investigating the cover-up, Michael Douglas plays her cameraman, and Jack Lemmon plays a nuclear plant supervisor who provides evidence for her investigation. The China Syndrome garnered four Academy Award nominations, including a Best Actress in a Leading Role nomination for Fonda.
4. 9 to 5 (1980)
Costarring Dolly Parton and Lily Tomlin, this Colin Higgins-directed comedy allowed Fonda to once again demonstrate her versatility as an actress. While Fonda did not collect any awards for this role, Parton's theme song for the movie was nominated for an Academy Award, and the film itself was commercial hit.
Earlier this year, Netflix (NASDAQ:NFLX) announced a new original comedy series called Grace and Frankie that will star Fonda and Tomlin and debut next year. Grace and Frankie will be the first project that Fonda and Tomlin have collaborated on since appearing together in 9 to 5.
3. On Golden Pond (1981)
Featuring Jane Fonda's father, Henry Fonda, in his last movie role, On Golden Pond tells the story of a difficult relationship between a father and a daughter that closely mirrored Jane Fonda's own experience with her father. The film was nominated for 10 Academy Awards and took home three, including Best Actor in a Leading Role for Henry Fonda and a Best Actress in a Leading Role for Katharine Hepburn.
2. The Morning After (1986)
The Morning After features the last of the seven Academy Award-nominated performances currently found on Fonda's acting resume. This Sidney Lumet-directed mystery tells the story of a woman who wakes up next to a dead man and can't remember what happened the night before. Jeff Bridges costars as an ex-policeman who believes the woman is innocent of murder.
1. Lee Daniels' The Butler (2013)
Although Fonda had a relatively minor role in this historical drama that is loosely based on the life of a real White House butler, she won critical praise for her portrayal of Nancy Reagan. Fonda was also included in a Screen Actors Guild Award for Outstanding Performance by a Cast in a Motion Picture nomination. Perhaps even more importantly, Nancy Reagan liked Fonda's portrayal of her, according to E! Online.
More From Wall St. Cheat Sheet:
Follow Nathanael on Twitter @ArnoldEtan_WSCS