The Best Foreign Gangster Movies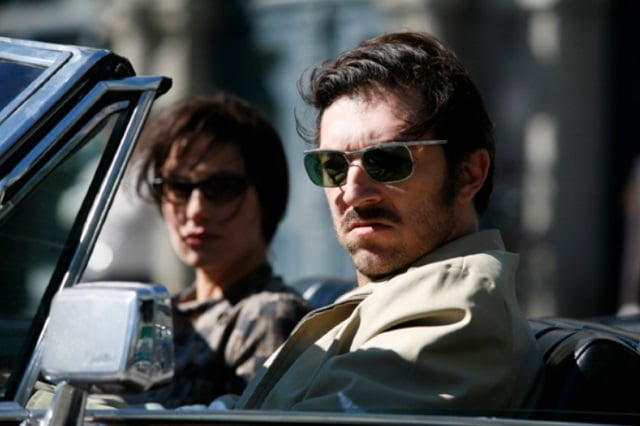 Movies about gangsters have been a fixture of American cinema for almost as long as the medium has existed. From director Mervyn LeRoy's seminal "talkie" film Little Caesar in 1930, to Martin Scorsese's critically acclaimed Goodfellas in 1990, gangster films have been enthralling audiences for generations. The Godfather — director Francis Ford Coppola's 1972 film about an American mafia family — is even considered by many movie buffs to be the greatest film ever made.
Of course, America is not the only country in the world to have produced some great movies about gangsters. Some of the best gangster films to have ever been made feature criminals in other countries. For a broader perspective on how organized crime is portrayed in films from around the world, here are ten great foreign gangster movies that every fan of the genre should see. Movies are listed in order of their critical rankings on Rotten Tomatoes, from lowest to highest.
10. Mesrine: Killer Instinct and 9. Mesrine: Public Enemy Number One (2008)
Directed by Jean-François Richet and starring Vincent Cassel in the titular role, this two-part film series tells the true story of notorious French gangster Jacques Mesrine. During the 1960s and 1970s, Mesrine became a celebrity criminal in France and Canada after dozens of high profile crimes, including bank robberies, murders, prison escapes, and the kidnapping of a millionaire. Since Mesrine's ultimate fate is revealed in the opening scene of the first movie, most of the tension in these films comes from watching the unbelievable, yet true, events of this gangster's life unfold. "When the 'To be continued' announcement flashes up at the end of Mesrine Part One, I couldn't believe two hours had gone by," wrote The Guardian film critic Peter Bradshaw.
Mesrine: Killer Instinct and Mesrine: Public Enemy Number One were also praised by many U.S. critics when the films were released here in 2010. Roger Ebert gave the first film 3.5 stars and noted that "This is too much man for one movie." Both films currently have 82% Certified Fresh ratings from the critics at Rotten Tomatoes.
8. Tsotsi (2005)
Director Gavin Hood helmed this Academy Award-winning film that offers a sympathetic portrayal of a South African youth forced to become a gangster in order to survive. In the film, Tsotsi (Presley Chweneyagae) is the leader of a brutal street gang that robs people around the Johannesburg slum where they live. After a violent carjacking leaves Tsotsi in charge of a 3-month-old baby, the gangster finds his life changing in unexpected ways.
This unconventional gangster movie received positive reviews from most critics and won the Oscar for Best Foreign Language Film in 2006. "The film avoids obligatory violence and actually deals with the characters as people," wrote Roger Ebert in his four-star review. Tsotsi currently has an 82% Certified Fresh approval rating from the critics at Rotten Tomatoes.
7. Sexy Beast (2000)
Ben Kingsley turns in a mesmerizing and uncharacteristically menacing performance in this British gangster film directed by Jonathan Glazer. In the film, safe-cracker Gary "Gal" Dove's (Ray Winstone) peaceful retirement in Spain is disrupted when an old criminal acquaintance, Don Logan (Ben Kingsley), unexpectedly shows up to enlist his help for one last job. Although Gal makes it clear that he is not interested in participating in the heist, Don refuses to take no for an answer, resulting in a violent showdown.
Glazer's directorial debut was well received by the critics, with many praising Kingsley's tour-de-force performance as the sociopathic Don. "Kingsley's performance has to be seen to be believed," wrote Roger Ebert. "He's angry, seductive, annoyed, wheedling, fed up, ominous and out of his mind with frustration. I didn't know Kingsley had such notes inside him. Obviously, he can play anyone." Kingsley's performance earned him an Oscar nomination for Best Actor in a Supporting Role in 2002. Sexy Beast currently has an 86% Certified Fresh rating from the critics at Rotten Tomatoes.
6. Sonatine (1993)
Just as America has produced hundreds of gangster films about the Italian-American Mafia, Japan has a long tradition of making movies about the yakuza. Since there are so many great yakuza films that have been made, it is hard to pick just one. That being said, Sonatine is a stellar example of a fairly recent yakuza movie that garnered widespread critical acclaim. Takeshi "Beat" Kitano wrote, directed, and starred in this film about Murakawa, a veteran yakuza enforcer who is getting weary of the gangster lifestyle. After being ambushed at a yakuza meeting, Murakawa and several of his men retreat to a quiet seaside town where they pass the time playing games and waiting for things to cool down. Unfortunately, several of Murakawa's enemies have no intention of leaving him in peace.
Notable for its disconcerting combination of beautiful scenery with unexpected violence, Sonatine was well received by many critics and helped cement Kitano's reputation as an auteur. "[Sonatine] shows how violent gangster movies need not be filled with stupid dialogue, nonstop action and gratuitous gore," wrote Roger Ebert in his 3.5-star review of the film. Sonatine currently has an 88% approval rating from the critics at Rotten Tomatoes, although it is lacking the required number of reviews to achieve the Certified Fresh label.
5. Sin Nombre (2009)
Written and directed by Cary Jôji Fukunaga, this film tells the story of a young Honduran girl who becomes involved with a Mexican gang member while trying to immigrate to the U.S. In the film, Casper (Edgar Flores) is a member of a brutal street gang that preys on immigrants who are traveling to the U.S. by stowing away on the tops of trains. Despite his affiliation with the gang, Casper becomes friends with several immigrants after he prevents a fellow gang member from raping a young Honduran named Sayra (Paulina Gaitan), who is traveling with her father and uncle. Unable to return to his gang, Casper joins the immigrants heading north.
Filled with beautiful imagery despite its violent storyline, Sin Nombre earned positive reviews from most critics. "It is riveting from start to finish," wrote Roger Ebert in his four-star review of the film. Sin Nombre currently has an 89% Certified Fresh approval rating from the critics at Rotten Tomatoes.
4. City of God (2003)
Directed by Fernando Meirelles and adapted from a semi-autobiographical novel of the same name by Paulo Lins, City of God provides a bleakly realistic look at the violent gangs that control many of the poor neighborhoods surrounding Rio de Janeiro, Brazil. In the film, three young friends who grow up together take separate paths to avoid falling victim to the gangs. Two of the characters become opposing gang leaders, while the third renounces the violence of gang life and takes up photography.
City of God was praised by most critics and garnered four Oscar nominations in 2004. "It's a movie with all the dials cranked up to 11, an overwhelming, intoxicating assault on the senses, and a thriller so tense that you might have the red seat plush in front of you — or even some unfortunate's hair — gripped in both fists," wrote The Guardian film critic Peter Bradshaw. City of God currently has a 90% Certified Fresh approval rating from the critics at Rotten Tomatoes.
3. Gomorrah (2008)
Director Matteo Garrone weaves five separate stories of people affected by gangsters in this film about organized crime in Naples, Italy. From an haute couture tailor working in a mob-run garment factory, to a family of farmers involved in an illegal toxic chemical dumping operation, Gomorrah shows how organized crime has corrupted all levels of Italian society. Based on a non-fiction book of the same name by Roberto Saviano, Gomorrah is notable for its realistic and unromantic portrayal of the everyday lives of gangsters and the people they victimize.
"It is not a mob film in the classical vein, because there is no Scarface or central boss figure with whom we are tacitly allowed to become fascinated," noted The Guardian's Peter Bradshaw.  "There are just scattered villains and victims, filmed with loose, freewheeling energy and attack." Gomorrah currently has a 92% Certified Fresh approval rating from the critics at Rotten Tomatoes.
2. Infernal Affairs (2002)
Directed by Andrew Lau and Alan Mak, this Hong Kong cop thriller tells the story of a police officer and a triad member who infiltrate each other's organizations. After finding out that they each have a mole in their organizations, both men race to uncover each other's identities. The gangster posing as a police officer is played by Andy Lau, while the undercover cop posing as a gangster is played by Tony Leung. The triad leader and police superintendent who planted the moles are played by Eric Tsang and Anthony Wong, respectively.
If the plot of Infernal Affairs sounds familiar to you, it is probably because Martin Scorsese remade the film as The Departed in 2006. Like The Departed, Infernal Affairs also received widespread critical acclaim for its clever storyline and great performances. "Infernal Affairs is a gripping thriller with grandstanding drama, muscle-clenching suspense and two great action leads in Tony Leung and Andy Lau," wrote The Guardian's Peter Bradshaw. Infernal Affairs currently has a 95% Certified Fresh approval rating from the critics at Rotten Tomatoes.
1. A Prophet (2010)
Directed by Jacques Audiard, A Prophet tells the story of Malik, a naïve French youth who becomes involved with gangsters after being put in prison for assaulting a police officer. Although Malik (Tahar Rahim) is of Arab descent, he becomes involved with a group of Corsican gangsters after they force him to assassinate a fellow Muslim prisoner. Despite his association with the Corsicans, Malik is soon befriending other Muslims in the prison, as he transforms from helpless prisoner to powerful gangster.
A Prophet received widespread critical acclaim when it made its debut at the Cannes Film Festival in 2009, where it won the Grand Prize of the Jury. It also garnered a Best Foreign Language Film Oscar nomination in 2010. The critics at Rotten Tomatoes gave A Prophet a 97% Certified Fresh rating and called it "a French gangster film filled with arresting, immediate details."
All movie cast, crew, and awards information courtesy of IMDb.
Follow Nathanael on Twitter @ArnoldEtan_WSCS
Check out Entertainment Cheat Sheet on Facebook!