11 New Books to Read This December
From autobiographies to mystery thrillers, here are 11 new books to look out for this December:
1. The Strange Library by Haruki Murakmi, December 2
The internationally renowned author, whose Colorless Tsukuru Tazaki and His Years of Pilgrimage topped The New York Times bestseller list earlier this year, returns with this illustrated short novel. The 96-page book follows the story of a boy is held captive by an old man during a visit to his local library. Also held captive in the library are a beautiful, mute girl who brings him meals and a subservient sheepman. Together, the three plot their escape from the nightmarish library.
2. When Books Went to War: The Stories that Helped Us Win World War II by Molly Guptill Manning, December 2
The novel provides an enlightening and fascinating account of America's efforts against Nazi Germany's practice of burning books during World War II. In 1943, the U.S. government, along with librarians and publishers, launched a program to send books to American troops — millions of small, lightweight paperbacks that soldiers carried in their pockets and their backpacks and turned to during the most brutal stages of war. Manning's thoughtful, powerful story gives an in-depth look at these books and a relatively unknown piece of World War II history.
3. Woman With a Gun by Phillip Margolin, December 2
The compelling thriller from the bestselling author centers on an intriguing photograph that may contain long-hidden answers to the mystery of a millionaire's murder. The novel follows aspiring writer Stacey Kim, who becomes obsessed with a black-and-white image taken by acclaimed photographer Kathy Moran, and soon the woman in the photo is actually a suspect in a 10-year-old murder investigation. Determined to solve the case, Kim embarks on a mission to find and speak to elusive Moran in order to get answers.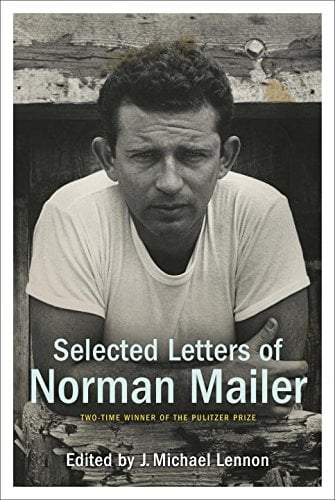 4. Selected Letters of Norman Mailer, December 2
Over the course of a nearly 60-year career, Norman Mailer wrote more than 30 novels, essay collections, and nonfiction books, but he also penned more than 45,000 personal letters. Compiled by Mailer's authorized biographer, J. Michael Lennon , this collection puts together the most fascinating pieces of correspondence, spanning over seven decades and including letters to his family, friends, fans, political figures (including Bill and Hillary Clinton) and cultural icons (like John Lennon). Together, the letters provide a genuine, in-depth autobiographical portrait of one of the most acclaimed American writers of all time.
5. The Boston Girl: A Novel by Anita Diamant, December 9
The novel, from the New York Times bestselling author of The Red Tent and Day After Night, is told through the eyes of a young Jewish woman, Addie Baum, growing up in Boston in the early twentieth century. Born in 1900 to immigrant parents who were suspicious of America and its effect on their three daughters, Addie grew up in the North End and ends up getting introduced to an entirely new world filled with new opportunities. Now an 85-year-old grandmother, Addie tells the story of her life to her 22-year-old granddaughter, beginning with 1915 and continuing through the years. Her story is a fascinating depiction of a woman's complicated life, growing into her own and finding her place in a changing society.
6. The Keeper: A Life of Saving Goals and Achieving Them by Tim Howard, December 9
The soccer icon and famed goalkeeper recounts his rise to athletic stardom in this inspiring memoir. In The Keeper, Howard recalls his childhood in New Jersey, being raised by a single mother who instilled in him a love of sports and a devout Christian faith, as well as his struggles with Tourette's syndrome beginning in the fifth grade. He also reflects back on his 15-year professional career — from becoming the youngest player to win MLS Goalkeeper of the Year to becoming an overnight sensation after his record-making performance with the United States Men's National Team.
7. Five by Ursula Archer, December 9
The first adult novel from this well-known young adult author follows the investigation into the murder of a woman whose body is discovered in a meadow. As detective Beatrice Kaspary from the local murder squad and her colleague Florin Wenninger begin diving further into the case, they make a series of gruesome discoveries. In her effort to seek answers, Kaspey puts her life on the line to find the perpetrator and uncover his twisted motives.
8. Moriarty by Anthony Horowitz, December 9
From the bestselling author of The House of Silk, this thriller mystery explores the dark and complex world of detective Sherlock Holmes and his arch nemesis, Professor Moriarty, in the aftermath of their fateful struggle at the Reichenbach Fall. With a new criminal mastermind looking to fill the void after Moriarty's death, Pinkerton detective agent Frederic Chase and Scotland Yard Inspector Athelney Jones must traipse through the darkest corners of London to track down the threatening figure.
9. We Should Hang Out Sometime: Embarrassingly, a True Story by Josh Sundquist, December 23
Fans of YA will enjoy this bright, poignant, and funny autobiographical account from Josh Sundquist, a Paralympic ski racer, YouTube star, and motivational speaker, who recounts what it was like to come of age as an amputee cancer survivor. Sundquist tracks down the girls he dated in the past and asks them what went wrong — often getting answers that are both hilarious and cringe-inducing. As awkward as they sometimes are, the stories of his misadventures are genuine and engaging in Sundquist's voice.
10. Fifty Mice by Daniel Pyne, December 30
Alcatraz show runner and screenwriter Dan Pyne's latest novel follows the story of Jay Johnson, an average 30-something guy who gets abducted on a Los Angeles Metro train. His abductors tranquilize and interrogate before obliterating his memories. Frustrated with his inablitity to remember what terrible crime he witnessed, Jay is involuntarily relocated to a community on Catalina Island, a place inhabited mainly by other protected witnesses. But when memories start coming back, Jay has to wonder if he can trust his own mind and return to his normal life.
11. Huck Finn's America: Mark Twain and the Era That Shaped His Masterpiece by Andrew Levy, December 30
Award-winning biographer Andrew Levy will make readers re-think everything they think they know about Twain's masterpiece with this provocative and well-researched investigative book. The novel outlines the way modern readers have been misunderstanding Huckleberry Finn for decades, offering a convincing and controversial argument that the work has more to say about contemporary children and race than previously thought.
Check out Entertainment Cheat Sheet on Facebook!
More from Entertainment Cheat Sheet: