Movies About Illness: 11 Actors With Oscar-Worthy Performances
For actors, sometimes playing a character with a disease or illness can be the ticket to Oscar gold. Just this year, the two winners of the best acting Oscars both won for roles that saw them playing characters afflicted with life-changing, devastating ailments. Here's a look at 11 actors that have memorably played characters afflicted with debilitating diseases, afflictions, or mental illness.
1. Julianne Moore, Still Alice
[featured_image img_url="http://www.cheatsheet.com/wp-content/uploads/2014/10/Screen-Shot-2014-10-17-at-10.55.21-AM-e1413561386325.jpg" caption="Source: Sony Pictures Classics"][/featured_image]
This year Julianne Moore won the Oscar for Best Actress, an award many felt was overdue for the actress, for her portrayal of a professor of linguistics at Columbia who becomes afflicted with early onset Alzheimer's. Moore also won a Golden Globe, a BAFTA Award, a Critic's Choice Award, and a SAG Award for the tour de force performance. She's only the seventh actress ever to win all five of those awards for a single role.
In order to play the role, Moore undertook months of research about Alzheimer's disease and insisted on never portraying a behavior or feeling in the movie that she hadn't witnessed herself while talking with people affected by the disease. "I didn't want to represent anything onscreen that I hadn't actually witnessed, because it wasn't fair, you know? If I didn't understand something, I'd ask somebody. When I spoke to the women in the support groups, I'd say, like: 'Well, what does this feel like? What does it feel like to be lost? What does it feel like to not understand whether a door opens in or out? Or not know what a handle is called? Who helps you? What are your mnemonic devices?' It was fascinating," Moore told IndieWire. All that research certainly paid off, as critics almost unanimously called the performance the best of Moore's illustrious career.
2. Eddie Redmayne, The Theory of Everything
[featured_image img_url="http://www.cheatsheet.com/wp-content/uploads/2015/01/the-theory-of-everything-eddie-redmayne-2-e1424382128451.jpg" caption="Source: Focus Features"][/featured_image]
As Julianne Moore took home the Best Actress trophy for Still Alice, the winner of the Oscar for Best Actor this year also was for a role playing someone with a degenerative disease. Redmayne's portrayal of physicist Stephen Hawking saw him playing the scientist at a time in his life when he was diagnosed with ALS and simultaneously making his biggest scientific discoveries. To get ready for the part, Redmayne did meticulous research for four months and worked with a choreographer for four hours a day, according to an article from Variety. She filmed him on an iPad and asked him questions like a drill sergeant about what he was doing with various parts of his body to make sure he could get all the movements of the various stages of Hawking's ALS perfect.
Redmayne's physical transformation was a painful one, as sitting in Hawking's hunched over position in a wheelchair all day on set was extremely uncomfortable. But the role clearly paid off in that Oscar, as well as approval from Hawking himself. The author of A Brief History of Time told the film's director James Marsh that at times while watching the movie he felt like he was watching himself and was so pleased with the film that he allowed the filmmakers to use the trademarked version of the computerized voice that allows him to speak.
3. Matthew McConaughey and 4. Jared Leto, Dallas Buyers Club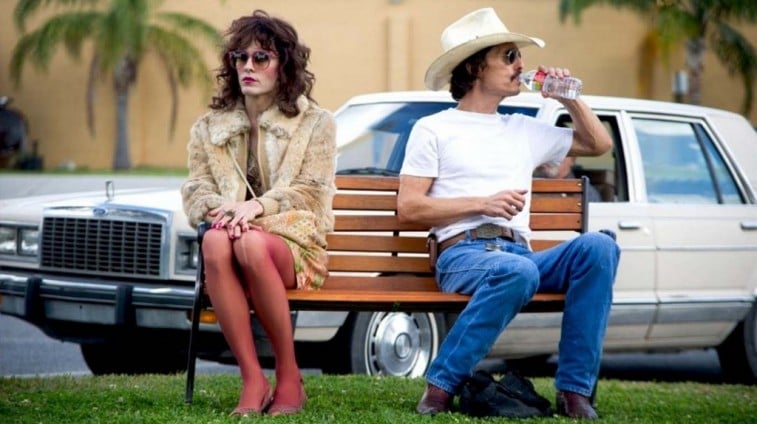 McConaughey and Leto both took home Oscars, for Best Actor and Best Supporting Actor respectively, for their roles as AIDS patients in the mid-1980s in Dallas, Texas who form a Buyers Club to get non-FDA approved medicine. The film is based on a true story. Real Buyers Clubs existed when the disease first began to spread, and drugs weren't readily available. McConaughey's character is a heterosexual, homophobic cowboy-type who got the virus from an IV-drug-using prostitute. After his diagnosis he's given just a month to live and is quickly ostracized by all friends and family and fired from his job, as misinformation and stigma surrounding AIDS was rampant at that time. He ends up making trips to Mexico to get more effective medicine than he can at the American hospital where he's being treated and brings the drugs back in the U.S., at first for himself and later to sell to other AIDS patients.
Leto plays a transgender woman toward whom McConaughey's character was at first hostile, but later befriends. Both actors lost a significant amount of weight to play the characters at their sickest states, with McConaughey dropping 50 pounds and Leto losing 30 pounds as well as waxing his entire body and shaving off his eyebrows. Director Jean-Marc Vallée said that Leto never broke character while they filmed the movie. "I don't know Leto. Jared never showed me Jared," the director told E!.
5. Daniel Day-Lewis, My Left Foot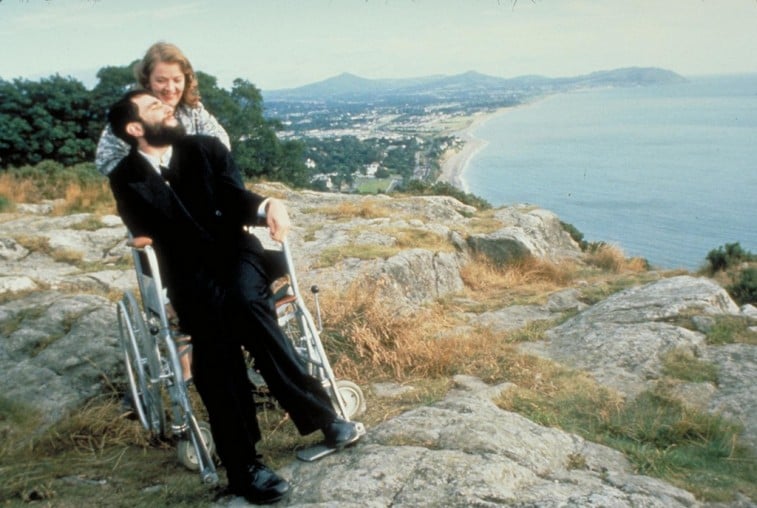 Daniel Day-Lewis gave one of his best early performances in this 1989 biopic about the Irish painter and writer Christy Brown, who was born the ninth of 22 children to a working class Dublin family in 1932 with severe cerebral palsy that left him only able to control his left foot. The rest of his body was severely contorted and paralyzed. While Brown was never able to speak clearly or walk, he developed his foot into an appendage capable of performing regular household tasks, typing his thoughts, and painting. While others in life referred to him as an "idiot" or a "half-wit" to his face, he was nurtured by his strong mother and ended up becoming a well-known artist and writer.
The film is based on a memoir Brown wrote of the same name. Needless to say, this was a very physically challenging role for Day-Lewis. Instead of being overly sentimental, the film tries to show Brown's character in a realistic light. Brown was a heavy drinker and not always the most sympathetic of characters. Critics said this made the film better than if it had tipped into over-sentimentality. Day-Lewis won the Oscar for his performance, and Brenda Fricker took home Best Supporting Actress for her role as Brown's mother.
6. Russell Crowe, A Beautiful Mind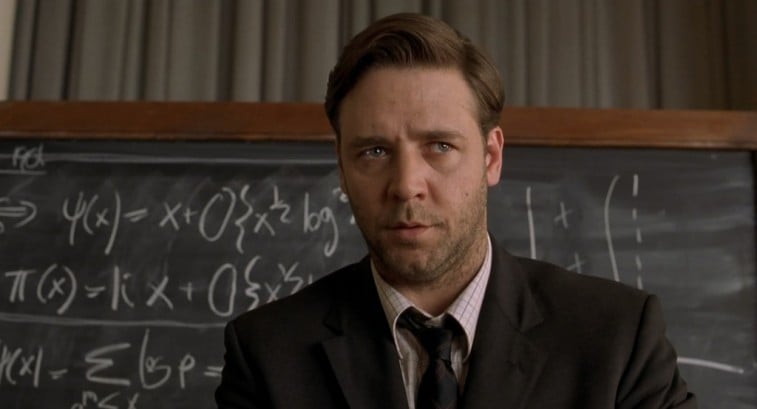 This 2001 biopic is considered by many to be one of Russell Crowe's best performances. It sees the actor playing John Nash, a Nobel Laureate in Economics who suffered from schizophrenia. Ron Howard's film was widely praised for weaving Nash's delusional episodes caused by his worsening paranoid schizophrenia into the film's reality. An extremely gifted mathematician from his youth, Nash becomes a professor at MIT. Shortly after his appointment there, he is contacted by a secret government agent to crack code for the Department of Defense and thwart a Soviet plot against the U.S. After a violent breakdown, Nash is brought to the cruel realization that the entire assignment was in his imagination after he's diagnosed with schizophrenia, given shock treatment, and put on antipsychotics.
The movie follows him as he attempts to live with his condition without the aid of the medications that he has adverse reactions to by learning to acknowledge and control his hallucinations himself. In 1994, Nash was given the Nobel Prize for his work in game theory. Howard's film won the Academy Award for Best Picture, Best Adapted Screenplay, Best Director, and Best Supporting Actress for Jennifer Connelly, who played Nash's wife. Crowe was nominated for Best Actor as well.
7. Leonardo DiCaprio, What's Eating Gilbert Grape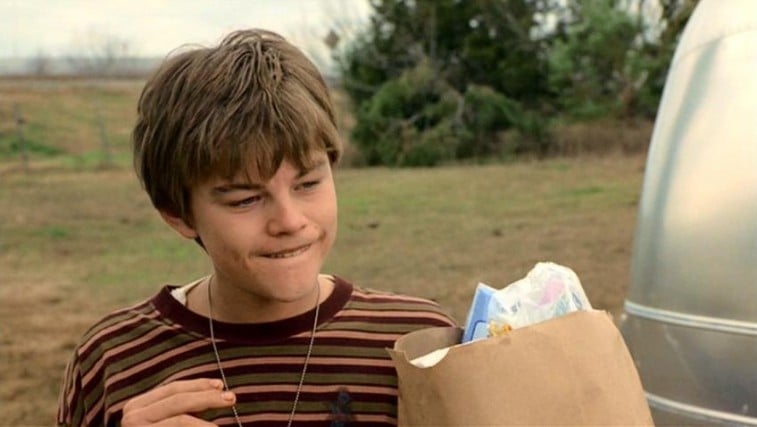 This quirky film about life in a small town could have just been a cute and enjoyable indie romance between the characters played by Johnny Depp and Juliette Lewis. What gives this 1993 film its depth is a stunning early performance from Leonardo DiCaprio as Depp's mentally challenged younger brother Arnie. Depp's character cares for Arnie as their morbidly obese mother has hardly gotten up from the couch since her husband committed suicide 17 years prior. He has a deep love for Arnie, but also resents being stuck in the small town as well as the inhibitions Arnie places on his life. Arnie needs to be watched constantly, as he has a penchant for climbing the town's water tower and getting arrested.
DiCaprio's performance was universally praised and he was nominated for the Academy Award for Best Supporting Actor. The New York Times said of the movie, "the film's real show-stopping turn comes from Mr. DiCaprio, who makes Arnie's many tics so startling and vivid that at first he is difficult to watch… The performance has a sharp, desperate intensity from beginning to end." Roger Ebert said that DiCaprio deserved to win the Oscar he was nominated for.
8. Dustin Hoffman, Rain Man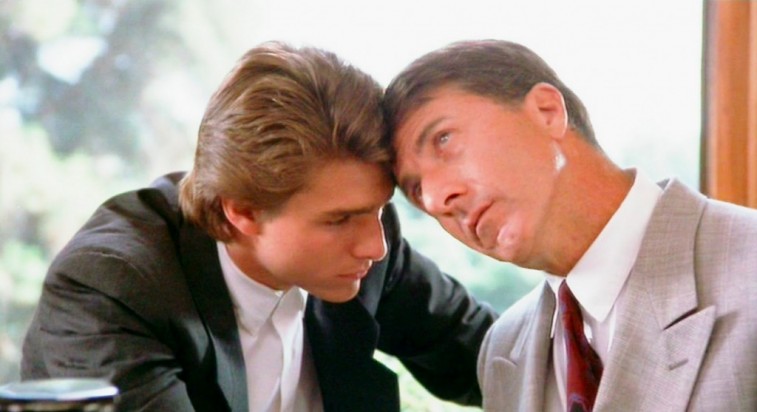 Dustin Hoffman's performance in Rain Man is so iconic that it has perpetuated the stereotype that people on the autism spectrum are also savants, which is of course not always true. "That 1988 movie, in its first 101 days, accomplished more toward bringing Savant Syndrome to public awareness than all the efforts combined of all those interested in this condition the past 101 years following Dr. Down's 1887 description of this disorder," wrote Dr. Darold Treffert in the paper "Rain Man, the Movie/Rain Man, Real Life."
Hoffman won an Oscar for his performance as the autistic brother of Tom Cruise's manipulative yuppie, who is in desperate need of cash when he finds out his father's estate is being willed away to a brother he didn't even know he had. Hoffman's character is an autistic savant, so he has very specific routines he needs to keep, difficulties expressing his emotions as well as understanding the emotions of others, and the ability to perform very difficult math calculations in his head. Cruise takes Hoffman out of the hospital where he lives, and they go on a cross country road trip together, most famous for the scene in which Hoffman's character reveals his high aptitude for math by counting cards in Las Vegas. The movie's plot is a bit sappy, Cruise's jerk of a character becomes a good guy through getting to know the autistic brother he originally sought out for financial gain, but Rain Man is worth watching for the performances from Cruise and Hoffman.
9. Tom Hanks, Philadelphia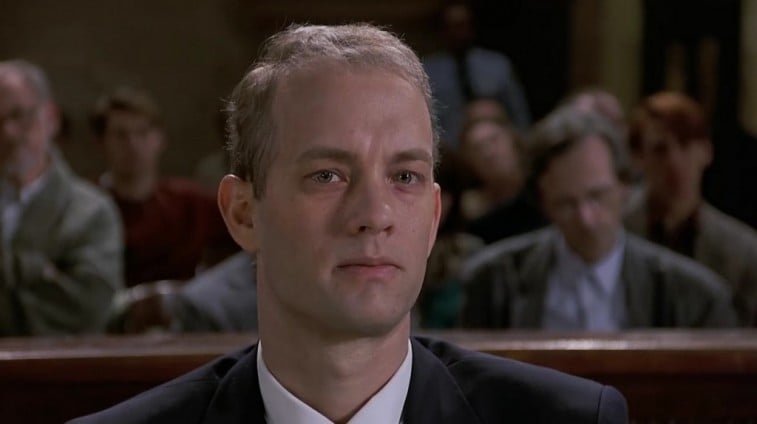 This 1993 drama starring Tom Hanks as a homosexual man who gets AIDS is cited as one of the first mainstream Hollywood movies to address AIDS and homosexuality. Hanks won the Oscar for his portrayal of a high-powered attorney who must hide his homosexuality and his sickness from his coworkers. When someone at the office catches on, he is set up and fired. Even though he's sick, he decides to fight back and sues for wrongful termination, at first acting as his own attorney and later hiring a lawyer played by Denzel Washington to represent him. Antonio Banderas plays his lover. The movie addressed the stigma, discrimination, and false information surrounding AIDS at a time when much of that was still very prevalent. The story was based on the lives of two different attorneys in the late '80s and early '90s who were wrongfully fired by their employers after it was found out they had AIDS.
10. Robert De Niro, Awakenings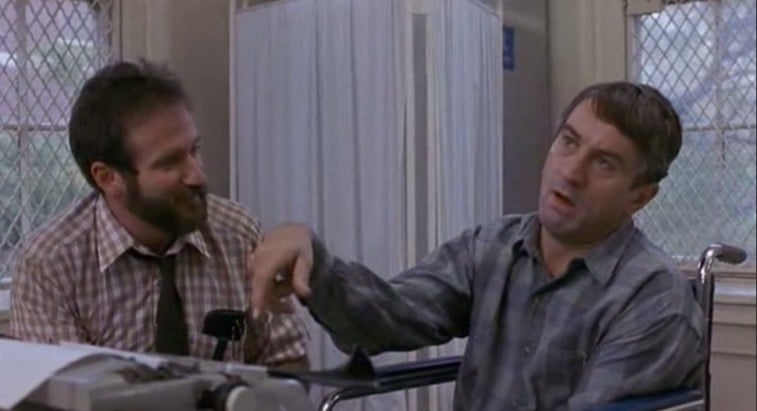 This 1990 drama starring Robert De Niro and Robin Williams is based on the 1973 memoir by famed neurologist and science writer Oliver Sacks. It tells the true story of Sacks's work in the late 1960s using the drug L-Dopa to treat catatonic patients who had been basically unresponsive since surviving the 1917-1928 epidemic of encephalitis lethargica or "sleeping sickness." Sacks was inspired to use this drug after seeing how patients with Parkinson's responded to it. De Niro plays the first patient that the character based on Sacks, played by Williams, tries the drug on. De Niro's character then "awakens" from his decades of catatonia to a completely new world.
"I think in an uncanny way, De Niro did somehow feel his way into being Parkinsonian. So much so that sometimes when we were having dinner afterwards I would see his foot curl or he would be leaning to one side, as if he couldn't seem to get out of it," Sacks said in an interview with Salon of De Niro's performance.
11. Johnny Depp, The Libertine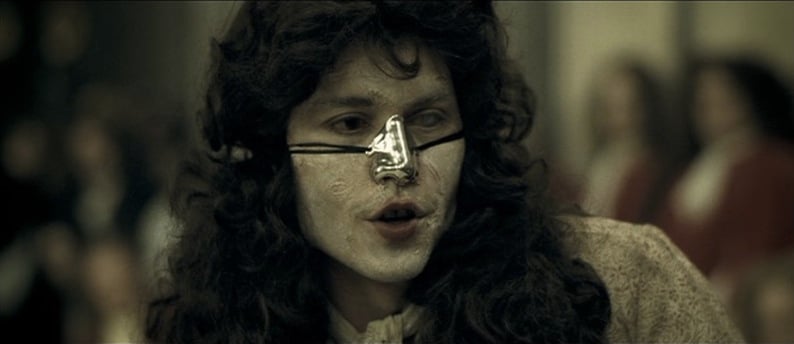 In this 2004 bizarre historical biopic, Johnny Depp plays John Wilmot, the 2nd Earl of Rochester. Wilmot was a seventeenth century playwright, poet, satirist, and raconteur famous for committing treason, insulting the king, and dying of syphilis at age 33. Wilmot is thought to be one of the best writers of the Restoration period in England, but he's almost as well known for his hedonistic lifestyle that saw him frequenting bawdy houses and drinking copiously. Depp's portrayal doesn't at all shy away from the horrific effects that syphilis had during this time. Once Wilmot begins to get sick, pieces of flesh on his face fall off from syphilitic gummata, which he attempts to hide behind a mask. As his condition worsens, he wears heavy makeup and a silver nose-piece to conceal the fact that his nose has completely fallen off, and eventually must rely on crutches. Nowadays syphilis can be treated with penicillin and prevented by practicing safe sex, but back in Wilmot's time neither of those options were available and lots of people died from this horrible STI.
More from Entertainment Cheat Sheet:
Want more great content like this? Sign up here to receive the best of Cheat Sheet delivered daily. No spam; just tailored content straight to your inbox.