Meryl Streep's Best Movies: 12 Roles That Prove She Can Do Anything
To say that Meryl Streep has had a fulfilling career so far is a vast understatement. Widely considered to be one of the greatest actresses of all time, Streep has received eighteen Academy Award nominations–more than any other actor or actress in history–and won three. She's also won eight of her record-breaking 28 Golden Globe nominations. Though it's difficult to pinpoint which of her many standout roles are her best, these 12 diverse parts mark some of the most memorable moments of her long career. With a appearance in the upcoming film Suffragette, we thought this would be an opportune time to take a look back at 12 Meryl Streep roles that prove she really can do it all.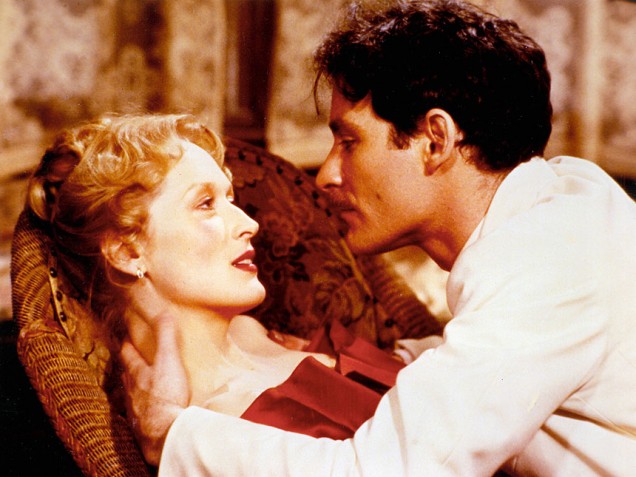 1. Sophie's Choice
Still considered by many to be the finest performance of her career, this 1982 drama stars Streep as an Auswitchz survivor with an emotionally scarring past. The actress learned Polish and German in order to believably play the role. All that hard work paid off. Her incredible performance not only moved most viewers to tears, it also earned critical acclaim, eventually winning her both a Best Actress Oscar and a Golden Globe.
2. Kramer vs. Kramer
In this 1979 film, co-starring Dustin Hoffman, Streep plays a woman who walks out on her husband and son, but later changes her mind and sues for custody of the child. Proving that she can do a lot even with less screen time, Streep earned her second Oscar nomination for the part and ended up winning her first ever Academy Award (in the category of Best Actress in a Supporting Role).
3. The Deer Hunter
Streep's appearance in this 1978 Vietnam War-era drama was only the first major film role of her career (she had only a small role in the 1977 film Julie), but it made big waves and pretty much set the precedent for the rest of her groundbreaking career. She played Linda, a thoughtful Pennsylvania beauty loved by two different men. The role earned the Yale School of Drama graduate Academy Award, Golden Globe, and BAFTA nominations for Best Supporting Actress.
4. Silkwood
Directed by Mike Nichols and written by Nora Ephron and Alice Arlen, this 1983 film features Streep as real-life nuclear power plant worker and whistle blower, Karen Silkwood, who died mysteriously in a car accident. The unforgettable performance earned Streep her fifth Oscar nomination, as well as a Golden Globe and BAFTA nomination.
5. A Cry In the Dark
Streep made audience members turn against her in her 1988 role as Australian mother Lindey Chamberlain, who is accused of murdering her own daughter and earns public condemnation for showing no visible anguish for the loss. It's the kind of difficult role that requires only the most capable hands and while it was a sharp change of pace for Streep after Sophie's Choice, she definitely rose to the occasion. The film earned her an eighth Oscar nomination.
6. The Bridges of Madison County
This romantic 1995 drama, based on the bestselling Robert James Waller novel, stars Streep alongside Clint Eastwood (who also directed). In the flick, Streep plays Francesca, a lonely Italian woman living in Iowa whose life is changed after a brief affair with a traveling photographer. The role has become one of Streep's most iconic performances and it earned her—yes, you guessed it—yet another Oscar nomination for Best Actress.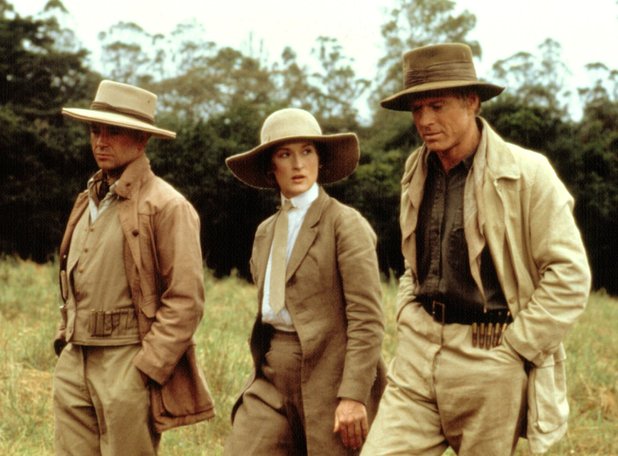 7. Out of Africa
In this 1986 film based on the autobiographical book of the same name, Streep plays real-life Danish baroness Karen Blixen, who lived in Kenya and wrote under the name Isake Dinesen. She stars opposite Robert Redford, a local game hunter with whom she strikes up a close friendship–and eventually develops a romantic relationship. The film won Best Picture, as well as six other Academy Awards, and Streep herself was again nominated for Best Actress.
8. The Devil Wears Prada
Though the 2006 movie itself earned slightly mixed reviews (at a 76 percent fresh rating on Rotten Tomatoes), Streep's show-stealing performance as the terrifying and powerful fashion magazine editor, Miranda Priestly, received nothing but praise from both audience members and critics alike. Everything from the perfectly coiffed silver hair to the bored yet deadly contemptuous tone of her voice when scolding assistant Andy (Anne Hathaway) was spot-on. While the role was one of the few of Streep's career that didn't earn her any award nominations, it was none the less one of her best and most memorable performances ever.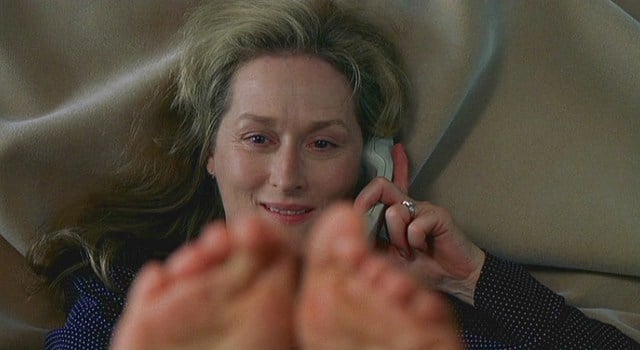 9. Adaptation
The 2002 film, based on Charlie Kaufman and Susan Orlean's novel The Orchid Thief, stars Streep as a journalist for The New Yorker who goes to Florida on assignment and ends up falling in love with the subject of her story. The actress was again nominated for an Oscar (this time for Supporting Actress) and won a Golden Globe in the same category.
10. Julie and Julia
Streep played culinary legend, Julia Child, in Nora Ephron's 2009 adaptation of Julie Powell's 2005 memoir. Her delightful and brilliantly thorough portrayal of the icon—from the voice to the gestures–received rave reviews. The part also earned her another Golden Globe win and her 16th Oscar nomination.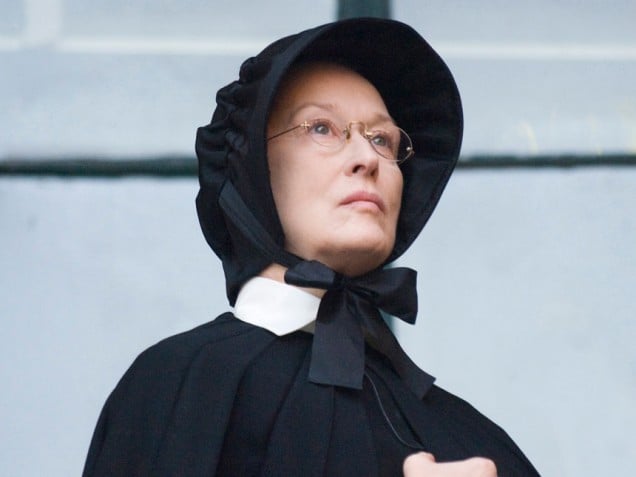 11. Doubt
As a nun who believes in strict discipline, Streep earned critical appraise for her powerful 2008 performance alongside the late Phillip Seymour Hoffman. Set in New York, in the '60s, the movie wrestles with the controversial subject of sex abuse scandals within the Catholic Church. Streep's role earned multiple Best Actress nominations, at the Oscar, BAFTA, and Golden Globe awards, and a Screen Actors Guild award win in the same category.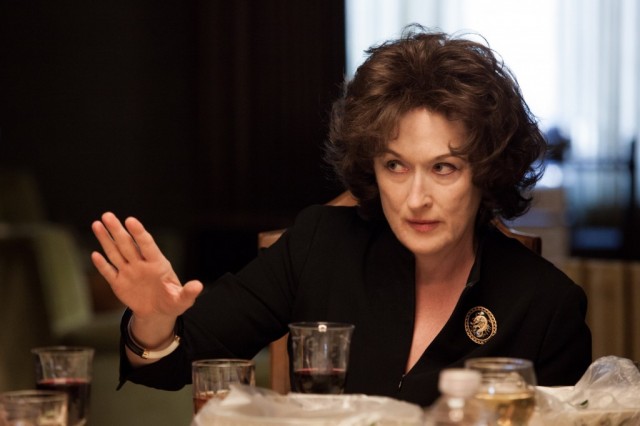 12. August: Osage County
Based on the award-winning play of the same name, this 2013 drama stars Streep alongside an A-list cast, including Julia Roberts, Ewan McGregor, Chris Cooper, Juliette Lewis, and more. Streep plays Violet Weston, a brutally contentious and stubborn woman suffering from oral cancer and a narcotic addition, who calls her kids for support after her husband leaves her—only to make their lives hell. Streep received her 18th Academy Award nomination for her performance in the film, as well as Golden Globe and SAG nominations.
More from Entertainment Cheat Sheet:
Want more great content like this? Sign up here to receive the best of Cheat Sheet delivered daily. No spam; just tailored content straight to your inbox.