12 Projects That Got Spike Jonze to Where He Is Today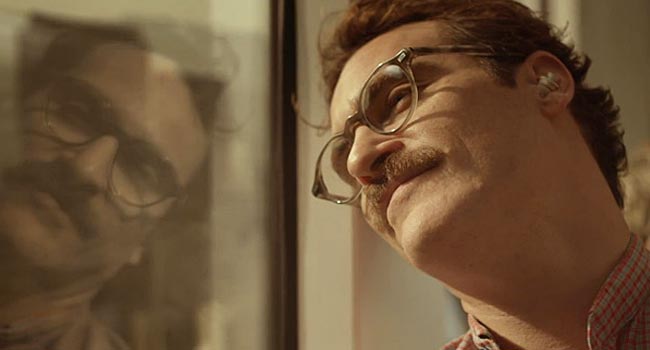 Spike Jonze's newest film Her, starring Joaquin Phoenix about a man who falls in love with an operating system in the near future, is getting the kind of attention recently that makes it this year's unanimous dark horse candidate in a variety of categories. The first of Jonze's feature films to be solely written by the talented filmmaker, Her has been praised for telling a soulful and intelligent story that contemplates the changing landscape of relationships.
For Jonze, Her is the the most recent step in the evolution of one of the most fascinating and prolific filmmakers in recent memory. If you don't know much about the work of Jonze, the word "prolific" might not make a lot sense for a director who's made only four feature films since 1999, but that's because the filmmaker has worked across a variety of film and video mediums that covers everything from music videos to short films to commercials and more.
So with Her looking more and more as if it may be Jonze's finest feature film to date, let's take a look at twelve projects across varying mediums that have led the director to where is today. This is by no means a comprehensive list for a director with dozens upon dozens of projects in a career that spans over twenty years, but these projects are the most well-known of the bunch.
Sabotage — Beastie Boys (1994)
Getting his start as a music video director at a time when music videos were in their prime, Jonze began directing in 1992 but really hit his stride in 1994 when he was responsible for some of the most well-known music videos of all time including Buddy Holly and Undone by Weezer, Divine Hammer by The Breeders, and Feel the Pain by Dinosaur Jr. But the best of the bunch often emblematic of that specific era of music videos was Sabotage by The Beastie Boys, which he also wrote.
An homage and parody of 1970s crime-drama television series like Hawaii Five-O and Starsky and Hutch, the music video for Sabotage is presented as the opening credits of a 1970′s-style police show in which the members of the Beastie Boys appear as the show's characters. Nominated for five award categories at the 1994 MTV Video Music Awards, the video went home empty-handed but has since been considered one of the best music videos of all time.
Praise You — Fatboy Slim (1998)
Following four years of strong work on memorable music videos for bands such as R.E.M., Bjork, The Pharcyde, and The Notorious B.I.G., Jonze would create the first of two music videos for Fatboy Slim that are among his most popular music videos: Praise You and Weapon of Choice. The first of the two, Praise You, is probably Jonze's best-known music video and stars Jonze under the pseudonym Richard Koufey as he dances with a fictional dance group The Torrance Community Dance Group in front of a movie theater. Shot using a documentary guerrilla-style and shot on location without an permission, the video allegedly cost only $800 to produce, which went towards the boom box and feeding the cast and crew.
Praise You would go on to win three major awards at the 1999 MTV Video Music Awards: Breakthrough Video, Best Direction, and Best Choreography. The video is often polled as one of the most popular music videos of all time and Jonze would work with Fatboy Slim two years later on the equally memorable music video for Weapon of Choice, which featured actor Christopher Walken dancing in an empty hotel.
Being John Malkovich (1999)
Jonze's feature-film debut came in 1999 when he directed the comedy-fantasy Being John Malkovich written by Charlie Kaufman. Starring  John Cusack, Cameron Diaz, Catherine Keener, and John Malkovich playing a fictional version of himself, the film tells the story of a puppeteer who inadvertently discovers a portal leading into Malkovich's mind.
With a budget of $13 million, Being John Malkovich was a successful first outing as it went on to earn $32 million at the box office and would later be nominated for three Academy Awards: Best Director for Jonze, Best Original Screenplay for Kaufman, and Best Supporting Actress for Keener. Roger Ebert called the film the best film of 1999, writing, "Rare is the movie where the last half hour surprises you just as much as the first, and in ways you're not expecting. The movie has ideas enough for half a dozen films, but Jonze and his cast handle them so surely that we never feel hard-pressed; we're enchanted by one development after the next."
Jackass (2000)
Due to his roots in the world of professional skateboarding, Jonze was approached by his friend Jeff Tremaine and Johnny Knoxville to try and get the stunt reality series Jackass on television. Serving as executive producer along with Tremaine and Knoxville, Jonze was one of the key creative figures in the series' immense success on MTV and he has taken producing roles on each of the Jackass films, including the most recent film Jackass Presents: Bad Grandpa. Jonze is also occasionally featured as a member of the show involved in pranks.
Lamp (2002)
Jonze's talent in short form projects naturally got the attention of the commercial world, and in 2002, the director's television advertisement for IKEA pushed him to the top of the list of commercial directors. The spot, entitled Lamp, tells the story of a red IKEA lamp that is discarded from a home and placed in the trash. Jonze uses the situation to shape a touching story that makes the viewer empathize with the lamp as it suffers curbside in the rain. But just then, a narrator enters the picture and says, "Many of you feel bad for this lamp. That is because you're crazy. It has no feelings. And the new one is much better." Suddenly, the commercial seems twice as funny and twice as memorable.
According to IKEA, the commercial caused a significant uptick in furniture sales during the period in which the commercial ran and the commercial would later earn the Grand Prix at the Cannes Lions International Advertising Festival, which is considered the most prestigious award in the advertising business.
Adaptation (2002)
For Jonze's second feature film, he would reunite with screenwriter Charlie Kaufman on Adaptation — a semi-autobiographical meta-drama of sorts. Loosely based on Susan Orlean's non-fiction book The Orchid Thief — or more accurately, his failed attempts to adapt the book — Adaptation stars Nicolas Cage (playing twins), Meryl Streep, Chris Cooper, and John Laroche.
Again, Jonze would experience a relatively successful box office with $32 million earned on a budget of $19 million and was later nominated for four Academy Awards: Best Supporting Actor for Cooper (which he won), Best Actor for Cage, Best Supporting Actress for Streep, and Best Adapted Screenplay for Kaufman.
Dust (2005)
Returning to the commercial world, Jonze was tapped to produce a commercial for Gap about the company's remodeling. The 90-second advertisement entitled Dust was released on YouTube in 2005 and quickly became a huge hit. Featuring a Gap store that slowly descends into chaos as shoppers and Gap workers destroy the storefront, the commercial ends with the statement "Pardon Our Dust."
But Gap apparently got skittish about the commercial after testing the ad in only a few cities and never aired the commercial in wide release. Considering that the commercial had already made positive impressions on those who had seen it, the decision to shelve it appeared to cement Gap's less-than-hip status. "I just can't understand spending all that money on a big-name director, and a big-budget shoot, and then frittering the results away on such a limited purpose. Did Gap not see the possibilities? Were they too scared to go for broke?" asks Seth Stevenson of Slate.
Hello Tomorrow (2005)
Another strong commercial entry from 2005, Hello Tomorrow, is a Jonze-directed ad for Adidas sneakers. Meant to advertise Adidas new self-adjusting "intelligent" sneakers — which have since been discontinued — the commercial makes great use of Jonze's imaginative talent for technical feats. Taking place in a dream world, the actor within the commercial experiences a dizzying array of increasingly intricate scenarios that are reminiscent of 2010′s Inception, but precedes it by five years.
Where the Wild Things Are (2009)
For a director famous for taking chances, 2009 was the riskiest undertaking of Jonze's career as his fantasy-drama Where The Wild Things Are — based on the beloved 1963 children's book of the same name by Maurice Sendak – hit theaters. Starring Max Records and the voices of  the voices of James Gandolfini, Paul Dano, Lauren Ambrose, Forest Whitaker, Catherine O'Hara, and Chris Cooper, buzz was huge leading up to the film's release after a series of trailers had taken the Internet by storm.
When Where the Wild Things Are finally arrived in theaters, the film was viewed as a slight disappointment. Critical reception for the film was fairly mixed, although it certainly leaned towards the positive, but movie-goers were not as impressed who viewed the film as surprisingly dark and depressing. Indeed, the film's mature content led to a lot of internal discussions at Warner Bros. leading up to release as the studio's marketers decided to bypass children's marketing altogether in order to focus on adults. But this seemingly led to a lot of viewer confusion as to who the film was really for.
All in all, the film earned $100 million on a budget of $100 million making the film a significant loss for Warner Bros. when marketing and distribution fees are factored in. However, the film feels primed for cult classic status as years go by.
I'm Here (2010)
Whether Jonze felt like going small after the rough experience of Where the Wild Things Are or simply had a smaller story to tell, the filmmaker's next project was a 30-minute sci-fi romance short entitled I'm Here that debuted at the 2010 Sundance Film Festival. The short tells the story of two robots living in Los Angeles where human and robots co-exist and is loosely based on Shel Silverstein's The Giving Tree. The fascinating and beautiful short, which was funded by and is a promotion for Absolut Vodka, seems to hint at many subjects that Jonze would later explore in this year's Her.
YouTube Music Awards (2013)
Jonze was tapped in late 2013 to become the creative director of the first ever YouTube Music Awards and subsequently churned out some of the year's finest musical material — in live fashion no less. The best of the bunch was a live music video of Arcade Fire's Afterlife, which featured indie-standout Greta Gerwig dancing through an apartment and a stylized wooded area before blasting out onto the stage of the award ceremony and dancing with a pack of children. Seemingly a nod back to some of Jonze's earliest work like Praise You, the performance/music video/whatever you want to call it simply brims with the energy that that has come to define his work.
Her (2013)
Finishing off the list is Jonze's newest film, Her. Finally entering wide release this on January 10 after weeks of limited engagements, the film appears poised to become both the director's most critically acclaimed film and perhaps most successful. With a Rotten Tomatoes score of 93 percent as of this writing, the film continues to get high praise from critics and viewers alike and it's not hard to imagine that Her will continue to gain momentum as the Academy Awards are announced later this month.
"This is a movie you want to reach out and caress, about a man who, like everyone else around him in this near future, has retreated from other people into a machine world," writers Manohla Dargis of the New York Times. Kenneth Turan of the Los Angeles Times writes, "Acerbic, emotional, provocative, it's a risky high dive off the big board with a plot that sounds like a gimmick but ends up haunting, odd and a bit wonderful."
More From Wall St. Cheat Sheet: