14 New TV Shows Premiering in March
While our favorite shows are just returning from their midseason hiatuses, there are plenty of new shows to look forward to as well. March will bring a wide variety of series debuts, including the latest thriller from Shonda Rhimes and Aaron Paul's highly anticipated return to TV in The Path. Below, check out all the new show premieres coming to the small screen over the coming month.
1. The Family, March 3

ABC's upcoming political drama centers on the return of the mayor's young son, who was presumed dead after disappearing over a decade earlier. The series stars Joan Allen as Claire Warren, an ambitious and manipulative mayor of the fictional city Red Pines, Maine, and matriarch of the Warren family. She has just announced her candidacy for governor when her son Adam (played by Liam James) returns after having been kidnapped 10 years previously. Alison Pill, Zach Gilford, and Floriana Lima co-star. The show will have special premiere on Thursday, March 3, at 9 p.m. Eastern time. before moving to its regular Sunday night time slot (also at 9 p.m. Eastern) on March 6.
2. Damien, March 7

Based on the horror film series The Omen, this new A&E series will follows the adult life of Damien Thorn (Bradley James), now a 30-year-old war photographer who has forgotten his Satanic past. After discovering the truth about his origins, he must face his true identity. He will embrace his Antichrist side with the help of Ann Rutledge (Barbara Hershey), who has protected Damien all his life. The series will air on Monday nights at 10 p.m. Eastern time.
3. Of Kings and Prophets, March 8

Based on the biblical Books of Samuel, the drama series will chronicle the stories on an ensemble of characters including Saul and David, the successive Kings of Israel, their families, and their political rivals. Ray Winstone, Olly Rix, Simone Kessell, James Floyd, Haaz Sleiman, and Jeanine Mason co-star in the series. The show will air on ABC on Tuesday nights at 10 p.m. Eastern time.
4. The Real O'Neals, March 8

ABC's upcoming sitcom will chronicle the lives of a close-knit Chicago family with Catholic roots, whose personal secrets will reveal their real lives and a reality check after they come clean to each other. Martha Plimpton will star the Catholic matriarch, Eileen O'Neal, while Jay R. Ferguson will co-star as her husband, Pat, a police officer who is secretly contemplating divorce. Noah Galvin, Matt Shively, and Bebe Wood co-star their three teenage kids. The show will air on Tuesday nights at 8:30 p.m. Eastern time.
5. Underground, March 9

WGN America's historical drama centers on a group of slaves planning a daring 600-mile escape from a Georgia plantation. Along the way, they are aided by a secret abolitionist couple running a station on the Underground Railroad as they attempt to evade the people charged with bringing them back, dead or alive. Aldis Hodge, Jurnee Smollett-Bell, Chrstopher Meloni, Alano Miller, and Jessica De Gouw co-star. The show will air on Wednesday nights at 10 p.m. Eastern time.
6. Flaked, March 11

Co-created by Will Arnett, the upcoming Netflix series stars the actor as Chip, a celebrated longtime resident of the insular world of Venice, Calif., who falls for the object of his best friend's fascination. Soon the tangled web of half-truths and semi-bullshit that underpins his all-important image and sobriety begins to unravel. Chip is a man doing his honest best to stay one step ahead of his own lies. Ruth Kearney and Christopher Mintz-Plasse are set to co-star.
7. Netflix Presents: The Characters, March 11

The Netflix comedy sketch show will feature eight up-and-coming comedians, who will each write and star in their own 30 minute show. The comedians featured in the show will be Lauren Lapkus, Kate Berlant, Dr. Brown, Paul W. Downs, John Early, Tim Robinson, Natasha Rothwell, and Henry Zebrowski.
8. Party Over Here, March 12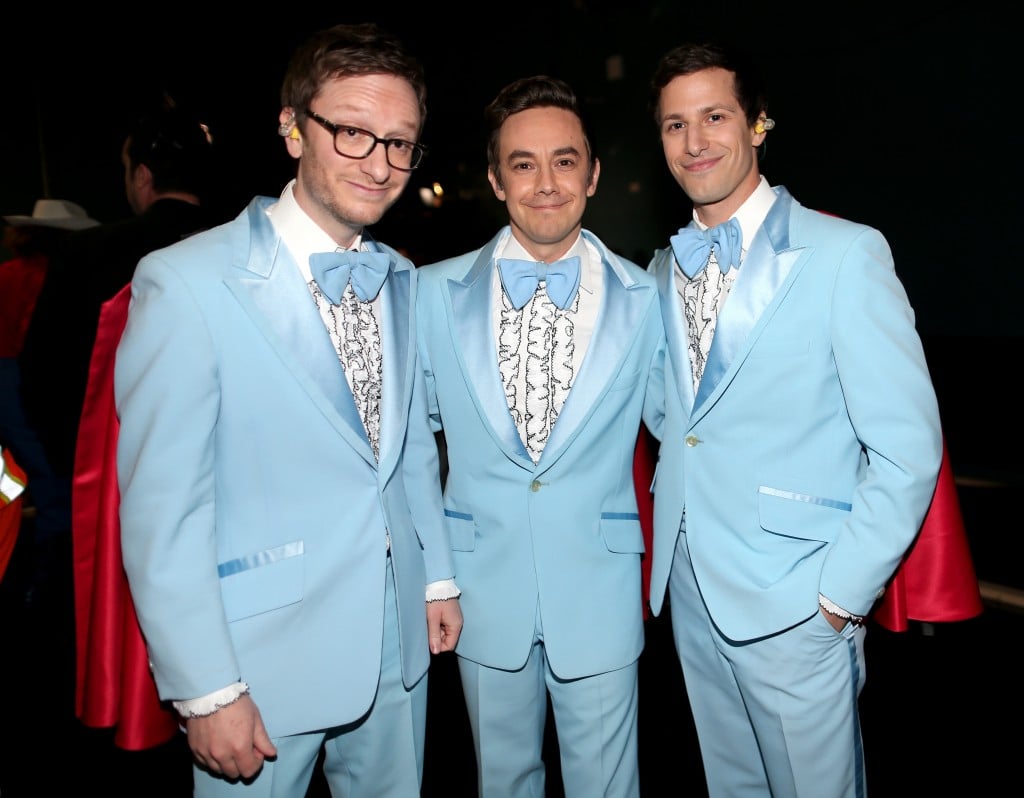 Executive produced by comedy trio The Lonely Island (comprised of Andy Samberg, Akiva Schaffer, and Jorma Taccone), Fox's half-hour sketch comedy series will feature comedy shorts skewering everything from pop culture to politics. The show will also feature in-studio segments filmed in front of a live audience at the Alexandria Hotel in downtown Los Angeles. The series stars Nicole Byer (Girl Code), Jessica McKenna (Riot), and Alison Rich (Resident Advisors). The show will air Saturday nights at 11 p.m. Eastern time.
9. Criminal Minds: Beyond Borders, March 16

CBS's latest spin-off of the Criminal Minds brand will follow an elite team of FBI agents solving cases that involve American citizens on international soil. Gary Sinisie will star as Supervisory Special Agent and International Unit Chief jack Garrett while Alana De Garza plays Supervisory Special Agent Clara Seger. Daniel Henney, Tyler James Williams, and Annie Funke also co-star. The procedural drama will air on Wednesday nights at 10 p.m. Eastern time.
10. Crowded, March 20

NBC's upcoming multi-camera sitcom follows a newly-empty nest couple Mike (Patrick Warburton) and Martina Moore (Carrie Preston). Their plans to enjoy their newfound freedom are put aside when their two grown-up daughters Stella (Mia Serafino) and Shea (Miranda Cosgrove), along with Mike's retired parents Alice (Carlease Burke) and Bob (Stacy Keach), all end up unexpectedly moving back in with them. The comedy will air Sunday nights at 9:30 p.m. Eastern time.
11. Heartbeat, March 23

Based on the real life of Dr. Kathy Magliato, the new medical drama follows Dr. Alex Panttiere (Melissa George), an outspoken world-renowned heart transplant surgeon and one of the few women in her field. Stubborn and fearless, Alex always operates on her own terms and pushes the boundaries of medical science to impressive new heights. While managing the daily demands of skeptical faculty and dutiful interns, Alex also enjoys a racy personal life that's a full-time job in itself. Dave Annable, Shelley Conn, D.L. Hughley, Jamie Kennedy, and Maya Erskine co-star on the show, which airs on NBC on Wednesday nights at 8 p.m. Eastern time.
12. The Catch, March 24

Shondaland's latest crime thriller stars centers on Alice Vaughan (Mireille Enos), a private investigator from Los Angeles, Calif., who is poised to be the victim of a fraud by her own fiancé, Kieran Booth (Peter Krause). Between cases, she is determined to find him before he ruins her career. Sonya Walger, Rose Rollins, Elvy Yost, Jay Hayden, Jacky Ido, and Alimi Ballard co-star. The show will air during ABC's #TGIT block, replacing How to Get Away With Murder on Thursday nights at 10 p.m. Eastern time.
13. The Path, March 30

Hulu will launch one of its splashiest original series yet, the family drama The Path. The series follows the lives of the Clearys, a family at the center of a controversial faith-based movement as they struggle to deal with relationships, marriage, and power. Aaron Paul stars as father and husband Eddie Cleary (in his first major TV role since Breaking Bad), while Michelle Monaghan plays his wife. The show hails from Parenthood vets Jessica Goldberg and Jason Katims. The 10 episodes will air weekly on Wednesdays.
14. Rush Hour, March 31

Based on the popular film franchise of the same name, CBS's upcoming remake of the police comedy drama follows Detective Carter (Justin Hires), a radical LAPD detective, and Detective Lee (Jon Foo), a by-the-book detective from Hong Kong, as they are forced into forming an unlikely partnership. Aimee Garcia, Wendie Malick, Page Kennedy, Jessika Van, and Kirk Fox also co-star. The series will air on Thursday nights at 10 p.m. Eastern time.
More from Entertainment Cheat Sheet: