15 Actresses Who Were Perfectly Cast as First Ladies
We all enjoy a good historical drama. Who doesn't love to dive into the lives of some of our favorite historical figures, especially when it comes to the first ladies?  In the 1960's Jackie Kennedy was a symbol of poise and grace in the midst of a tumultuous time, even standing with her head up when her husband, the late President John F. Kennedy was assassinated as she sat next to him. When former President Bill Clinton was elected to the White House in the '90s, former Secretary of State Hillary Clinton stepped forward and spoke out about issues she thought affected the American people.
In 2008, former First Lady Michelle Obama did the same. While other first ladies like Nancy Ragen and Melania Trump have used their platforms in different ways, all of these women have stories to tell. Hollywood has allowed us to get a closer glimpse at their lives. These 15 actresses were perfectly cast when it came to bringing the nation's first ladies onto the big screen.
1. Patty Duke as Martha Washington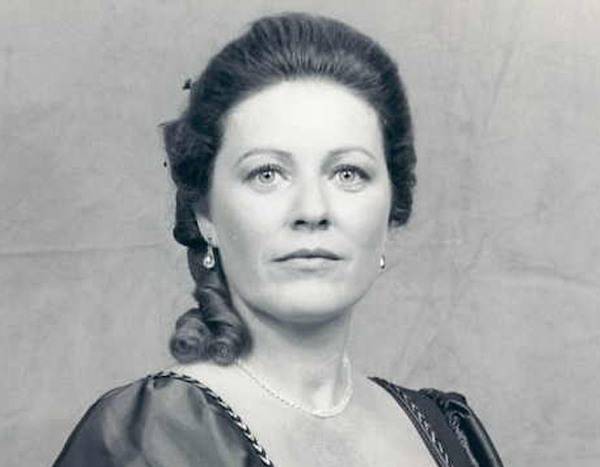 First lady from 1789-1797
Martha Washington, also known as Lady Washington was the original First Lady of the United States, even though the term wasn't coined until well after her death. Before meeting Geroge Washington, Lady Washington was widowed and left with four young children by the time she was 25. Though she and the president had no children together, she did bring a great deal of wealth into their marriage.
In the 1984 TV miniseries George Washington, actress Patty Duke played the quiet, capable woman who was content to stay at home at Mount Vernon and run things. Duke earned a Best Supporting Actress in a Limited Series or Special Emmy nomination for her portrayal.
Next: A Revolutionary War era woman. 
2. Laura Linney as Abigail Adams
First lady from 1797-1801
Abigal Adams was our country's second first lady. The wife of John Adams was in the White House from 1797–1801. We know a ton about her life because she wrote a plethora of letters to her husband when he was in Philadelphia during the Continental Congress. Laura Linney portrayed the Revolutionary War era woman in the 2008 HBO miniseries, John Adams.
Paul Giamatti co-starred with Linney as John Adams. With such a breadth of material, Linney had a lot to draw from. She depicted the first lady as forward thinking and opinionated. We saw her scold Benjamin Franklin for cheating on his wife and even proofreading her husband's research.
Next: A president's daughter
3. Gwyneth Paltrow as Martha Jefferson Randolph
First lady from 1801-1809
Martha Jefferson, also known as Patsy, was the daughter of the United States' third president, Thomas Jefferson. After her father was widowed, she lived White House, serving as his hostess and informal first lady. She was also the only one of his white and acknowledged children who lived past the age of 25.
In the 1995 film, Jefferson in Paris, Gwyneth Paltrow plays a shocked and sullen woman who discovers her father's relationship with his slave, Sally Hemmings. The film follows a teenage Patsy who lived in Paris in the years following her mother's death when Thomas Jefferson served as s U.S. Minister to France.
Next: A mega-popular first lady who helped her husband's image. 
4. Ginger Rogers as Dolley Madison
First lady from 1809-1817
Dolley Madison was the wife of James Madison, the 4th President of the United States. In many ways, she helped define the role of the first lady. After all, her popularity is what made her husband more popular. She also helped furnish the newly constructed White House.
Hollywood starlet Ginger Rogers stepped into Madison's shoes in the 1946 film, Magnificent Doll. The film was not at all historically accurate, but it was pretty to look at. The redheaded actress even died her tresses blonde to play the brunette first lady. Yes, we're confused too.
The movie depicted Dolley Madison as flirty and fun-loving which was kind of true.
Next: A grief-stricken Civil War era woman. 
5. Sally Field as Mary Todd Lincoln
First lady from 1861-1865
To play Mary Todd Lincoln in the Steven Spielberg biopic Lincoln, Academy Award winner Sally Field did a ton of research, even reading biographies on the wife of America's 16th President. Mrs. Lincoln was the first lady through the Civil War from 1861 to 1865, until her husband was assassinated. In her youth, she was considered witty and full of life, but the death of three of her four sons at a young age and then witnessing her husband's assassination took its toll on her.
Mrs. Lincoln was grief-stricken for much of her life, and she was even admitted into psychiatric care after the president's murder. As she got older, Mrs. Lincoln's behavior became continuously erratic. In Lincoln, Field gave Mary Todd depth.
Next: The longest-serving first lady ever. 
6. Cynthia Nixon as Eleanor Roosevelt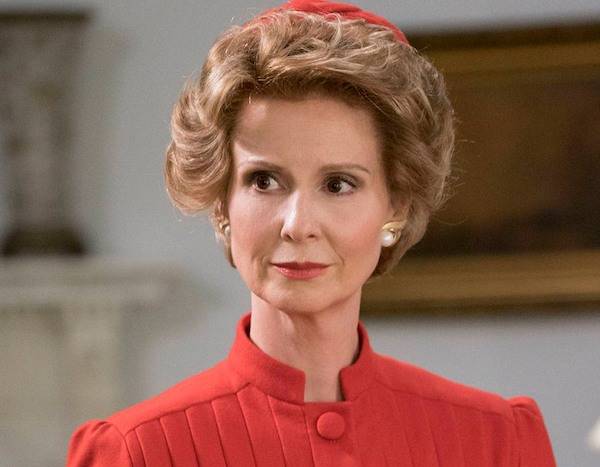 First lady from 1933-1945
There have been many portrayals of the legendary First Lady Eleanor Roosevelt, but Sex & the City alum, Cynthia Nixon's depiction of the outspoke Depression Era first lady in the 2005 HBO film Warm Springs is one of our favorites. The film which is set in 1921, and follows the Roosevelts before they enter the White House. Franklin D. Roosevelt begins his battle with polio while Eleanor is coming to grips with his infidelity.
The couple goes to Warm Springs, Georgia for FDR to receive treatment while Eleanor begins her own awakening when it comes to political activism. Nixon earned a Golden Globe and an Emmy for her portrayal of the longest-serving first lady of the United States.
Next: A boss of a first lady. 
7. Greer Garson as Eleanor Roosevelt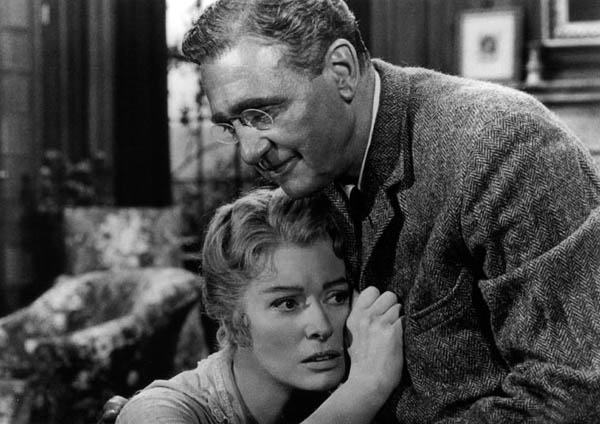 First lady from 1933-1945
World War II era actress Greer Garson earned an Academy Award nomination (the first actress to ever do so for portraying a first lady) for her role as Elenor Roosevelt in the 1960 film, Sunrise at Campobello. Based on the play of the same name, this film, like Warm Springs, depicts the Roosevelts in 1921 when 39-year-old FDR is stricken with paralysis.
With false teeth and a distorted voice, Garson became unrecognizable as the determined future first lady who was at the forefront of helping her husband battle his sudden illness.
Next: A '60's icon. 
8. Katie Holmes as Jackie Kennedy
First lady from 1961-1963
Katie Holmes stepped into Jackie Kennedy's iconic pink suit in the 2011 television miniseries, The Kennedys. The Dawson's Creek alum got the look down pact as the woman who ruled the White House from 1961 to 1963 which she get's major points for. Though Holmes put her best foot forward, she had little to work with. Not only were her wigs aggressive, but the writing was also border-line soap opera material.
You can't say that she didn't remind you of the woman who dazzled the world though.
Next: A woman who watched her husband die. 
9. Natalie Portman as Jackie Kennedy
First lady from 1961-1963
Everyone and their mama has played Jackie Kennedy during her years in the White House. However, it wasn't until Natalie Portman's portrayal of the first lady in the 2016 film Jackie where we got to see a more vulnerable side of the iconic brunette. The film is set just after JFK's death, and Jackie is distraught and devastated but must put on a brave face for the American public.
The film is unsettling and dark as we watch Portman as Kennedy in the week after the horrible assassination. Portman even nailed Kennedy's odd accent.
Next: The woman who made our country beautiful.  
10. Felicity Huffman as Lady Bird Johnson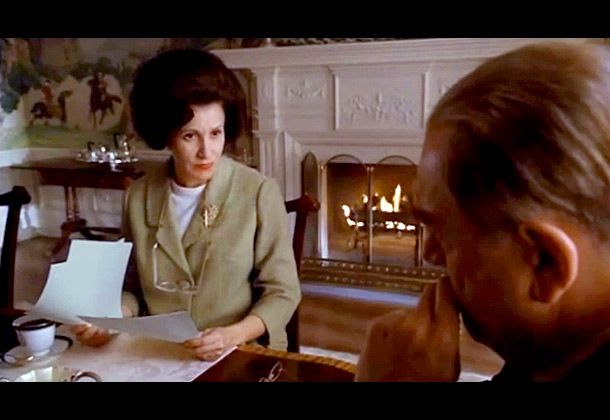 First lady from 1963-1969
Known for beautifying the nation's capital, its highways, and parks, Lady Bird Johnson might have only been the first lady for a short time, but the well-educated socialite made her mark on this country. In the 2002 TV film, Path to War, Felicity Huffman depicted Lady Bird as a sympathetic woman by her husband side as he's pushed into entering the Vietnam War.
It would be a choice that turned into a tragedy.
Next: The first of the first ladies to enter a combat zone. 
11. Joan Allen as Pat Nixon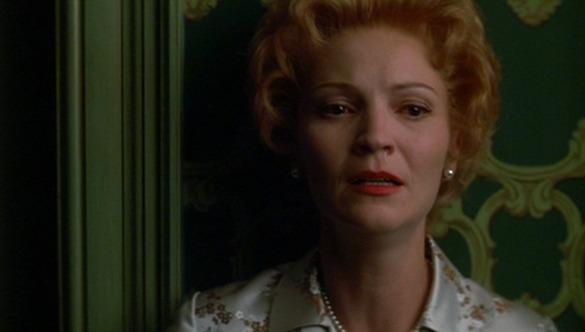 First lady from 1969-1974
First and foremost, Joan Allen is everything which is why it makes sense that she slayed as First Lady Pat Nixon in Oliver Stone's 1995 biographical drama, Nixon. The wife of the 37th President of the United States, she spent over 30 years in the public eye, also serving as the second lady.
Tenacious and steadfast, Mrs. Nixon put herself through school at the Univesity of Southern California by working multiple jobs, including pharmacy manager, typist, radiographer, and retail clerk. When she was the second first lady under Dwight D. Eisenhower in the 1950's she did more than just visit schools. Instead, she undertook missions across the globe and was the first first lady to enter a combat zone. In Nixon, Allen plays Mrs. Nixon as deeply troubled but supportive. Her depiction would win her an Oscar nomination.
Next: A woman who publicly battled addiction. 
12. Gena Rowlands as Betty Ford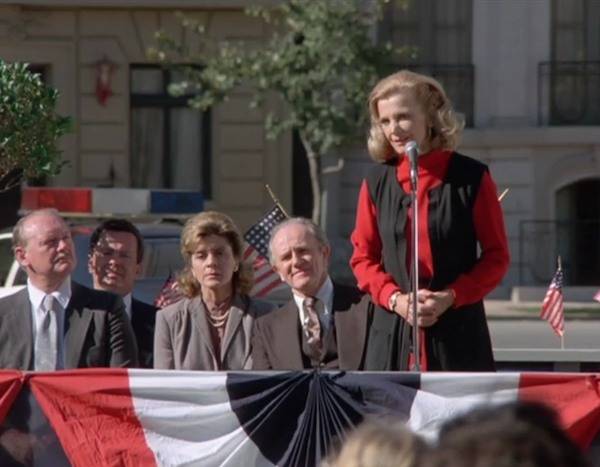 First lady from 1974-1977
Betty Ford was the wife of the 38th President of the United States, Gerald Ford, and she was one of the most outspoken first ladies in the White House. More liberal-leaning than her more conservative husband. Mrs. Ford was outspoken about everything from abortion to women's rights. However, what made her stand out in the history books is that she was candid about her own battles with alcoholism and substance abuse.
In the 1987 TV movie, The Betty Ford Story, Gena Rowlands stepped into Ford's shoes, depicting her battle with breast cancer that led to a  mastectomy in 1974, as well as her secret addictions to alcohol and prescription drugs and her founding of The Betty Ford Center. Rowlands was so masterful in the role that she took home a Golden Globe and Emmy for her work.
Next: A first lady who couldn't be shoved into the background. 
13. Emma Thompson as Hilary Clinton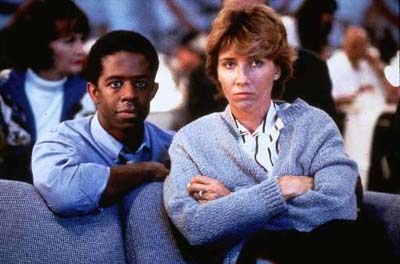 First lady from 1993-2001
Based on the book by Joe Klein on Bill Clinton's 1992 run for the White House, Emma Thompson plays a fictional version of Hilary Clinton in Primary Colors. Susan Stanton is ambitious and whip-smart. She sacrifices herself, often stifling her intelligence to help her spouse win the presidency.
Thompson never impersonated Clinton; she merely gave a very insightful depiction of American politics as we used to know it.
Next: An educator and children's advocate. 
14. Elizabeth Banks as Laura Bush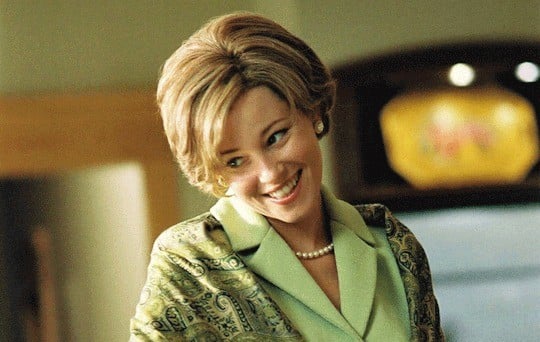 First lady from 2001-2009
Oliver Stone's W is a fascinating depiction into the 43rd President of the United States, George W. Bush and how he struggled to make a mark on the world in the wake of his father, former President George H.W. Bush's towering legacy. Premiering just in time for election season while Bush was still in office, actress Elizabeth Banks didn't try and step exactly into First Lady Laura Bush's shoes.
Instead, Banks used wigs. clothing, and Bush's focus on children and education as inspiration. She got down Mrs. Bush's Texas drawl and cadence because as she played the first lady from age 30 when she first meets the future president to age 58.
Next: The most educated first lady ever. 
15. Tika Sumpter as Michelle Obama
First lady from 2009-2017
Nearly 20 years before they stepped inside the White House, Michelle and Barack Obama had their first date on a hot summer day in 1989 on the South Side of Chicago. Then, the former first lady was Michelle Robinson, a young lawyer who reluctantly winds up on a date with a Harvard Law Student who is a summer associate at her firm.
Southside With You is just as thoughtful as Michelle Obama is. Actress Tika Sumpter warmly plays the Chicago native, Princeton alum, and intellectual heavyweight who has always been able to go toe to toe with anyone including her husband.
Follow Aramide Tinubu on Twitter @midnightrami.
Read more: Melania Trump Has Already Broken All These First Lady Traditions
Check out The Cheat Sheet on Facebook!