16 New TV Shows Hitting Netflix in May
Netflix is adding a new batch of TV shows to its collection throughout the coming month. Here are 16 of the new series hitting the streaming service in May.
Dramas
1. Longmire – Season 3, May 1
The crime drama, starring Robert Taylor, Katee Sackhoff, and Lou Diamond Phillips, follows Walt Longmire as the dedicated and unflappable sheriff of Absaroka County, Wyo. Widowed for a short time, he is a man in psychic repair but buries his pain behind his brave face, unassuming grin, and dry wit. The first three seasons ran on A&E before getting canceled, and Netflix has since picked it up for a fourth season.
2. Shameless – Season 10, May 1
The British comedy-drama is set in Manchester on the fictional Chatsworth council estate. It follows the story of a young group of siblings pretty much abandoned by their parents who only manage to survive by their wits and humor.
3. Witnesses – Season 1, May 1
Starring Thierry Lhermitte, Marie Dompnier, and Laurent Lucas, this crime thriller takes place in a small, quiet town filled with dark secrets. Set in Northern France, the six-part miniseries centers on a bizarre case involving grave-robbing and the placement of corpses in model homes.
4. Royal Pains – Season 6, May 3
The comedy-drama, starring Mark Feuerstein, Paulo Constanzo, and Reshma Shetty, follows an unfairly discredited but brilliant diagnostic surgeon who winds up working with his cheesy brother in the Hamptons as a concierge doctor to the rich and elite.
5. Transporter: The Series – Season 1, May 22
The action-crime series stars Chris Vance as Frank Martin, an ex special ops who now spends his life as a transporter on the other side of the law. With three rules, he always completes his contracts, one way or the other.
6. Graceland – Seasons 1-2, May 26
Graceland seems like the idyllic beachfront home of a group of diverse young roommates on the outside but is actually the residence and operations center of vital agents of the FBI, DEA, and U.S. Customs inside. The show follows Aaron Tveit as FBI rookie Mike Warren, who is sent to Graceland unexpectedly while he is anticipating a traditional Washington desk job. Thrown into the fire with this undercover assignment, Warren relies heavily on mentor Paul Briggs, a senior agent who conceals the compound's activities from the world.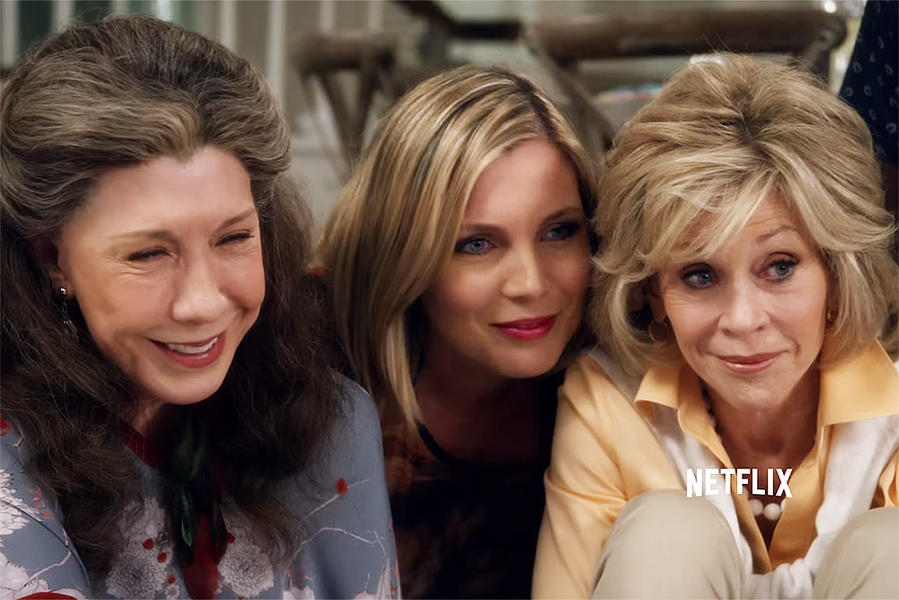 Netflix originals
7. Grace and Frankie – May 8
The upcoming comedy series follows longtime rivals Grace and Frankie, who are brought together after their husbands announce they are in love with each other and plan to get married. To their dismay, the women find that their lives are permanently intertwined and, to their even bigger surprise, they find they can lean on each other. Jane Fonda and Lily Tomlin star as the titular characters, with Martin Sheen, Sam Waterston, June Diane Raphael, and Ethan Embry co-starring.
8. Between – Season 1, May 21
Nickelodeon star Jenette McCurdy will star in the six-part survivalist thriller series, created by Canadian writer-director Michael McGowan (Still Mine). It follows the story of a town under siege from a mysterious disease that has wiped out everybody except those 21 and younger. Among those left alive and scrambling to survive is a pregnant Wiley Day (McCurdy), who has a plan to give up her baby and leave Pretty Lake behind. But when the government puts the town under quarantine, Wiley and best friend Adam (played by Jesse Carere) realize that discovering the cause of the virus may be their only avenue to freedom.
9. The Adventures of Puss in Boots – Season 1, May 8
Featuring the voices of Eric Bauza, Jayma Mays, and Carlos Alazraqui, the animated television series follows the Shrek character Puss in Boots as he fights off an endless legion of invaders to protect the previously hidden city of San Lorenzo. His actions end up unintentionally breaking the spell that protected its legendary mystic treasure from the outside world.
10. Richie Rich – Season 2, May 22
Jake Brennan, Joshua Carlon and Jenna Ortega star in Netflix's remake of the kid-friendly comedy. The show follows the story of Richie Rich, a young genius who found a way to turn vegetables into a clean energy source. As a result, Rich now has more than a trillion dollars. Following his overnight success, he moves his father and his sister into his newly built mansion filled with toys and contraptions. He also shares his success with his two best friends, Darcy and Murray.
Reality
11. American Restoration – collection, May 14
The History channel series follows Rick Dale and his crew as they restore American historical items and helped make them look just the way they before.
12. Dance Moms – collection, May 14
Lifetime's show centers on the Abby Lee Dance Company in Pittburgh and follows the early careers of children in dance under the tutelage of Abby Lee Miller. It also chronicles the participation of the dancers' mothers.
13. Duck Dynasty – collection May 14
The A&E reality shows portrays the lives of the Robertson family, who became wealthy from their family-operated business, Duck Commander.
14. Hoarders – collection, May 14
The documentary series, which started on A&E and has since transitioned to Lifetime, depicts the real-life struggles and treatment of people with compulsive hoarding disorder.
15. Counting Cars – collection, May 14
The History channel show is filmed in Las Vegas, where it chronicles the daily activities at Count's Kustoms, an automobile restoration and customization company owned and operated by Danny Koker, who previously appeared as a recurring expert on Pawn Stars.
16. Anthony Bourdain: Parts Unknown – Season 4, May 15
The popular CNN travel and food show follows Anthony Bourdain as he visits countries and delves into political issues as well as indigenous food and culture.
More from Entertainment Cheat Sheet:
Want more great content like this? Sign up here to receive the best of Cheat Sheet delivered daily. No spam; just tailored content straight to your inbox.