2016-2017 TV Lineup: All of the Trailers for ABC's New Shows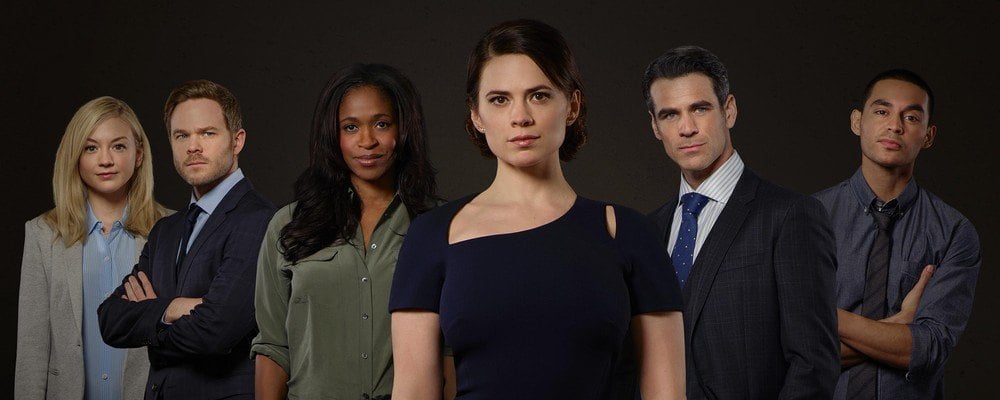 ABC has just dropped new trailers for the nine freshman comedies and dramas set to make their debut over the course of the 2016-2017 primetime season. From Kiefer Sutherland's new TV show to the latest drama from Hayley Atwell, here's a closer look at all of ABC's new shows, coming this year.
1. Conviction
With Agent Carter officially canceled, Hayley Atwell has already found herself another strong starring vehicle at ABC. The political crime drama Conviction stars the actress as Carter Morrison, a brilliant but ne'er-do-well daughter of a former president, who is blackmailed into taking a job as the head of Los Angeles' newly created Conviction Integrity Unit. There, Carter must work with a team of lawyers and forensic experts to examine cases in which the wrong person may have been convicted of a crime. Liz Friedman (Elementary, Jessica Jones) pens the script and executive produces alongside Liz Friedlander (The Following), the latter of which directed the pilot. The show will air Monday nights at 10 p.m. Eastern this fall.
[Update, 9/7/16: 'Conviction' will premiere on October 3.]
2. Designated Survivor

Written by David Guggenheim (Safe House), the conspiracy thriller will star Kiefer Sutherland as a lower level United States Cabinet member who is suddenly appointed President after a catastrophic attack during the State of the Union kills everyone above him in the Presidential line of succession. It's described as "a family drama wrapped around a conspiracy thriller about an ordinary man in an extraordinary situation." Maggie Q, Kal Penn, Natascha McElone, Italia Ricci, and Adan Canto co-star. The drama airs on Wednesday nights at 10 p.m. Eastern this fall.
[Update, 9/7/16: 'Designated Survivor' will premiere on September 21.]

3. American Housewife
Formerly entitled The Second Fattest Housewife in Westport, this family comedy stars Katy Mixon as Katie Otto, a confident, unapologetic wife and mother of three, raises her flawed family in the wealthy town of Westport, Conn., filled with 'perfect' mommies and their 'perfect' offspring." The show, written by Sarah Dunn (Spin City), will join ABC's Tuesday night comedy block this fall, airing at 8:30 p.m. Eastern between The Middle and Fresh Off the Boat.
[Update, 9/7/16: 'American Housewife' will premiere on October 11.]

4. Speechless

The upcoming single-cam sitcom follows a family with a special-needs child that is good at dealing with the challenges it faces — but also excellent at creating new ones. Friends alum Scott Silveri pens and executive produces the project, which stars Minnie Driver and John Ross Bowie. The series will air on Wednesday nights at 8:30 p.m Eastern this fall ahead of Modern Family.
[Update, 9/7/16: 'Speechless' will premiere on September 21.]

5. Notorious
The upcoming ABC drama inspired by the real-life relationship between famed criminal defense attorney Mark Geragos and long-time Larry King Live executive producer Wendy Walker. Written by Drop Dead Diva creator Josh Berman and blogger Allie Hagan, the show is described as "a provocative look at the interplay of criminal law and the media." It will follow the professional and personal relationship between a charismatic attorney and a powerhouse television producer as they attempt to control the media, the justice system, and ultimately – each other. Notorious will take over Scandal's Thursday night timeslot this fall, with the latter pushed to midseason to accommodate leading lady Kerry Washington's pregnancy.
[Update, 9/7/16: 'Notorious' will premiere on September 22.]

6. Time After Time

ABC is jumping on the time travel bandwagon this season with Time After Time. Written and executive produced by Kevin Williamson, the show is based on the 1979 novel by Karl Alexander, chronicling the epic adventures of young H.G. Wells and his time machine. According to Deadline, the series will use both the book and its feature adaptation as inspiration for the TV version and is set to have a midseason premiere.
7. Still Star-Crossed

Shondaland expands its lineup on ABC with this midseason Romeo and Juliet sequel drama. Based on the book by Melinda Taub, the series is set in 16th century Verona, and picks up where William Shakespeare's Romeo & Juliet left off. It charts the treachery, palace intrigue, and ill-fated romances of the Montagues and Capulets in the wake of the young lovers' tragic fate. Heather Mitchell, co-executive producer on Shonda Rhimes's Scandal, wrote the script and is executive producing with Rhimes and Betsy Beers.
[Update, 9/7/16: 'Still Star-Crossed' has no set premiere date yet.]

8. Downward Dog

The single-camera, half hour comedy centers on a struggling millennial, Nan (Allison Tolman), from the point of view of her lonely and philosophical dog, Martin.. The project, which will be a co-production between Legendary TV and ABC Studios, was originally conceived as a web series from Animal Media Group and co-creators and writers Samm Hodges and Michael Killen. The freshman series is being held for a midseason premiere.

9. Imaginary Mary

The live-action/CGI hybrid series stars Jenna Elfman as an independent career woman who falls in love with a divorced father of three. The dramatic change in her life gets even more interesting when her "slightly unhinged" imaginary childhood friend [voiced by SNL alum Rachel Dratch] suddenly resurfaces to guide her through this critical juncture. Imaginary Mary also stars Stephen Schneider, Nicholas Coombe, Matreya Scarrwener, and Erica Trembay.
[Update, 9/7/16: 'Imaginary Mary' has no set premiere date yet.]
More from Entertainment Cheat Sheet: