2019 Emmys: Outstanding Supporting Actress in a Drama May Come Down to Arya Stark vs. Brienne of Tarth
The 2019 Emmy for Outstanding Supporting Actress in a Drama Series is full of 'Game of Thrones' stars, and odds are it will come down to these two fan favorites.
The expectation at the 2019 Emmy Awards is that HBO's fantasy epic Game of Thrones will slaughter the competition. The show scored a whopping 32 nominations overall, and it nearly took over an entire category – Outstanding Supporting Actress in a Drama Series. Four of the six nominees are Game of Thrones stars, and it looks like the battle might come down to Arya Stark (Maisie Williams) and Brienne of Tarth (Gwendoline Christie).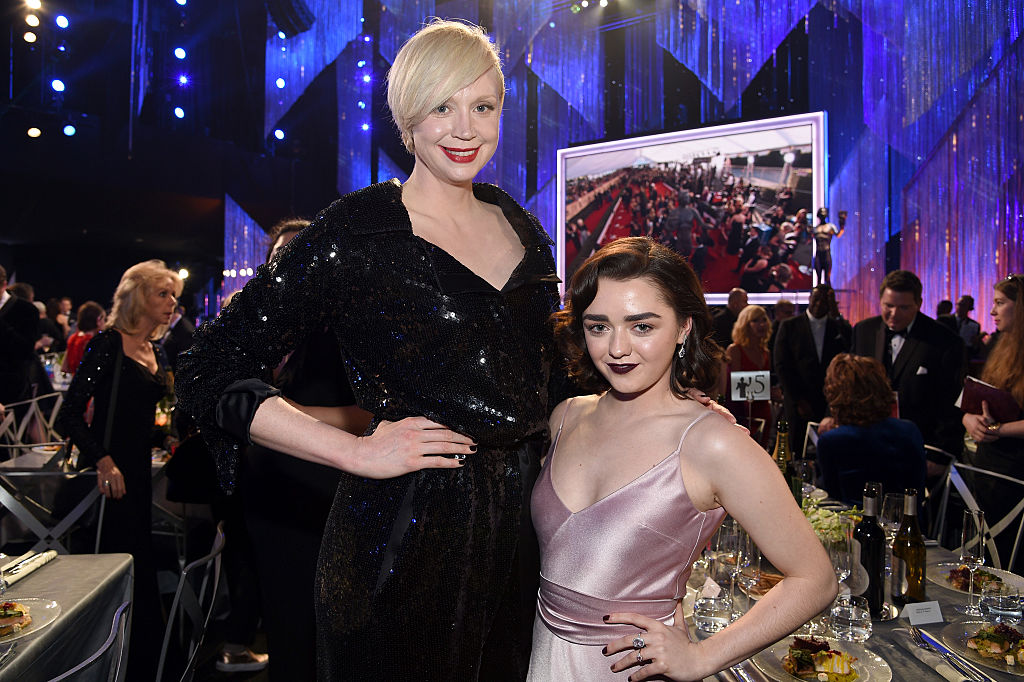 Two returning nominees, two newcomers
The six nominees for Outstanding Supporting Actress in a Drama Series are Lena Headey (Cersei Lannister, Game of Thrones), Maisie Williams (Arya Stark, Game of Thrones), Gwendoline Christie (Brienne of Tarth, Game of Thrones), Sophie Turner (Sansa Stark, Game of Thrones), Julia Garner (Ruth Langmore, Ozark), and Fiona Shaw (Carolyn Martens, Killing Eve).
The GOT nominees are a mix of two returning nominees and two newcomers. Headey and Williams have both received nominations in the past. Headey is up for the award for the fifth time and this year marks Williams' second nomination.
Meanwhile, Christie and Turner scored their first nominations, as did Garner and Shaw. Despite all of the nominations GOT actresses have received in this category, no one has been able to win the award. But, that will likely change this year.
In a TVLine poll, the two frontrunners for this year's Best Supporting Actress in a Drama Series were Williams and Christie, with Christie coming out on top by garnering 34 percent of the vote.
Of course, the Emmys aren't the People's Choice Awards. An Emmy win isn't about popularity, it's the result of a long campaign put forth by a show's network to win votes from the television academy. But, considering this is GOT's last chance in the category, it would be a shock to see the Emmy statue go to anyone who isn't from Westeros.
Maisie Williams' 'The Long Night'
Williams received her first supporting actress Emmy nomination for her work on Game of Thrones in 2016, and her submission for her second nomination this year for the third episode of the final season titled The Long Night.
In the episode, Arya witnesses the Dothraki charge the army of the dead in front of Winterfell castle. When the army starts closing in, Arya joins the fight before almost losing her life.
When Arya retreats to a room with the Hound (Rory McCann) and Beric (Richard Dormer), they come across Melisandre (Carice van Houten) who reminds Arya of the prophecy that she will shut several eyes.
This leads to Arya's decision to kill the Night King, which she does in dramatic fashion. But, is this performance among an ensemble cast enough to land her an Emmy? The character was a major focus during the final season, and she grabbed a lot of screen time for a supporting actress, especially in this episode.
But, despite the numerous acting nominations this show has received over the years, only Peter Dinklage (Tyrion Lannister) has scored a win. And, even though Williams is a favorite, some believe that having four GOT actresses in the same category could split the Emmy vote, making way for Garner or Shaw to take home the prize.
Gwendoline Christie submitted herself for Emmy consideration
Usually, a television show's producers or network submits candidates for Emmy consideration. But, Gwendoline Christie decided to submit herself, as did Alfie Allen (Theon Greyjoy) and Carice Van Houten (Melisandre). Surprisingly, all three ended up with nominations, which Christie admits is something that none of them expected.
Christie says that it was her character's completed journey that led to her decision to self-nominate for the 2019 Emmys.
"When I read the script for the final season, I was delighted that Brienne had such a full storyline," she said. "I set about working the hardest I've ever worked to try to bring that to life because it was happening for the last time. I just wanted the possibility of the opportunity [to be nominated]."
She says it was useful to her to take that step forward and self-submit, and she wanted to do it for herself and for the character. Brienne of Tarth was a character that "spoke" to Christie and allowed her to speak her truth, which is something she says doesn't happen often.
Christie says her character's ending – becoming a true knight and member of King Bran's council – was delightful because fans saw a woman who took control of her own destiny. And, she is excited that fans are getting the opportunity to see more women's stories in entertainment.
The 71st Primetime Emmy Awards air Sunday, September 22nd on FOX.