'22 Jump Street' Slays 'How to Train Your Dragon 2′ at the Box Office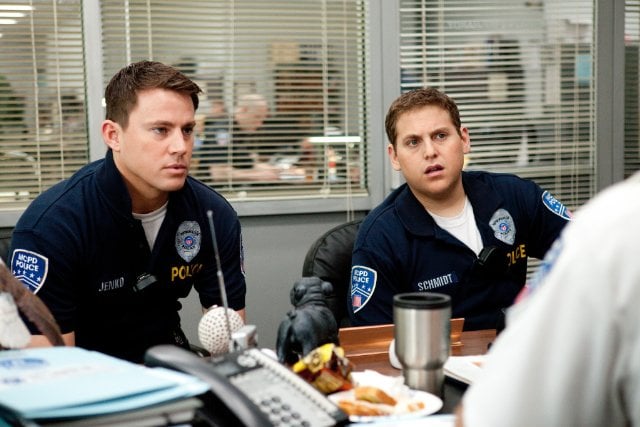 A sequel that lambasted sequels ruled this weekend at the box office, beating out another sequel. The movie 22 Jump Street, the critically well-received continuation of the adventures of two grown men who pose as students (Channing Tatum and Jonah Hill), took in $60 million. The comedy uses the tropes of sequels as the basis for most of its jokes. "You're doing literally the same exact thing as before," one character quips, at once mocking the characters as well as the film they're inhabiting. The pseudo-meta jokes struck a chord with critics, who were all too happy to praise a film that didn't stink outright, as summer movies are wont to do. Writing for RogerEbert.com, Matt Zoller Seitz says:
It's a buddy cop movie about buddy cop movies that seems determined to go Edgar Wright's modern classic Hot Fuzz one better (nobody can do that, but nice try.) It's also a sequel about sequels, and the often cynical appeal of sequels. And it's very, very, very, very aware of itself as a movie — or "movie." It anticipates any observation or objection you might make and makes it first, with a grin and a shrug. It pushes the meta-humor thing so far that after a while, watching it starts to feel like an amiable surrender to low expectations — not unlike the Bob Hope and Bing Crosby "Road" pictures, some of which felt so obligatory that after a certain point the studio might as well have replaced the films with printed cards telling fans where to send their money.
Its opening is the second biggest for an R-rated comedy in history, right behind the awful Hangover Part II ($85.9 million) and just ahead of the also quite bad first Sex and the City ($57 million.)
According to Variety, "The picture dropped 25 percent on Saturday from $25 million to $18.6 million, while the Dragon sequel fell a more modest 7 percent from $18.5 million to $17 million. Internationally, 22 Jump Street grossed an estimated $6.9 million from 14 territories, bringing its overseas bounty to $20.6 million, while How to Train Your Dragon 2 scooped up $24.8 million in 25 markets, for a foreign take of $26.5 million."
The other big hitter this Father's Day weekend was the more family friendly romp How to Train Your Dragon 2, the sequel to Dreamwork's 2010′s hit. The animated feature earned a bit of faux-notoriety when Fox News made a big deal about a character voice by the amazing Craig Ferguson possibly being gay, according to one improvised throwaway line in the film. The producers and Ferguson said yeah, so what if he's gay? The world went about its business, to Fox's dismay.
The film has received great praise, with Forbes calling it a phenomenal movie for kids and adults (which is about as general as praise gets, but still.) It took in $50 million, which is a nice opening weekend sum, but somewhat less than what initial predictions hoped for. The original pulled in over $500 million. How to Train Your Dragon 2 cost $145 to produce, and will need to continue to pull in viewers to recoup its budget. The low drop in viewers from Saturday to Sunday bodes well for the film's future, as films that start hot and fizzle out tend to lose the long game.
Angelina Jolie's Maleficent continues to have success, staying in the top five this weekend, bringing in $19 million to put its total up to $430 million.
Speaking with Variety, Chris Aronson, Twentieth Century Fox domestic distribution chief, said that, "It's extraordinary to have two films open to $50 million on the same weekend. Any time you have a PG animated film opening against an R-rated comedy, that's the kind of competitve [sic] environment you're looking for."
More From Wall St. Cheat Sheet: