'23 Jump Street' Is Happening, Whether You Want It or Not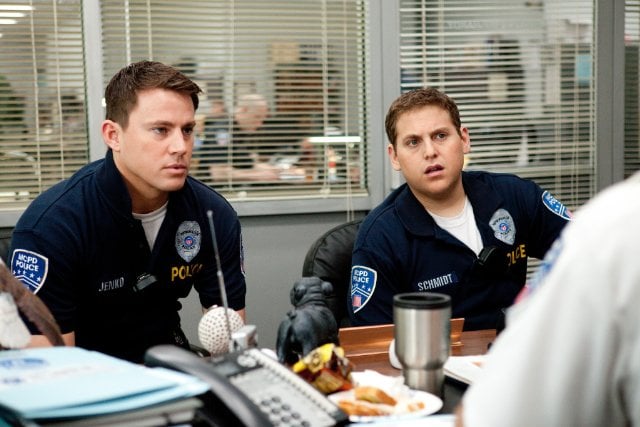 It looks like 23 Jump Street is the latest questionable sequel Hollywood is determined to push through. The popular franchise, starring Jonah Hill and Channing Tatum, seemed to have come to a successful close with the well-received follow-up earlier this year. But instead of simply letting it end on a good note, it looks like the industry is doing what it does best — following the (potential) dollar signs and developing a third flick based around the same premise.
According to Deadline, Sony has already started building a team for the film, bringing back 22 Jump Street writer Rodney Rotham to pen the script. Previous directors Phil Lord and Christopher Miller are also reportedly overseeing the script with Neal Moritz, Hill, and Tatum. But neither Lord nor Miller has committed to reprising directing roles, although the report maintains that the door is open for them to take the gig.
In terms of box office numbers, it's clear why the studio would want to make another movie. 21 Jump Street grossed more than $201 million worldwide, becoming the top-grossing film under the high school comedy genre. 22 Jump Street, released earlier this summer, was even more of a commercial success than the 2012 original. The movie opened at No. 1 with a strong $57.1 million in earnings in its debut weekend. It eventually went on to gross $190 million at the domestic box office and a total of $319.4 million worldwide. With those numbers in mind, it's not difficult to see why the studio thinks it can continue to bank off the franchise.
Critically, 22 Jump Street can also be considered a success. The movie earned widely positive reviews, with an 84 percent rating on Rotten Tomatoes. Many even called the sequel better — or at least, smarter — than the original.
So what exactly is the problem with adding a third film into the mix? A huge part of 22 Jump Street's charm — and likely a big reason why it was well reviewed — was its satirical self-awareness. The movie poked fun of itself for being a largely unnecessary, albeit funny, sequel, as well as at Hollywood's flawed system of churning out spinoff after spinoff. The ending even pushed the concept one step further, featuring a barrage of ridiculous ideas for exaggeratedly bad Jump Street sequels. The final message seemed to be, "We get you didn't need a sequel, but don't worry, this is the last one." Apparently though, Sony didn't get the memo.
Now, fans are wondering what else they could possibly do with the story. Sure, Tatum and Hill have enough great chemistry between them to fill another movie. But in the first two films, their characters have already infiltrated high school and college. Where will they be headed now? As they themselves pointed out in 22 Jump Street's satirical ending, anywhere they go next will just be unbelievable to the point of parody.
Whether Lord and Miller return to helm the next installment is another big factor in the franchise's future. The two were already hesitant to return for one sequel, but the script reportedly ended up changing their mind. There's always a possibility that can happen again. If a second follow-up getting green-lit shows anything, it's never say never. Still, it seems unlikely that a third Jump Street film will have as satisfying or as well received an ending as its predecessor did.
More from Entertainment Cheat Sheet:
Want more great content like this? Sign up here to receive the best of Cheat Sheet delivered daily. No spam; just tailored content straight to your inbox.